From the Loire to the Alps, writer Alastair Sawday picked 10 gorgeous chateaux to stay in across France, where the rooms are as impressive as the food and they have wine and garden views that you will never want to leave.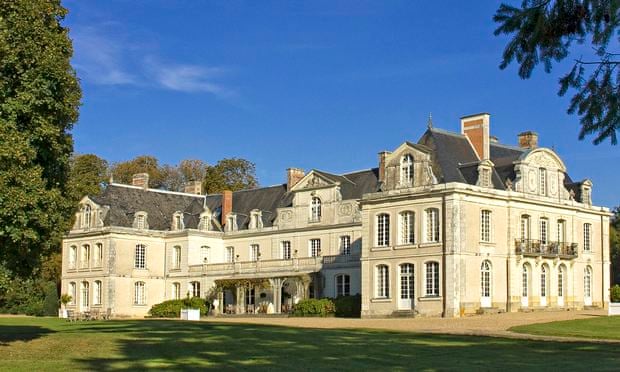 Deep in the Loire countryside, this 18th-century chateau has been in the same family for six generations and is now run by the relaxed François de Valbray, his wife (an excellent cook) and their children. They are rightfully proud of their splendid home, with its handsome interiors decorated in traditional style. The drawing room is a symphony of red velvet, and a marble staircase sweeps up to 10 opulent bedrooms. A local sparkling Crémant de Loire is the perfect apéritif before a candlelit three-course meal prepared by your hosts.
• Doubles from €110 room only, +33 2 41 42 00 02, briottieres.com
Chateau Julie, Virsac, Bordeaux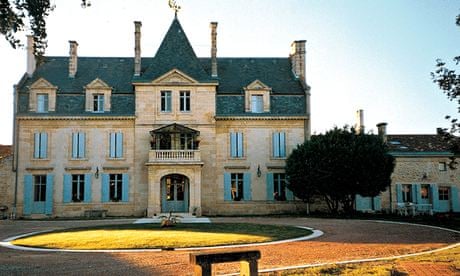 Even if Bordeaux is not your favourite local tipple, this is a great place to stay, in the middle of the vineyards. Château Julie is run by a friendly Dutch couple, Renée and Rinse, and the cooking is matched to the local wines. Rooms are simple, a tad faded, but have big bathrooms and grand views over the park, where you can play tennis, fish or spend an afternoon reading under a shady tree.
• Doubles from €110 B&B, +33 5 57 94 08 20, chateau-julie.com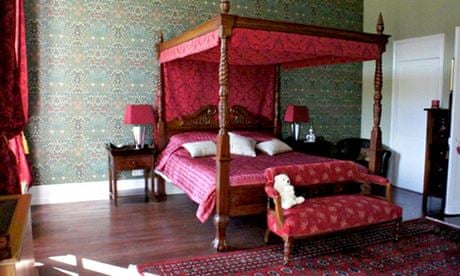 Through pillared gates, down a gravel drive and past well-trimmed lawns, 19th-century Château Charly is surrounded by acres of space. The traditionally furnished bedrooms are big and beautiful; in the morning, the big Indonesian table downstairs is piled with croissants warm from the bakery, plus charcuterie, fresh fruit juice, and homemade cakes and jams.
• Doubles from €160 B&B, +33 2 48 74 15 20, chateaucharly.com
Demeure de la Vignole, near Saumur, Loire Valley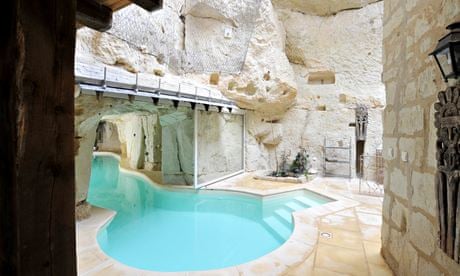 You don't often get to sleep in luxury in an ancient hand-carved cave. Several rooms in this hotel are set right into the rock, with comfy beds, state-of-the-art bathrooms and chandeliers dangling from bumpy limestone. Other rooms are in a 17th-century house with colorful rafters and chequered tiles, reflecting the Parisian owners' sense of style. There's a "secret" pool in a rocky cave, and a sunny terrace for enjoying breakfast, a glass of wine from the vineyard in the next valley, or Madame's home-cooked dinners.
• Doubles from €130 room only, +33 2 41 53 67 00, demeure-vignole.com
Château de Tanay, Beaujolais, Rhône Valley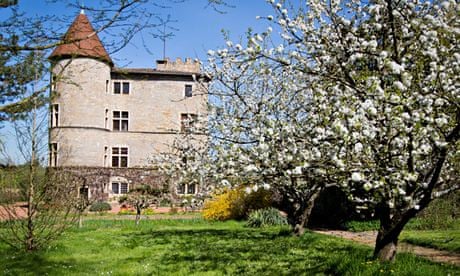 This magnificent chateau – surrounded by flat lands and in acres of parkland – mixes sleek modern style with fine stonework and medieval beams to great effect. Tasteful bedrooms (two large, two smaller) with chic but compact bathrooms are in the courtyard stables. In the chateau itself there's a family room, a games room, a grand piano that guests are welcome to play and, beneath the great carved fireplace, a convivial breakfast table. In summer you can enjoy breakfast by the moat beneath the willow. For sights and shopping, Lyon is half an hour away.
• Doubles from €95 B&B, +33 9 53 36 87 42, chateau-tanay.com
Château de Penfrat, Finistère, Brittany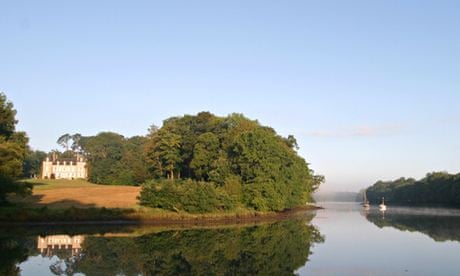 You can horse-ride or hike freely around the forested parkland or watch birds on the Odet estuary near this peaceful chateau – a handsome hunting lodge built by eccentric nobles, now owned by easy-going Patrick and Barbara. There's a retro feel to the salons and dining room, with their black and white photos and 1950s accessories, but the south-facing bedrooms are fresh and sunny. The estate is a lovely relaxing bubble but, with all the attractions of Brittany on the doorstep, one worth bursting out of.
• Doubles from €95 B&B, +33 6 33 33 37 63, penfrat.fr 
Château de Perreux, near Tours, Loire Valley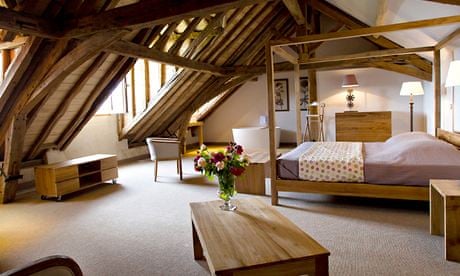 High on a hill, with views over water meadows to the Loire, this is a romantic chateau flanked by two little towers. An elegant swimming pool – reached via a rocky tunnel – is on the other side of the road in a meadow garden. Bedrooms on the first floor have a period feel; those at the top have a dramatic yet monastic air.
• Doubles from €135 B&B, +33 2 47 57 27 47, chateaudeperreux.fr
Château de Prye, near Nevers, Burgundy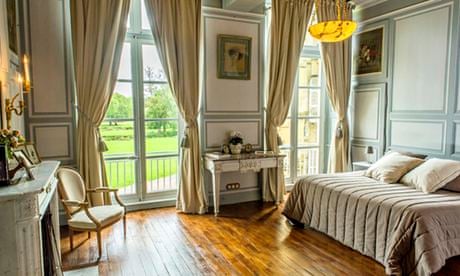 A Polish queen, Marie-Casimire, lived in this turreted chateau extraordinaire at the tail end of the 17th century. Inside the rambling architectural curiosity are vast rooms, palatial marble stables and corridors heaving with antlers and stag heads. The young marquis and marquise have taken up the challenge of running the chateau and host their guests with grace and ease. Each bedroom is furnished with antiques – a triple-mirrored wardrobe from the 1930s, a Breton carved bedstead, a vintage oil-fuelled heater, and inside the walls are woodlands, a river and age-old trees.
• Doubles from €115 B&B, +33 3 86 58 42 64, chateaudeprye.com
Château les Oliviers de Salettes, Charols, Rhône-Alpes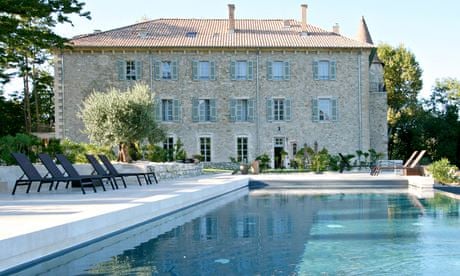 This three-story house of impressive proportions, with a turret at each end, was part of a larger chateau in the centre of a vineyard. Now, having been renovated to create 16 uncluttered yet lofty bedrooms, it lords it over five hectares of landscaped parkland, with dining terraces (the food is a highlight), boules pitch and an infinity pool. Apart from cookery lessons, wine tastings and electric-bike rentals, visitors can try tree climbing and paragliding, canoeing, riding and spa treatments.
• Doubles from £130 room only, +33 4 75 00 19 30, chateau-lesoliviers.com
Château de Picomtal, Ecrins national park, Alps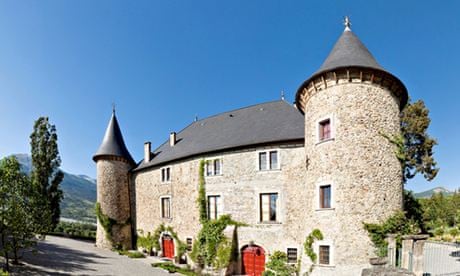 This chateau dates from the 16th century (the watchtower from the 13th) and stands above the medieval village of Crots. One of its towers has a chapel with stained glass windows; there's also a music room with a chess set and an antique piano, and a salon with sumptuous fabrics on the walls. The nine bedrooms have trompe l'oeil paintings, period furniture and sparkling chandeliers.
• Doubles from €130 room only, +33 4 92 43 07 77, sawdays.co.uk