Andria Mitsakos could best be described as a serial entrepreneur. She is a myriad of careers and endeavors: publicist, writer, accessories designer, and self-proclaimed global Wanderlista (which also happens to be the name of her multi-platform site, launched in 2014). As President and CEO of her PR firm, Andria launched the company specializing in travel and lifestyle public relations in 2003.
Her passion for style and design led her to spearhead the luxury accessories and handbag line, Dea Rosa in 2010, where she now serves as Creative Director. Wanderlista concept stores was born out of Andria's years of consulting on design and strategy for hotels and resorts across the globe, and her love and knowledge of simply knowing what travelers buy while on holiday. From Fiji to Mexico to Miami and beyond, she consults, curates and  develops hotel  and resort retail space and e-commerce platforms; her design role has expanded to manufacturing furniture for hotels, which she produces in Athens, Greece. A residential interiors collection will launch in Autumn 2016. Destination Luxury had a chance to catch up with the globetrotting Mitsakos, and get her take on her love of travel, her latest endeavors, and what's next.
Destination Luxury: You're both a travel publicist and a handbag manufacturer. That's a rather unusual combination. How did that come about?
Andria Mitsakos:Travel PR happened by mistake, really. I studied communications and journalism, and, following university, I worked at a PR agency in South Florida for about five minutes, and was scooped up by a resort company in Antigua. I met my first-ever mentor and learned the hotel industry from the inside out. I handled PR, marketing and advertising, but was also front and back of house, went on buying trips, chose furniture and artwork and it was hands-down the best education in hospitality. I wouldn't change one thing about my path in PR. The handbags came later, but I was surrounded by design and style my entire life.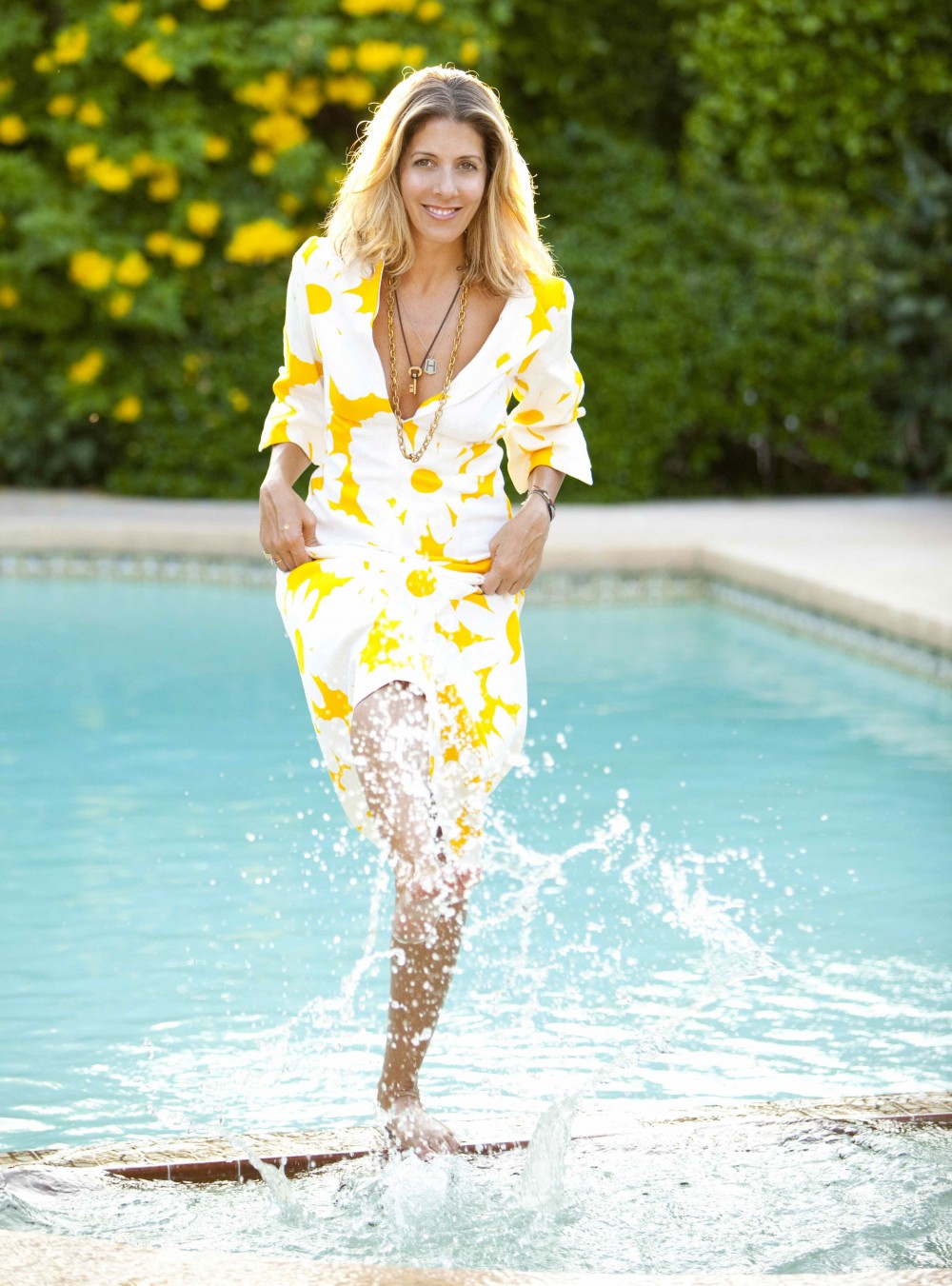 Ms. Mitsakos. Image Image courtesy of Peter Wesley Brown.

Destination Luxury: Talk a little about how you select your clients, and collaborate with them.
Andria Mitsakos: It's all about synergy. After doing PR for 20 years, you realize who you want to be surrounded by, and most of my clients have become quite good friends. PR has changed so much, it's now about being passionate about your work than the routine pitch. Trust your instinct and be honest. I want my clients to feel that an impact is being made – whether it's a major story or feeling like we're an extension of their marketing department.
Destination Luxury: Do you have a favorite destination? 
Andria Mitsakos: I love having Miami as a base right now. The city is so vibrant and constantly expanding its personality. With Wanderlista Miami, the concept store I opened in late 2014, I'm able to showcase emerging designers from around the world, and I love feeling like I'm making an impact in the style scene in Miami. I lived in New York full time for several years and it's certainly a part of me and imperative to my business for the media aspect – there is not a city like it in the world. Spending time in Greece fuels my creative inspiration and gives me the opportunity to work on design projects. Popping down to Mexico is what I crave throughout the year – visiting clients like CasaSandra on Isla Holbox, Manta Raya in Oaxaca and Villa Lunada in Punta Mita.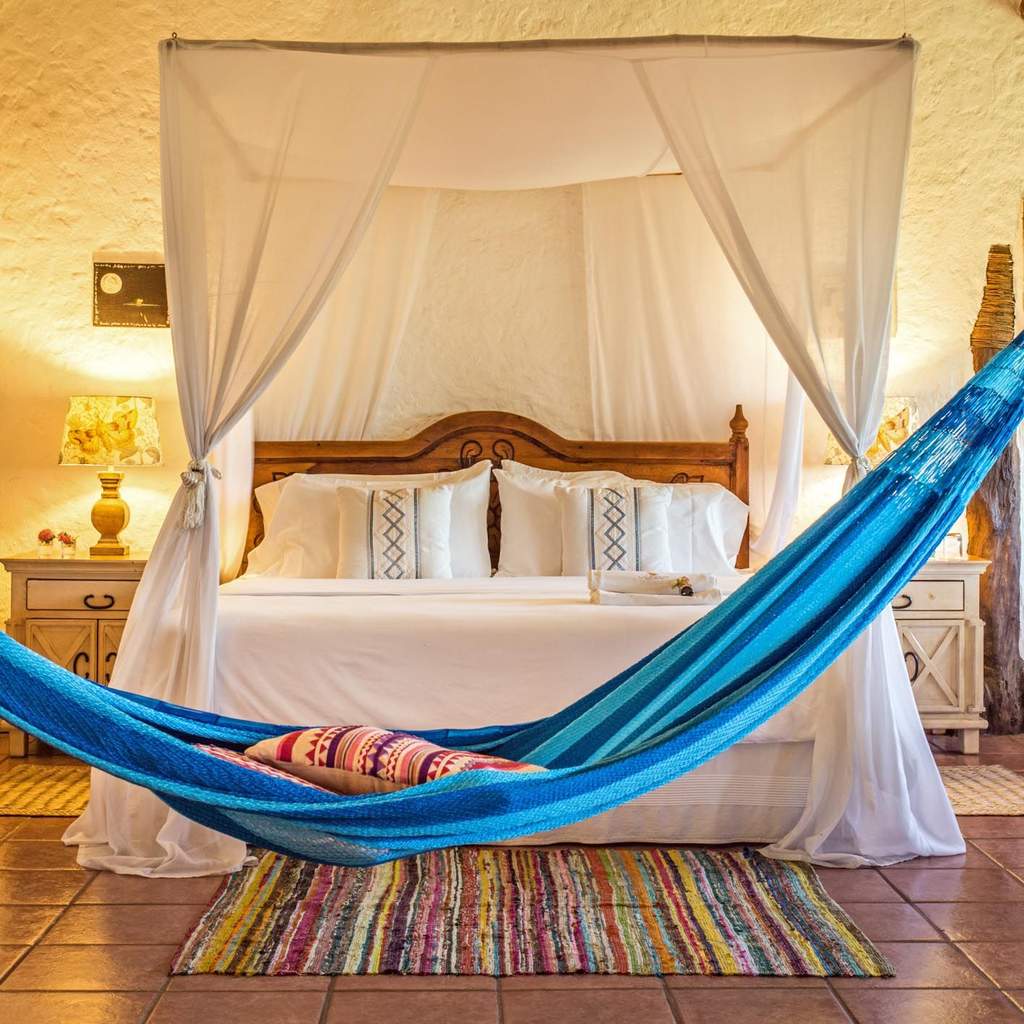 One of the suites at CasaSandra. Image courtesy of the resort.
Destination Luxury: How was the handbag collection, Dea Rosa, born? Do you have a favorite design for this season, and what is planned for next season?
Andria Mitsakos: In spring 2010, I was at an event in New York and was introduced to someone who sold exotic skins. This was just when the trend was emerging. I asked him if he ever had a private label and he didn't. So 10 days later I was on a flight to Milan with five sketches in my hand. Two months later I had my first collection. I've since moved my production to Athens, Greece to celebrate the heritage and workmanship in the country of my grandparents. My mother's mother, Rose, was Aremenian-American and she was a shoe designer in America from the mid-fifties to the eighties. This line celebrates Rose as she had great style and gifted me my first handbag. My signature folding handle is the core of my line. My mind thinks in a very linear fashion. I love clean lines, symmetry and the hardware that I've designed (and patented) evokes an architectural edge. The Zefryos is one of my absolute faves for this season, and it works throughout the year. I also have done my signature handle in a larger size so the Golborne and The Rose are the bigger sisters to the Zefyros. The Salviati I did for fall is amazing with pony and metallic silver python. For next season, I'm exploring more texture, and alternative materials.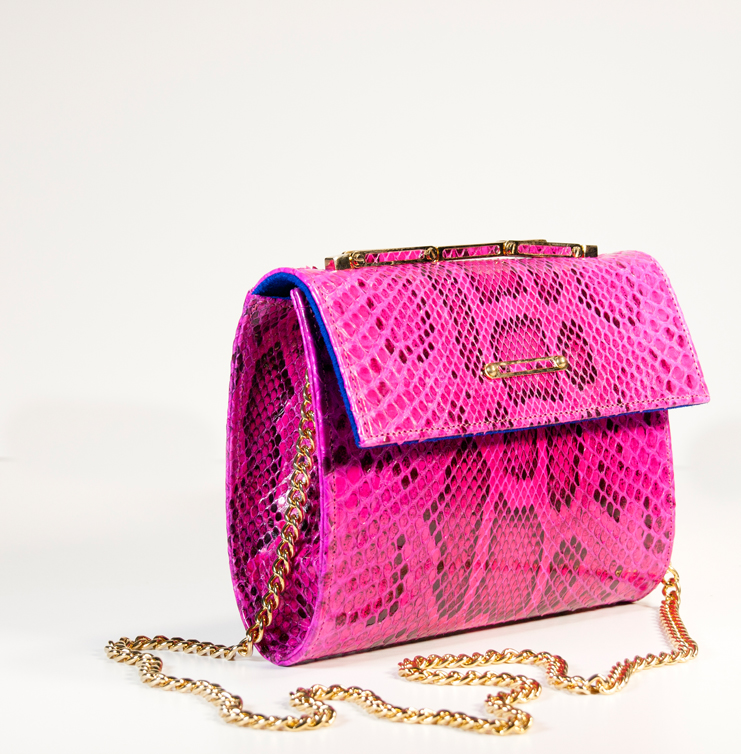 Behold! The Zefyros handbag. Image courtesy of Dea Rosa Athens.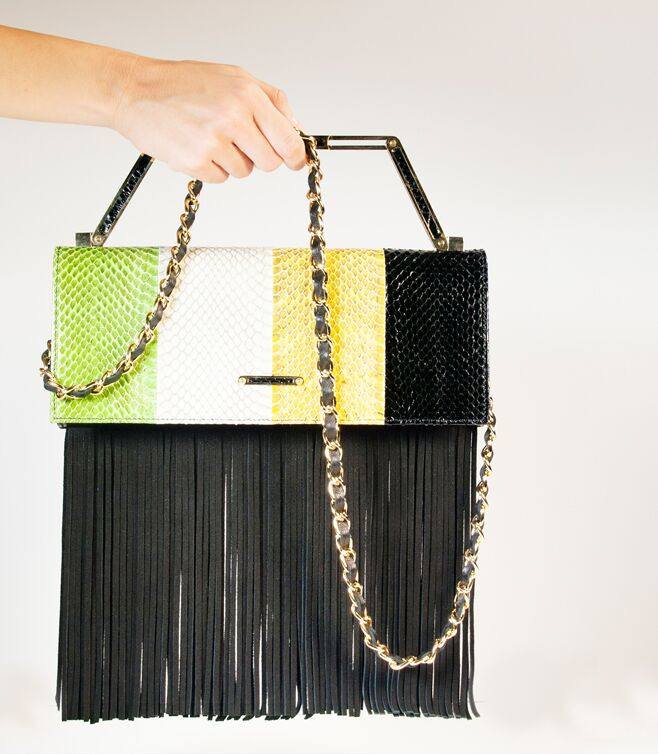 The Golborne handbag. Image courtesy of Dea Rosa Athens.

Destination Luxury: What do you think is the epitome of luxury?
Andria Mitsakos: No shoes. No phone. No wifi.
Destination Luxury: What's on your wish list destination-wise for 2016?
Andria Mitsakos: Casablanca is on top of my list for 2016 as it is a city with a rich Renaissance ready to pop again. Cuba is top of my list and it's so close! I have a great friend who lives in Havana and she's been trying to get me to go forever, so 2016 will be my year. I still have Sri Lanka on my bucket list, and will plan on spending time in Provence for my new rose wine PR client, Mirabeau Wines. I'm also keen on exploring more of Brazil and visiting a new PR client of mine, Mount Cinnamon on the island of Grenada in the Caribbean. It's out of the hurricane zone, so it's a great summer destination too.
Destination Luxury: What do you think are going to be some of the hottest up and coming destinations for 2016?
Andria Mitsakos: Miami! Everyone should come to Miami this year. My store, Wanderlista Miami, is in Mid-Beach Miami. The area is having such a great resurgence. It's a whole new world. Stay at Hotel Croydon (where my store is and a great value for the area), Soho Beach House or the new Faena. Other locales include Casablanca of course, and Cuba is clearly a front runner, along with some of the less-traveled Greek islands and regions of Italy like Emilian-Romagna where I have a PR client, Palazzo Varigiana. It's a great road trip from Milan. Athens continues to wow everyone who visits – I just please beg everyone to spend at least two or three nights. Bed down at NEW Hotel, it's a client of mine and the only contemporary property in the city, designed by Brazil's famed Campagna brothers. 
Written by DLX contributor Susan Michals.