Are you looking for a new sailboat to add to your collection of seaworthy beauties? Or perhaps you're making the big decision to buy your very first sailing yacht, so you can finally enjoy the beautiful waters of the Philippines on your own time and pace?
Whichever the case, it's always a good idea do some research before committing to a sailboat of your choice. It's a big investment after all, so you want to make sure the one you're buying is of exceptional quality and one that truly meets your needs. It's also prudent to check if the boat itself is favored by experts or has won any accolades from reputable organizations or award-giving bodies. While an award isn't exactly an unimpeachable mark of quality, it still means that quite a lot of people and like-minded boating enthusiasts loved something about the boat you're picking, and that's nearly always a good thing.
So to help you with your decision, here are four award-winning boats that we strongly feel are worth your consideration. All of these boats are made by world-renowned French sailboat and motorboat manufacturer Bénéteau, so you can be sure that they're made with quality and excellence in mind.
Currently, they're all available through Europa Yachts, a Philippine representative of Bénéteau sailboats, alongside other high-end boats made by world-leading brands such as Lagoon, CNB, Monte Carlo, and Azimut. So if the ones listed below don't quite catch your fancy, you can always peruse the listings from this site, and you're sure to find a vessel that will soon be your trustworthy partner in your yachting adventures.
The Bénéteau Oceanis 46.1
Coming up first is the elegant Oceanis 46.1, which won the Family Cruiser category at the 2019 European Yacht of the Year Award—concluded on January 19, 2019 during the 50th Düsseldorf International Boat Show in Germany. This sleek beauty was hailed by a panel of top European magazine journalists as one of the best family cruisers ever made to set sail, noting its high performance and how incredible it felt to be at its helm.
Looking at the Oceanis 46.1, it's clear why this was the case. For one, it's designed by none other than world-famous naval architect Pascal Conq. His touch not only gave this Bénéteau offering its stunning profile, but also its stepped hull, which allowed the sailing yacht to boast features usually reserved to its bigger siblings, such as exceptional stability on the water and a more spacious interior. The latter is especially something to highlight, as it also gave deck and interior design firm Nauta Design the ability to fully furnish the inside of the yacht for maximum luxury.
That's not all that the Oceanis 46.1 has to be proud of, however. Its superb design has also resulted in an efficient deck that allows for an unparalleled degree of safety and ease of use. There's also the fact that the furling mast, self-tailing jib, as well as the halyards and sheets are brought back to their respective helm stations via single winches, making short-handed sailing a breeze.
So, if you're looking for a family cruiser that can safely house your loved ones in safety, luxury, and comfort, the Bénéteau Oceanis 46.1 should be right up your alley.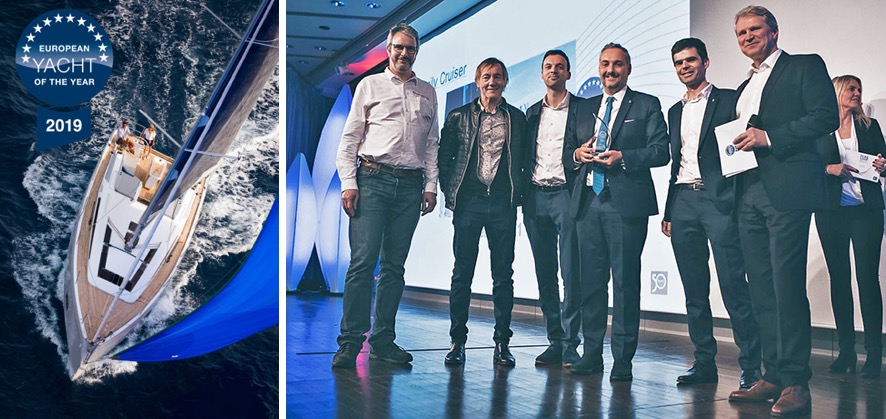 The Bénéteau Oceanis 51.1
Next up is the stylish and robust Oceanis 51.1, the Bénéteau offering that was bestowed the coveted title of Best Boat in the Cruising Yacht category during the British Yachting Awards. The inaugural awards was held on December 11, 2018, at the Royal Thames Yacht Club in Knightsbridge, London.
Besides being another historic victory for Bénéteau, the occasion also marked the very first time that the public—composed of readers of British sailing magazines Yachts and Yachting and Sailing Today—was able to cast their votes for the winners. This cements Oceanis 51.1's reputation as an excellent sailing yacht that's beloved by boating experts and enthusiasts alike.
Just like with its smaller sibling, the reasons why the Oceanis 51.1 won the award were quite apparent. Designed by none other than naval architectural firm Berret Racoupeau Yacht Design, this Bénéteau sailboat has both the looks and functionality to impress. First, the boat has a stepped hull, giving it an impressive flared profile on the water while making it supremely easy to handle. This hull design also affords the yacht an amazing amount of room inside, allowing Nauta Design's work on the interior to blossom to its most opulent and luxurious.
What else is there to love with the Oceanis 51.1? A lot more. The extra-large portholes pull double duty here, serving as striking details in the hull while also letting natural light to stream into the interior. An expansive deck layout above, on the other hand, allows for unrestricted and relaxed sunbathing. Last but not least, an aft swim platform also makes for easy and safe access to the water.
Indeed, when it comes to luxury and style, the Oceanis 51.1 does not mess around.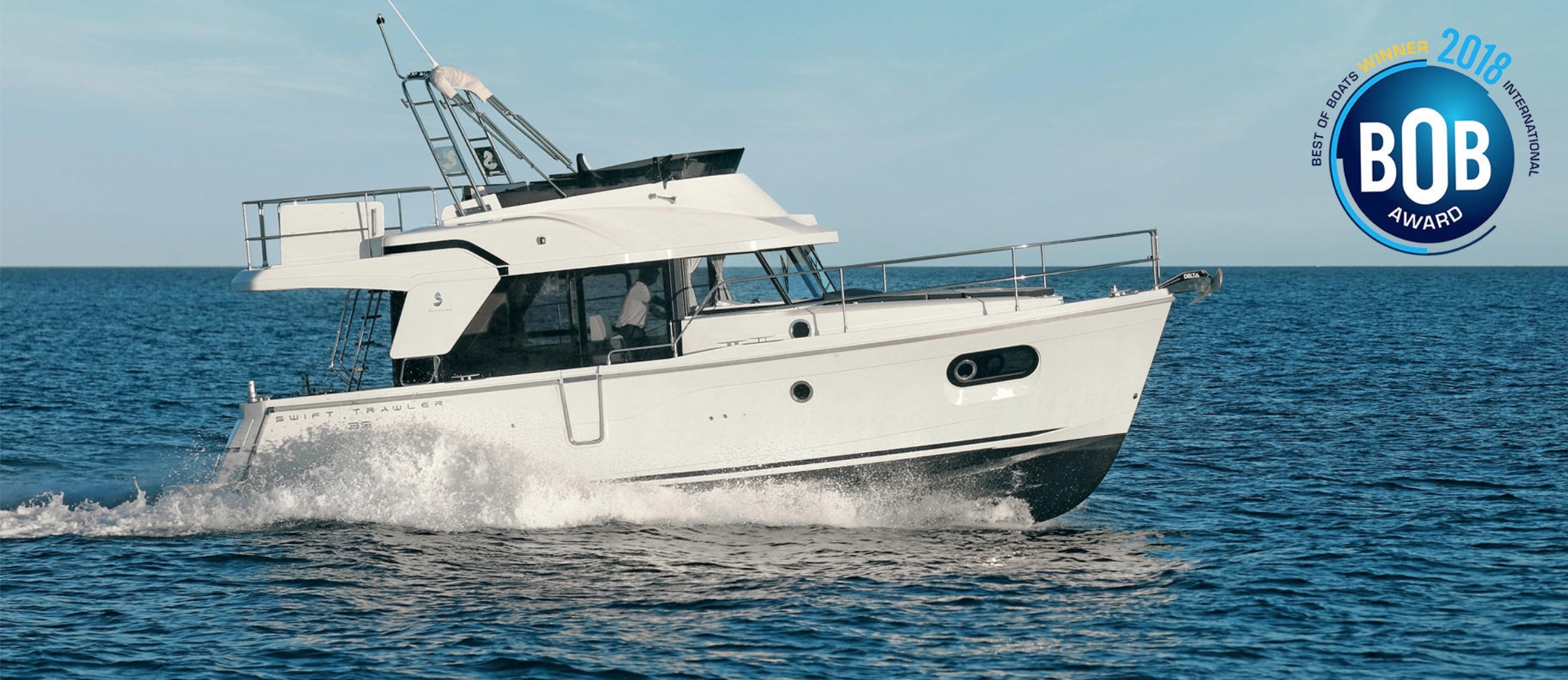 The Bénéteau First 14
From prize-winning big luxury sailing yachts, let's move on to an award-winning dinghy that's more for the casual sailing enthusiast. Enter the First 14, one of Bénéteau's offerings in its competition-focused line of simple yet fun sailing boats. Just like the other entrants in this esteemed list, the First 14 has indeed been bestowed with an award, specifically SAIL Magazine's Best Boat 2019 award in the Daysailer category.
There's not much to praise about the First 14 that you won't already catch once you see it slicing perfectly past you on the water. Sporting a sleek but robust look courtesy of naval architect Sam Manuard of Manuard YD, the First 14's silhouette is both distinct and impressive.
Its double center-board casing allows for both solo and paired sailing, which is great for whether you want to go on your maritime adventures alone, or if you have a buddy who can sail with you for the day. Combine this with a highly variable sail area (between 8.5 and 21.5 square meters) and several seat heights to accommodate different crew sizes and weights, and you have a dinghy that's amazingly feature-rich but also simple and fun to set sail in.
Take your friend or significant other out sailing today on the First 14, and enjoy the sport like never before!
The Bénéteau Swift Trawler 35
Last but most definitely not the least, we have the Swift Trawler 35, the lone powerboat on this list of award winners. This humble yet powerful Bénéteau offering came first in the "Best for Travel" category of the BOAT & FUN BERLIN convention, held on November 29, 2019 in the German capital. It's to note that its predecessor, the Swift Trawler 30, also won the same award two years ago, making this a particularly momentous win.
The Swift Trawler 35 may not look as grand as its Oceanis cousins, nor as compact as the smaller First 14, but make no mistake, it's still got the trademark Bénéteau quality that makes it truly world-class. The moment you step on board, you'll immediately feel a wonderful sense of safety and security, thanks to its robust construction and its spacious, comfortable, and well-planned interior courtesy of Andreani Design. The boat's glazed wheelhouse also affords a 360° view of one's surroundings, increasing the sense of space for those on board.
The amenities it possesses also help in creating a pleasant atmosphere that's well-suited for long cruises on the water. These include an optional refrigerator, massive water tanks, and luxurious teak furnishings that include an en-suite shower in the owner's cabin. There's also a secondary cabin with bunk berths for your friends or loved ones.
As comfortable as it is, however, the Swift Trawler 35 is no slouch when it comes to functionality. Its hull, for example, sports a semi-planing flared design, giving it remarkable stability and excellent maneuverability on the water. Meanwhile, its Cummins engine pumps out a forceful 425 horsepower, allowing it to leave the competition in its wake while also giving passengers a smooth ride.
A Bénéteau boat is the perfect companion for your nautical adventures
Do awards mean that a specific product—or in this case, a boat—is perfect in every way? Of course not. However, it does mean that among its peers, it was judged by an impartial panel to be the superior choice in all respects. Therefore, it's a reliable mark of quality. This makes the above-mentioned offerings from Bénéteau truly worth considering if you're in the market for a boat in their respective classes. Happy sailing!