by Rich Palese
Romantic Winter Destinations
During the hustle and bustle of the holidays, it's easy to put quality time with your spouse on the backburner. But cold winter nights are the perfect time to cuddle up by a roaring fire and enjoy an intimate, romantic getaway at an exclusive destination.
With an on-demand private jet service like evoJets, you and your better half can plan a trip over breakfast and enjoy it over dinner!
 Aspen, Colorado
With charter flights to Aspen, Colorado, you can enjoy all of the luxurious accommodations of this European ski village with the utmost style and convenience. Situated amongst the rolling, snowcapped Rockies, Aspen features a rustic setting where couples come to escape. Pamper yourselves with couple's massages at Aspen Club & Spa, book a day trip that defies the ordinary at Maroon Bells, or enjoy a decadent dinner for two at Pine Creek Cookhouse, offering up-close views of the breathtaking Elk Range.
Life doesn't get much better than when enjoyed on a private jet to Jackson Hole, WY. Explore a ski lover's paradise at the Jackson Hole Mountain Resort, featuring exclusive amenities such as spa and wellness services, indulgent dining and shopping options and tons of exciting activities. Go snowmobiling, take a romantic sleigh ride, enjoy the sights and sounds of Yellow Stone or spend a starlit night slope-side at the pastoral Rock Springs Yurt.
 Maui, Hawaii
Aloha! Escape to an exotic island paradise when you fly first class in your private air charter service to Maui. Soak in the sun on the warm, golden beaches, hike through the ethereal bamboo forest, or spend an unforgettable day windsurfing or snorkeling with your spouse. After a day filled with adventure, return to a serene Hawaiian hideaway like the Four Seasons Maui to complete your day of bliss in absolute elegance.
Berkshires, Massachusetts
Even though it's about an hour from the congestion of New York, The Berkshires feels like a world away. Book a room at the charming Lenox B&B, featuring elegant rooms and a cozy fireplace. Enjoy browsing through the town's quirky mom-and-pop shops enjoying a bottle wine by the fire. If it's spas and tranquility you prefer, then try Canyon Ranch in Lenox, MA for upscale pampering and 5-star amenities. What more could a couple ask for?
 La Jolla, California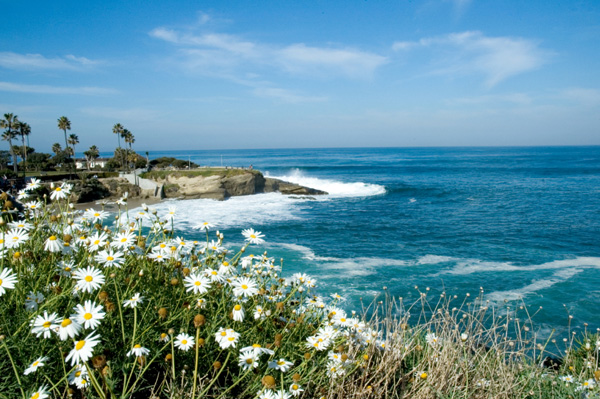 This hilly seaside community makes for the ideal romantic winter getaway. Trade in the snow and sleet for sun and surf. From world-class shopping to one-of-a-kind dining, La Jola boasts shimmering ocean views and timeless landmarks. There's a new experience waiting for you and your spouse everyday! Take in the local grandeur while hiking, stretch out on the sun-kissed beaches, play a round of golf, or spend the day diving, fishing or surfing.
Whether it's a rustic mountain cabin or exotic island hideaway, these five locations are perfect for a romantic winter holiday!