We can't promise to erase those big numbers you made on the Old Course. To ease the pain, though, we'd like to suggest a collection of excellent restaurants that will help you forget that, uh, dreadful drive into the hotel on the 17th.  Better still, if you played great and sunked a few birdie putts, these select restaurants are awesome places to celebrate and create lasting memories. A well-planned international golf excursion not only includes great golf courses but also one-of-a-kind fine dinning experiences. The next time you're in St Andrews be sure to check out these restaurants:
Bistro Du Vin – With a warm and relaxed setting, this stylish bar and bistro is just a few steps away from the first tee of the Old Course. Inspired by French home-style cooking with robust earthly dishes and slow-cooked foods, the Gallic-influenced menu has an undeniably British Flavor. (click here for website)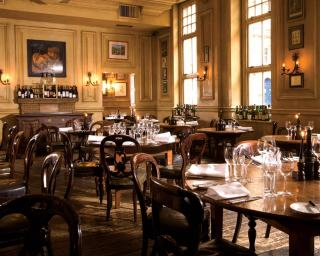 The Seafood Restaurant – Neighboring the Aquarium, this fabulous restaurant serves some of the finest seafood in the area. Enjoy a glass enclosed dinning room with views across the sea and a fresh menu featuring oysters, monkfish, salmon, and other local favorites. (click here for website)
Rocca Bar & Grill – This sleek grill style Italian restaurant at the Rusacks Hotel offers an excellent dinning experience. While you wait for your table, sip from a flute at the Louis Roederer champagne bar, where you're rewarded with breathtaking views over the 1st and 18th holes of the Old Course. (click here for website)
 The Peat Inn – Chef-proprietor David Wilson has made the Peat Inn a center of attraction for gourmands and earned the highest praise from the country's leading guides. It's been among UK's best restaurants for 20 years. (click here for website)
Nahm-Jim – The English Empire once stretched across the entire globe. Perhaps that is the explanation for this amazing farm-to-table Thai food restaurant in the middle of St Andrews. Nahm Jim mixes the area's local produce with authentic Thai spices and ingredients bought weekly in the markets of Bangkok. (click here for website)
The Clubhouse "Steak & Seafood" at the Fairmont Hotel – With magnificent views over the Bay of St Andrews, The Clubhouse offers fresh Scottish seafood and steak paired with a dramatic cliff-top setting creating a spectacular dinning experience. (click here for website)
Sands Grill at the Old Course Hotel – A contemporary brasserie offering a casual, yet quality dining experience specializing in seafood and steak. It's inspired by a traditional Grill House and features Scotland's finest seasonal ingredients with a twist of international flavors. After dinner, grab a night cap at the Road Hole Bar and admire the beauty of the Old Course. (click here for website)
Written by DLX contributor Paul Schmidt.