By Susan Michals.
Thursday night in Hollywood,  Cadillac celebrated the start of Hollywood's biggest weekend with its first-ever cocktail party to fete the 88th Academy Awards.
Held at Hollywood's iconic Chateau Marmont, the exclusive event brought together some of the industry's top insiders in addition to Oscar nominee Arthur Max (Production Design, The Martian) along with Christoph Waltz, Joanne Froggatt, Allison Janney, Kate Walsh, Andrew Rannells, Kelly Rowland, Jesse Tyler Ferguson, Jared Harris, Matt "Dr. Who" Smith, Ty Burrell, Abigail Spencer, Samantha Barks, Jack Fox, Kim Raver, Jimmy Jean-Louis, Paul Wesley and more.
Froggat, fresh from the finale of her landmark series "Downton Abbey," came out with her husband to celebrate. Ms. Froggat will next be seen on the big screen in the film, A Street Cat Named Bob, due out this summer.  Brit Jared Harris of "Mad Men" – who is about to start production on the latest Robert Zemeckis film with Brad Pitt and Marion Cotillard, hung out with friend and fellow Brit, Matt Smith of "Dr. Who."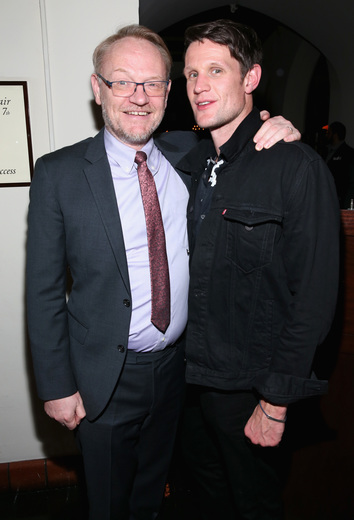 Actors Jared Harris and Matt Smith. Images courtesy of Cadillac/Getty Images.
This was Cadillac's first foray into the Oscar party spotlight, (though they are the official vehicle spoonsor of the Academy Awards) and based on the evening's smashing success, it is only the first of many. On Sunday the brand will also debut an all-new series of its "Dare Greatly" ads during Sunday's telecast.