When you think about luxury dining in London, you imagine the grandeur eateries of Mayfair or the bustling terraces of Covent Garden, however, it isn't only the 'upmarket' locations that hold plenty of delights and there is a world of tastes to discover in every corner of the capital city. Whether you have a sweet tooth for desserts and treats or prefer a multiple course experience, there is sure to be a hidden gem in the East End that'll have you returning time after time.
Why the East End?
London's East End is not often high on the list of visitors to the city yet offers a completely different side to the well-trodden path. The diverse area is home to plenty of sights and things to do and is the origin of one of the most infamous mysteries of the UK to date, the elusive Jack the Ripper. Although the area has seen much development in recent decades, there are still streets that stand almost untouched from the days of Victorian London, with cobble lined roads and historic embellishments of a time that once was. You only need to look up when walking through the streets of the East End to see echos of the past decorating the facades of classic buildings and a Jack the Ripper walking tour can be a great way to uncover more secrets hidden in the architecture around you. 
Best Breakfasts and Brunches
It's common knowledge that the 'most important meal' of the day is breakfast, but that can be easily extended to brunch which has become a more social occasion enjoyed with friends or loved ones. In recent years the demand for more breakfast and brunch locations has been increasing and there are plenty of places that have opened up to satisfy the crowd. 
Love a bit of quirkiness? The Cereal Killer Cafe on Brick Lane is a favourite amongst kids of any age and with over 100 cereals from around the world to choose from, 12 different flavours/types of milk and 20 different toppings, you can create your own taste-sensation combination. 
For a literal higher class of breakfast, the Duck and Waffle restaurant on Liverpool Street offers views across the city from its 40th-floor location in the Heron Tower and is open 24 hours a day ensuring you can get your scrambled egg fix whenever the mood takes you. Reservations are definitely recommended and deliciously prepared duck is a central ingredient to their all-day menu. 
Lunches and Mid-Afternoon Tea
Afternoon tea is a British staple but not any scone will do, an enjoyable afternoon tea requires a decent setting and quality ingredients. Alternatively, if you just want a social hangout place with a bit of flair, there are plenty of unique locations to choose from. 
The Courthouse Hotel provides an excellent setting for an afternoon tea, complete with finger sandwiches, fruit-filled scones and a platter of flakey pastries, all served alongside a selection of different teas. 
Fancy a social tea with a difference? London Grace in Shoreditch is a one-of-a-kind nail bar come coffee shop that also provides a menu of fun cocktails. Book the private party space for up to 20 guests or simply pop in for a coffee while being pampered. 
Dinners and After Dark
The capital springs into life after the sun goes down and the fun goes on into the small hours of the morning wherever you are and whatever the time of year. London's East End is no different and a favourite area for dinner time is Brick Lane – London's very own 'Curry Mile'. The scents, sounds and smiling staff beckon to you as you explore the winding streets and you can come back night after night and still not get around to trying everything as there will always be a new delight to discover. 
If curry and traditional Asian dishes don't take your fancy, don't miss the Clove Club, ranked as one of the World's Top 50 Restaurants and awarded with one Michelin star. The menu at the Clove Club changes with the seasons and you'll need to prepay your reservation in advance but it's an experience like none other. 
Not everyone proclaims themselves as a foodie but no one can deny a truly delicious dish and fun dining experience with the people they enjoy spending time with and there are so many hidden gems to discover in the areas less travelled. Start planning your next food adventure today and make sure to try something new as you will never know what favourite tastes are left to uncover.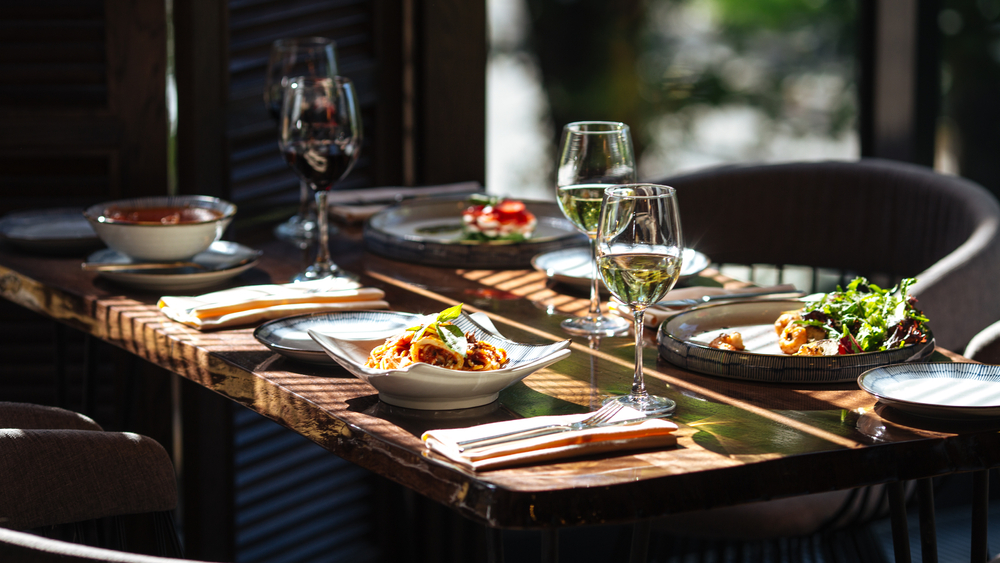 Image Credits
Fancy Feasts in London's East End (first image)
Shutterstock – Royalty-free stock photo ID: 744994018
By marandstock
Fancy Feasts in London's East End  (2nd image)
Shutterstock – Royalty-free stock photo ID: 1678594945
By Hihitetlin