Photography courtesy of Ashly Covington / CovingtonImagery.com
Spark LA's  'Spark A Dream' Gala raised funds for their life-changing mentorship program at Tiato in Santa Monica. Hosted by award winning Actress and Devious Maids star, Judy Reyes. the evening was a night of music, magic and mentor celebration. Spark LA pairs 350 under served middle school students (7th & 8th graders) with the city's top companies including the Academy of Motion Picture Arts and Sciences, Entravision, Google, Union Bank, Capital Group and Cornerstone OnDemand for one-on-one mentorships in the workplace.
Spark Los Angeles started by providing 13 students with mentors at one school. In the past five years, it has grown to 350 students at seven schools by the 2014-2015 school year. In 2013, approximately 7,000 LAUSD students did not claim their diplomas and 86% were Hispanic or African American. Spark partnered with HBO, Deloitte, Gensler, Warner Brothers, and many more to create apprentice programs for at-risk students.
Destination Luxury interviewed some of the mentors & mentees to uncover their remarkable stories.
Mentee: Fatima Martinez
Fatima Martinez is an eighth grade student at Camino Nuevo Charter Academy – Kayne Siart. She participated in the Spark Program during the 2014-2015 academic year and was introduced to the program by the Family and Student Coordinator at her school. While she was a little nervous to participate in the program initially, she was excited by the prospect of getting to know someone who she could look up to. Her favorite school subjects are science, humanities, dance, and art. In her spare time she likes to read, draw and make things. Fatima lives in Los Angeles in Korea Town with her parents and two siblings. Her mentor is Mike Rocco, Manager of Internal Communications for Hulu.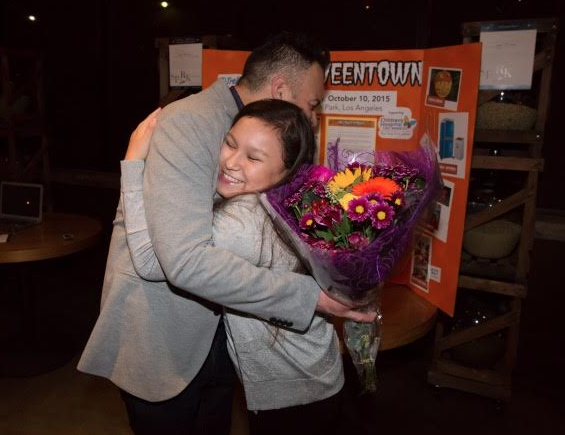 Mentor: Mike Rocco
Mike Rocco is the Manager, Internal Communications – Tech Solutions and Editorial at Hulu. Since joining the Hulu team in 2013, he was instrumental in the creation and launch of Hulu's first social intranet (Huluverse), reflecting Hulu's values and culture. Mike produced Hulu's "Powering Play" recruitment campaign and manages all Hulu Jobs recruitment social media channels and marketing. Additionally, he leads the internal communications editorial strategy for Hulugans worldwide. Mike is an accomplished designer, producer, video editor and writer. Prior to becoming a "Hulugan," he spent more than 20 years in communications, marketing and operations roles at The Walt Disney Company.
Destination Luxury: What have you learned from the Spark program?
Fatima: Before I even met my mentor, we learned that first impressions really matter and that this is how people will remember you. It is important that your hair is combed and your teeth are brushed! I learned how to shake hands and that a firm handshake makes a good first impression. I learned life skills in general too.
At my first apprenticeship with an architecture firm, I learned how to use Google Sketch and how to locate buildings on a plan. On the first day I was panicking because I deleted a building from the plan and put a building in the sky instead of the floor!
I also learned that communication is really important. When you are creating plans, you need to make sure you give the same information that is on the plans to the people who are in charge of the project. Hulu is such a big company so there needs to be strong communication between all the teams.
I learned that any idea you have can be possible to create and that it is often the crazy ideas that make a difference, and not to worry about what others say or think.
Destination Luxury: How often do you meet?

Fatima: We met once a week, for two hours, for eight weeks but also had match day where we first meet our mentors, and Discovery Night where you present your project together.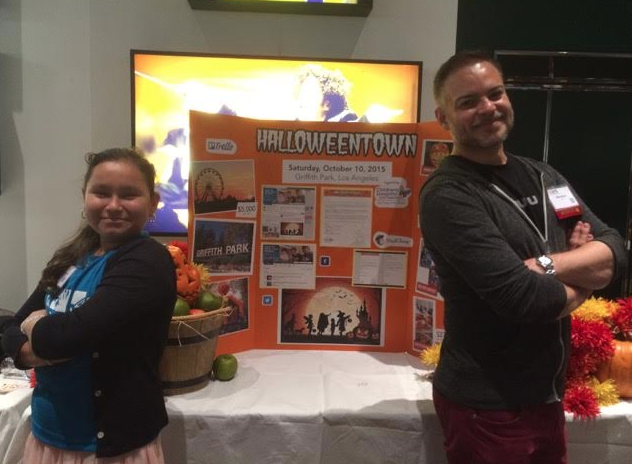 Destination Luxury: How have you been inspired by your mentor?
Fatima: Mike taught me that you shouldn't care what others think and you need to be yourself. It made me think of Albert Einstein – when he took a photograph, he would stick out his tongue and his hair was all over the place but it didn't matter! That is why Mike and I always took our photographs together back to back – so people would remember the Mike and Fatima crew at Hulu!
Destination Luxury: Tell us about the projects you worked on at Spark.
Fatima: My first project for the first semester was at an architecture firm and I had two mentors. We created designs for two hospitals buildings – one for children and one for adults. Our goal was to create a comfortable environment so that way they would not think about being sick – a nice place that smells good! I wanted my hospital to be located in Seattle because my favorite series is "Grey's Anatomy" and it is located in Seattle. My project was called Fatima's Anatomy because of "Grey's Academy!"
My second project was at Hulu with Mike and we planned a fundraising event for the Children's Hospital of Los Angeles. That is where kids go for chemotherapy, go to the emergency room, and have to stay to take their medication. Our goal was to raise money for the hospital – a lot of kids need surgery and the parents often can't afford the surgery. Sometimes the children die and we don't want any kids to go through that. We wanted to create a memorable moment for each child. The event was also for the children who were sick and their families, so they could be a regular child for one day instead of being in bed.
Destination Luxury: What was your passion before the Spark program and what is it now?
Fatima: My passion was to be a pediatric surgeon for children who had diseases. Since Spark, I want to provide healthcare for everyone all around the world and not just for the ones who can afford it. Even though some parents may not be able to afford healthcare or insurance, everyone needs someone to take care of them, and everyone deserves to have medical care.
Mentee: Nery Cubias
Nery Cubias is an eighth grade student at Joseph Le Conte Middle School. He lives in East Hollywood with his family. He wants to be a filmmaker and is currently writing a script for a horror movie.
Destination Luxury: What have you learned from Spark ? 
Nery: I've learned so many things in the Spark program. One thing I learned was to keep trying and never give up on something I started. Also I learned to be myself around people and not care of what other think or say about me: I'm me!
Destination Luxury: How have you been inspired by your mentor?
Nery: I've been inspired by my mentor in so many ways. He's a very hard worker: he does something and he gets it finished. One day we were in a car and he was driving and I said, " My dream is to be a movie writer". He looked at me and he told me, " A dream is something you imagine in your head; it's a fantasy. What you have is a goal: a goal you're trying to reach for". He paused for a second and he said, " Its not a dream, it's a goal". I'll never forget the small quote he told me.
Destination Luxury: What are your Spark projects?

Nery: My partners (a.k.a Steve and Joe) and I made 2 short films in Spark. The first film was based on my life how it used to be. Our second film is a comedy based on a boy that has a date with a girl and he tries his best to not get there late.
[On his first meeting with Joe, he told Nery that the key to great stories was to share from the heart and write about what they knew. That weekend, Nery wrote the basis of what became a story about two young boys in middle school who face two very different, but related, tragic situations at home. This leads to mounting pressure between each other at school. Nery also played a lead in the film.]
Destination Luxury: What was your passion before the Spark program and what is it now?
Nery: To be honest I had no passion before Spark. My passion now after Spark is being a scriptwriter and a director. I love anything that has to do with filming acting, even theater. My one goal is to have a featured film up on the big screen and every movie theater in the United States! I want at the end of each film to have my name " Written and Directed by Nery Cubias".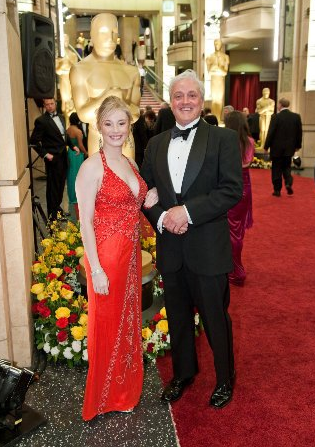 Growing up in suburban New York, Joe became fascinated by photography at eight years old, after borrowing his mom's Brownie Starmite camera for a class field trip to the Bronx Zoo. Eventually, he was accepted into the Union as a Camera Loader, and worked his way through the ranks until 1989, when, after receiving much critical acclaim for a documentary film, Margaret (1990) on which he served as Co-Producer and Cinematographer, he upgraded his Union classification and officially became a Director of Photography. With more than 30 years of cumulative field experience, Joe has had the opportunity to work with some of the world's best directors, and yet retains his sense of humor. Joe is currently a Research Technologist at The Academy of Motion Pictures Arts & Sciences.
Destination Luxury: How were you paired together?
Joe: After submitting a detailed questionnaire, Sean Diaz of Spark Los Angeles chose Nery and Steve as my protégés. [Spark students are matched with mentors who they share a common interest with and who can help them improve a skill area they want to grow in.]
Destination Luxury: What has been the best thing about the Spark Program?
Joe: Working with Nery and Steve has been an inspiring experience for me. It has reminded me that the best way to understand something is to undertake the task of teaching it to others.
Destination Luxury: Tell me about the projects that you are working on at Spark.
Joe: When I first met Nery and Steve, we talked about the different aspects of filmmaking and I told them that the best work often came from extrapolating their actual life experiences into fictional stories. Nery announced that he had a story he felt compelled to tell. Steve felt that he was interested in Acting. At our second meeting we began constructing a script out of the notes Nery had made. When the two-hour session had ended, the boys did not want to stop. I offered to meet up with them in the school library two days hence so we could continue the story conference. When I showed up at the school, they had already written out the rest of the script in long-hand (they were lacking a computer). The end result was Nery and Steve's first opus: Lo Mismo – Diferencias.
A film by Nery & Steve:
These are just two of the stories from Spark mentors and mentees. If you are interested in being a mentor for Spark, please visit their website, www.sparkprogram.org.