Many people believe that their star sign, or Zodiac sign, can tell them a lot about their personality and relationships. However, did you ever consider what it might have to say about where in the world you should be right now? So…if you're reading this right now at work, imagine yourself in another bustling city or an exotic destination. Find out where YOU should be teleported to right now.
Below is a list of hotels and venues where you should be depending on the month and day you were born. Whether you are a fastidious Virgo or an adventurous Sagittarius, you will probably find something to love at each of these destinations.
Zodiac sign – Aquarius
Birth Dates: January 21 – February 19
Key Characteristics: Witty, Inventive, Original, Artistic
This is where you should be right now: Musha Cay
Musha Cay is a private island that was purchased by David Copperfield in the early 90s. He transformed it into one of the most creative and whimsical resorts you will ever find. This exclusive resort only holds 24 people at a time. Watch a movie at the nostalgic outdoor drive in at Coconut Beach. The car seats have been replaced by chaise lounges. Have a picnic at one of 40 secluded beaches on any of the 11 islands. Or even better, play a game on Houdini's own billiards table. The best thing about this place is the 2 kilometer sandbar that forms for only 4 hours a day during low tide. It doesn't get any better than that.
---
Zodiac sign – Pisces
Birth Dates: February 20- March 20
Key Characteristics: Compassionate, Adaptable, Devoted
This is where you should be right now: #362 Jacqueline, Paris, France
Pisces are the lovers of the Zodiac, and #362 Jacqueline suits them perfectly. This destination spot is actually a luxury yacht, moored on the river Seine in the heart of the most romantic of cities. It features four cabins, a fireplace, a Jacuzzi, and more. The obvious plan is to make this your honeymoon or anniversary getaway, but thanks to four spacious cabins and a plethora of nearby dining options, #362 is actually a great option for business trips, too, and can accommodate parties ranging up to 50 people in size. It might be a perfect location according to your zodiac sign.
---
Zodiac sign – Aries
Birth Dates: March 21 – April 19
Key Characteristics: Independent, Optimistic
This is where you should be right now: Los Suenos, Jaco Beach, Costa Rica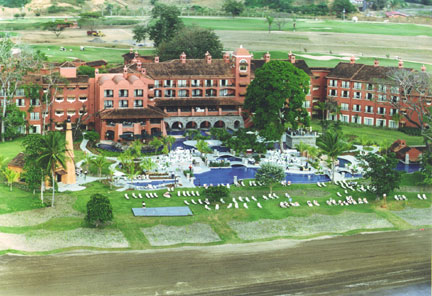 An independent Aries would find a great deal of pleasure in going solo, and there's almost no better destination for an independent traveler than the beaches of Costa Rica. Los Suenos Resort and Marina located on the picturesque Jaco Beach stretch of sand beloved by tourists everywhere, offers an excellent range of options for those who prefer traveling alone. Choose from a 201-room five-star Marriott hotel, or rent one of many privately owned luxury residences on the estate, which is surrounded by over 600 acres of private rainforest perfect for getting in touch with nature and yourself. Check out the onsite golf course, private Beach Resort Club, and international marina for good measure. Margaritas not included, but easily accessible.
---
Zodiac sign – Taurus
Birth Dates: April 21 – May 21
Key Characteristics: Dependable, Persistent, Patient
This is where you should be right now: Sierra Ranch Retreat, Northern California, US
The patient nature of a Taurus-born traveler will think nothing of packing the kids (and perhaps even their friends) along on a full-blown vacation experience. There is no better place for such a trip than the Sierra Ranch Retreat, a luxury private vacation destination located in the woods of northern California. Made especially for group getaways, the estate offers all-inclusive accommodations and activities that range from custom-built log homes to private guest suites. Entertain yourself, or the whole group, with the offered activities such as tours of nearby copper mines, ATV riding, kayaking, or plain old relaxation at the well-equipped Jacuzzis and included spas.
---
Zodiac sign – Gemini
Birth Dates: May 22 – June 21
Key Characteristics: Energetic, Imaginative, Witty
This is where you should be right now: New Hotel, Athens, Greece

Any Gemini will tell you that a sense of humor is a key part of life, so why not choose a vacation that celebrates that essential part of your personality? The popular Yes! Hotel group has opened the New Hotel, a revolutionary design hotel decorated with refurbished and recycled materials. Designed by Fernando and Humberto Campana, the space is filled with whimsical elements — grass, wooden boards, metal, plants and sculptures. This boutique property is by no means traditional and perfect for those who are looking for excitement and flamboyance.
---
Zodiac sign – Cancer
Birth Dates: June 22 – July 22
Key Characteristics: Adaptable, Spontaneous, Clever
This is where you should be right now: Holualoa Inn, Hawaii
The last-minute, energizing nature of a Cancer is sure to appreciate the impetuous cheer of a trip that feels like an impulse decision-even when it isn't. What better way to give your vacation the feeling of a stolen luxury than by having it at a tropical resort where you feel like you are off the grid and away from the smart phone for a while? Grab a loved one and jet off to the Holualoa Inn on the Kona Coffee Belt of Holualoa, Hawaii. This bed and breakfast boasts sweeping ocean views, over 5,000 coffee trees, luxury historic cabin lodgings, and immaculate, well-tended gardens for hours of tropical wandering.
---
Zodiac sign – Leo
Birth Dates: July 23 -August 21
Key Characteristics: Confident, Ambitious, Energizing
This is where you should be right now: Azimut 68S Luxury Yacht, East Hampton, NY

The combination of a bustling city and the freedom to be impetuous are just what a Leo craves, so a vacation on this Azimut 68S Luxury Yacht, based out of the East Hamptons, will surely fit the bill. Enjoy easy access to ports up and down the coast, where you can enjoy nightlife and fine dining. Spend time on board taking advantage of the 900 square foot Master Stateroom Suite, sliding glass doors that open the living space out onto the deck, and tasteful décor right out of contemporary magazines.
---
Zodiac sign – Virgo
Birth Dates: August 22 – September 23
Key Characteristics: Analytical, Observant, Reliable
This is where you should be right now: The Ritz-Carlton, Grand Cayman, Cayman Islands
A Virgo is having the most fun when he or she is doing something productive. Just ask one! Therefore, it is no surprise that the ideal Virgo vacation pulls double-duty as a humanitarian effort. The Ritz-Carlton Hotel in the Grand Cayman Islands offers a special program for guests who wish to donate funds towards the Grand Cayman Blue Iguana rescue fund. An extra fee on top of your hotel stay earns you a spot participating in volunteer activities through the local Queen Elizabeth II Botanic Park, ranging from iguana tracking to local nest hunting expeditions.
---
Zodiac sign- Libra
Birth Dates: September 24 – October 23
Key Characteristics: Peaceful, Graceful, Idealistic
This is where you should be right now: Hotel Palais Coburg Residenz, Vienna, Austria
A Libra will appreciate the grace, classical traditions, and sheer ambiance of the ballet like no other Zodiac sign can. The ideal Libra getaway is, naturally, centered upon the Hotel Palais Coburg Residenz, located in the heart of Vienna, Austria. This five-star accommodation has all the amenities anyone could want, and a range of guest suites to choose from. It is zlocated conveniently close to multiple metro stations, meaning that trips to the Vienna Opera and nearby historic art museums will be a given part of the vacation.
---
Zodiac sign- Scorpio
Birth Dates: October 24 – November 22
Key Characteristics: Passionate, Resourceful, Observant
This is where you should be right now: Siwash Lake Ranch, British Columbia, Canada
Give a Scorpio a vacation, and he or she will want to use it to its best advantage. For a person born under this extreme sign, it means testing one's limits as a human and finding the test exhilarating. Scorpios will love the privacy and wilderness of the iconic Siwash Lake Ranch, a working dude ranch hidden in the far reaches of Canada. Guests can enjoy trail riding, archery, wilderness survival courses, hiking, and more in a setting that is just one step removed from bare-bones survival…then curl up in a luxury bed in a private comfortable suite each night.
---
Zodiac sign – Sagittarius
Birth Dates: November 23 – December 22
Key Characteristics: Independent, Optimistic, Spiritual
This is where you should be right now: The Savoy Hotel, London, England
The Sagittarius sign tends to produce people who are bright and engaging on the outside, and have a deep core of inner beliefs and resources, making for well-rounded individuals who are a pleasure to have around. A Sagittarius, then, will be the best type to fully appreciate the wonders of the Savoy Hotel in London. This historic building is less than a mile from the famous St. Paul's Cathedral, where visitors can indulge their spiritual sides, yet it still offers easy access to the glitz and glamour of London's best clubs and nighttime events. The historic building was designed by famous architect Pierre Yves Rochon and overlooks the River Thames.
---
Zodiac sign – Capricorn
Birth Dates: December 23 – January 20
Key Characteristics: Responsible, Resourceful, Loyal
This is where you should be right now: Eden Roc Cap Cana, Dominican Republic
The resourceful Capricorn can have fun nearly anywhere, and he or she is not only eager for others to be happy, but gets the most pleasure from making that happen. That is why the perfect vacation spot for a Cap is one that both fulfills the needs of others within the travel group and still offers plenty of options no matter what the Capricorn truly wants to do. Eden Roc Cap Cana is a Relais y Chateaux property that sits on one of the best beaches in the Dominican Republic. Imagine relaxing during your very own champagne sunsets and enjoy langoustine fajitas on the beach.  Stay in your very own private villa and let all your worries melt away. This is what you deserve.
by Lucy Rowe