Written by Rachel Adler and posted in Beauty High.

In the world of beauty, there are endless beauty tips and rules to keep you looking fabulous. From secrets about how to style your hair without heat to brilliant ways to fix a broken compact case, the more beauty tips you know, the better you'll be prepared to handle every situation thrown at you — and look good while doing so. In the list of beauty advice below Beauty High breaks down all those tips to make the industry less scary for women from makeup artists, hairstylists, skincare gurus and of course, our beauty staff. Remember, beauty should always be fun!
101. "Always keep your summer makeup minimal. Minimal and sheer makeup is the way to go when it's hot and muggy outside." – Mary Greenwell, celebrity makeup artist.
100. "The best thing to do when you go to a makeup counter is be armed with what it is you want to do."- Raychel Wade, founder of Cheek to Chic and La Prairie's colour ambassador
99. Use excess eye cream on cuticles. The more you hydrate your cuticles, the stronger your nails will be.
98. For smudge-proof eye makeup, take blotting tissue to remove any oil or any excess makeup from the eye area. Then, apply a small dab of cream concealer to hold things in place.
97. "A good perfume should consist of balanced blend of notes arranged in a way that creates harmonious accord."- Alexis Bergman, P&G's Global Flavor and Fragrance Trends
96. To prevent hair color from fading in the summer months, use a conditioning treatment weekly or bi-monthly.
95. Breakout before a big event? "Take oral cortisone a few days before the event to clear your skin"- Ava Shamban, dermatologist and author of Heal Your Skin.
94. "In order to keep eyeliner from running and smearing, opt for liner formulas that offer stayproof wearability."- Robin Schoen, Urban Decay Makeup Artist
93. Always allow about two fingers from your nose to where blush starts.
92. "Make sure you hydrate the skin and put on a primer"- Jessie Powers, makeup artist and national educator for Make Up For Ever
91. "Balance out your shimmer. If you're doing a shimmery eye, opt for a matte lipstick."- Raychel Wade, founder of Cheek to Chic and La Prairie's colour ambassador
90. Brush out your curls with your fingers to give your hair a more tousled look.
89. To make your manicure last, apply a thin layer of clear every two days. Pay particular attention to the free edge at the top of your nails, where chips usually happen, and apply extra clear polish there.
88. Wear white eyeliner in your water line to make eyes appear less red.
87. "Take a shimmery gloss to the center of your lips, top and bottom – this will attract light to your lips, making them look pouty."-Katrina Barrion, makeup artist for Giella Custom Blend Cosmetics
86. For slicked back hair, use a hair serum.
85. For the perfect cat-eye, "select a thin liner brush that is tapered to the point."- Pamela Taylor, makeup artist. Use a gel eyeliner for extra staying power.
84. To make your cheek bones appear higher, use bronzer under the cheekbone and highlighter on the actual cheekbone, and remember to blend. Contouring at its finest!
83. Before you blow dry, start with a volumizing spray or light gel to give the roots some lift. Pull the brush up towards the ceiling to really boost volume.
82. For fuller lips, extend the lip line using a flesh tone lip liner. Be careful not to go overboard, though!
81. The #1 reason for flaky mascara is that the formula is too dry or old. Make sure to close mascara after use to help keep its moisture. To extend the life a bit, add 2-3 drops of saline solution into the tube and swirl the brush around.
80. To fake clear skin when you notice a pimple, "Apply tea tree oil as soon as you spot it"- Stephanie Flor, makeup artist.
79. During summer, "Its easy to forget that feet can get sunburned. Be sure to apply sunscreen with a minimum SPF of 50 when barefoot"- Dr. Leslie Campbell, DPM.
78. For acne-free skin, look for a cleanser with salycilic acid or benzoyl peroxide.
77. When choosing a red lipstick, you just want to remember to get one that looks good with your undertone. If you have a warm undertone, then go for warmer reds, and if you have a cool undertone, then go cooler.
76. Sunscreens that claim to provide "all-day protection" and "water resistance" are not reliable; don't be fooled by these claims and reapply all sunscreens at least every 2-3 hours.
75. When self-tanning, use a tanner with a guide color. "It will give you instant color before the effect and it will show you exactly where you put the color and where you may have missed"- Sinead Norenius, founder of Beautisol.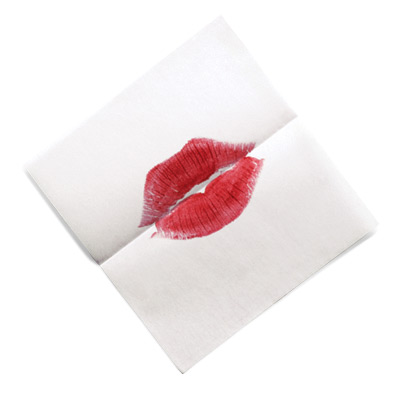 74. "If you're afraid of red lipstick, I love putting it on and then blotting it off to wear it as more of a stain"- Pat McGrath, makeup artist. Another way to make it less intense? Apply with your fingertip instead of straight from the tube.
73. For the summer months, you don't want to be caked down in foundation, so try a tinted moisturizer or BB cream instead.
72. Use blotting papers to manage oil and shine in your T-Zone, "which are also great for cleaning up around the eyes"- Rebecca Restrepo, makeup artist.
71. The antihistamines in allergy medicine dry out the skin, so skip heavy foundation during allergy season. Instead, use a tinted moisturizer.
70. To make curls last, make sure hair is completely dry before you begin with the curling iron. Also, use a heat protectant spray with hold on damp hair to keep hair protected.
69. To make a zit go away faster, don't pick at it. The bacteria on your fingers will create more redness, and any attempt at popping will make things worse.
68. Use an exfoliator like Peter Lamas pumpkin scrub to get rid of dead skin, but limit yourself to 2-3 times a week so you don't dry out your skin. Use a gentler scrub on your face and a coarser scrub on the rest of your body.
67. Always wash your makeup off before bed. "That morning-after look has never been a good one, for anyone"- Rachel Adler, beauty director at Beauty High.
66. "Too much bronzer is a nightmare for pale skin"- Jason Ascher, resident beauty expert for Barneys New York. Opt for an illuminating cream or light powder to get a glow.
65. Pick a sulfate-free shampoo, as sulfates can be harsh and drying on the hair cuticle.
64. If you have greasy hair, avoid directly conditioning roots and condition from your ear down to ends.
63."When you wear a red lip it's important that it stays exactly where you put it. Using a long wearing lip pencil to create the perfect shape and a lip color are key to having a perfect red lip."-Kristofer Buckle, celebrity makeup artist
62. To make volume last all day, avoid running your fingers through hair. "Oil from your hands can weigh down your roots leaving your hair flat at the end of the day"-Tatum Neill, Arrojo Studio
61. Try to avoid washing your hair everyday. Constant shampooing leaves hair dry and your scalp will create more oils to compensate for the loss of moisture. Instead, use a dry shampoo and style your hair into a braid or ponytail when it's a bit more oily.
60. Always use a moisturizer with SPF in the morning. Even in the winter!
59."Go for a trim every 6-8 weeks to ensure you have no damaged ends making your hair look unhealthy"- Nick Arrojo, Arrojo Studio (and the man who worked for seven years changing lives on What Not To Wear).
58. Remember, clean your makeup brushes to fight against potential bacteria and breakouts! At least once a week, swirl brushes around in a mixture of warm water and mild soap, then lay flat to dry.
57. Clean out your makeup bag at least once a year to get rid of old products that may be expired or you no longer use.
56. Winter can be especially harsh on your hair leaving it extra dry. Eugene Davis, celebrity hair stylist suggests using an Avocado Oil Hair Mask.
55. If you don't have nail polish remover, apply clear nail polish over your nail, and then wipe off. It will remove old polish.
54. During the summer, wear lip balm or gloss with SPF.
53. To add volume to clean or unwashed hair, use a dry shampoo spray.
52.Change your beauty routine for spring and summer months. Your skin needs less coverage during the spring so you can swap the heavy, winter products for lighter ones.
51."I always think that less is more. There's a point where you look in the mirror and say 'Is this too much?' and if you even have that inclination then it usually is."- Kim Catrall, Sex and the City.
50. When applying bronzer, "first start by applying it around the perimeter of your face and follow with a light dusting on your forehead, nose and chin"- Mally Roncal, Mally Beauty.
49. To get curls when you have straight hair, use, "a volumizer or volume thickening agent, a curl enhancing product, light holding finishing spray"- Vicktor Stevenson, Hair Stylist.
48."Foundation should never be heavy"- Aura Schwartz, makeup artist. Apply liquid foundation with a damp makeup sponge for best results.
47."The right red lipstick will light up your hair, eyes and skin immediately, the wrong one will not."-Poppy King, Lipstick Queen.
46. To clean up the flick of a cat eye, use a dampened, pointed Q-tip.
45. To revive curls mid-day, "Take a very small amount of pomade and put it in the palms of your hands. Rub them together. Next gently smooth the pomade over your curls and scrunch just a little bit"-Eugene Davis, celebrity hair stylist.
44."You should always go to a hair-removal specialist, where waxing, laser etc. is their main business – don't go to a nail salon for a wax"- Cindy Barshop, Completely Bare and Bravo's RHONYC.
43."A little silvery-blue eyeliner on the lower lid is very flirty"- Dimitri James, makeup artist, author and creator of Skinn Cosmetics.
42."Use your concealer as a base on your eyelids"-Melissa Silver, Maybelline makeup artist. Concealer will help to absorb oil and your eyeshadow will stick to the product instead of your lids, making it stay longer.
41. If you're not a fan of liquid liner, get the look of liquid eye liner by using a gel instead.
40. Exfoliate before applying self tanner to get rid of dead skin. Tanning products tend to cling to dryer areas and rougher areas, like your knees and elbows, so make sure they're moisturized first.
39. If you straighten your hair with a flat iron, cause less heat damage by letting hair air dry. The less heat, the better!
38. To minimize pores, use a pore-minimizing facial wash followed by a toner. Make sure the toner is alchohol-free so it won't dry out your skin.
37. The healthier you are, the healthier your hair! Take a daily multi-vitamin with Biotin to help hair grow faster.
36.To mask split ends, use an iron to straighten ends and then apply a hair repair cream.
35.There are always cheap, natural and effective homemade beauty recipes.
34.To fix brassy hair color, use a color-depositing shampoo with purple tones. For unwanted redness, use a color-depositer with a green tone.
33. To cover up roots in a hurry, use a dry shampoo spray for your hair color. If you don't keep this product around, use eyeshadow (in a shade closest to your hair color) for a quick fix.
32. Get a "dewy glow" using a highlighter or illuminator above your cheekbones and on the brow bone, just underneath your eyebrows.
31. To contour cheeks, use a matte powder (a few shades darker than your skin tone) with an angled brush. Blend on temples and under cheek bone.
30.When using a cream product (blush or eyeshadow), lock it in by using a translucent powder over it.
29. Get quick volume by using a root lifter, then use hairspray to set hair. This will prevent it from falling flat during the day.
28. For makeup that lasts all day and night, use a makeup-sealing product like a setting spray.
27. To help you find the right shade of foundation, choose the product you think is closest to your color and try it on your jawline in natural light. You will be able to easily compare it to your neck's color to see if you need to go for a different undertone, lighter or darker.
26. Try out the funky hair color trends without dyeing your hair. Instead, dust bright blush in your ponytail for the same effect. (Refinery29)
25. "Foot perspiration is typical in the summer and can lead to fungal infection and unwanted odor. Wash feet daily, and let them dry thoroughly before putting shoes on"- Dr. Leslie Campbell, DPM.
24. Splurge on items that are important to you."If mascara is really your thing and you fall in love with a mascara that's $40, buy the mascara."-Raychel Wade, founder of Cheek to Chic and La Prairie's colour ambassador.
23."Don't be too serious: It's only Makeup! "- Francois NARS insists you play around with new colors.
22. To reduce unwanted shine, use a moisturizer that mattifies your skin. That way you get the moisture your skin needs without looking greasy.
21. To create a lived-in look for your hair, use thickening or sea-salt mist before you blow-dry. Follow by running a volumizing or texture cream through hair.
20. When using an eyeshadow primer, only place the primer where you'll be adding color.
19."Cream rouge [blush] should be the first thing that touches your cheeks when you want to project an image of healthy and pinched cheeks"- Pablo Manzoni, former creative director for Elizabeth Arden.
18. If you choose to use false eyelashes, remember to use the dark glue as it will blend in with the lashes.
17. When buying "organic" beauty products, make sure to check if they are FDA certified organic. This will prevent you from getting scammed.
16. Use a facial exfoliater bi-weekly to get dead skin of dead skin. Makeup will look better on a clean, smooth canvas.
15. After using a a hair conditioning mask, follow with "a cold water rinse to close the hair cuticles"- Ursala Stephensen, Motions celebrity stylist.
14. To get your braid to last all day, try styling hair that's "dirty with product." This will make the style stick longer.
13. Use a clarifying shampoo once a week to get rid of any product build-up that may have occured during the week.
12. If you have chipped nail polish, add glitter on top to disguise the look of chipping.
11. Use a pumice stone on your feet after the shower to get rid of calluses.
10. Hydrate your under-eye area with an eye cream to prevent puffiness and bags.
9. If you have light hair,"put a lotion over the eyebrows and hair line" when self-tanning the face. Also remember to "apply it in circular motions and blend down to the neck"- Sinead Norenius, founder of Beautisol.
8. If you often find yourself being too tired to wash your face at night, keep makeup removing wipes in your night stand to prevent a runny mess or morning break out.
7. Pop 1-2 Advil before going waxing to prevent pain.
6. The best way to get rid of ingrown hairs is to exfoliate,"which rids the skin of dead cells and allows the hair to break through the surface"- Marlena Ramoy, Bliss Spa Esthetician.
5. Carrots are good for the hair. A healthy diet leads to a beautiful you.
4."The best time to apply creams is after the shower, as the skin has been de-oiled."- Dr. Stephen P. Bracci
3. Replace mascara and liquid eyeliner after 3-4 months.
2. To keep hair color vibrant longer, use shampoos and conditioners formulated for colored hair.
1. Use a cream or milk cleanser to wash your face. Creams are less drying than gels.
Wow you made it this far! That's a lot of tips, but there's always more.
Which tip did you like most? Let us know below. 
Related articles