Acrylic prints are a relatively new concept, and not many artists within the art and photography community exactly call it by the same term. 
Some call it just art prints, others call it Perspex, photos on acrylic glass, or photographs on Plexiglass. But whatever you call them, they sure are visually stunning and considered an excellent way of displaying pictures.
Acrylic photo prints are artwork printed onto photographic vinyl, bonded to a clear acrylic panel with polished flame edges. The acrylic panel is a super glossy 10mm sheet that helps you get fantastic picture clarity to your photos. They are the perfect piece of wall art which are easy to clean and incredibly versatile as they can go with any vibe in whichever room you place.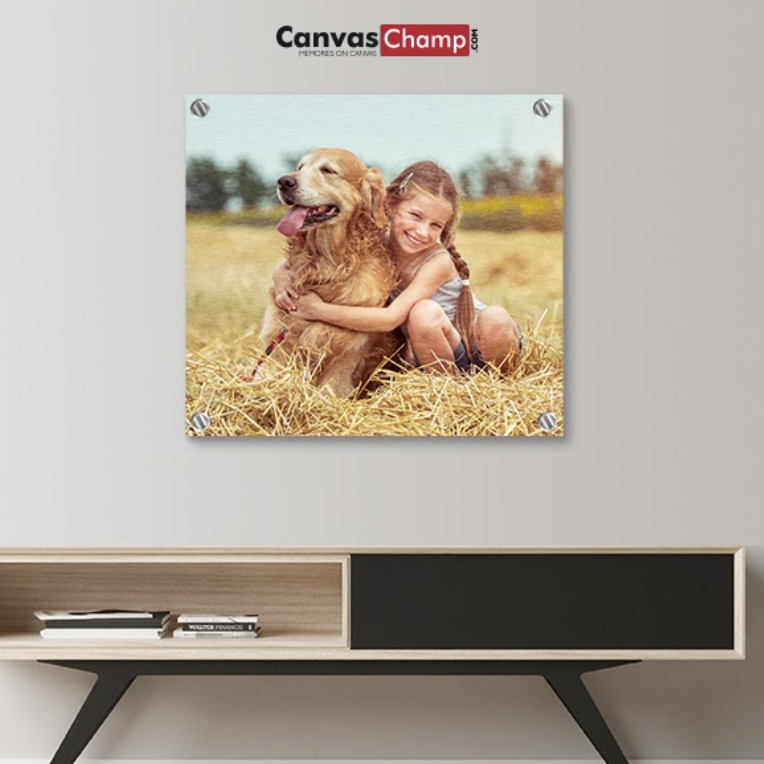 How are acrylic prints different?
It has become readily possible to print your images on a wide range of media over the years thanks to advancements in printing technologies. Canvas prints, metal prints, and poster prints are way trendy and can be seen in literally thousands of homes worldwide. 
On the other hand, acrylic prints are priced a little higher on the spectrum of home decor, which might make you wonder whether they are worth the additional outlay. 
But when it comes to making an impact in a room, the other two products mentioned above do not stand a chance in wow factor. They are modern and contemporary alternatives to the otherwise standard yet popular canvas prints.
Acrylic photo prints have a significant impact on your walls, and the acrylic helps the image stand out – almost as if it were floating out from the wall. The lines and fixings are modern, minimal, and sleek, making it an instant attention-grabbing item placed on your house's walls.
Acrylic photo prints for any space
The acrylic glass has a translucent quality that interacts with light and your photo, creating fantastic texture and movement on the prints.
Easy to clean and robust, they are perfect keepsakes for bars, hotels, cafes, corporate offices, restaurants, and other public places, primarily your home walls.
The image is printed onto high-quality art paper, which usually produces prints that are guaranteed fade resistant for longer than you will be alive! The pictures printed and mounted on acrylic do not crack, chip, or deteriorate in any way, unlike the photos printed directly on acrylic.
Hardware and framing of acrylic prints
Four deep brushed aluminum fixing studs in each corner attach the print to a contemporary finish wall, which will suit most modern homes or businesses and is also a unique new product for interior designers to offer their clients. 
As it is still a new way of framing an image, it still has an added 'wow' factor when people see it hanging on a wall.
Cherish beautiful memories forever
CanvasChamp can turn your photos into this stunning medium. Check out our website and find the images you want to cherish forever on your walls and start designing them with us! 
We have an easy-to-use photo editing tool that lets you upload your pictures on it, customize them, and even preview the design in 3D. Visit our website today and check out our special discount on acrylic prints.