British Polo Day USA has become a staple of class, style, bonding and sportsmanship. Taking place at Los Angeles' historic Will Rogers State Park for the second year in a row – Lords and ladies, diplomats, philanthropists, film producers, investors, and CEOs  attended the luxurious event hosted by British Polo Day's USA Representative and member of the British Royal Family Lord Frederick Windsor and his wife Sophie Winkleman.
Presented by Land Rover and Abercrombie and Kent, the event raised an impressive $60,000 for the UK Stem Cell Foundation co-founded by Tom Hudson, specializes in finding cures to human diseases by using stem cells, Homeboy Industries founded by father Greg, Homeboy Industries specializes in offering job skills and resources to people who have struggled with gang violence in Los Angeles.
This prestigious international event has been hosted in over 10 countries including jet set hot spots such as Dubai, Singapore, India, Mexico, Abu Dhabi, Morocco to name a few. In between Eton College playing the Will Rodgers team, and the Oxbridge team taking on the California Polo Team, there was a game of Brompton bicycle polo which guests smiled at.
Afternoon tea was served while guests enjoyed socializing on seats designed by Timothy Oulton. Guests enjoyed a champagne reception provided by Taittinger  a decadent lunch catered was arranged by the world famous Harrod's.  Torquhil Ian Campbell led a toast with Royal Salute.
VIPs and guests included the Duke of Argyll, Prince and Princess Charles Windisch-Graetz, Robert and Justine Bloomingdale, Yana and Fabrizio Alliata di Montreale, Wendy Stark, Dhani Harrison, Victoria Firestone, Bo Derick, top DJ Paul Oakenfold, Sonia Pim Couling, Kenny Loggins and others.
With exquisite planning executed by British Polo Day's executive staff William Mawby, Sophie Rawe, Heather Schraeder, and Supper Club's Founder Tasmin Lonsdale, guests enjoyed a fabulously planned afternoon filled with two exciting polo matches.
Polo specialist Ebe Sievwright flew in from London just to narrate the event. Many professional polo players such as Domingo Questel and Ardeshir Radpour kept the guests on the edge of their seats with the Justerini & Brooks British Schools team claiming victory over their Californian rivals ending 10-5 by winning the British Silverware's Hackett Bossom Cup.
Justerini & Brooks fine wines continued flowing throughout the event and Royal Salute's Most Valuable Player was presented to Chevy Beh, while Graydon Brittan won the Holland & Holland Shot of the Day and British Polo Day player Max Kirchhoff 'sabered off' a bottle of Taittinger Champagne to celebrate the wins.
The event was partnered with Land Rover, Harrods, Hackett London, Royal Salute, Jaeger-LeCoultre, Justerini & Brooks, Brompton, Charles Russell Speechlys, Holland & Holland, Champagne Taittinger, Global Partnership Family Offices, British Silverware, Great British Racing International,Billionaire.com,  Abercrombie & Kent, D.R Harris & Co, The Grosvenor Stationery Company, Bib & Sola, Nihiwatu, Pendragon Productions, 3RD HOME, Jax Coco, Cassabo, Walpole, Timothy Oulton, Hendricks, The London, Malibu Farm, Homeboy Industries and The UK Stem Cell Foundation, South Kensington Club, The Cavalry & Guards Club, Paul A Young Fine Chocolates, Floris, Bonas MacFarlane Education, Benthorp, Taylor Morris Eyewear, The Supper Club. 
Next year sounds so far away but we cannot wait to see what British Polo Day devises. Until then here are just some of the photos from the beautiful polo day for you to enjoy. If you are looking to learn more about US Polo or British Polo Day you can go to their website here or follow their twitter here.
Christophe & Gabrielle Choo are matching in white and purples. Do you see the green British Polo Day wristlet hanging from Gabrielle's Kelly bag?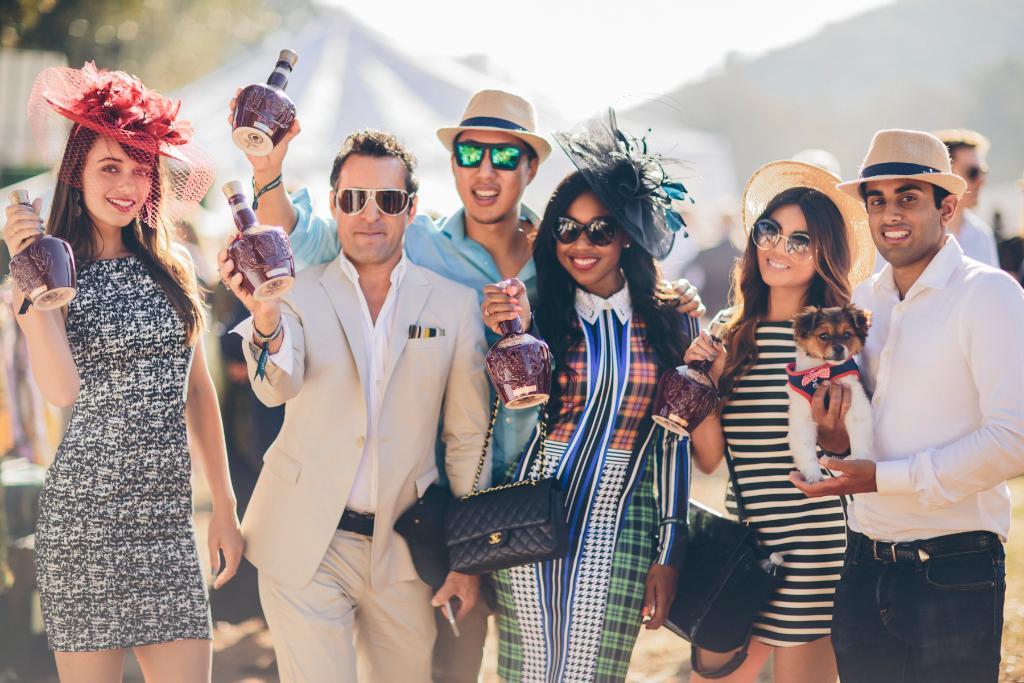 It's always the perfect day for a bottle of Royal Salute!