Charles L. Black III serves as the Executive Vice President, Marketing & Strategic Development for Hilton & Hyland. Previously, he was instrumental in creating and implementing strategies that helped expand the global presence of Montage Beverly Hills he was the Director of Sales & Marketing. Any luxury brands interested in partnering with Hilton & Hyland should contact him at [email protected].
Partners Rick Hilton and Jeff Hyland established the firm in 1993 with the intention of creating a small real estate boutique that would grow to meet the demands of the market, yet never outgrow a founding philosophy for meeting the uniquely individual concerns of each client. Together they have built strong ties to the global marketplace while holding fast to the advantages of a small one-office brokerage based in Beverly Hills. As founding affiliate of Christie's International Real Estate, the firm is the only Los Angeles area broker represented by a company thathas been bringing the world's most influential – and affluent – buyers and sellers together for 230 years.
Greece is the birthplace of  democracy, Western literature, and political science. Once located at the center of Western trade, Greece is one of the most culturally rich destinations of the world and offers luxurious vacation stays to match its immense history. 
Destination Luxury put together this amazing video as an introduction to the beautiful country. The video was directed by David Christopher Lee and shot in Mykonos, Greece.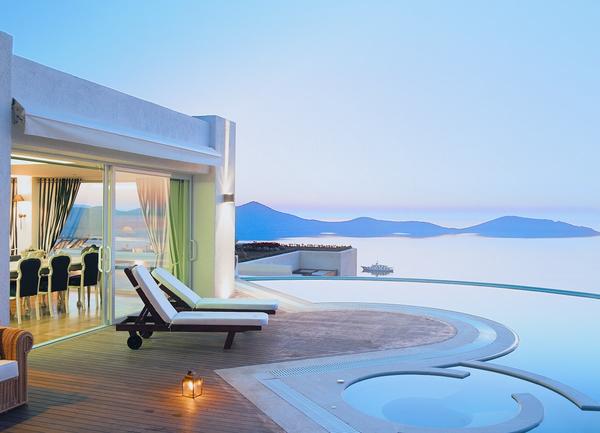 Thought as "a home away from home" by the SO many regular guests, Elounda Gulf Villas & Suites is a family owned and run luxury boutique Villa-Hotel in the cosmopolitan Elounda of Crete, Greece.
A member of the Small Luxury Hotels of the World and winner of Greece's Leading Villa Award, by the World Travel Awards, as well as of the Five Star Diamond Award by the American Academy of Hospitality Sciences and the ONLY GREEK Hotel to make it to the elite echelons of the Tatler Travel Guide "101 Best Hotels of the World" for three consecutive occasions, it offers only 18 stylish Villas, all with private pools with Jacuzzi, and 10 elegant Suites designed with the peacefulness and harmony of home in mind.
2.

  Danai Beach Resort and Villas | Halkidiki, Greece
Regarded as one of the great getaways in Greece – the Danai Beach Resort and Villas was created on the Greek Riviera to provide luxury in a natural setting where the Aegean meets azure skies and pine trees fringe white sandy beaches. Cool spacious villas– some with private pools and butler service on request– are set amongst the lush gardens.
The deluxe rooms offer a variety of amenities for the indulgence and comfort of guests. There is a choice of styles and places to eat. The 'Pavilion' serves breakfast and light meals. The 'Sea Horse Grill' offers barbecued seafood and great steaks; the 'Squirrel' is the open-air gourmet restaurant in front of a spectacular bay, while the 'Andromeda' serves Mediterranean dishes. Besides the extensive leisure facilities on the premises, excursions are provided to nearby sites of archaeological and historic importance.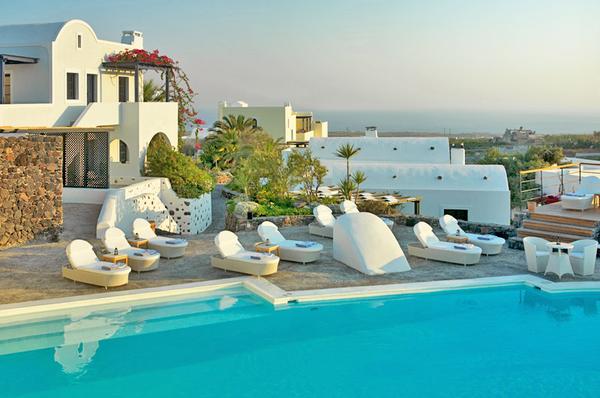 Vedema Resort is the resort you should be staying at If you're looking to get away from it all on the island of Santorini. It was once a winery but now Vedema Resort, located in the town of Megalohori, is a self contained luxury five star hotel that is certainly world class. Celebrities that don't want to be discovered are likely to stay here when they visit Santorini.
Vedema Resort has an inviting contemporary look that blends well with the traditional whitewashed architecture popular on the island. Set within brushed stucco walls and dotted with graceful flower-filled sculpture gardens, the villas and neoclassical house is a postcard of Greek luxury. The sapphire-blue and rust-red domes of nearby churches peek over the walls with charming results.
4.

  Katikies | Santorini, Greece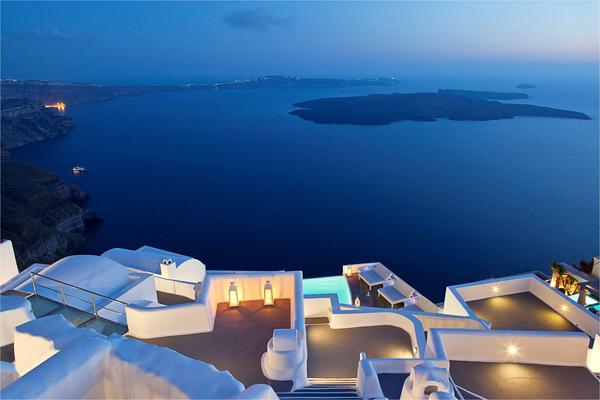 The guests of Katikies Hotel enjoy a peaceful environment with wonderful views to the Volcano. The romantic atmosphere is paired with personalised service and outstanding Mediterranean cuisine. The volcanic eruption that smothered Minoan civilisation 3,500 years ago buried Thira. What remains is Santorini and its volcanic islands in the dazzling bay of Caldera. Katikies is an unusual combination of accommodation – 23 hotel rooms, 16 suites – each perched 300 feet above the sea, a short walk apart. In no time at all, this extraordinary place has made its name as one of the great luxury destinations of Europe.
Designed in keeping with the grand palaces of the Minoan kings, Amirandes is an exclusive beach-side resort that epitomizes Crete's most inspiring features: beautiful architecture, warm hospitality, excellent cuisine and stunning land and seascapes. Just 10 minutes from Heraklion Airport, the Resort also offers good sea links and is just a short drive from attractions including the Palace of Knossos and Crete Golf Club.
Themed around the lagoons that swirl through its centre, the Resort's 70,000 sq m expanse comprises six restaurants, private beaches, Elixir Spa with indoor pool, outdoor Olympic-size seawater pool, over 60 private pools and extensive children's facilities.
Nestled on a secluded peninsula Santa Marina Resort & Villas enjoys a unique location with lush spacious grounds and a long stretch of a sandy private beach. The romantic setting is accentuated with elegant accommodations and a wealth of facilities to pamper every guest.
With careful consideration to guest comfort, Santa Marina offers a genuine beach resort experience and aims to please the most discerning traveler. A distinguished member of The Luxury Collection, Starwood Hotels & Resorts, Santa Marina Resort & Villas welcomes you to a resort unmatched in Mykonos.
For over 130 years, the Hotel Grande Bretagne has been recognized as the "Royal Box" of Athens. Occupying the most prestigious block of the city's center, the Hotel Grande Bretagne stands across from Constitution Square, the House of Parliament and the National Gardens. Hotel Grande Bretagne is ideally located within short walking distance of exclusive shopping areas, restaurants, open-air cafes, museums and the business district, the hotel has hosted countless heads of state and international celebrities. Hotel Grande Bretagne provides the atmosphere and attentive service found only in the most gracious residences.
8.

  Cavo Tagoo Hotel | Mykonos, Greece
The outstanding, friendly service and carefully crafted luxury that customers enjoy are elements that achieve perfection for a relaxing stay in Mykonos. Cavo Tagoos number one priority is creating memorable experiences for its guests and therefore the hotel makes every effort to ensure that each visit is fondly etched in its customers minds. Cavo Tagoo has succeeded in being a cosmopolitan luxury suites hotel and a destination for seekers of unique and relaxing experiences from all over the world.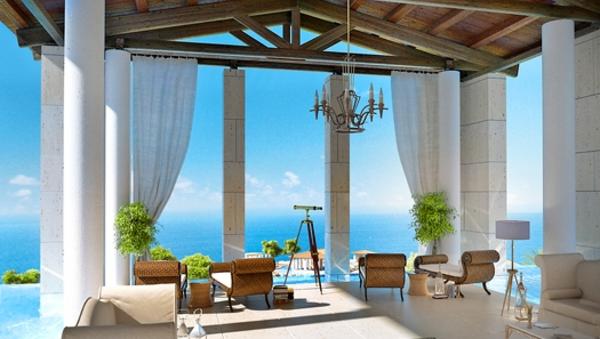 Largely untouched by mass tourism, Costa Navarino harbors cultural values, traditions and a history of more than 4,500 years, which live in harmony with one of the most stunning scenic landscapes of the Mediterranean. Here, you'll discover palaces and vaulted tombs from the Mycenaean era, classical temples, Byzantine churches and medieval castles, all set in a breathtaking sun-drenched, lush landscape that enjoys a temperate climate, making it an ideal year-round destination. It is a land of rolling hills and rugged mountains, protected bays and beaches, and broad valleys of lush olive groves, fields and vineyards.
10.

  Kivotos | Mykonos, Greece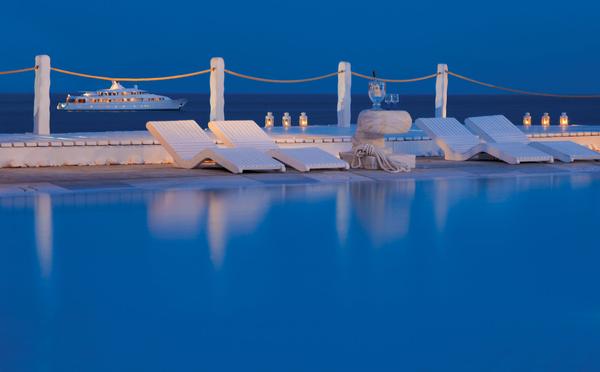 Kivotos is one of the best hotels on Mykonos. Opened in 1993, the hotel blends the sugar-cube architecture of the old town with unexpected touches of sophistication.
The serene yet trendy look is the work of a sure hand abetted with a trove of objets d'art. Modern art and witty frescoes contrast with classic columns, and antiques and modern furniture blend smartly.
11.

  Divani Caravel Hotel | Athens, Greece
The Davani Caravel Hotel is ideally situated in the heart of Athens city, minutes from the business and fashion districts and popular museums. The hotel boasts an array of services and amenities including rooms with Acropolis and Lycabettus Hill views, unforgettable gourmet dining experiences and business facilities including Executive Floors, fast Internet service, a business center and 4,000 sq. meters of meeting space. Relax at the at the Cigar Lounge, rejuvenate at the fitness center and refresh yourself in the outdoor pool. Impeccable service and a friendly staff ensure an unforgettable stay.
This hotel is the quintessential Mykonos chic. It's location near the towns pedestrian zone and within a 10-minute walk from the renowned nightlife and shopping of Mykonos, and overlooking the island's famous windmills, make it hard to beat. Offering an attractive poolside setting, the hotel has changed little but for its dining options. It began life as a mansion in 1850 and became a hotel in 1995. It now spreads over seven houses located among landscaped gardens.
13.

  Divani Apollon Palace | Athens, Greece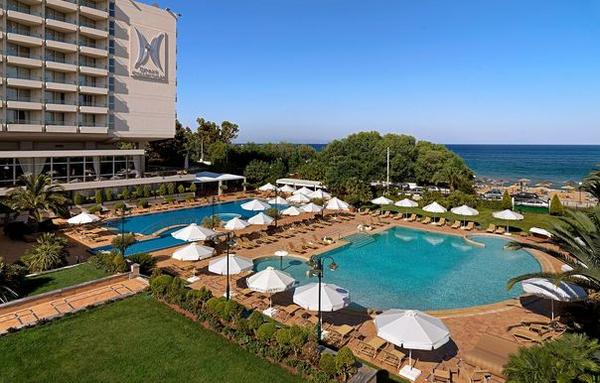 Divani Apollon Palace is the ideal place for seekers of sophistication and beauty. This elegant beachside hotel overlooks the picturesque Saronic Gulf and offers services and amenities that appeal to leisure and business travelers alike. The hotel's luxurious interior is supplemented by its extensive gardens, spacious sundecks, swimming pools and private beach. Each of the 286 rooms and suites offer panoramic sea views and inviting balconies, perfect for private breakfast, thirst-quenching cocktail or unforgettable romantic dining before an ocean sunset.
14.

  Grand Resort Lagonissi | Athens, Greece
Located on 72 lush acres on the south side of Athens, Grand Resort Lagonissi exemplifies consummate luxury in location, design, facilities and service. This magical destination is surrounded by the clear blue waters of the Aegean Sea, offering both natural beauty and the cultural treasures that have given birth to the Olympic spirit and define Greek hospitality. All villas, suites and bungalows are situated along the waterfront of the bay and grant ultimate privacy in a true dream world.
15.

  Arion Resort & Spa Astir Palace | Athens, Greece
Arion Resort & Spa Astir Palace is located in the Astir Palace complex, hotel honors a 40-year tradition of five-star hospitality and superior service. This prime location in the heart of the Athenian Riviera is just 25 kilometers from the international airport and cosmopolitan city center of Athens. There you can enjoy all the privileges and services of a modern city while exploring its cultural heritage at the Acropolis, Olympic Stadium, and more.
Arion Resort & Spa Astir Palace is also convenient to the exclusive shopping district and elite shopping spot of Glyfada. Additional nearby excursions and attractions include archaeological temples, Cape Sounio, and atmospheric landscapes. If you take a drive along the beautiful coastline road of Posidonos, you will pass by the beautiful beaches of Glyfada, Vouliagmeni, and Varkiza.