The Float House, a stunning modern private residence in Israel designed by Pitsou Kedem Architects, gives the illusion of floating on water.
The architectural concept of this float house was to create a structure with an open floor plan, divided by internal courtyards and movable partitions, into smaller spaces that can be used for a variety of functions.
The structure itself is constructed of a series of spaces that can conceivably be both internal and external. The entrance is framed with a wall of wooden slats which constitutes what could be considered the initial boundary between the outside and the inside.
Walking through the entrance foyer space, one crosses over a transparent pool accented with large basalt rocks and trees that seem to float on the water. This gives the illusion that the house is floating and being reflected, just as the roof appears to be floating above the walls.
The different spaces and internal courtyards are joined together into one structure by two ultra-thin roofs supported at one central point so they seem to float in the air. The two roofs merge one into the other and extend for five meters over the building's front walls. The entire roof is constructed from lightweight materials and, in order to provide a thin, wispy look at its edges, it is constructed with a moderate slope toward the center.
From the inside, floor to ceiling  glass walls let you see the center backyard swimming pool from most of the home.
The bathroom:
The master bedroom:


The kitchen:


The long narrow reflection pool runs alongside the home's walls, emphasing the illusion and texture.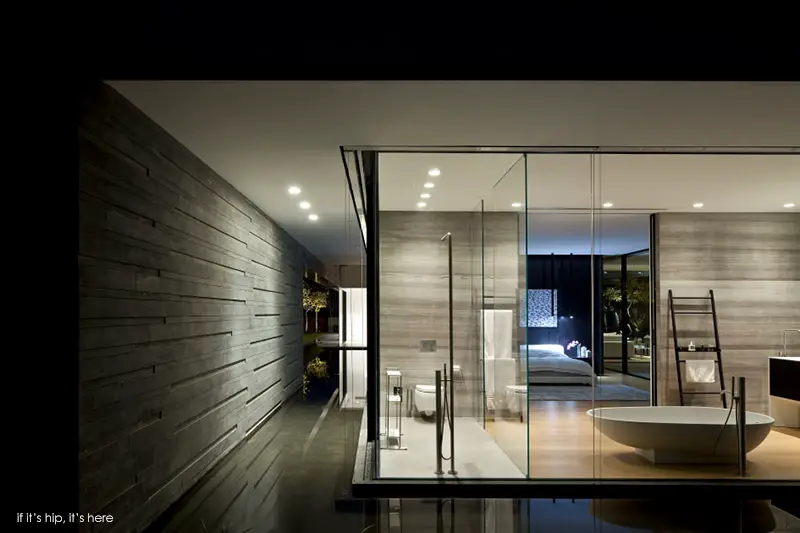 additonal photos:
images and information courtesy of pitsou kedem architects
 The original post appeared on Ifitshipitshere.com.