A long sea adventure is every avid traveler's dream. It can be an inter-island, intercontinental or a world cruise. Wherever your destination may be, you are going to be staying quite long inside the boat. But while you're there for several days, weeks or even months, you can always make sure that every moment of your stay is enjoyable and worth it. A long trip needs careful preparation and planning as the conditions of a long boat stay isn't the same as staying for a long time in a hotel.
Choose Your Sea Craft
Choose a boat that can take you to your desired destination safely. For inter-island trips, a ferry boat, a cruise ship or a private charter boat is the recommended modes of sea transportation. Yachts are also great for inter-island travel, but you'll need a reliable team of navigators to keep you safely afloat and get you to arrive at your destination safe and sound. If your travel plan includes stopovers in different islands or countries, then a cruise ship is the best option.
Be Familiar With Your Destination
Knowing the name and location of your destination is just a part of being familiar with it. Whether you are looking for a great Caribbean cruise or the best European cruises, you have to know about the essential information of the trip leading to the place. Research and identify the stopovers and the sea route your cruise is taking. Always be on the lookout for weather forecasts on these routes, stopovers and your destination during the dates of your travel. It also helps to read travel reviews of other cruises that travel the same destination as yours. You may learn a thing or two from other traveler's experiences in those reviews. It would also be great if the cruise ship that you will be traveling with can provide all these necessary details, but if it doesn't it would important to take extra precaution and do some research.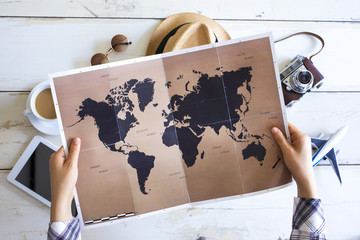 Prepare the Travel Essentials
Now that you are familiar with the type of boat and the place that you will be going to, it's time to prepare the things that you will be needing for your long boat trip. Prepare your visa and passport. Process the visa requirements ahead of time so that everything will be ready by the time of travel. If you will be traveling to a tropical destination, or any African or South American country, you will need a vaccination. Purchase travel insurance. It's important to have one when you're traveling internationally and for a long period of time. It helps to prepare for involuntary trip cancellations due to medical emergency. Choose the type of insurance that allows you to claim reimbursement of medical service expenses incurred when you get home. Also, bring enough pocket money and a debit or credit card with you. Your expenses during the days will surely accumulate, not to mention the different currencies of the different countries. Lastly, pack the appropriate items with you. Keep the things you'll wear to a minimum and bring only comfortable ones with you. Bring just enough number of formal wear for the trip. It is also cost effective to bring your own hygiene kit. An extra suitcase or bag can be handy for your return trip. You may be bringing souvenirs and extra clothes during your trips.
Now that you're aware of what to prepare for your long boat trip, you can be confident to take the trip anytime. Above all the necessary preparations, keep these two things in mind: stay safe and have fun. You've spent a significant amount for such a trip and you deserve to enjoy every moment of it. So go on and plan you next great long boat trip adventure.