by Chirag Sagar
With the rise of social media, the ongoing trend is to get online and stay connected. The counter-cultural trend is to get offline and find bleak moments throughout the day to focus on oneself. There's been an increase in meditation courses, yoga retreats, staying healthy and ultimately, 'disconnecting' from the world. We've uncovered new territory that offers the remoteness to fill the growing trend at the Queen's Gardens Resort & Spa on the volcanic island of Saba.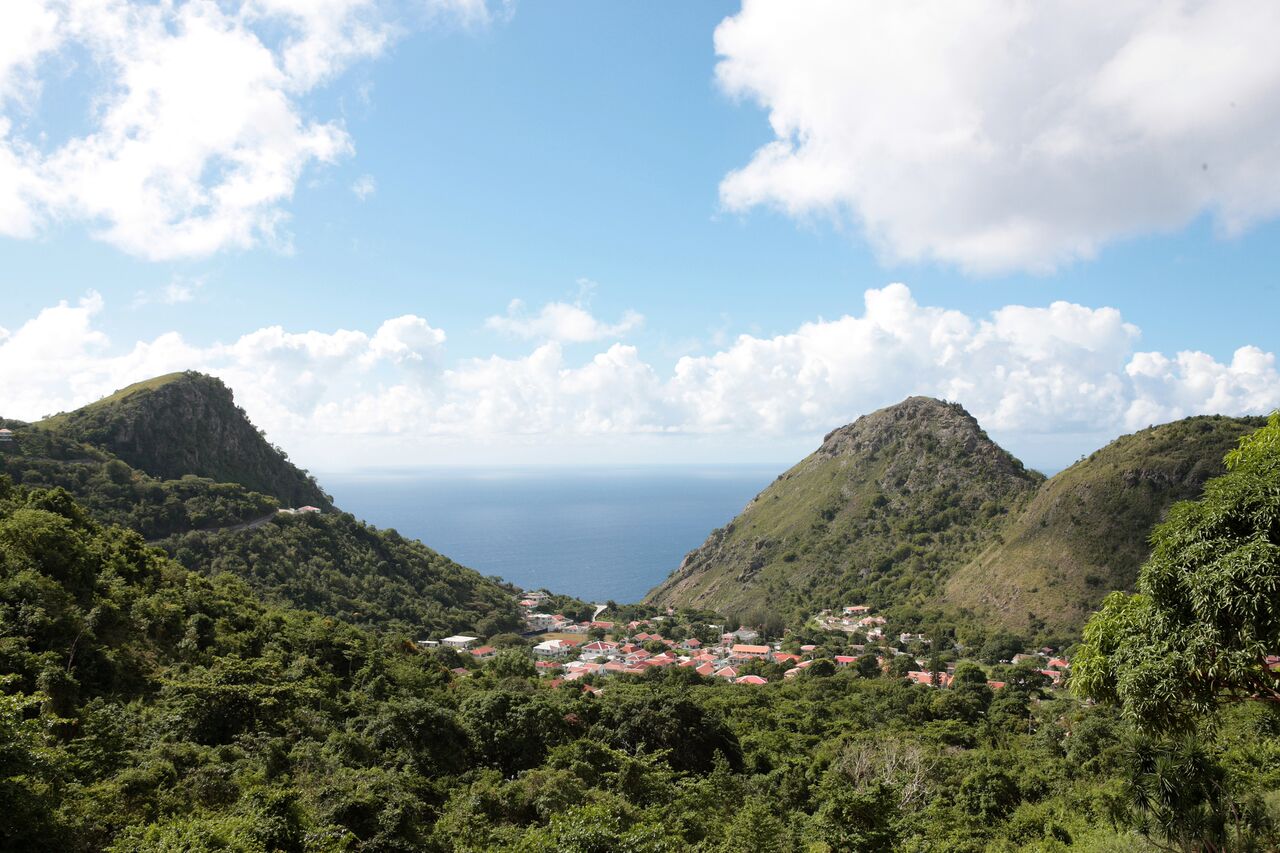 We were fortunate enough to uncover a hidden gem. A big rock island standing 5 square miles and a population below 2000 people, the great island of Saba offers a remote location filled with fauna, beautiful scenery, and a healthy lifestyle for all those given the opportunity to travel to this exotic destination. In particular, we stayed at the Queen's Gardens Resort & Spa.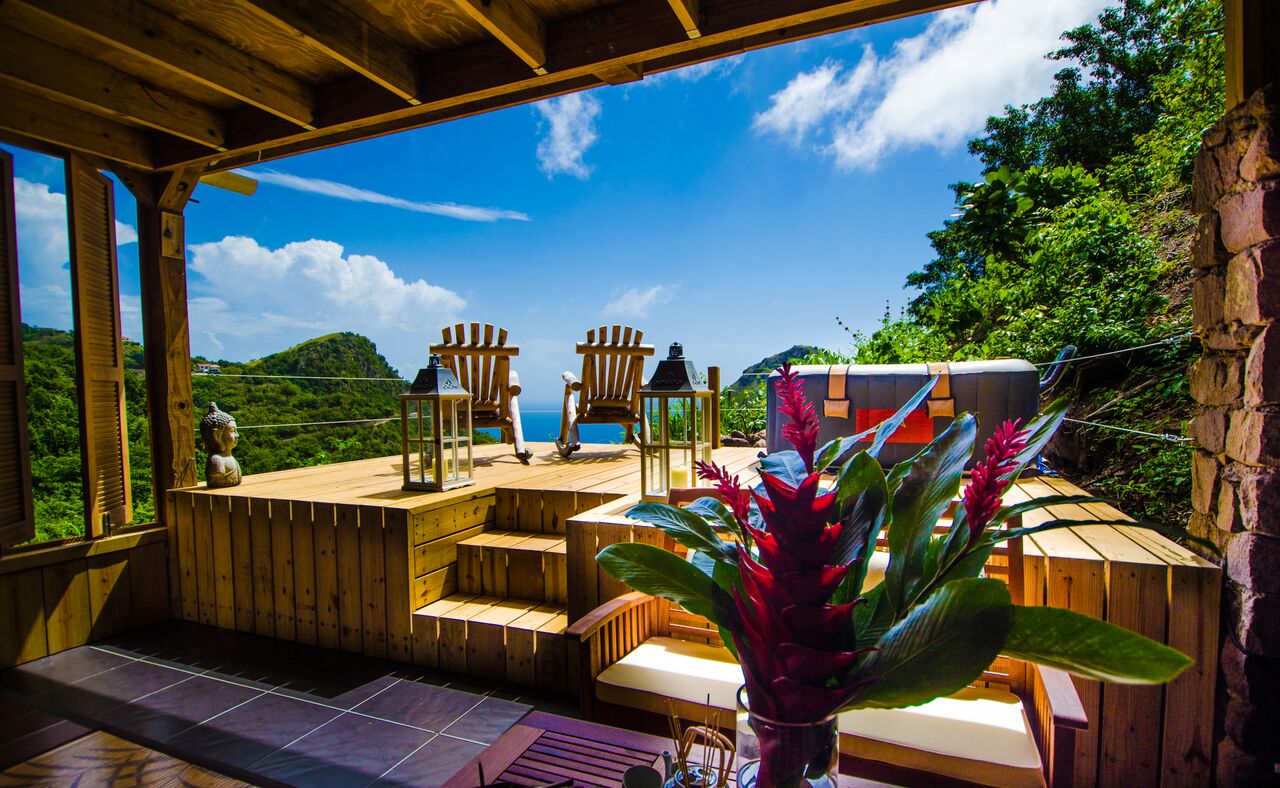 For those health-conscious folks looking for adventure, the Queen's Gardens Resort & Spa offers decadent food with their in-suite dining, luxurious rooms, and friendly people. The island is owned by the Dutch. A third of the population are international students attending the medical school. A majority of the fruits and vegetables are found on Saba, but also heavily imported into Saba, along with many other items.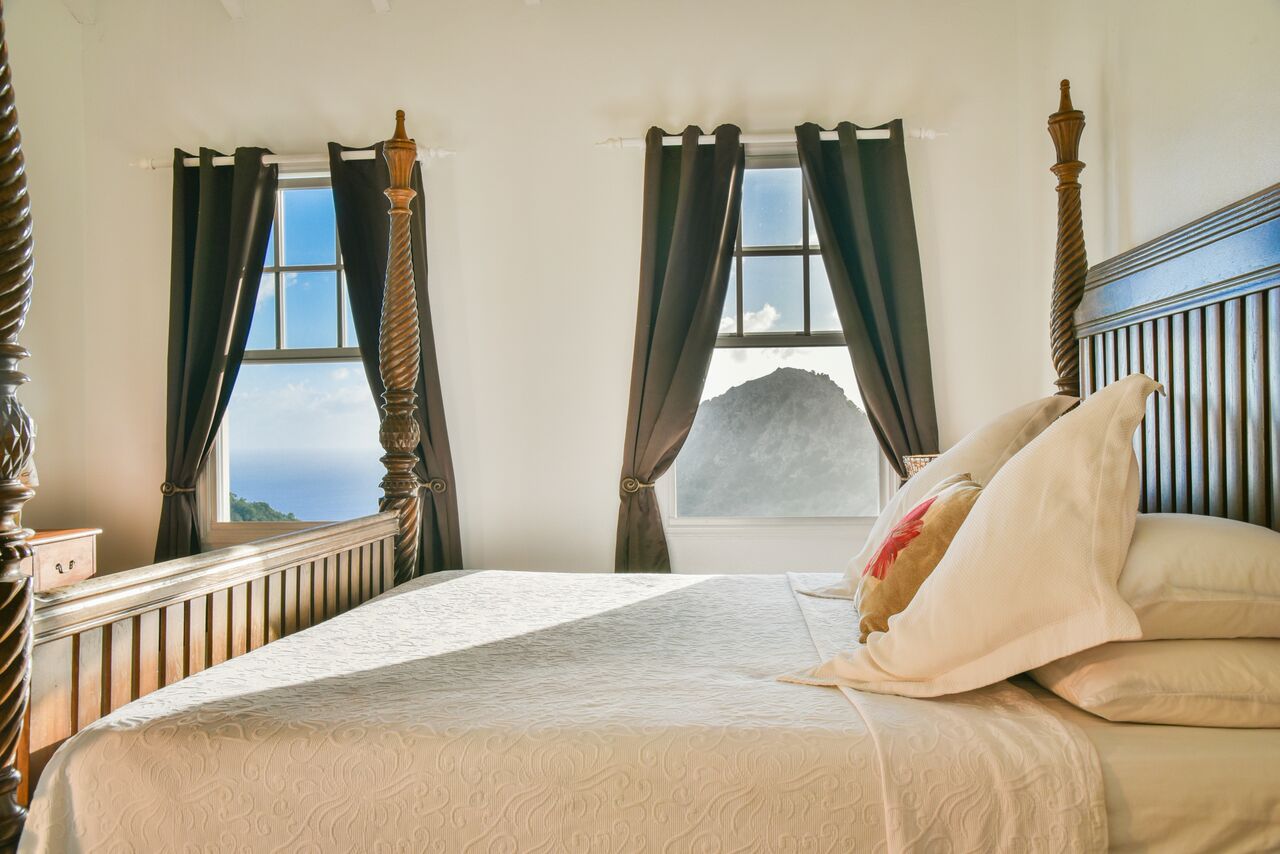 Saba is a short 15-minute flight from Sint Maarten. The resort rises to a 1,200-foot elevation, atop Troy Hill. The luxurious property is secluded and is naturally cooled by a fresh breeze flowing in from the sea and the mountains. There are twelve spacious suites that each occupy a private floor with in-suite Jacuzzi and panoramic views of the Caribbean Sea or Saba rain forest.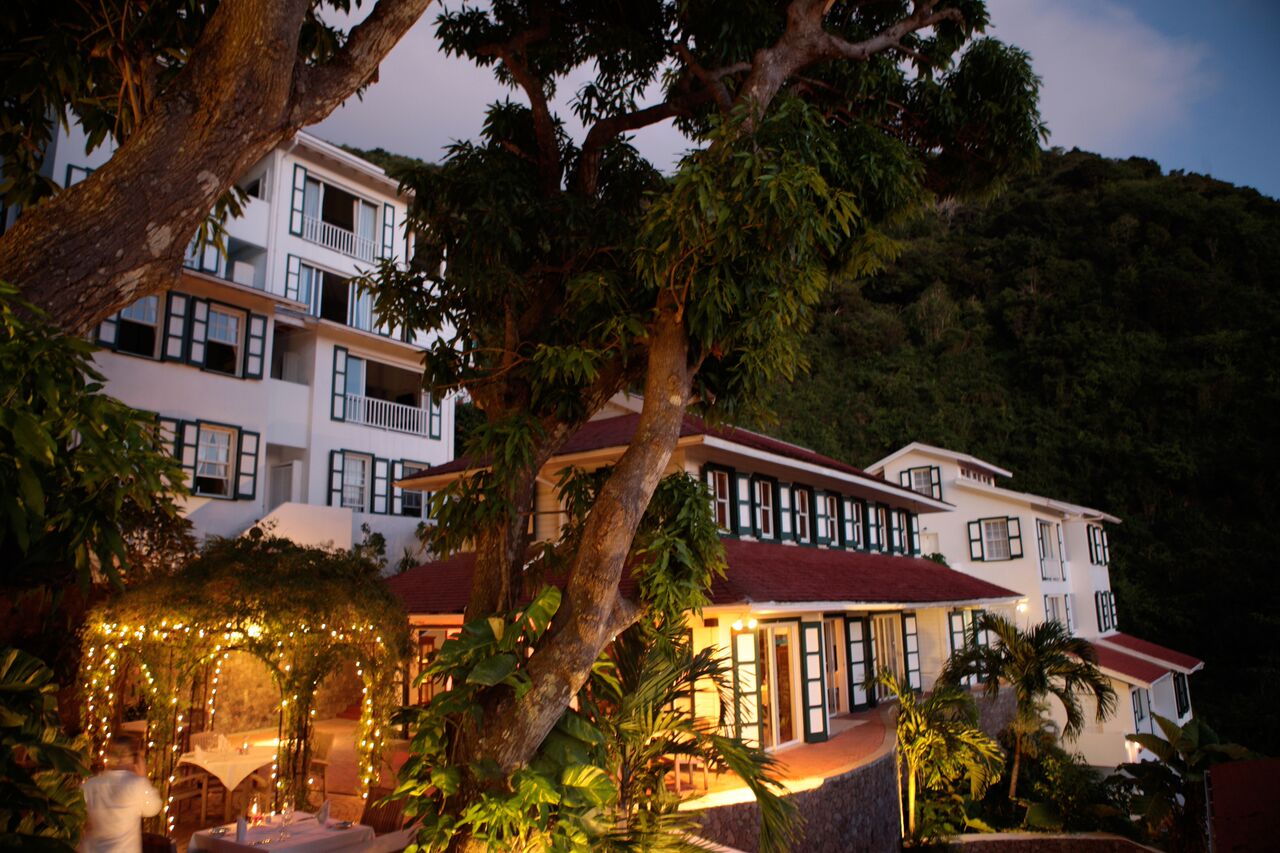 Queen's Gardens Resort also features the Frangipani Spa, and is the first and only spa on the island offering stunning views and array of treatments from couples full body massages, body wraps, and scrubs to manicures, and pedicures. The views get only better perched from the "Birds Nest", a deck situated in a 100-year-old mango tree where guests can arrange a private dinner with the Queen's Gardens Restaurant, serving local and international flavors, with the freshest local produce and ingredients from its own organic garden. The Ocean Bar and Lounge offers the hotel's signature mojito and a world-class wine selection. A central pool and room service are also available. 
The staff are multi-lingual and the owners are veterans in the resort and spa industry. Hailed in from the Sonesta Resort in Sint Maarten, the husband and wife duo turned the resort around and created the one and only spa on the island. We had the great honor of chatting with one of their owners, Claire Verbeke-Nuyens. Visited by internationals and locals alike, the Queen's Gardens Resort & Spa are pioneers in advancing tourism to the island. Ideal for wedding destinations, the island is family friendly and known as one of the most-sought after scuba-diving destinations and hiking trails.
Don't be alarmed with the remote location. Internet connectivity is available on the property when you need it, though we'd recommend staying away from that as much as possible. Resort facilities include their restaurant, outdoor lounge and Ocean Bar.  They have the largest swimming pool in Saba with chaise lounges. They have access to the best scuba diving and snorkeling in the world and will assist with island activities, sunset cruises, and tours. It's the only spa on the island. It comes with a modern gym, private yoga classes, and a large library.
The Queen's Gardens Restaurant is set amid lush mountain gardens with an excellent view of the Saba capital and the Caribbean Sea. A la carte breakfast, lunch, and dinner menus are served in the restaurant, on the terraces or at the Lounge Bar and pool. Guests looking for a truly unique and romantic experience can take advantage of a private dinner in the Gazebo, located on the outside terrace. The restaurant offers a mix of Caribbean dishes and a fusion of east and west cuisine, with a French influence. Dining at the restaurant boasts an extensive wine list and a la carte menu. Queen's Gardens also serves lunch specials and a light, refined four-course menu for dinner, as well as vegetarian delights.
That being said, we wanted to highlight our Saba trip with a photo gallery to capture our entire experience.
We left Sint Maarten on a gorgeous sunny, but humid day.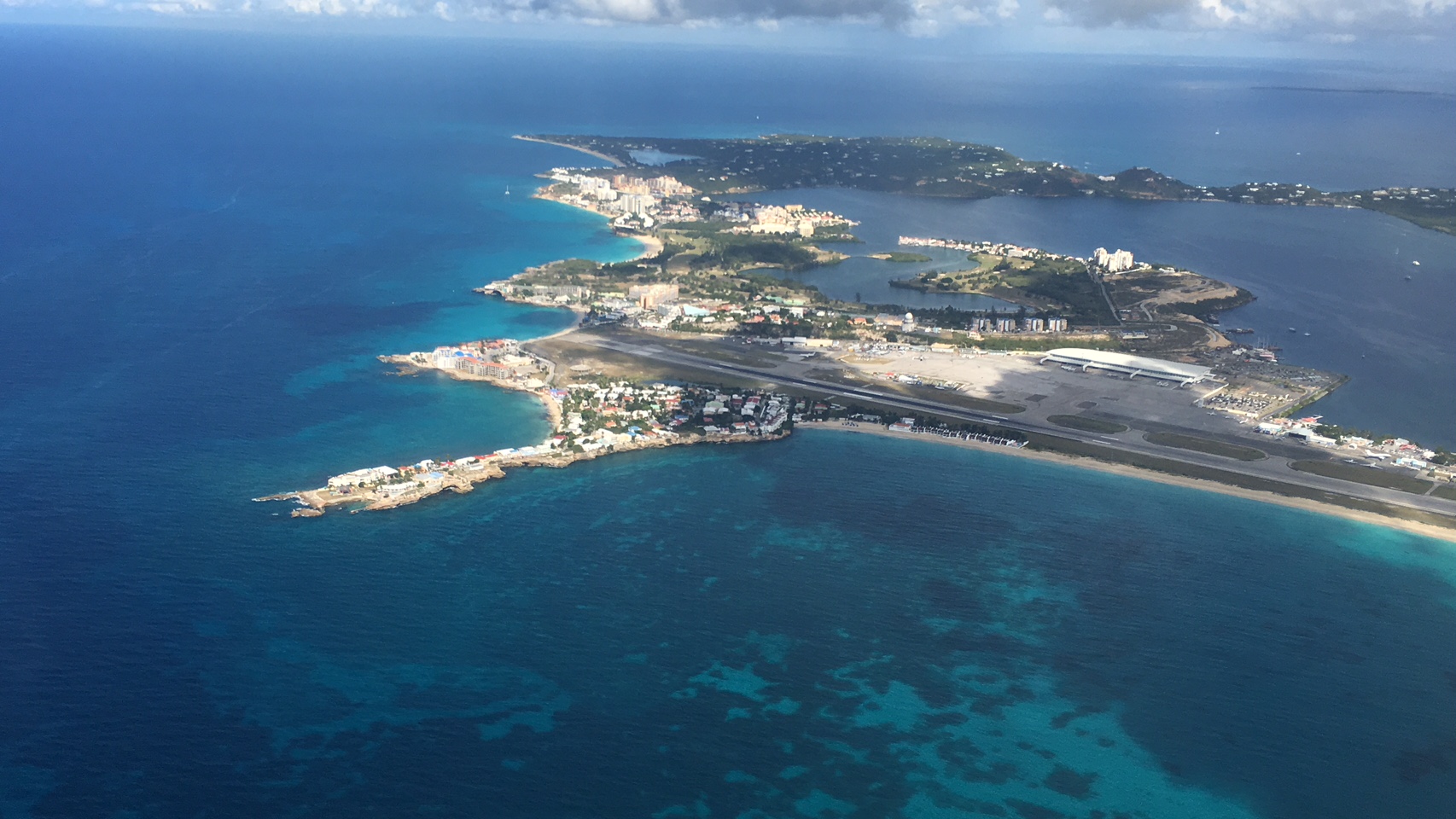 This is the view of Saba once you arrive on the island. They have one of the shortest tarmacs in the world, making it one of the most dangerous airports. Only small propeller planes are able to land on Saba.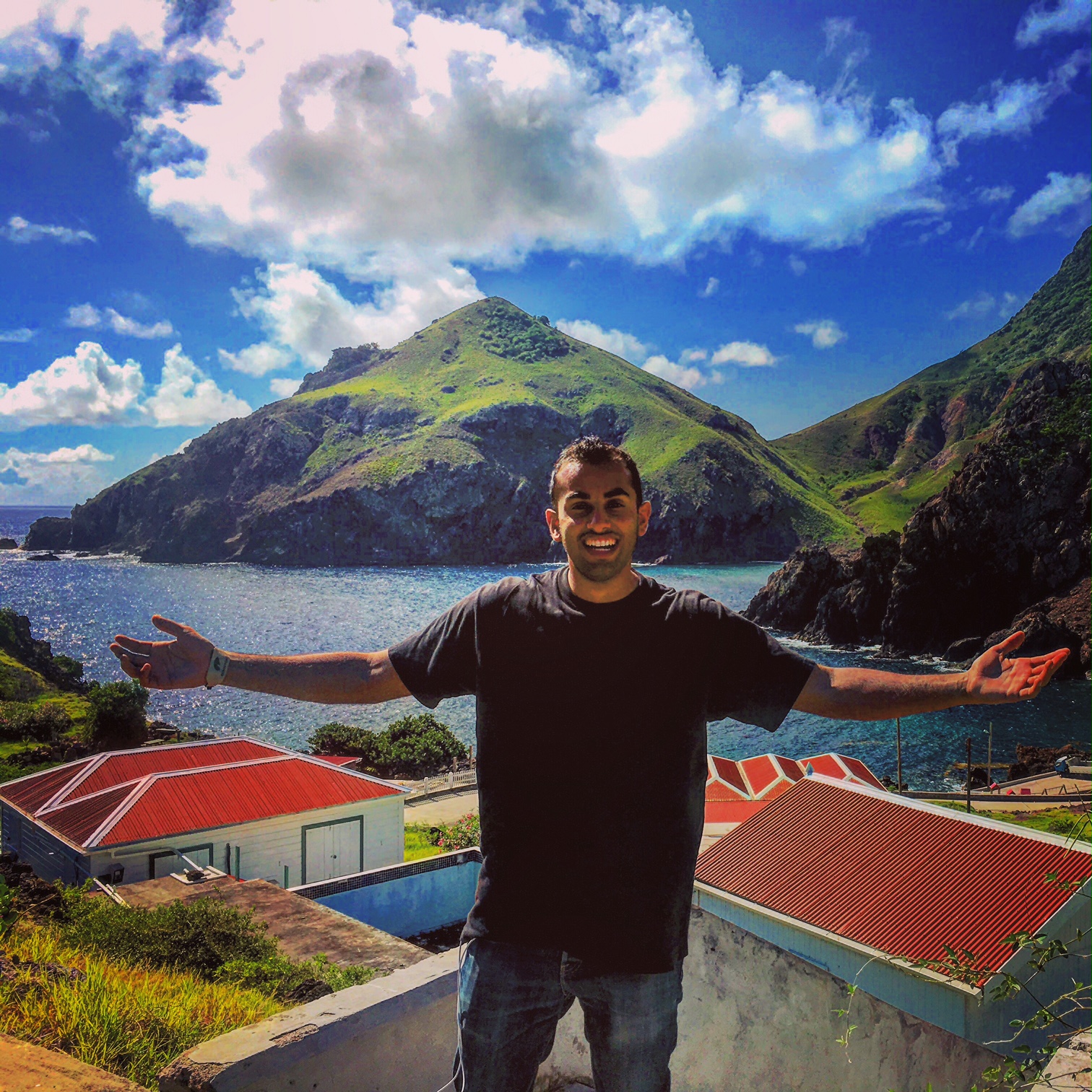 Upon our arrival, we were picked up by a taxi, coordinated by Queen's Gardens Resort. We were greeted with a fresh-pressed juice and cold towel. The view from atop of the resort is surreal.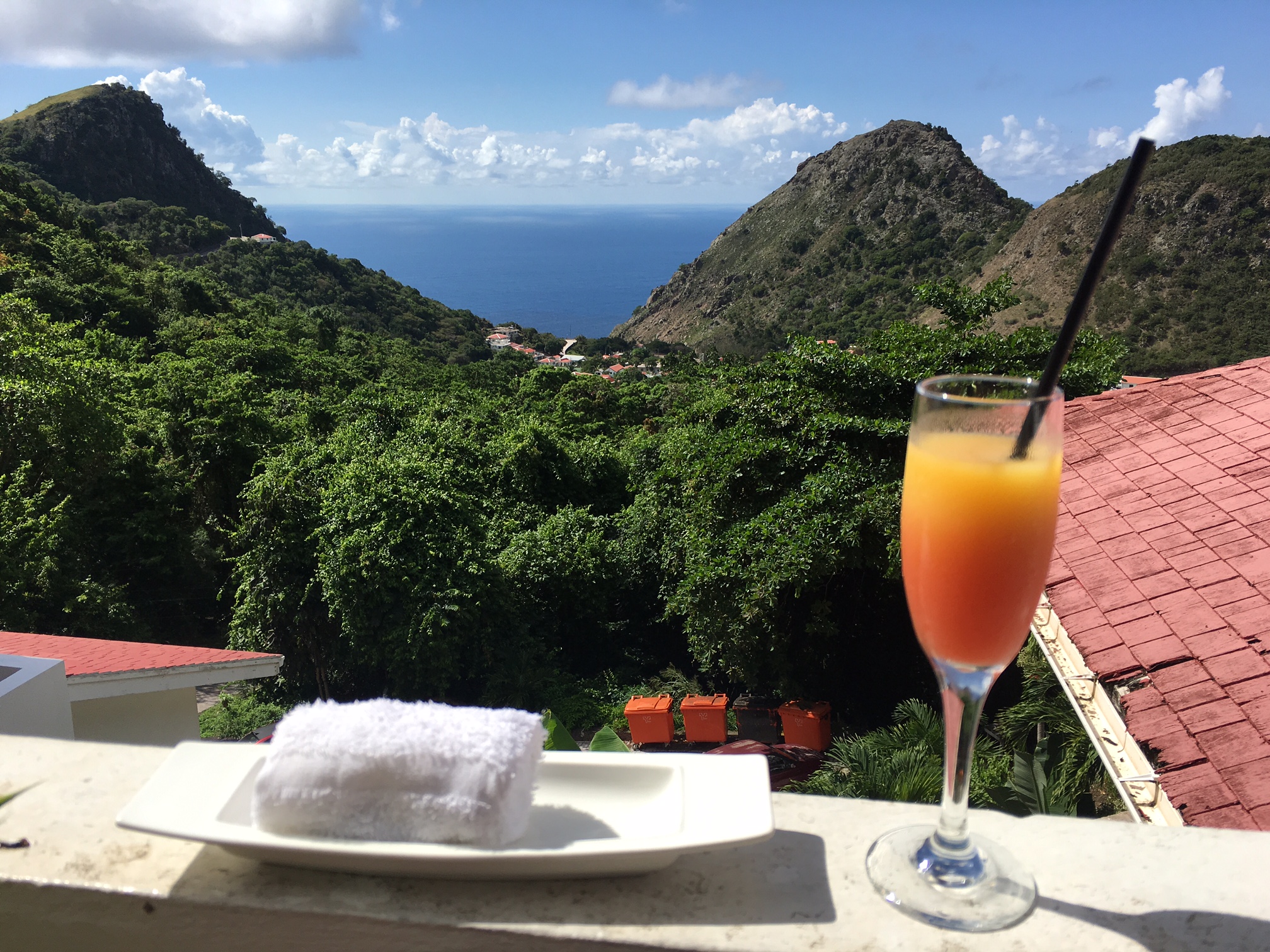 While we were waiting for our accommodations, they served us breakfast. There's a full-service a-la-carte menu. The freshly caught salmon, bacon, bagel and cream cheese sandwich was scrumptious.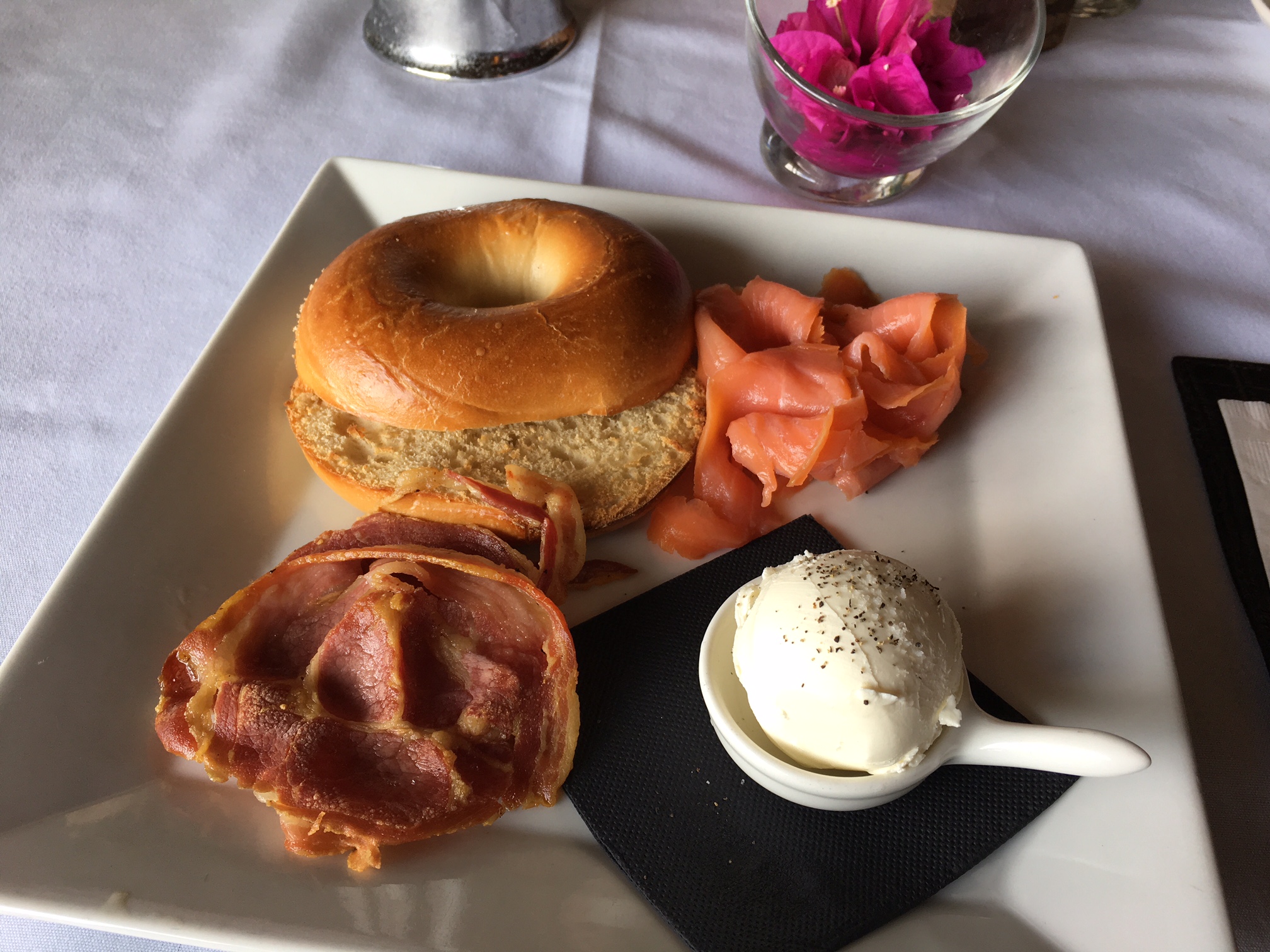 Once our rooms were ready, this was the opening to our room at the Queen's Gardens Resort.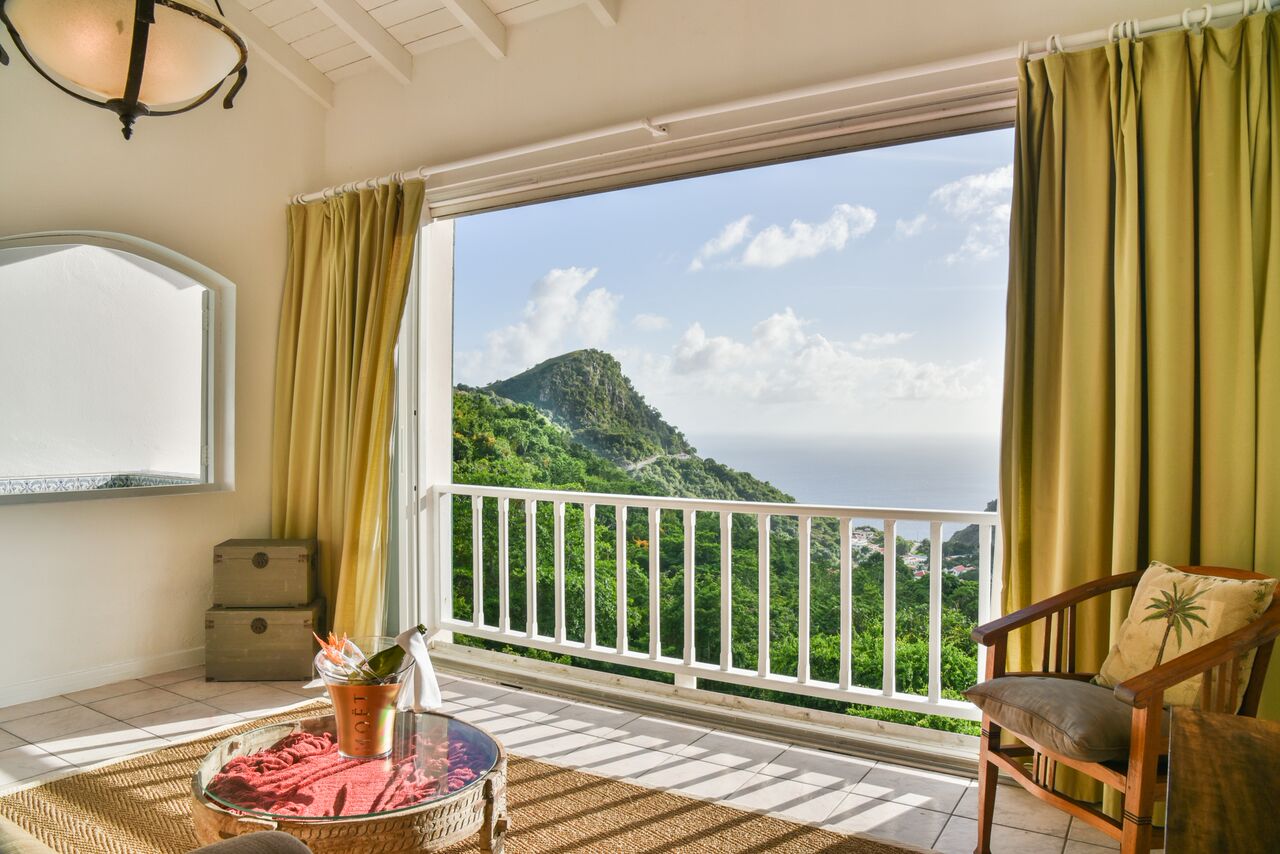 They even decorated our bed with an elephant and tourist guide of Saba.
Our first activity was testing the amenities in the room. In this case, enjoying the view from the in-room jacuzzi.
Once refreshed, we enjoyed a quick lunch and headed towards their hiking trail. There are no poisonous animals, but the jungles are long and vast.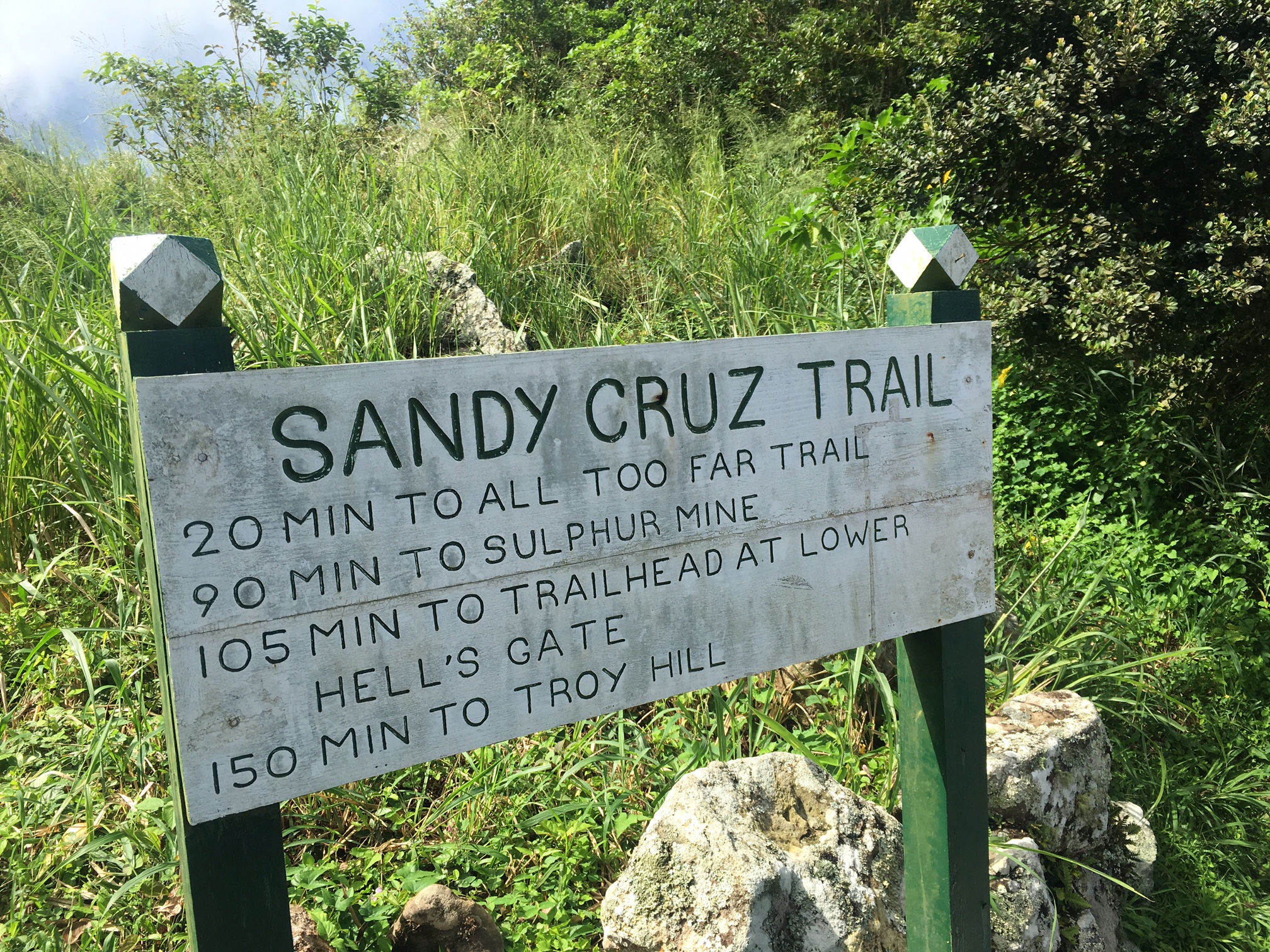 The entire island is inhabited with fauna, greenery, fresh plants, and historic trees that have lasted thousands of year.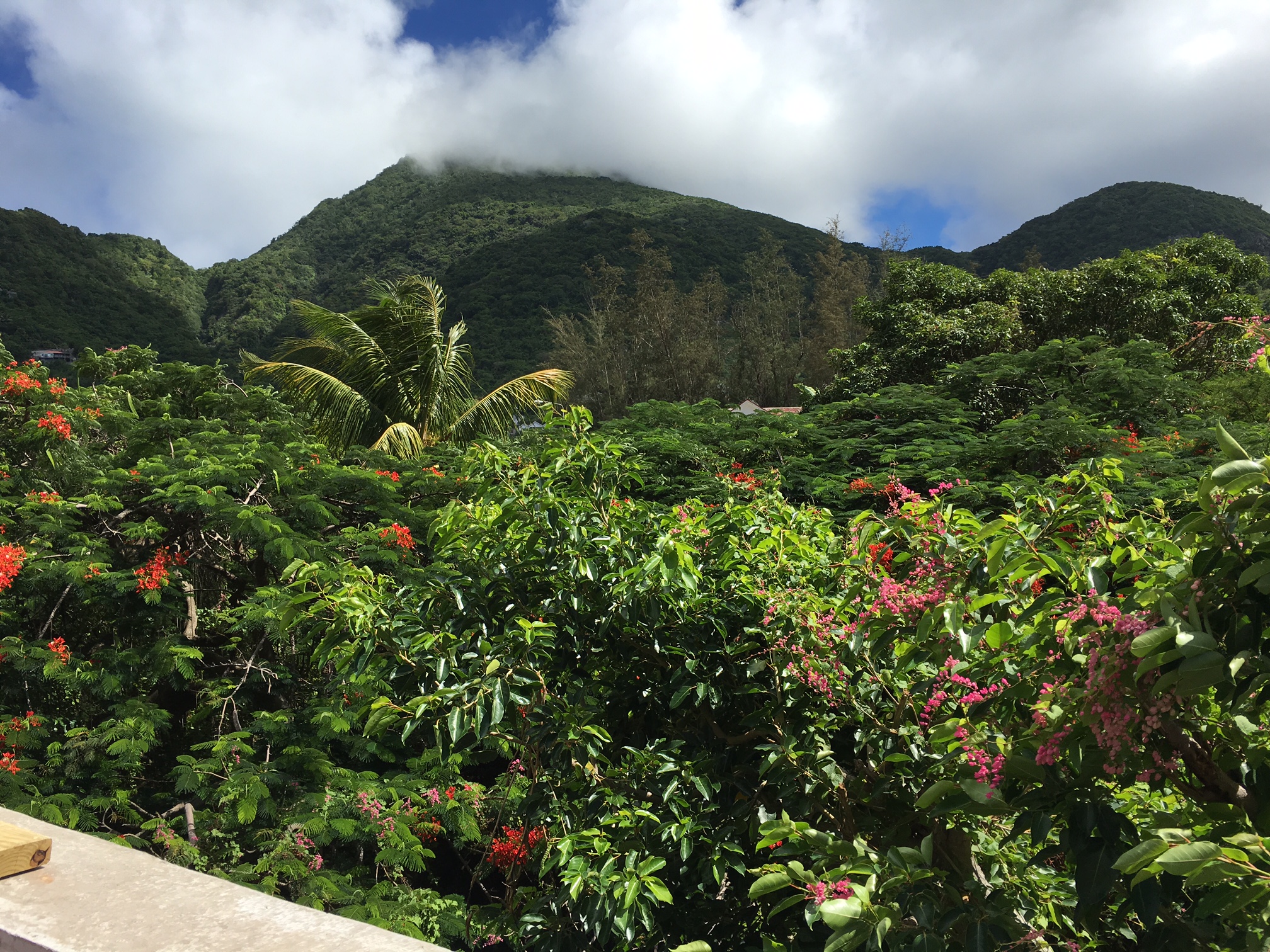 You're surrounded by fresh oxygen and thick greenery.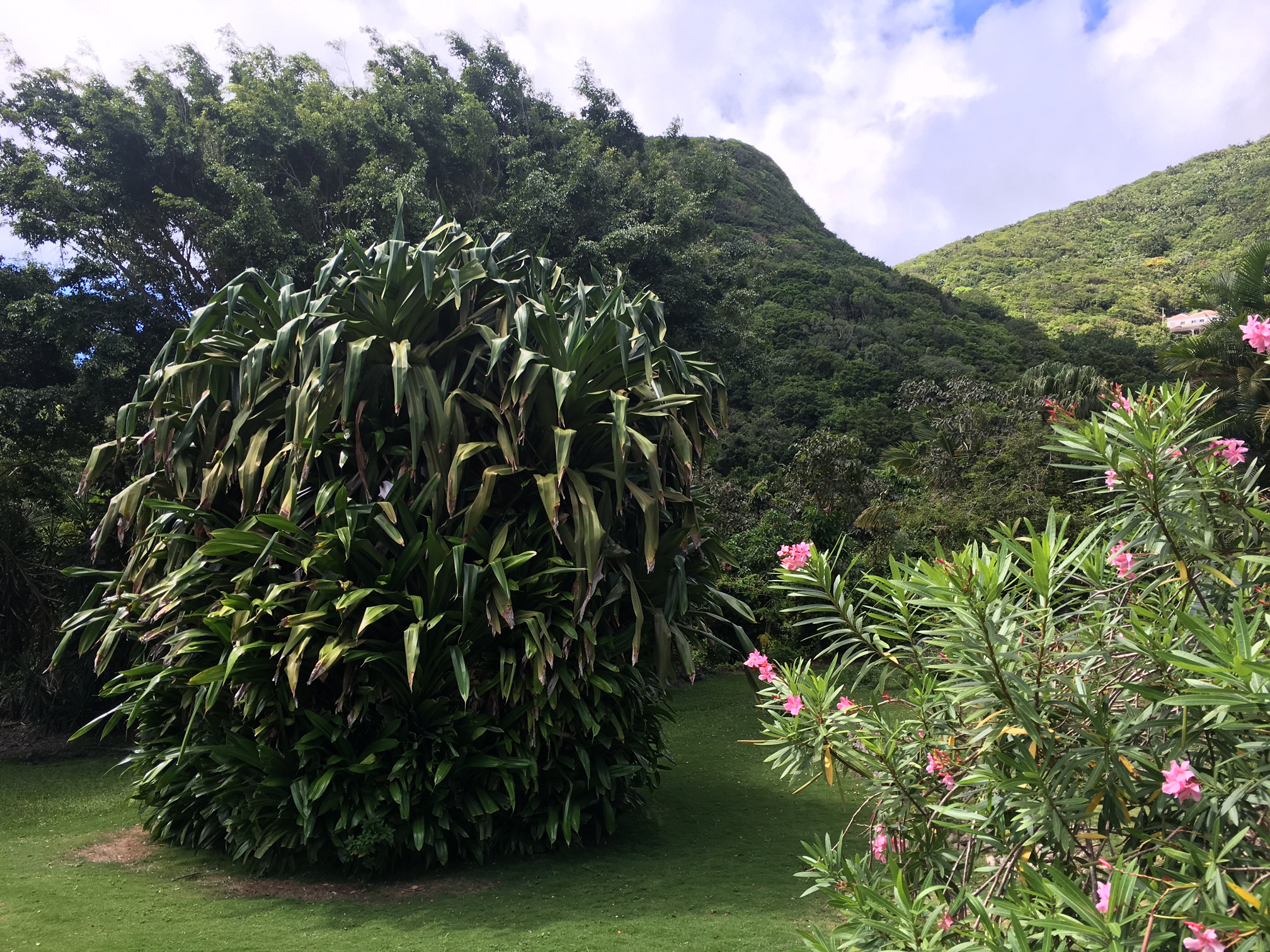 We had our hiking guide, 'Jungle Jack" take us through the scenic route. We arrived back to the hotel by dusk, just in time to enjoy a sunset dip in our jacuzzi.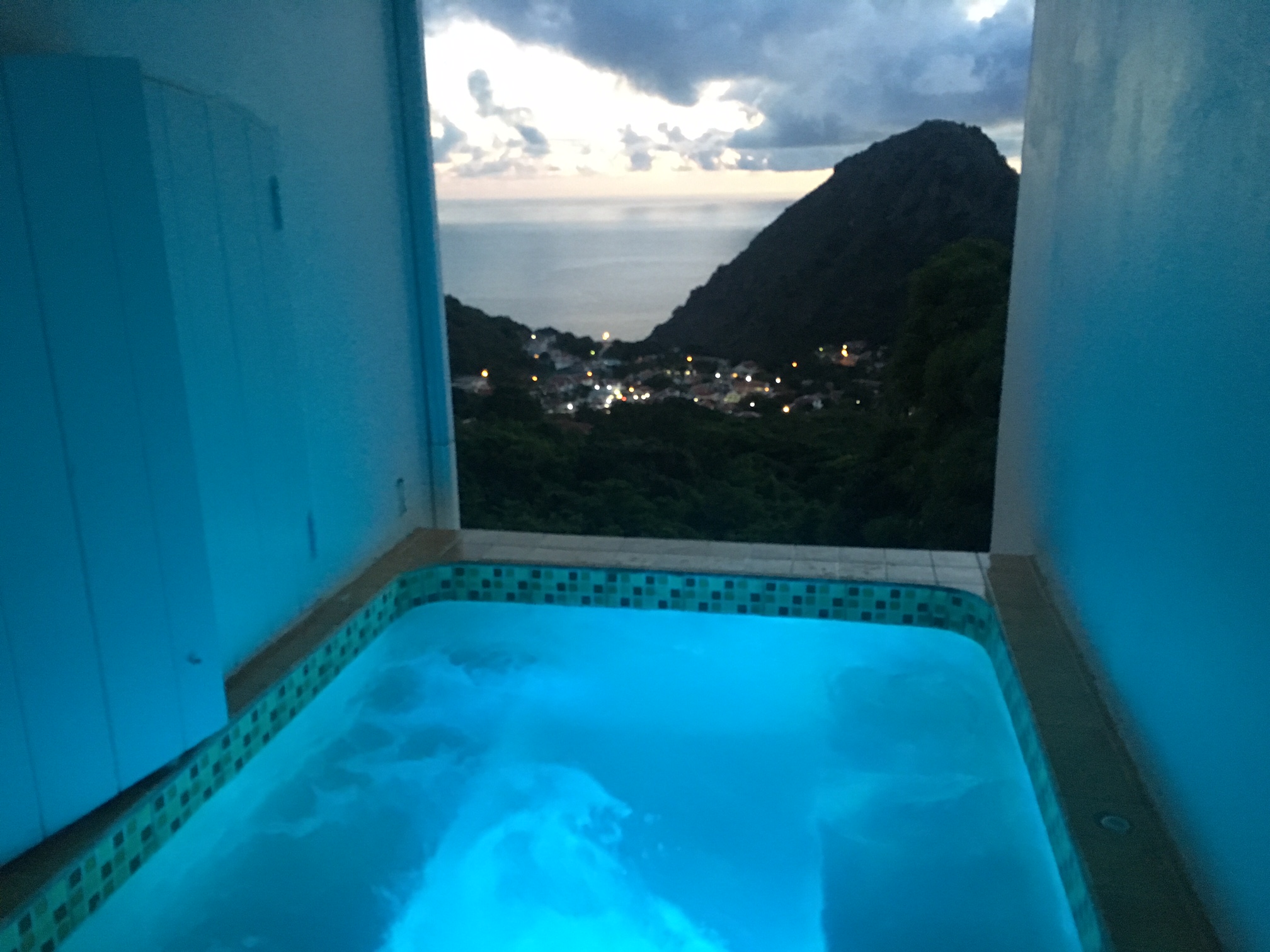 We enjoyed refreshing spirits at the Ocean Bar and Lounge. Pictured below is their famous gin and tonic concoctions with fresh fruits and vegetables. Our favorite was the cucumber and cilantro blend.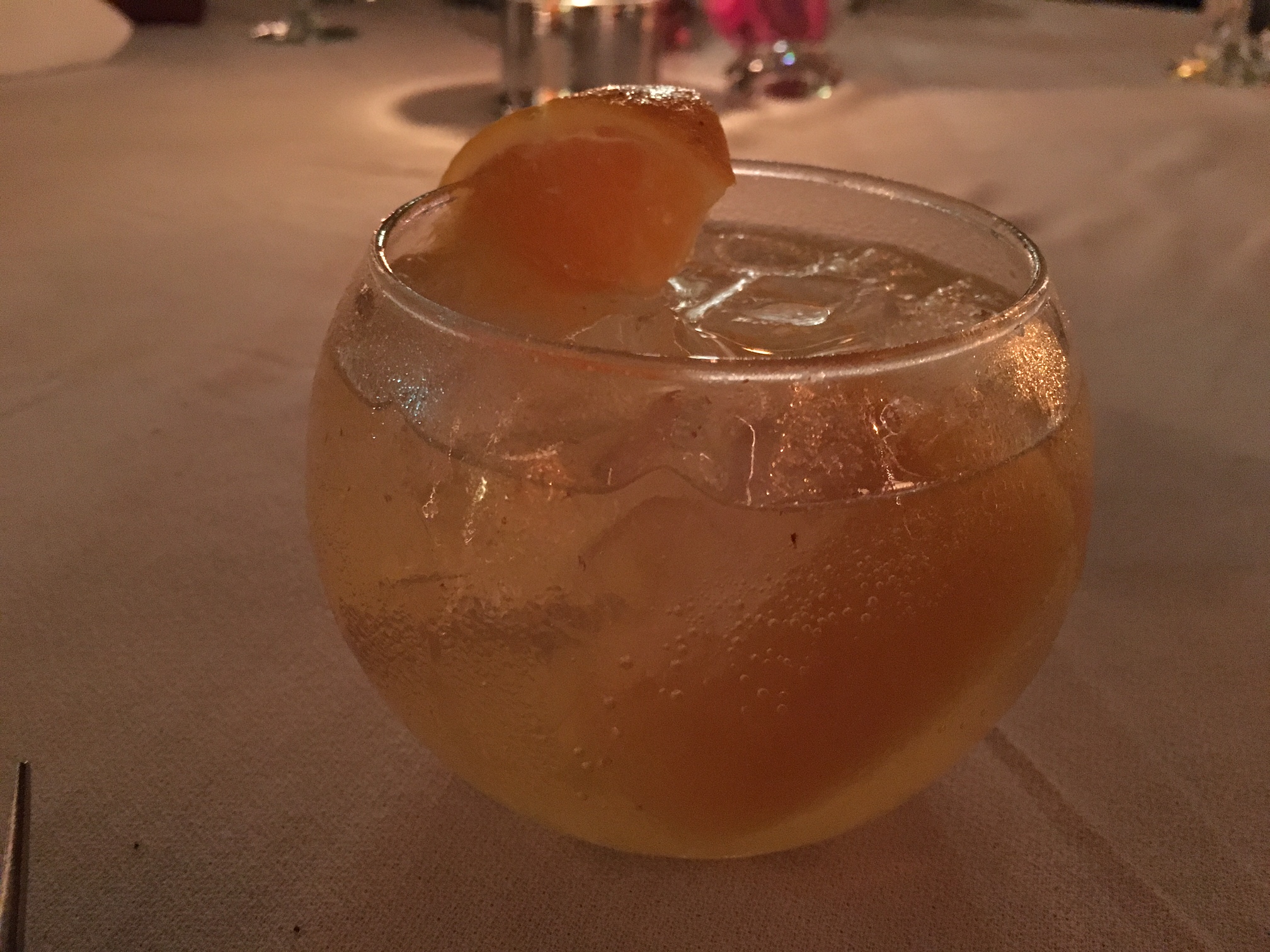 Not only that, but we enjoyed our fresh seafood, which is the Queen's Gardens Restaurant's head chef (Chef Jager's) specialty.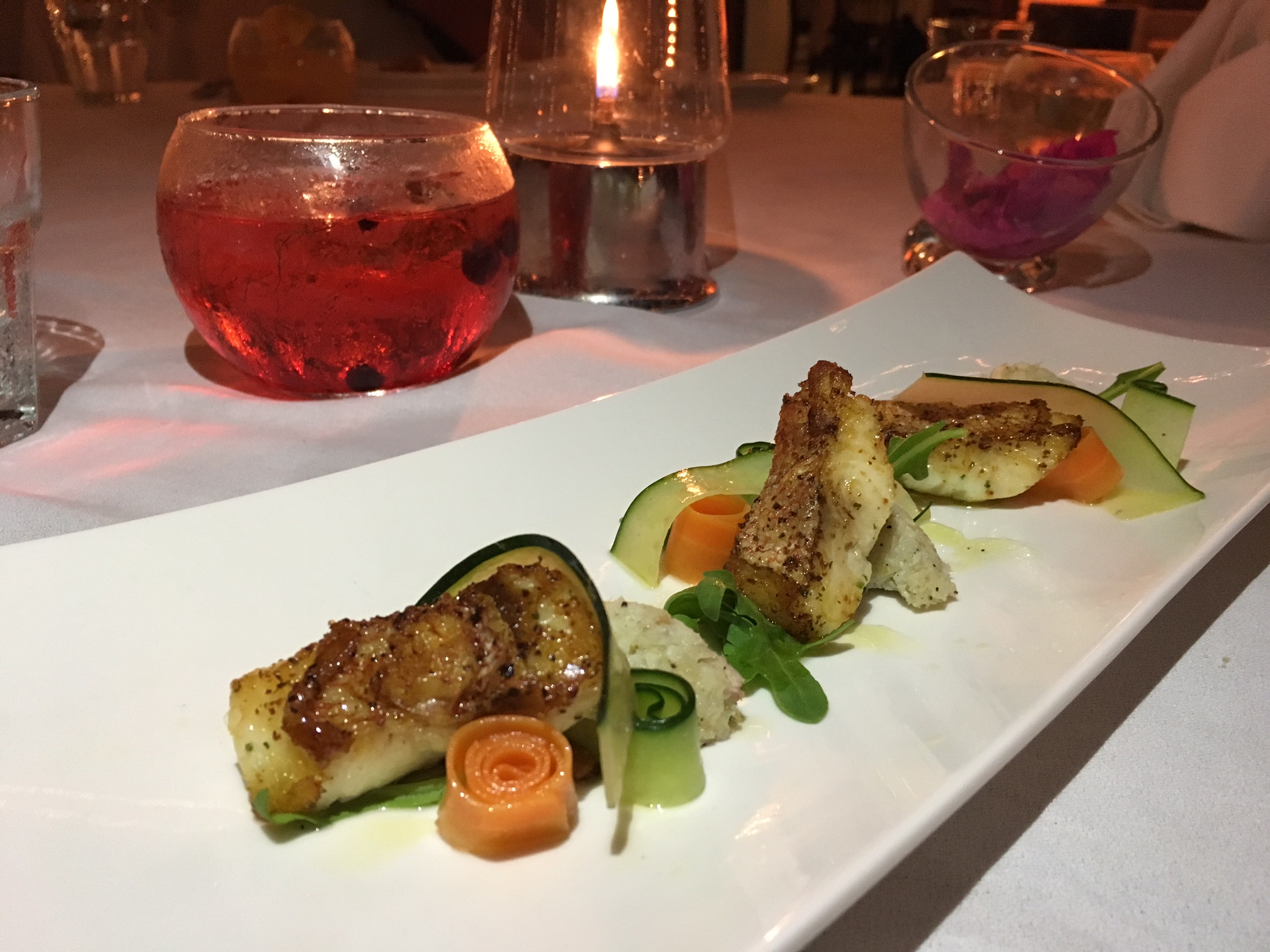 Our main course was their Fresh Seafood Risotto and Crab Stuffed Flank Steak.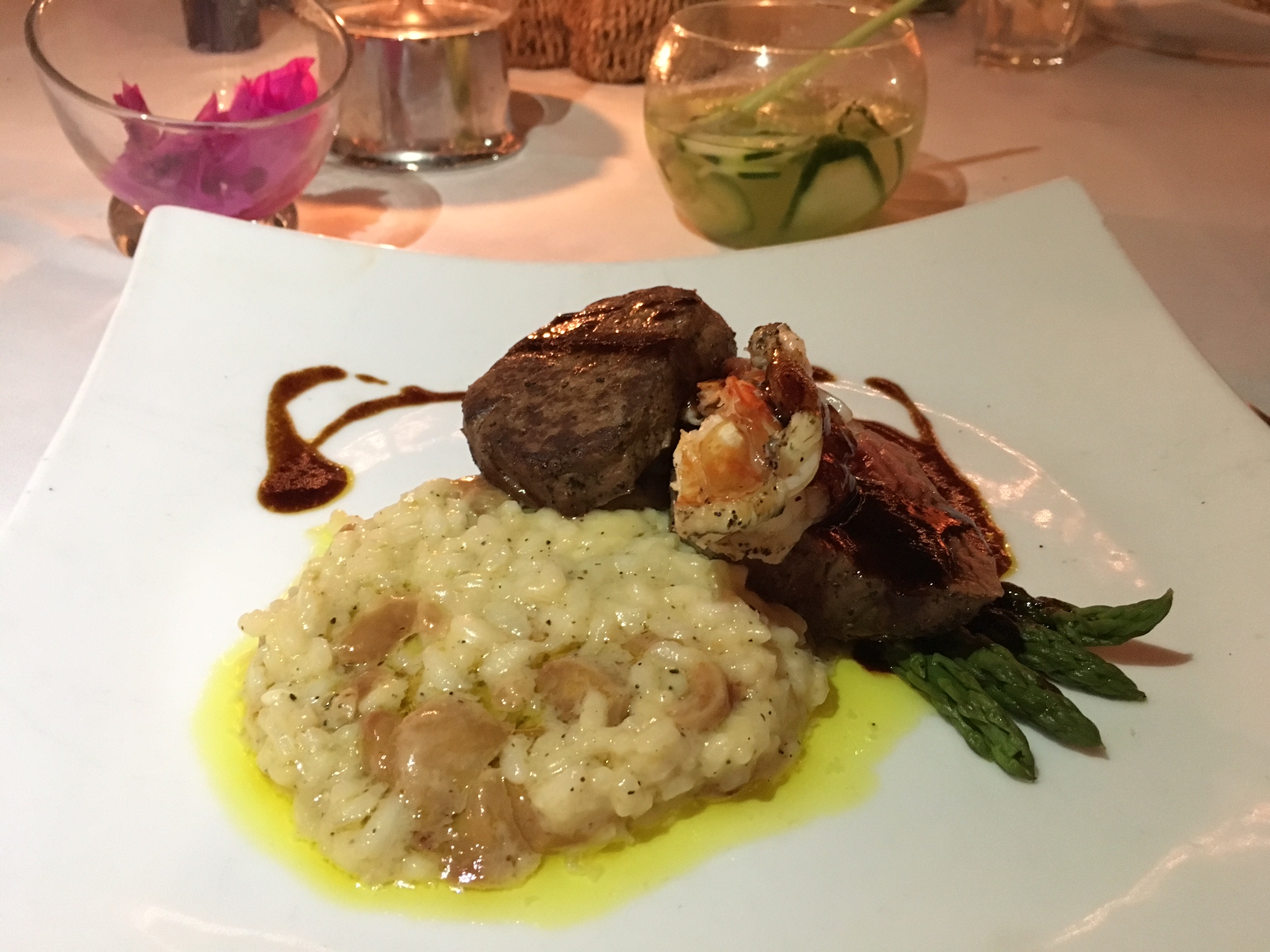 We ended the meal with a soothing mango cake sorbet.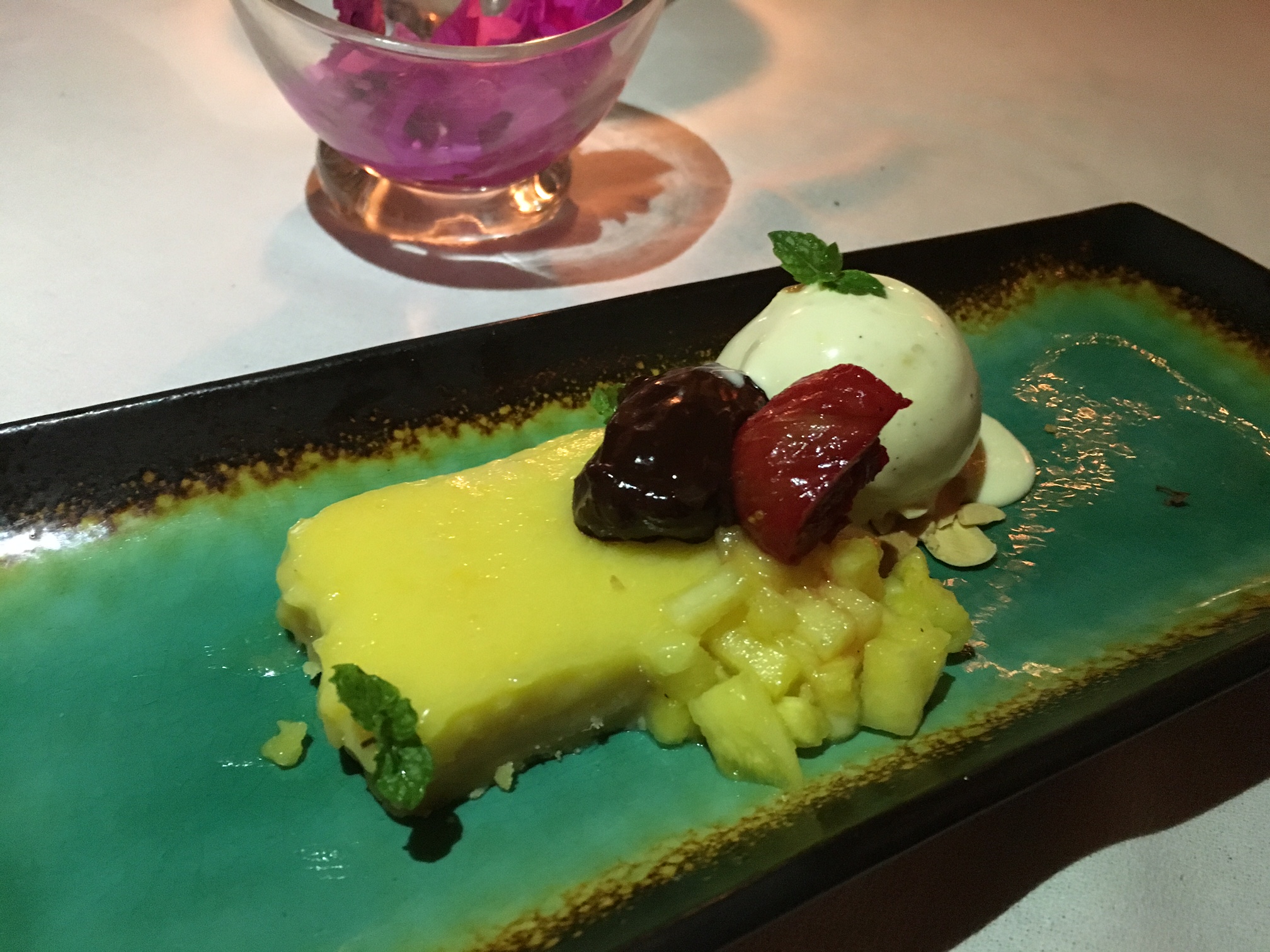 We awoke the following morning to explore the island and learn more about the locales.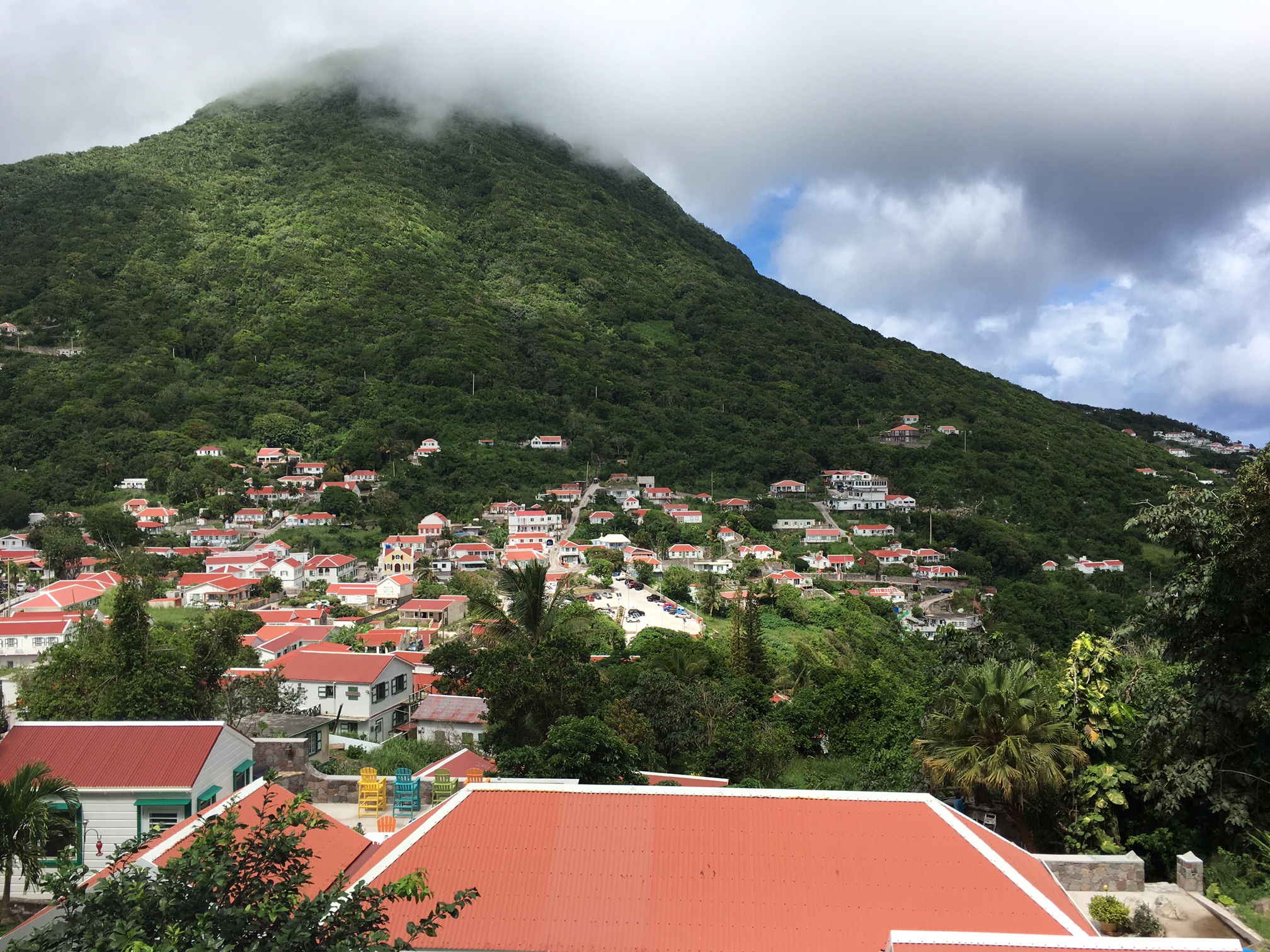 We love Saba.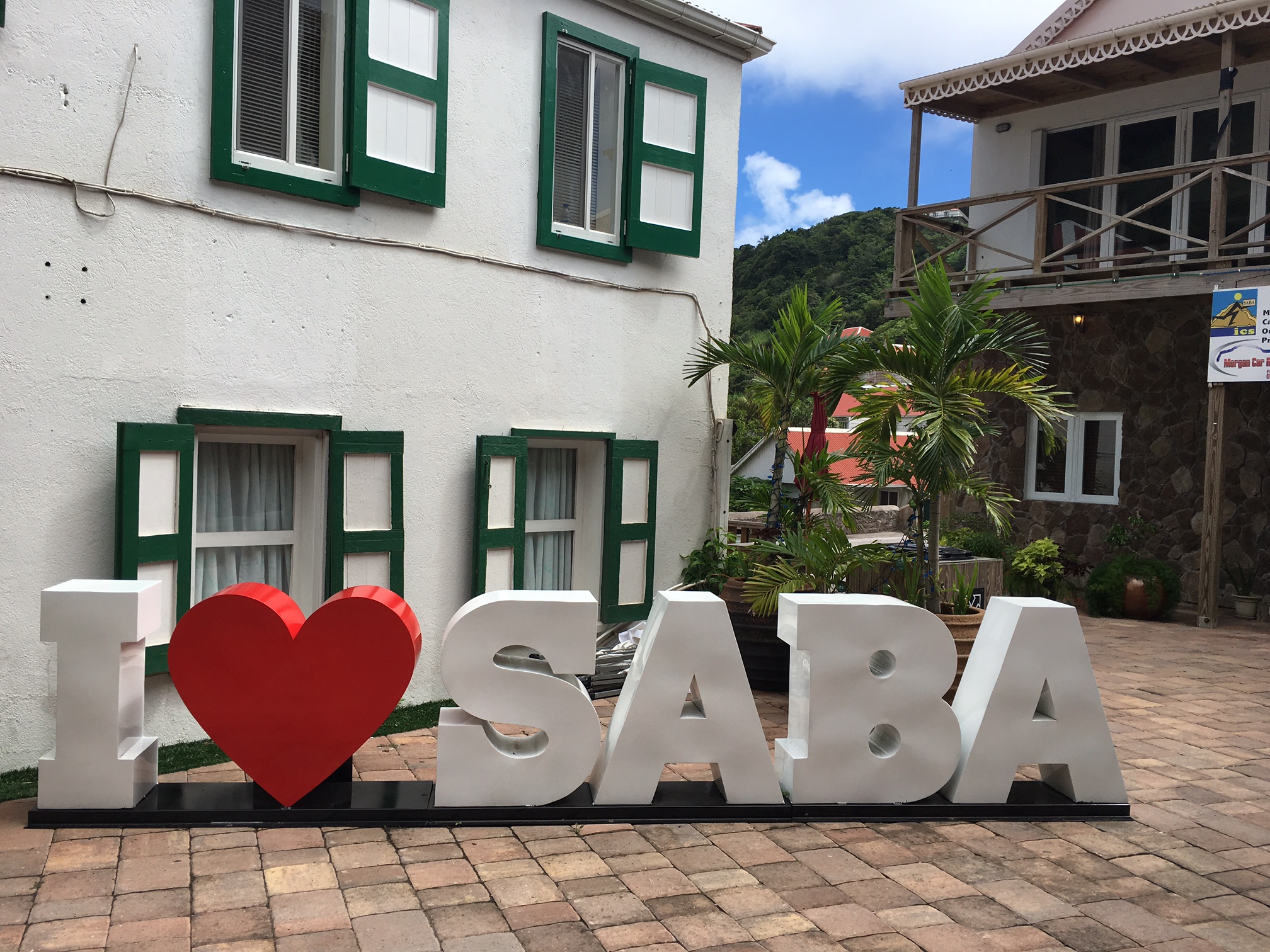 We ended up nursing a fresh gelato at Tropics Café offered by Juliana's Hotel for lunch.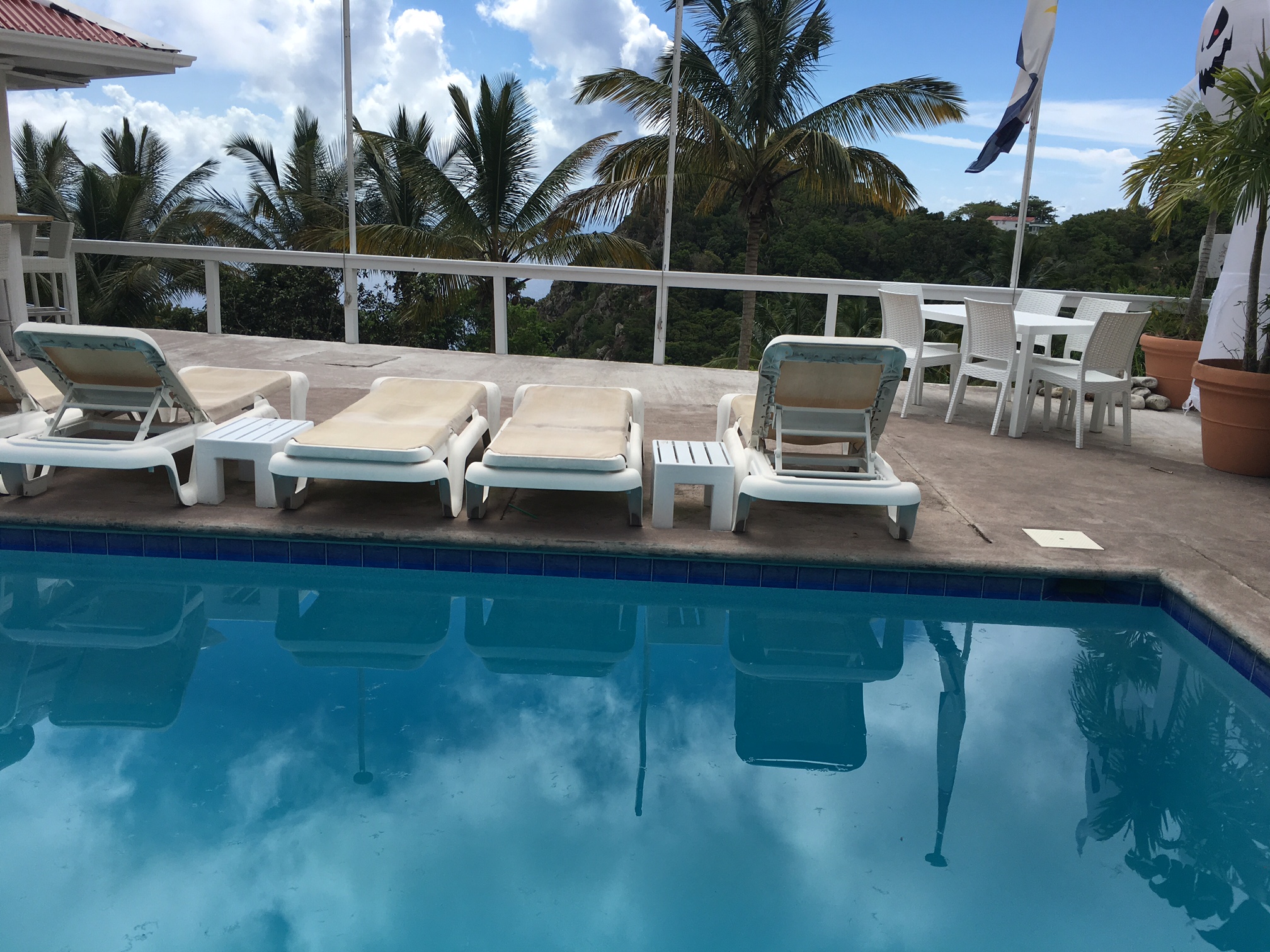 We went back to the hotel to receive a pleasant massage. They took out several knots and left us in serenity with this stunning view of Saba.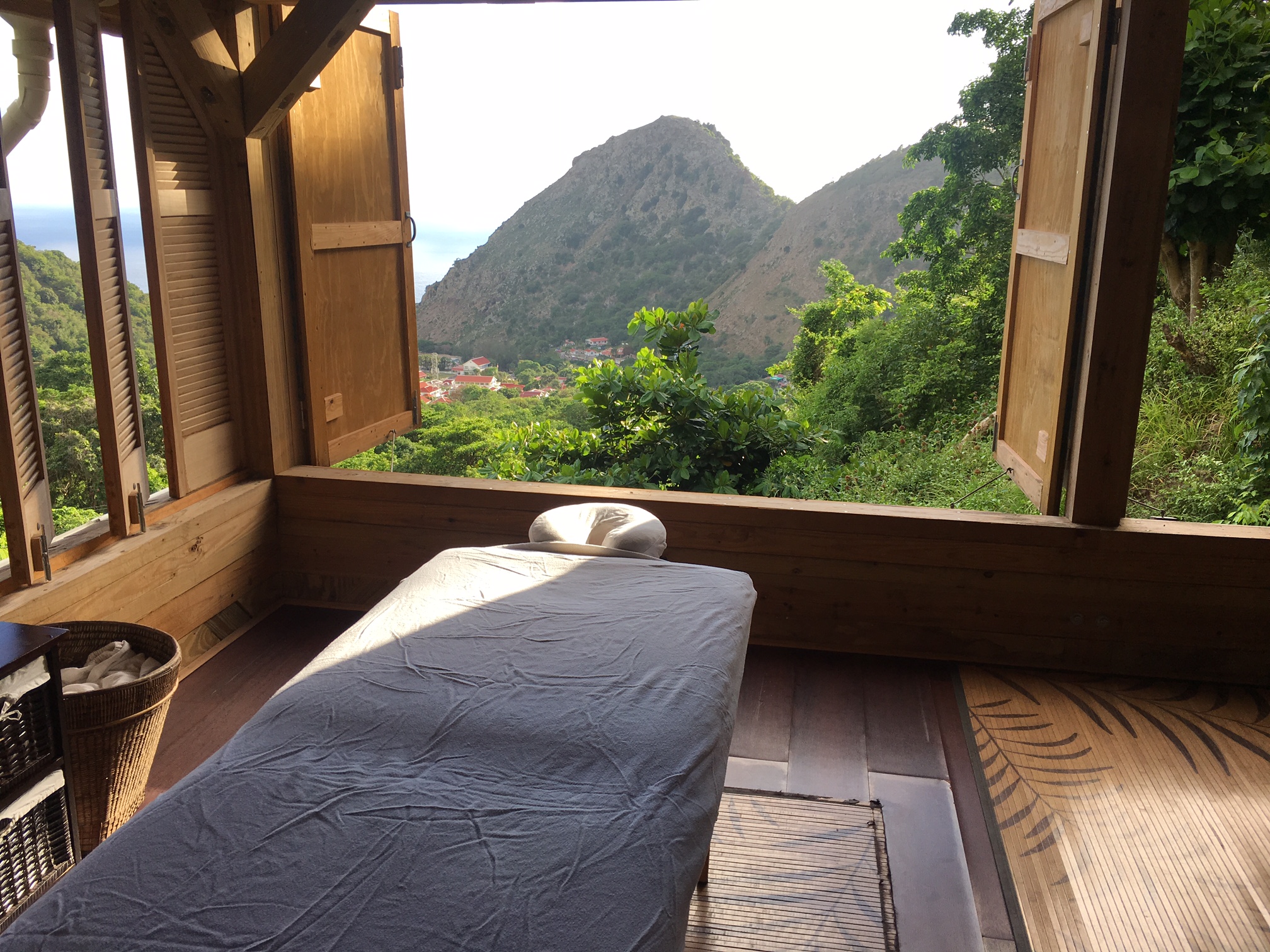 We ended our evening by going to Chez Bubba, a stand-alone restaurant also owned by the Queen's Gardens Resort owners. We loved their seafood.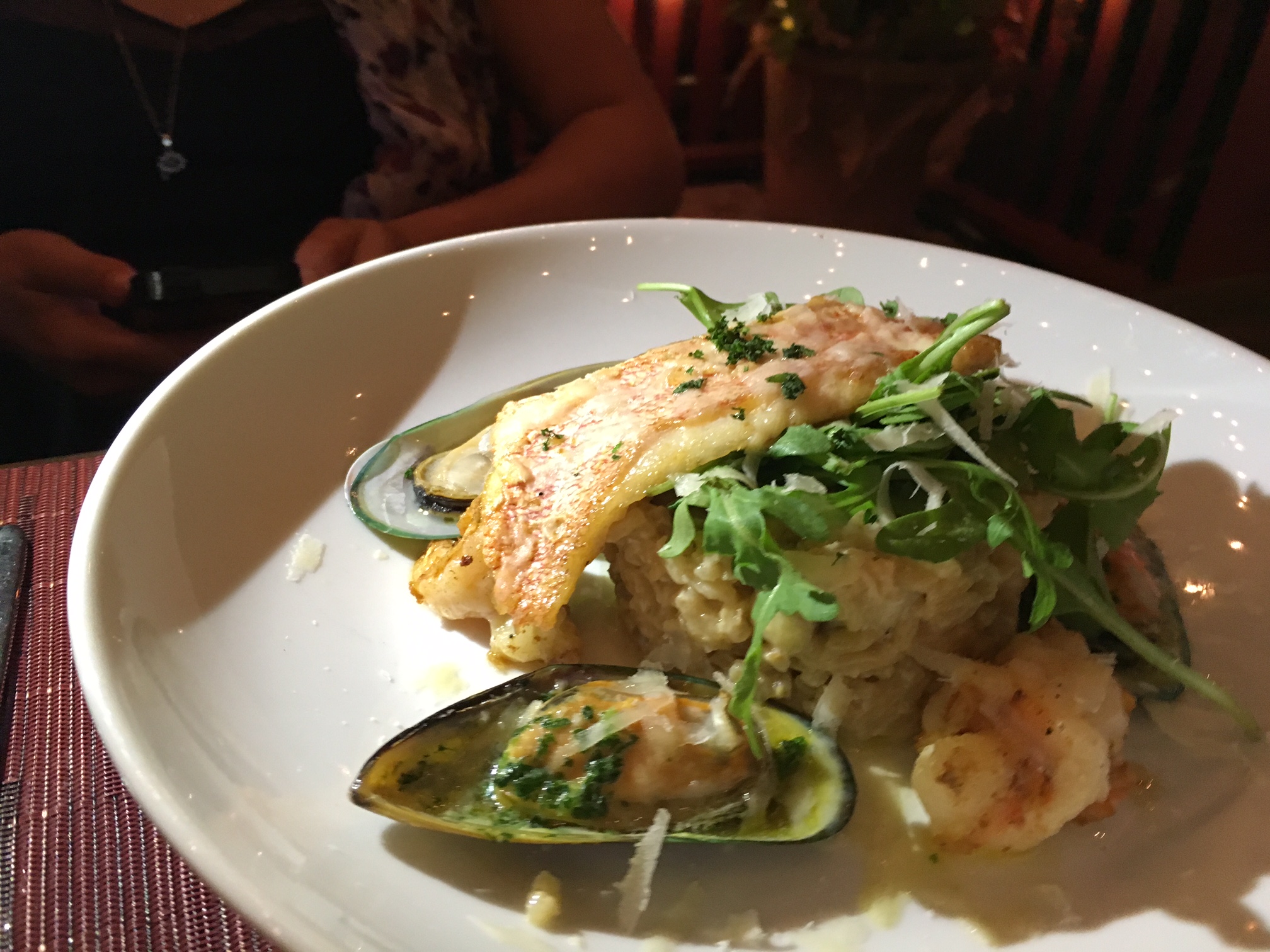 Chez Bubba's head chef is from the Netherlands and has been working on the island for over a year. He's very creative and brave in trying new dishes to change the menu for their more

frequent

guests that live on Saba. Our favorite dish was their orange duck with asparagus.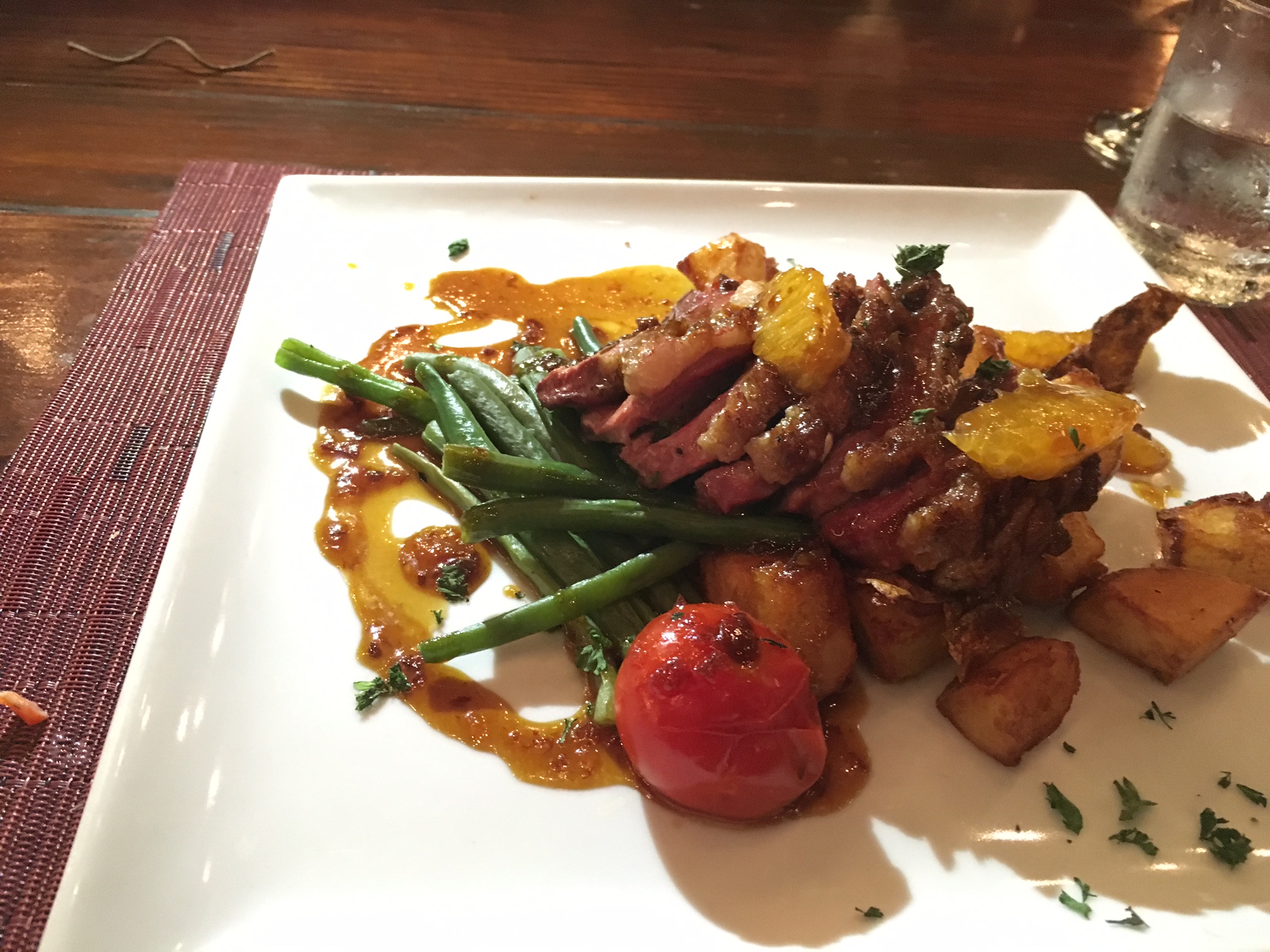 Desserts are his specialty. These were four off-menu creations, each packing a unique punch to the palate. They had their chocolate lover's special, peanut butter, brownie sorbet, and dulce de leche. The best part – all these desserts were made on the island.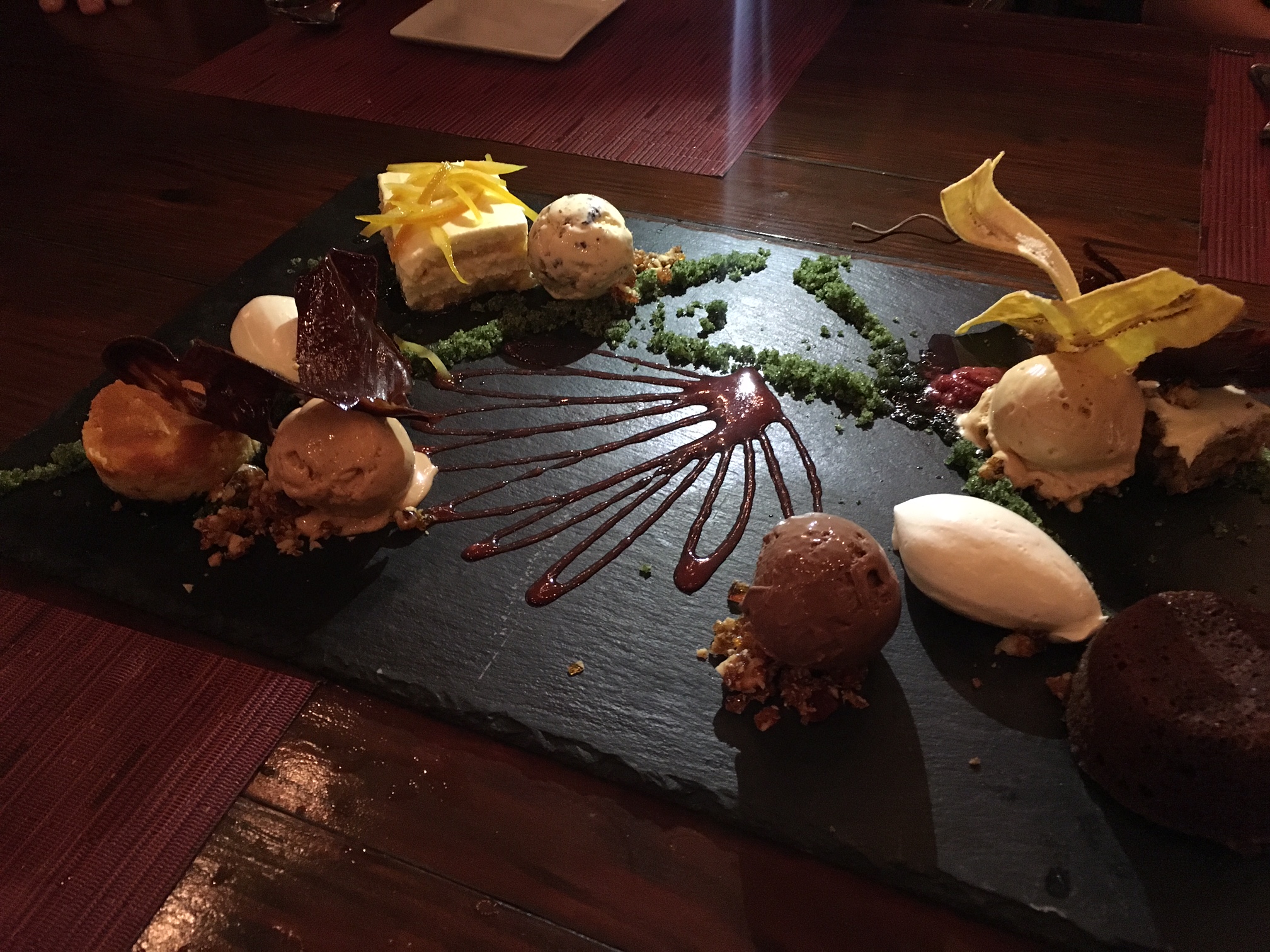 We took one last view of Saba before we departed back to Sint Maarten and conclude our trip.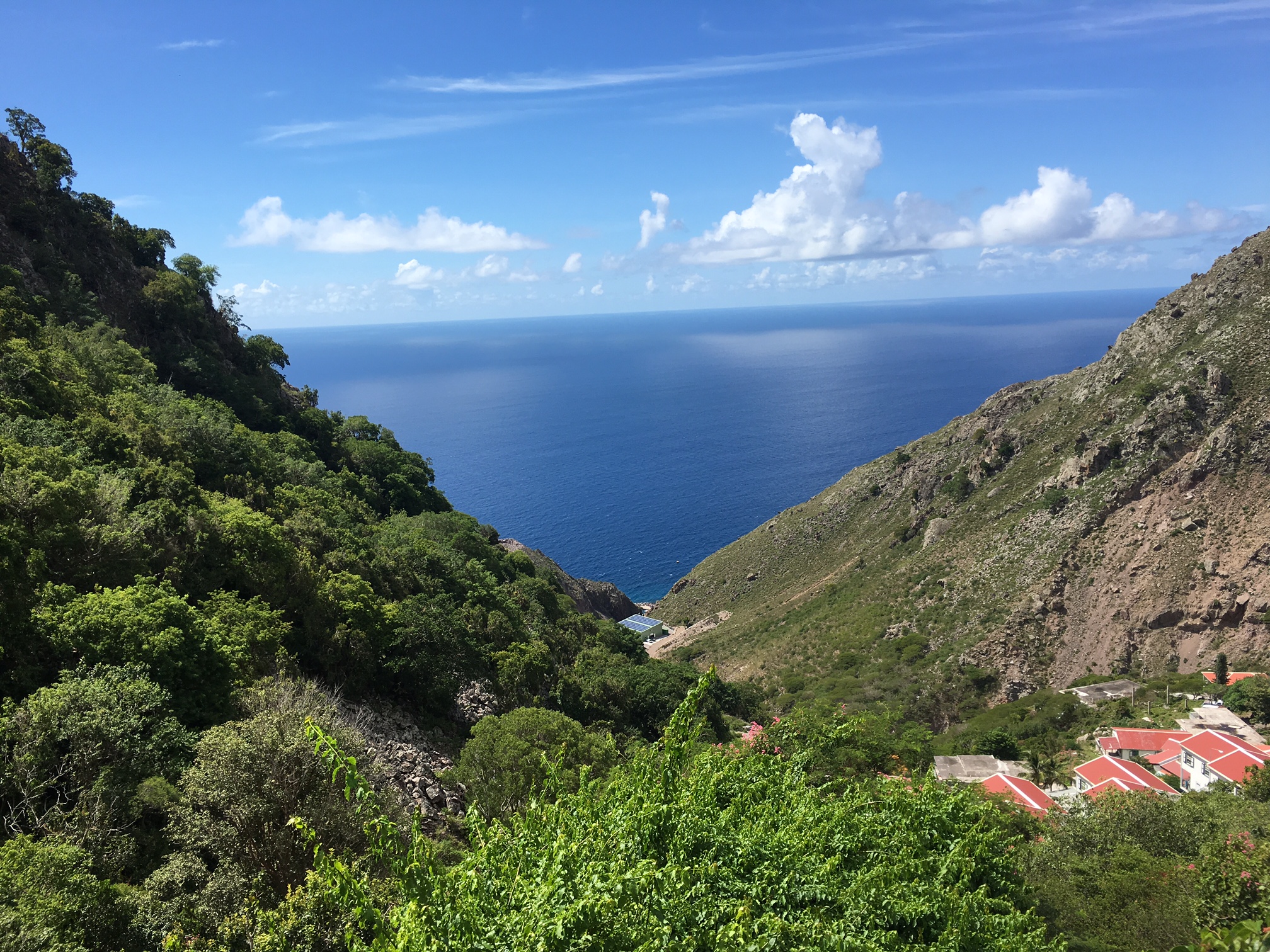 What's your favorite remote destination?