On Thursday, September 16, Secret Room Events held a lavish, star-studded gifting suite on the rooftop patio of the Petersen Automotive Museum in Los Angeles.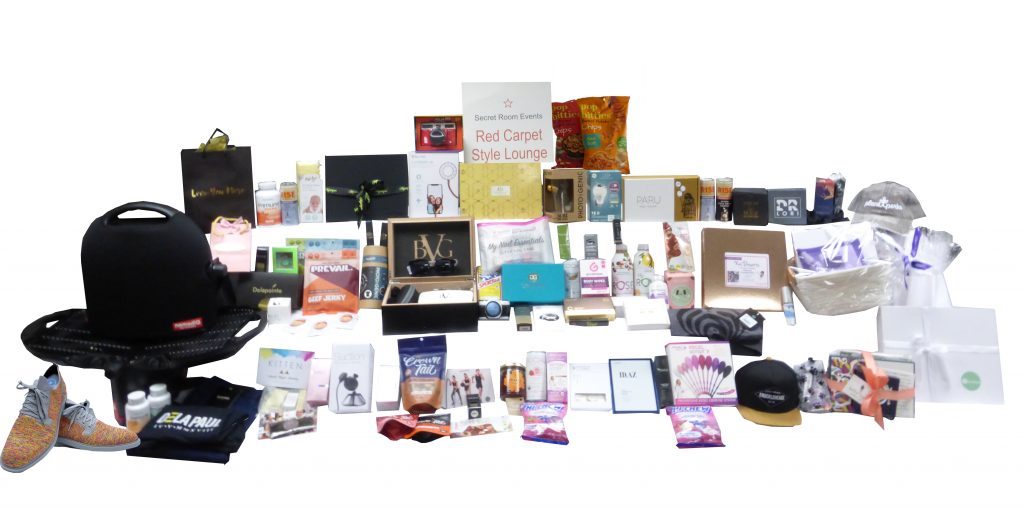 Celebrities, influencers and media were treated to food and cocktails from Rasta Rita Cantina, BAO'JITO and Double Zero Pizza by Matthew Kenney Cuisine.

Hosted by Secret Room Events' Rita Branch, Emmy nominees who attended included Shola Adewusi (Bob Abishola), Mychal-Bella Bowman (The Underground Railroad), Petri Hawkins Byrd (Judge Judy), Emma Caulfield (WandaVision), Carolyn Hennesy (General Hospital), Peter Mackenzie (Black-ish), Lilly Melgar (The Bay), Annika Noelle (The Bold and the Beautiful), Tanner Novlan (The Bold and the Beautiful), Madison Reyes (Julie and the Phantoms), Jonathan Roumie (The Chosen), and Marion Van Cuyck (Pen15). Other celebs who stopped by during the event include Michael and DeAnna Madsen (who were celebrating their anniversary), Pooja Batra, Porscha Coleman, Sofia Milos, Tristan Rogers, Massi Furlan, Ken Davitian, and Joseph Gatt.

Highlights of the day included GE Lighting that gifted its cool LED and Bluetooth enabled lightbulb, Kelly Kay Paper Co. and nomadiQ portable grills.

Sponsors in the beauty and wellness categories included Nurse Hatty, Brave Essentials skincare, Kitten Beauty, 10+ Free Life nail health, Umi's Roots hair care, Skin Prophecy and Pet Prophecy, SHEbd, Lori Gerber D.O., HMNKIND antibacterial masks, and Electric Blue Bee Bop candles.

Fashion brands featured were stylish yet comfortable shoes for men by Third Mind, jewelry by Love You More and BISOULOVELY, Knuckleheads Clothing for kids, trendy travel accessories by Regular Ren and BVG sunglasses.

Since many of us still enjoy our time at home, some great products included cookie mix kits by Keii Desserts, Just Bagels, European food products by Petershof-kaerselen, and Plant Perks' spreads and dips. San Diego's Paru Tea Bar was on hand to serve their delicious loose-leaf teas.

Other brands of note included Freestyle Photo imaging supplies, Stern Pinball and Beverly Hills Tennis Academy.

Upon departure, guests were presented with a huge LL Bean gift bag filled with goodies by ADURO, Aaxll Brands Company Bebitza baby nursing items, BlissLights, Bollow AL pharing, CALA®, Coal and Canary Candles, Dela Paul Apparel, Dubai Leaf, Essentials Jewels, Furr Fighters, GG Skincare, Green Kids Club, GRT Active, Gospel Glam Cosmetics, Girl Native Aotearoa, HI-CHEW™ Humm Kombucha, H2rOse, Jillian Leigh Jewelry, Justin's, Kakao Friends, Karite Delapoint, King Dukes, Lake Country Ranch, LUMIFY®, Mark's Mindful Munchies, Mystique Beach, Nature's Plus, NERDY®. Orchestra Provisions, Path Water, Pink as Gold, Pretty Denim, Prevail Jerky, Premium Pet Products, Private Doctor Skincare, Rango Honey, Rise Brewing Co., Sefoli skincare, 7th Heaven beauty products, Sparti scent by Scentinvent, SPORTea®, Sunia Yoga, Trust Fund Beauty, VAHDAM INDIA, Wild Horse Hattery, and YAPA Beauty USA.


Secret Room Events produces exclusive gift lounges and gift bags surrounding major awards shows. Secret Room Events was voted the top gift suite by Huffington Post, featured in the LA Times, Washington Post, Access Hollywood, E!, OK!, HGTV, Frontdoor.com, and many more.