Das Stue (which translates to "living room" in Danish) is a truly unique place, serving as the first luxury boutique hotel in Berlin, Germany. Housed in an elegant 1930's building in the middle of the city, this gem is a welcome respite of sorts – surrounded by greenery and quiet. Inside this magnificent place is a personal, intimate atmosphere where the staff addresses its patrons by name.
Here are 7 irresistible reasons why we think everyone should take a break and hang out at Das Stue:
7. THE STRIKING INTERIOR DECOR.
Spanish-born and Milan-based interior designer Patricia Urquiola is the mastermind behind Das Stue's striking public spaces. She juxtaposes depth and texture with color harmoniously throughout the hotel: carpets offset traditional wood flooring, and pillars burn bright in copper. Several spaces feature cozy libraries, great for collaborative projects or simply enjoying an afternoon read. The overall impression is one of uber luxury, yet evokes feelings of comfort and relaxation, like home.
6. THE ORIGINAL WORKS OF ART.
Every space in the hotel is adorned with original works of art consisting of vintage fashion photography and portraiture, all part of one of the hotel owners' collections. The owner curated these over the decades. and decided that Das Stue was ultimately the perfect place to share them. Also throughout the hotel, there are unique objects and sculptures of animals, such as leather stuffed rhinos and ceramic tropical birds, which remind guests that the zoo is just footsteps away.
5. THE LOCATION.
An idyllic setting, located in the city's embassy district, is easily accessible to lively (and often touristic) areas, yet maintaining the peace and tranquility that guests require. There is a perfect balance here, between nature and city. Many of the rooms have floor to ceiling windows looking into the park and zoo, which houses more animal species than in any other zoo in Europe. The hotel also rents out bicycles, perfect for a major biking city.
4. THE FOOD (AND THE DRINK).
Das Stue houses the ultimate lounge and a Michelin star fine dining restaurant, The Cinco by Chef Paco Pérez. Live bands perform on some nights by the bar, as vintage films are projected throughout. Chef Pérez holds five Michelin stars, and at The Cinco, he features an avant-garde Mediterranean cuisine with a playful take on tapas.
3. LUXURY CARS TO ACCOMPANY YOUR STAY.
Das Stue's driveway is decorated with a myriad of beautiful Audi luxury vehicles, exclusively for guests to use when they stay in the house's largest suites.
2. ROOMS WITH A VIEW…AND A BBQ.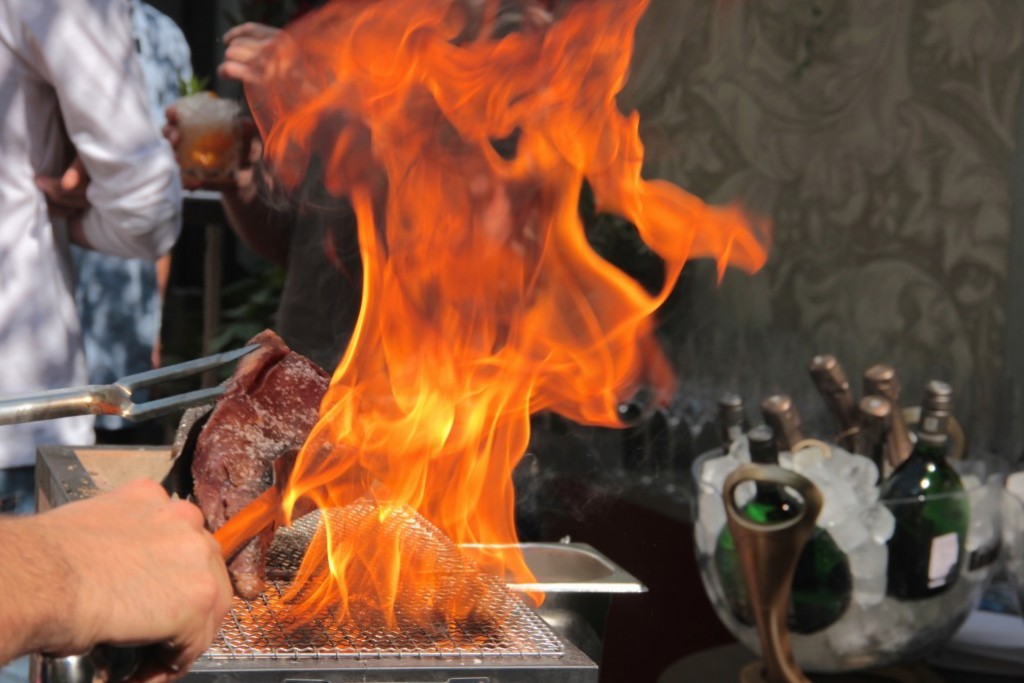 There are about a dozen rooms at Das Stue that have private terraces overlooking the zoo and park. Guests staying in these rooms can sit outside as the staff grills barbecue right there on the spot. With the sun shining warm and a view of the giraffes and ostriches out and about, it almost feels like an urban safari lodge. An unmatchable experience for a place located in the city center!
1. THE ULTIMATE LUXURY OF FEELING HOME AWAY FROM HOME.
All in all, the cozy atmosphere and warm, personal staff makes it feel like you are coming home whenever you enter the "house" (how the manager and staff address the hotel property). We think it's rare to find a hotel that is so luxurious yet still feels like home, but Das Stue has seemed to perfect this with elegance and class.
Das Stue
Drakestraße 1, 10787 Berlin, Germany
+49 30 3117220