Long-time Los Angeles resident Pascale Rothman has graciously passed on her list of her favorite stores for shopping in Los Angeles.
For a little back story, Ms. Rothman, is a long time LA resident. Philanthropist, entrepreneur  and CEO of UEvolution Mind and Body Sculpting, Pascale Rothman created her unique  health and wellness fitness center  in Downtown Los Angeles as a place of empowerment.   "One day it dawned on me that we needed a new kind of gym; one that not only got you in shape on the outside, but on the inside, too." UEvolution is meant to inspire each member to reach a healthy synthesis of nutritious eating, maximized fitness, inner wellness, as well as outer awareness of the community at large.
In addition, Ms. Rothman is dedicated to many humanitarian efforts, including raising funds and awareness for several local and International charities including: CAST LA, The Coalition to Abolish Human Trafficking and Slavery, The Midnight Mission's Health and Wellness Program and Project LACE, Loving Abandoned Children Everywhere.  For more information on Pascale Rothman and Uevolution, please visit them here.
Without further ado, here are Ms. Rothman's top ten favorite places to shop in Los Angeles.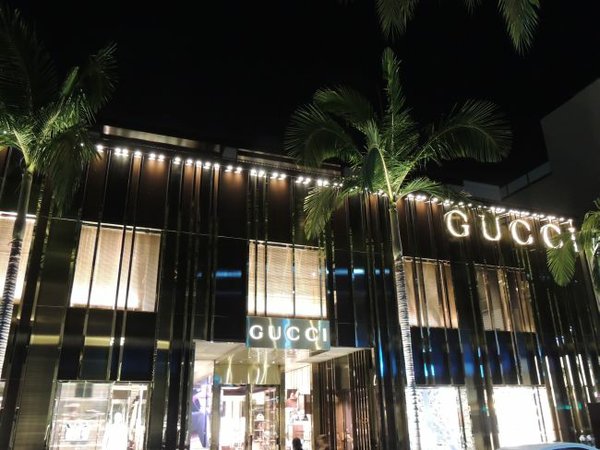 347 North Rodeo Drive, Beverly Hills (310) 278-3451
All of those who know me, know that I love Gucci. Not only are they my favorite designer brand, but I also greatly appreciate their ongoing philanthropic efforts including Chime For Change, a global campaign to raise funds and awareness for girls' and women's empowerment.
9570 Wilshire Blvd., Beverly Hills. (310) 276-4400
I love shopping the shoe department at Barney's New York in Beverly Hills. They carry all of my favorite luxury designer brands including Christian Louboutin, Giuseppe Zanotti and Nicholas Kirkwood, and each time I visit, I undoubtedly find my must have pair of the season. My latest obsession are these INSANE pant-leg knee boots by Givenchy. SO INCREDIBLY CHIC!!!
Who doesn't love fresh flowers? The LA Flower District houses countless vendors, carrying the most beautiful assortment of flowers, plants and trees that I have ever seen in one place. Imported by growers from all over the world, the LA Flower District is geared towards the wholesale trade, but after 6am, they open to the public for a nominal entrance fee.
8825 Melrose Ave. West Hollywood (310) 274-8800.
Maxfield has an edgier aesthetic, stocking designers like Saint Laurent, Rick Owens, Alexander McQueen and Yohji Yamamoto. Anytime I walk into Maxfield, I find my "to die over" outrageous piece for my seasonal wardrobe.
6333 W. Third Street, Suite P-10 Los Angeles 323-954-9190
I love to cook and Sur La Table is beyond a chef's dream. From cookware to cookbooks, they carry the best of the best in everything kitchen related.

150 S. La Brea Avenue, Los Angeles (323) 935-3154
American Rag Cie is two distinct stores in one. The main store is an emporium of clothing, accessories, footwear and jewelry, and next door is Maison Midi, carrying home décor, gifts, tableware and furniture with a French Mediterranean twist. Being from Paris, the eclectic assortment of wares at Maison Midi immediately transports me to a chic French bistro on the Côte d'Azur.
309 N Rodeo Drive, Beverly Hills (310) 859-4700.
There is really nothing further to say about the brand except: J'ADORE DIOR!!!
Melrose- 8100 Melrose Ave. Los Angeles (323) 655-9500. Santa Monica- 500 Broadway, Santa Monica (310) 458-6365
A celebrity favorite shopping compound of individually owned boutiques and kiosks, both Fred Segal locations offer uniquely curated clothing, accessories, bath and beauty products and gift items.
8214 Melrose Ave. Los Angeles (323) 655-1960
Decades is by far the most prolific vintage and second hand boutique in Los Angeles. Carrying every distinguished luxury brand you can name, it is the Mecca of very gently worn consignment shops in Los Angeles, if not the world.
9388 Santa Monica Blvd., Beverly Hills (310) 221-8644.
My dog Louis is my best friend, and Pussy and Pooch is the ultimate destination for everything pet related. They feature a pet boutique, a wellness spa with grooming center, social club memberships, and their signature Pawbar, an in-store pet café/restaurant which serves freshly prepared meals for your canine companion. They have a smaller location in Downtown Los Angeles, but for the full flagship store experience, visit the Beverly Hills store.
See Pascale's favorite Southern California Hotels by clicking here.