In the not so distant past, art and hotels were not usually described in the same sentence. One would go to the museum for art, and the hotel for accommodation. Thus, there were many times when, in an effort to decorate their vast interiors, hoteliers opted for 'art' in the form of basic landscapes, flowers, and the occasional horse.
Now the majority of that type of 'art' is relegated to Class C dental offices. Hoteliers have finely wised up and realized that our surroundings – not just the beds with the Prette sheets – are important to our time under their respective roofs. A handful of hotels around the world have gotten hip to the fact that it's kind of groovy to stay in a hotel filled with works by Joan Miro, Andy Warhol and Keith Haring. Here is our list of the crème de la crème of the hotels with the best collections (in no particular order) you'll see outside of a museum (and without all that bad bad lighting).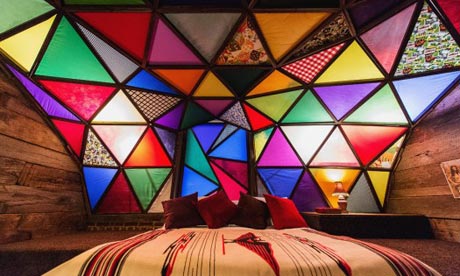 LOUIVILLE, KENTUCKY, USA
Started in 2006 by art collectors Laura Lee Brown and Steve Wilson, 21c Museum Hotel is one of the best examples of cross-platforming art and exposing a new demo to the art world one sleepover at a time. The 90 room boutique comes with its own contemporary art museum, housing over $10 mil worth of works from contemporary artists from all over the world.
700 W. Main St.; Louisville, Kentucky 40202
Ph: 502-217-6300;
GRAMERCY PARK HOTEL
NEW YORK, NY USA
In hotel art collections, Mr. Andy Warhol seems to get around – he can be found in at least three of the hotels mentioned in this article. But it is only at the Gramercy Park Hotel where you will see the most variegated collection. The hotel – a nouveau approach to the grand traditional look of a New York hotel – has a rotating collection of 20th century artwork. At any given time, you'll find a Basquiat, a Hirst, or a Haring, just hanging out, looking cool…but then again, this is NYC, and the hotel was designed by another prolific artist – Julian Schnabel.
2 Lexington Avenue New York, NY 10010 Ph: 212-920-3300
The Gramercy Park Hotel
————-
The luxurious Hotel Éclat is not only home to the largest Salvador Dali collection outside of its European home, it is also a fantastic tribute to some of China's finest contemporary artists like Chen Wen Ling, Gao Xiao Wu, and Zou Liang. Artworks can be found peppered throughout the hotel's public areas and inside various guestrooms. Who knows, maybe if you're lucky, you'll end up sleeping with a Warhol.
No. 9, DongDaQiao Road, Chaoyang Dist., Beijing 100020
Ph: +86-10-8561 2888
Hotel Éclat Pool
Hotel Éclat Art Collection
————-
FOUR SEASONS
FLORENCE, ITALY
Realistically, how could there not be a hotel in Florence filled with artistic masterpieces? The Four Seasons Hotel Firenze a fascinating experience of traipsing through art history, set within the walled tranquility of Florence's largest private garden. Made up of two former palaces from the Renaissance.
Behind its unassuming façade, the Four Seasons offers guests the rare opportunity to view 15th – 19th century artworks in their original context. Just think – at one point every pope, nun, artist and aristocrat was probably sitting on the chaise lounge you're resting on, right now.
Borgo Pinti, 99, 50121 Firenze, Italy
+39-055-26261
————-
ZURICH, SWITZERLAND
The landmark hotel overlooking all of Zurich was already the Grande Dame of the city; but when they upped the ante with a world class art collection, they became the belle of the ball. There are over 125 works dotting the property, both inside and out, ranging from Henri Moore to Salvador Dali to Keith Haring.
Kurhausstrasse 65, 8032 Zürich, Switzerland
Ph: +41 44 456 60 00
The Dolder Grand Hotel Facade
Andy Warhol – The Dolder Grand Lobby