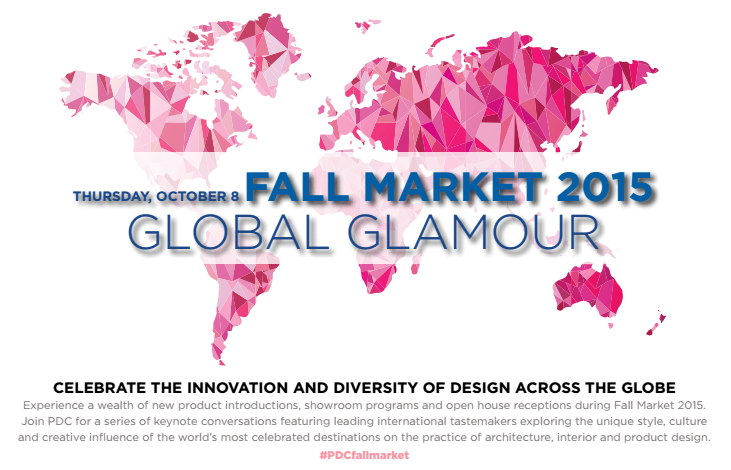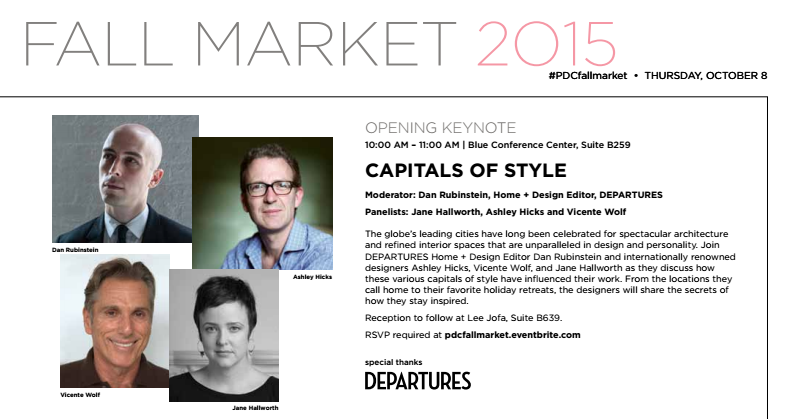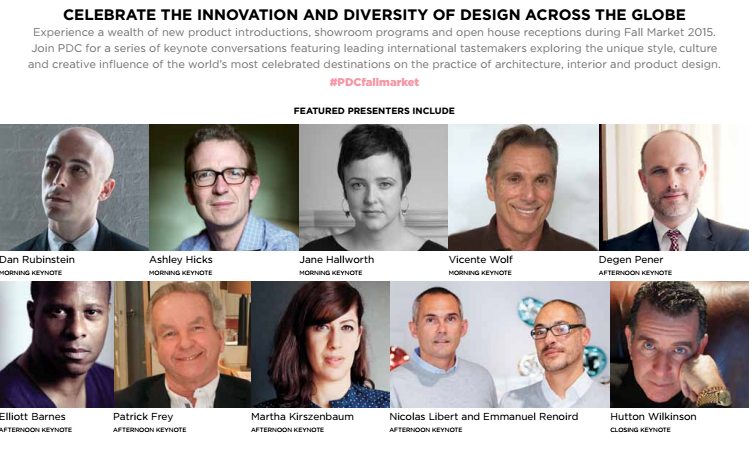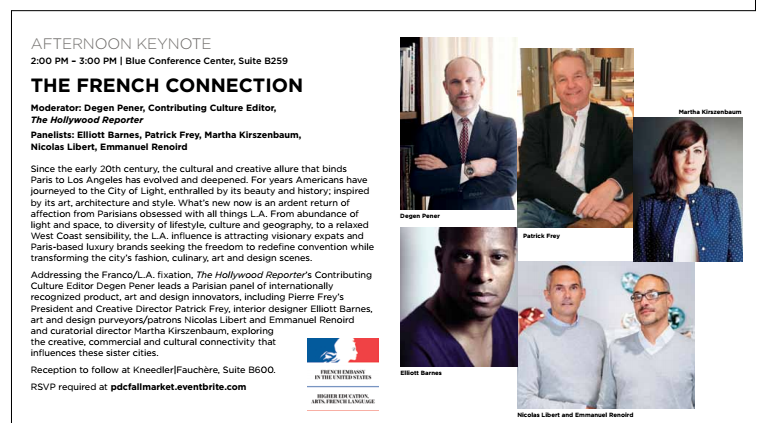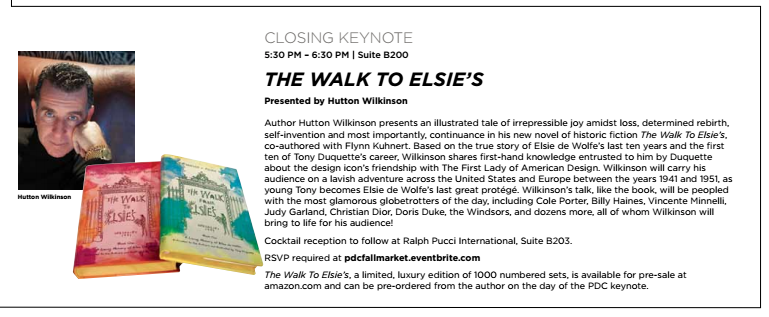 Thursday, October 8 | 9:00 AM – 8:30 PM
WEST HOLLYWOOD, CA  – Pacific Design Center's Fall Market 2015 examines the worldwide imprint of Global Glamour on the creative disciplines with expanded keynote programs that explore how world-class cities throughout the hemispheres continue to elevate the design conversation.
PDC's all-star, international line-up includes Elliott Barnes, Patrick Frey, Jane Hallworth, Ashley Hicks, Martha Kirszenbaum, Nicolas Libert, Emmanuel Renoird, Hutton Wilkinson and Vicente Wolf in conversation with leading design and lifestyle editors including DEPARTURES Home+Design Editor Dan Rubinstein and The Hollywood Reporter's Contributing Culture Editor Degen Pener. Additionally, more than 75 new line introductions, open houses, receptions and showroom programs addressing topics that include color, retro style, business tactics, craftsmanship and product innovations complete the Market schedule.
"As the melding global market continues to transform and fuel creativity across geographic borders, PDC's Fall Market focuses its lens on the world's most fascinating destinations and how their distinct social, cultural and environmental references shape the design process," said Jeff Sampson, vice president, director of marketing, Pacific Design Center. "In addition to unveiling significant new resources that position the PDC as a international leader for luxury goods, our Fall Market keynotes present foremost opinion-makers, providing designers with meaningful, business-building and creative insights to improve professional success."
MORNING KEYNOTE – CAPITALS OF STYLE
10-11 AM | Conference Center
DEPARTURES Home+Design Editor Dan Rubinstein and internationally renowned designers Jane Hallworth, Ashley Hicks and Vicente Wolf discuss how global cities of style, from locations they call home to favored holiday retreats, influence their work and keep them inspired. Reception follows at Lee Jofa, Suite B639. RSVP required.
AFTERNOON KEYNOTE – THE FRENCH CONNECTION
2-3 PM | Conference Center
The Hollywood Reporter Contributing Culture Editor Degen Pener leads renowned Parisian art, design and product innovators Elliott Barnes, Patrick Frey, Martha Kirszenbaum, Nicolas Libert and Emmanuel Renoird in a conversation addressing the deepening creative, commercial and cultural connectivity that binds Paris to Los Angeles. Reception and book signing with Patrick Frey follows at Kneedler|Fauchère, Suite B600. RSVP required. Special Thanks to the Consulate General of France/LA.
CLOSING KEYNOTE – THE WALK TO ELSIE'S
5:30-6:30 PM | Suite B200
Author Hutton Wilkinson presents his new novel of Elsie de Wolfe's last ten years and the first ten of Tony Duquette's career, revealing the design icon's friendship with The First Lady of American Design and their lavish, glamour-filled adventures across Europe and the States between the years 1941 and 1951. Reception follows at Ralph Pucci International, Suite B203. RSVP required.
PACIFIC DESIGN CENTER'S FALL MARKET 2015
CELEBRATES GLOBAL GLAMOUR
SHOWROOM HIGHLIGHTS
Throughout the day, PDC showroom presentations present a diversity of taste makers and thought-leaders, including: Sherwin-Williams ColorMix 2016 presented by Duralee returns with a Passionate Pursuit of "color consciousness;" Innovations celebrates 40 years with Retro Trends in Contemporary Design featuring designers David Dalton, Lori Dennis and Lonni Paul; Holly Hunt presents the textured artistry of SHIIR Rugs; Australian designer Christian Lyon shares his inspiration and passion for 21st century product design at WITFORD; at Thomas Lavin design consultant Lloyd Princeton instructs trade attendees on Deciding What You Are Worth and Charging It while Dering Hall collaborates with Lavin and select designers in the virtual show house Wired + Inspired; Fall Market culminates at Ralph Pucci International with a reception honoring keynote presenter Hutton Wilkinson and the showroom's latest art exhibitions. RSVP required required.
NEW/EXPANDED/RENOVATED SHOWROOMS
Fall Market debuts nearly 20,000 square-feet of new, expanded and renovated resources to enhance PDC's curated mix of luxe indoor/outdoor furniture, fabric, lighting, art and accessories. The Moderne-inspired Cygal Art Deco showcases collections in the Art Deco style; Holland & Sherry features the brand's core collection of embroidery, rugs, leather, trims, wall cover hardware, lighting, furniture, accessories and outdoor; J|Geiger Shading Technology premieres its fascia-free shading systems; Samuel & Sons debuts its new flagship showroom featuring tassels, borders, braids, gimp, fringes and more; James Perse doubles its current showroom occupancy of casual California indoor and outdoor pieces; Innovations re-opens its newly redesigned showroom embracing a lighter and more minimal aesthetic to better reflect the brand; Baker Furniture unveils a refreshed, updated showroom revealing a new, modern look and feel to include state-of-the-art lighting, upgraded resource rooms, sleek flat screen televisions, internet access and an improved fabric and finish sampling program.
For more information about the Fall Market 2015 schedule of events, log-on at www.pacificdesigncenter.com or view PDC's Content Newsletter. RSVP required for all keynotes and showroom programs at pdcfallmarket.eventbrite.com.
Follow PDC using #PDCfallmarket and #globalglamour.