Love is in the air and it is about that time you need to get your thinking caps on and figure out what to get your one and only love. Even though every day is Valentine's Day for all the lovebirds around the globe, February 14th, is the day that you celebrate those other 364 days of love. Give the extra kisses, tighter hugs, and indulge in the chocolates. Let's paint the town in love. Not sure what to get the lucky lady for Valentine's Day gift this year? Here are some ideas you might want to keep in mind.
If you're buying something online for your loved one, making sure you are using the perfect courier is very important. This London courier is one of the best couriers around check them out.
35. Watches Are Nice Accessories
A nice time piece is sexy and you're lady is guaranteed to flaunt it. She can rock it to work, casually during a day of shopping, a night on the town, and even on a date with her hot and handsome stud. Yep, that is you. You can't go wrong with a piece of accessory when it comes to the ladies, and if your woman is not a huge fan of jewelry, don't fret. A particular piece of elegance from Chopard, Franck Muller, or David Yurman are a few that will capture your main girl's heart. You can shop at your local boutique or Neiman Marcus.
34.  Journal
Don't want your woman holding in all of her emotions? If she can't always express them to you, let her express herself in the journal you'll be giving her this year and inside you can add tickets to a destination like Bora Bora or Hawaii so she can begin her first entry with an adventurous start. She can even document her fairy tale with her Prince Charming.
33. A Fifty Shades Kind of Night
This year is not going to be any ol' movie night out. Women all over have fallen in love with the sexy, dominant, fictitious character, Christian Grey, and just about every woman is fantasizing about being Ms. Anastasia Steele. Well, take your lady to go see Mr. Grey in action as a Valentine's Day gift. Yes, you have to sit through a movie side eyeing and watching your woman get hot for Christian Grey, but later that evening, she'll be ready for a little bit of role playing with her real love. So plan a romantic evening with rose petals waiting on the bed, champaign waiting at your house, a box of beautiful lingerie from La Perla, a special caviar box for two from Petrossian, and have a diamond necklace waiting on the bed for her when she walks in.
31. Chocolate and More Chocolate
This Valentine's Day gift is old school, but forever a trend. While your lady is at work, or at home, go ahead and send her a box a chocolate. Better yet, send her a box of chocolate covered strawberries or cherries. It's easy to order and once she sees you later on in the day, if she is not popping up where you are, she will have a different kind of  sweet tooth and she'll be thanking you with hugs and luscious kisses. We recommend arranging a year of chocolates so once a month she gets a chocolate delivery fix from you and she will be smiling thinking of you.
30. Picture Frames
Women love memories. Be certain that your lady has plenty of pictures stashed away or left unprinted in her computer or cellphone. Leave her and her girlfriends to the scrapbooking and buy her a bundle of cute picture frames for the office. Now she'll have something to display those holiday pictures you guys took. We recommend having on secret gift framed in the frame so she has to discover it. A diamond necklace, anklet, and or a gift certificate for her to pick up your surprise Valentine's Day gift waiting just for her.
29. Spa Day
Every woman loves to be pampered. Whether she's been feeling stressed or not, treat her to an exfoliating and relaxing day at the spa. You can jump in this as well by purchase a package for you and your lovely lady or for her and her girlfriend.Either way she will be thrilled at the idea of relaxing without a care in the world even just for this day and will come home relaxed and beautified.
28. Not Just Any Rose
Want to make this a lasting and memorable V-Day? Well present your lady with gold, platinum, or crystal roses from Romance Her. These roses are unique and creative. Instead of giving her a bouquet of flowers that will die in a few days, buy her some flowers that will last forever. These are real roses that are preserved and dipped in gold and platinum or crafted from cut crystal glass and more. This is also a Valentine's Day gift that she can display every day in your house decor.
27. Lingerie and Sexy Sleep Wear
Lingerie is sexy, it's hot, and it gets you and her excited. Now when you're shopping for her intimate wear, remember to keep it classy. Give her something that will make her feel amazing and alluring as a Valentine's Day gift. Delicate and lacy is the route to go. There are so many brands to choose from but La Perla, Agent Provocateur, Victorias Secret, Eres, and Bordelle are a few beautiful brands you can choose. Be sure to keep your eye open for something soft to fall on her skin, too. Pick right, and she'll tantalize you wearing it around the house because she feels good and sexy.
26. Fruit Bouquet
We all know about Edible Arrangements. Well check out what they have to offer. The next best thing to sending your women a beautiful bouquet of flowers at work is sending her a bouquet of fresh, colorful, and tasty fruit. Not only does it look beautiful and taste good, but it'll still give her coworkers something to gossip about. There are plenty of options to choose from. Just schedule your delivery with Edible Arrangements and your lady will be thank you for that fruitful surprise later on that day, we recommend the chocolate strawberries.
25. Fit to Size
If you know what your lady likes, and most importantly, know her size, then go out and buy her a hot dress and some heels she can strut in for your date later that night. This is a way to show her that you do pay attention and you know her. Getting it right with the size and her style is a plus and will earn you ultimate love points in her book. If you don't want to risk getting it wrong, simply take her shopping. Let her pick exactly what she wants. Let her try on different things, and you'll still earn those points.
24. Necklaces
Necklaces are great pieces of jewelry that accentuates a woman's neck and shoulders, not to mention that jewelry brings an attire together. Get her a nice statement piece for evening outings, or something she can wear casually. There are all kinds: lockets, heart shapes, colored, diamonds, long, short, the list can go on. Think about what you would like to see her wear, she'll wear it just because you bought it.
 23. Treat Her To Dinner
You and your lady have been waiting to try that new French restaurant. Well let to tonight be the night. Give your taste buds a good time with something new. A nice romantic dinner, whether you're taking her out to her fave or a new restaurant or cooking her fave meal, this says more than you are a thoughtful man to her. It says  that you have been listening to her. It's simple and sweet. So go ahead and give her a reason to wear her new dress and flash her new jewelry.
22. Give Her a Bubble Bath
If you want to pamper your woman in a more relaxed and intimate setting, then give her a bubble bath at home. Sooth her and let her know that you've noticed how hard she's been working. Enjoy an evening in and alone with your lady. This can also keep a little change in your pockets, or it's a great go to gesture if you don't have the means for that big Valentine's Day gift to give her. Make sure to throw in some scented candles, a lovely glass of wine, roses around the room and smooth rhythm music.
21. Letters
Nothing says, "I've been thinking of you," the way a love letter does. It's romantic and something that is rarely done. Women love those acts that they see in those romance and romantic comedy movies.  Let her know that you care, you love her, and let this be a time that you open up that box that reads EMOTIONS. Make sure you dust it off first. This will definitely put a smile on her face, and it's a nice accessory to flowers or jewelry. We recommend surprising her with one letter that has a piece of jewelry in it, so it is unexpected and a fun surprise.
20. E-Devices
Whether she's a hardworking business woman, a book lover, or music lover, nothing is wrong with giving her an e-device. This is something that can keep her occupied when you're not around or just while your sports are on. She will be fascinated by the number of apps she'll be able to download so it would be a perfect gift package if you give her a gift card to go along with the phone or reading device.
19. Take Her To a Show
Yes, take her to a show. It's different and it's something fun. A show can be something to do as a Valentine's Day gift if your lady happens to be one of those who just aren't particularly into the whole romance thing. Finding her favorite band, or catching a burlesque show, a concert, or even a comedy show will make a memorable experience. It is not particularly romantic, but fun and she will enjoy a different experience with you out of the house.
18. Homemade Desserts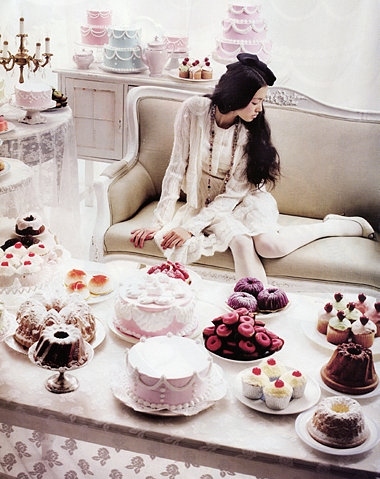 I hope you can bake. Well, if you can't, that's still okay. Put on your chef hat and get down and dirty in that powder sugar and flour. Show her you're not scared to step into the kitchen. Get creative, too. Try experimenting with your hidden baking skills you didn't even know you had. Or if you have them and you know it already, still, don't be afraid to make heart shaped cookies or decorate cupcakes with red and pink sprinkles. She will love the idea of you baking something specially for her.
17. Macaroons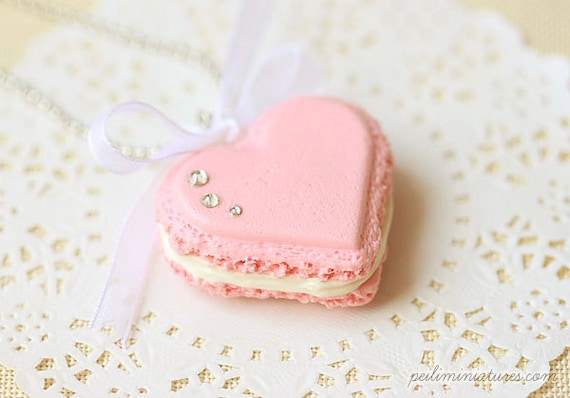 Don't want to try your luck with baking, no worries. You don't want to risk burning down the kitchen, understood. So how about you try heart shaped macaroons instead. Give her a piece of your heart in something delicious and bite-size. These colorful cake snacks are light and pleasing to the palate, and your woman is sure to be interested in something colorful and sweet for this Valentine's Day gift.
16. Museum Fun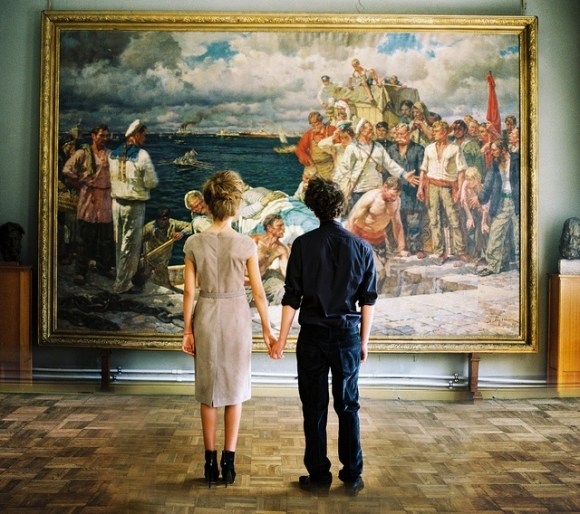 Another way to treat your lady, whether she is into Valentine's Day or not, is taking her to view a piece of history, artifacts, or art pieces. This is possibly something new and different for the both of you and if you really want to give her something special have her photo painted by a local artist and have it waiting for her at the end of the art tour.
15. Personalized Birch Bark Candle Set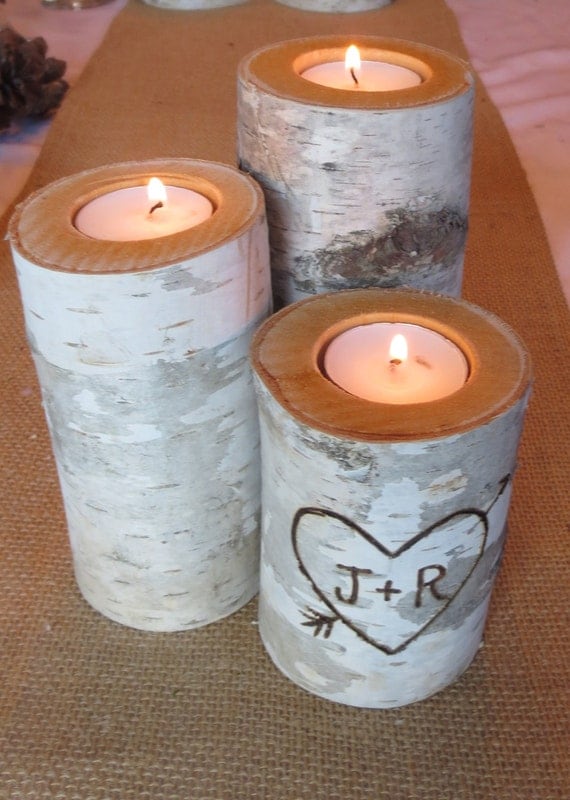 Women love candles. The aroma of vanilla, jasmine, or cinnamon filling the room just sets a mood for them. That's why going with this candle set is not a bad idea at all. It's a great Valentine's Day gift to add to your lovely lady's home decor. She can use it as a centerpiece on her dining room table or coffee table. She is sure to transform the room with her new candle set creating an ambiance and tranquil atmosphere. Try personalizing the set with her initials, or even better, both of your initials. We encourage having a gift basket of hot chocolate, chocolates, a fluffy blanket and pajamas in a nice bundle to go along with this gift to help keep her warm when you are not there. Yes, that is sure will put the love in her smile.
 14. Bracelets
Bracelets can transform a woman's whole look. Whether she's wear a casual white shirt and jeans or a formal dress, there is something about adding a bracelet to the mix that makes her want to put her hands on her hips or swing her arm as she struts her stuff. Every name brand has them and you can mix and match to give her options. LV, Prada, Channel, Dior, Hermes are a few brands she will gasp when she sees. They're fun pieces she'll love to put together.
13. Shades
How about this V-Day, you give your lady some shades as the Valentine's Day gift. A fun pair of sunglasses will have  her ready for a day of shopping on a Saturday morning with her girls. Even better, take her on a drive along the coast on a sunny day and she'll be anxious to pull out her new shades.
12. Purses and Handbags
Is your woman a purse fanatic? Buying her a handbag is like choosing the perfect pair of shoes. There are so many to choose from, but you have to pick the right one. If you're not sure what kind of purse your lady might like, go for a set or matching wallet. The more the better. Definitely go for what's popular out there, like Chanel or Louis Vuitton. You can even find a "to die for" bag at Bag Borrow Steal.
11. Her Favorite Music
If writing a letter isn't enough to express how you really feel, then how about getting your lady some music along with it. You know her favorite music. Buying her a Trey Songz or Chris Brown album is something she'd like. Better yet, get more creative and put a little more thought into it by making a mixed CD of her favorite, even your favorite, love songs. Mix it up with a bit of old school Marvin Gaye and Smokey Robinson to a bit of new school Maroon 5 and Sam Smith. It'll be the best CD she's ever had.
10. New Decorations
Want to switch things up?While the woman of the house is out and about or at work, take time to redecorate the bedroom, the bathroom, or add a few new decorations to the dinning room or living room. She will be surprised at your efforts to do something men don't usually do, but she will love it. Women love a touch of something new to make them feel rejuvenated.
9. Dish Set
A new season is coming with a new season on the horizon, the Mrs. will be wanting to change, not just her to her own appearance, but the appearance of her home as well. How about about helping her set the dining room table? A new dish set would just about do it. She'll love thank you for being so helpful in contributing to the decorating. If you want to go one step further you can have dinner pre ordered to be delivered at the right moment so you can enjoy them together or you can surprise her with a private chef cooking for you both at home.
8. Earrings
Women feel naked without their earrings, and the backs are forever disappearing. Sometimes, even one of the pair is missing. How about buying her a new pair or two…or three. A girl can never have too many pairs of earrings. We recommend diamonds. No matter how big or small they are, women glow when they see them.
7. Shoes, Shoes, Shoes
Shoes are also a girls best friend. She can never have too many pairs of shoes. Take her shopping to try on some of her favorite styles of shoes. If you don't know her size, that's the best thing to do. If you do know her size, surprise her. What would you like to see on her feet to show off those legs of hers?
6. His and Hers Pillow Cases
Your Valentine's Day gift can also be playful and bring comfort to the relationship. How about creative pillow cases that express how you two feel. She'll be reminded every night she goes to sleep and every morning she wakes up that you are madly in love with her and have a gift set of sleepwear hidden under the blankets so she will be surprised. Make sure to get at least 5 options which cover ere mood she may want to experience. This means a sexy, a casual, a warm, a pretty and silk robe to go over all of them.
5. Fragrances
Women love to smell irresistible. This is a Valentine's Day gift you should not have trouble picking out. It is simple and a favorite. Your woman wants to wear fragrances that will attract you to her even more. So when you're passing Macy's, Bath and Body Works, or Victoria's Secret use your smelling instincts and pick her favorite scents and something you would like to smell on her as well. Give her something classic and something new. We recommend giving her a bracelet as well so she can wear it and think of you as she puts on her new sent.
4. A Trip to Loversland
If you haven't been on a vacation in a while, it's about that time. Take your lady on a trip and get her away from the norm. Trust, she's always down for a getaway, especially with her man. Just the idea of it excites her. This Valentine's Day gift is beneficial for you as well. The both of you get a chance to not only relax together and escape from the usual schedule you have, but you get to step outside of the ordinary love making as well, if you haven't done so already. If stepping out of the ordinary isn't new for you, then continue on that ride to lover's lane.
3. Hot Air Balloon Ride
Go on a hot air balloon ride. It's something spontaneous. She is sure to have a thrilling time. While on the ride, you and your lady will have a great view of the world below. Take her on what will feel like a magic carpet ride. Whether she is or isn't afraid of heights, you just be sure to hold her tight.
2. A Date at Disneyland
Disneyland is the place to be. This is the perfect place to stay all day, until the park closes. At night, she'll be mesmerized by the lights and festivities. It's not just a place for the young ones. You can make dinner reservations and finish the night watching the fireworks and other shows. You can even prepare an overnight stay at the Disneyland Hotel. Don't forget to grab some souvenirs before you go.
1. A Ring
If things have going well, so well that you can't live the two of you are inseparable, how about popping the best question a woman will ever here. A proposal will be the biggest and unforgettable Valentine's Day gift she's ever gotten. Wanting to spend the rest of your life with your soul mate is the gifts of all gifts on this day of love. If you're already married, consider renewing your vows, or just presenting your wonderful wife with a new ring. After all, everyone knows diamonds are a girl's best friend.
What will you be getting your mate as a Valentine's Day gift this year? Let us know in the comments below.