The only thing that feels better than receiving a heartfelt gift, is giving one. The holidays may be over, but that doesn't mean the spirit of giving is. The gift giving season is one that can last all year. What better way to keep on giving than to support a charity or cause? Especially one that is lesser known. These groups may be lesser known, but are making our world a better place.
11. REZAID
RezAid is an organization that collects school and first aid supplies, clothing, and other necessities, then ships them directly to the Pine Ridge Reservation in South Dakota. Based out of Huntington Beach, California, they donate 100% of all collected items and money
to the Reservation.  Some members have even supplemented
shipping costs
out of their own pockets.
10. NEWBORNS IN NEED
(image: http://wku.edu/chhs/images/newsletter_photos/newborns_in_need.jpg)
Newborns In Need is on a mission to make sure no baby is cold, hungry, homeless, or without medical attention during the critical early weeks of life. They provide hospitals and agencies with much needed items for babies who are born premature, ill, or whose families can't afford all of the necessities a baby needs. They'll even help with funeral costs for grieving families. Volunteers collect blankets (often hand-knit!), clothes, formula, diapers, and other baby care items, and packaging them into care packages, then delivering them to hospitals. If a baby needs anything that's more specific to their needs, Newborns In Need will either provide it, or connect the family with a resource that can.
9. THE LITTLE MARKET
The Little Market is a cause that helps artisan women around the world escape poverty, and support themselves and their families. Co-founded by Lauren Conrad, The Little Market
is an online marketplace that builds a sustainable bridge between customers and the goods handmade by these women. With its fair and ethical practices, it's a wonderful way for anyone to shop consciously, and for these woman to gain financial
independence and preserve their cultural artisanal skills.
8. YOGA WARRIORS INTERNATIONAL
(image: yogawarriors.com)
Yoga Warriors International is a national program that heals combat veterans with yoga. Many of our men and women who serve in the military develop Post Traumatic Stress Disorder (PTSD) after facing trauma. Yoga Warriors provides Hatha yoga classes to active duty military, veterans and first responders throughout the United States and on bases around the world. The classes are specifically designed to alleviate the symptoms of PTSD and ease triggers that cause flashbacks. The classes are taught by certified yoga instructors who have gone through extra training to help understand the disorder.
7. BANFIELD CHARITABLE TRUST
No one should have to surrender their beloved fur baby because they can no longer afford it. Banfield Charitable Trust is keeping pets off the streets and out of shelters, and remaining in the loving homes they deserve. Their programs provide pet food, help offset costs of emergency services, enable hospice patients to keep their pets with them, and help other organizations develop ways to deal with unique pet needs. Every year they help about 100,000 people keep their pets at home where they belong.
6. SERVE A LITTLE
(image: http://www.ourkids.net/blog/wp-content/uploads/2011/11/mom-driving-600x.jpg)
A car repair may not seem like a big problem, but for a disadvantaged single mother, or a mother whose partner is deployed, it can cause a tremendous set back. Besides being a strain on the family budget, there's the risk of not getting to work and possibly losing a job. Getting children to school can also be a challenge. But Serve A Little helps these moms by covering some or all the cost of an auto repair. They'll even help out with some homer repairs, too. But what Serve A Little also gives these struggling moms, and their children, is a boost in morale.
5. PROJECT LINUS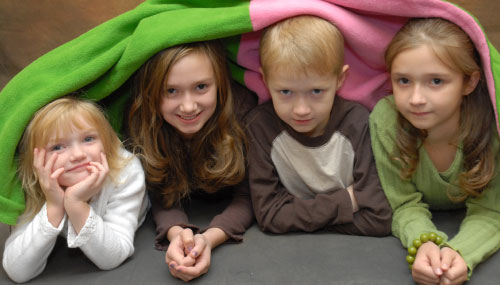 (image: projectlinus.org)
A blanket can be more than just a piece of fabric. For a sick or traumatized child, it can mean warmth, comfort, and even a sense of security. Since 1998, Project Linus has provided 5 million blankets to children who are in need. The organization collects blankets around the country, and distributes them to any place where there's a child in need of the cozy hug of a blanket (including social service agencies, shelter, and hospitals ). For anyone who's caught on to to the knitting trend, their website even provides patterns so you can donate a blanket you made yourself!
4. SHELTERBOX
(image: shelterbox.org)
Anywhere in the world a humanitarian crisis or disaster takes place, Shelterbox provides aid to anyone affected. Each box is tailored to the needs of the people affected by a disaster. They not only provide emergency aid for survival like food, clean drinking water, and temporary shelter but also the tools and resources to help people rebuild their homes and communities. The boxes can even contain activities for children. If a school has been destroyed, Schoolboxes will be sent to teachers in that area so students won't fall behind while schools are being rebuilt. If large areas are devastated, Shelterbox will forgo packing supplies into kits, and ship supplies in bulk. Regardless of how big or small a crisis is, Shelterbox will send help and hope.
3. WHEELS FOR HUMANITY
(image: usedwheelchairs.org)
Through out the world there are those who are disabled and immobile, yet can't afford, or don't have access to wheelchairs. They often have to crawl or rely on someone else to carry them. The volunteers at Wheels For Humanity collect used wheelchairs, refurbish, then modify them to fit the person they're going to. Volunteers worldwide have been working tirelessly since 1996 to urge everyone to donate wheelchairs they don't need anymore, and make repairs if necessary. Over 50,000 people have received the gift of mobility and independence thanks to Wheels For Humanity's efforts.
2. THE RONAN THOMPSON FOUNDATION
(image: theronanthompsonfoundation.com)
When Ronan Thompson was 3 years old, he was diagnosed with neuroblastoma, the fifth most common cancer in children. When he lost his battle before his fourth birthday, his family vowed to never let this happen to another child. Out of the darkness of losing heir little boy, they started The Ronan Thompson Foundation. This non-profit organization funds neuroblastoma research for a cure, provides treatment for children who've been diagnosed with the disease, and spread awareness.
1. TREES, WATER&PEOPLE
(image: treeswaterpeople.org)
Using a community-based development model, Trees, Water&People strives to involve local people throughout North and South America in managing and protecting their natural resources and surrounding environments. Communities can thrive socially, economically, and environmentally when they control and conserve their natural resources. By creating ownership, individuals and communities can create a legacy of security. The organization's programs include clean cookstoves, solar energy, composting latrines, reforestation, food sovereignty, tribal renewal energy, and environmental education which all serve to not only protect resources, but allow everyone to have access to them.
Related articles