Charles L. Black III serves as the Executive Vice President, Marketing & Strategic Development for Hilton & Hyland. Previously, he was instrumental in creating and implementing strategies that helped expand the global presence of Montage Beverly Hills he was the Director of Sales & Marketing. Any luxury brands interested in partnering with Hilton & Hyland should contact him at [email protected].
Partners Rick Hilton and Jeff Hyland established the firm in 1993 with the intention of creating a small real estate boutique that would grow to meet the demands of the market, yet never outgrow a founding philosophy for meeting the uniquely individual concerns of each client. Together they have built strong ties to the global marketplace while holding fast to the advantages of a small one-office brokerage based in Beverly Hills. As founding affiliate of Christie's International Real Estate, the firm is the only Los Angeles area broker represented by a company that has been bringing the world's most influential – and affluent – buyers and sellers together for 230 years.

So chic!  With décor by Philippe Starck,  the hotel exemplifies pure luxury.  Plus, their onsite restaurant is The Bazaar by Jose Andres which has the most incredible molecular gastronomy tapas and the "Magic Mojito"- a mojito poured over a puffy ball of cotton candy. 
Fall asleep and wake up to amazing views of the city and harbor perfectly framed by floor to ceiling windows. The property is steps away from the Museum of Contemporary Art San Diego and near several other popular attractions like the world famous Sea World. Unwind after a full day of exploring or business meetings with a glass of wine 40 stories above the city at the Top Of The Hyatt.
I have stayed here several times when I want a little mini-vacation in town.  The service is beyond impeccable and during Awards Season, it is THE PLACE to people watch as it turns into the seasonal  hub for A-List celebrities.
Located at LA Live, this is unquestionably the best place to stay in Downtown Los Angeles.  Make sure and head up to the 24th floor and visit WP24 by Wolfgang Puck for a sunset cocktail as the view is absolutely spectacular.
Overlooking Santa Monica Beach, you are transformed by the sweeping views of the Pacific Ocean.  It is truly the perfect spot for a summer weekend getaway. 
The Ace Hotel opened just this year in the historic United Artist building, and has become the super trendy and sought after addition to the Downtown Los Angeles community;  the indoor/outdoor rooftop bar is the gathering spot for local artists, fashion designers and DTLA hipsters alike. 
I live in the Marina, and The Ritz is unquestionably is my favorite place to visit in my neighborhood.  Have a few appetizers and a glass of wine at the Cast & Plow outdoor patio which overlooks the Marina and check out all of the stunning luxury yachts docked there. 
A seaside destination resort in Laguna Beach, The Montage is simply stunning, fixed on a coastal bluff, overlooking the ocean.  While in Laguna Beach, make sure and visit Wyland Galleries of Laguna Beach- Rumor has it that the artist lives and paints there when he is in town.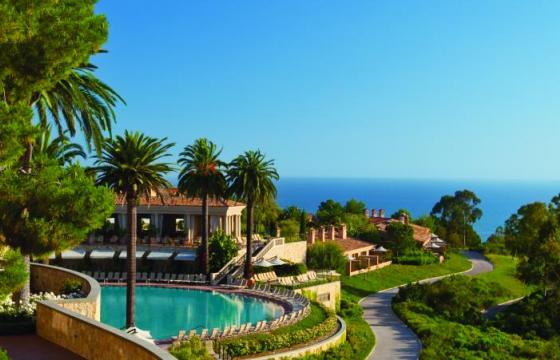 Another Orange County Beach destination resort, it is THE spot for a family vacation or a romantic weekend away.  They provide a 36 hole championship golf course, a fabulous spa and a full day of activities for your kids at Camp Pelican, where you drop them off at 9am and pick them up at 4pm. 
This beach side boutique hotel is truly one of LA's best kept secrets.  Make sure and reserve one of their incredible private pool cabanas during your stay to soak up the California sun. 
If you want a weekend away with your best friends to party, then THIS is this place.  Two of San Diego's most popular night clubs, 207 and Float are on the premises, and you will dance the night away while hobnobbing  with local celebrities, sports figures and San Diego elite. 

12. TERRANEA RESORT, RANCHO PALOS VERDES
Situated on 102 acres that overlook the Pacific Ocean in Rancho Palos Verdes, Terranea Resort is a spectacular coastal property that features 582 guestrooms and suites, including spacious bungalows, casitas and villas. Guests are surrounded on three sides by tranquil waves, with Catalina Island across the channel. Terranea's coastal setting inspired the resort's Mediterranean-style design, which offers incredible views throughout the property, from the lobby to the outdoor gardens  private terraces and inviting courtyards with outdoor fireplaces.
Ocean views can also be enjoyed from an award-winning nine-hole golf course, the soothing oceanfront Spa at Terranea, three ocean-view pools and an on-site restaurants such as mar'sel and Nelson's. Explore hundreds of hiking trails and discover secluded, scenic views along the Palos Verdes Peninsula.