Stories that tug on your heartstrings and bring tears to your eyes often involve the rescuing and saving of animals. Whether it is a human who saves the animal, or another animal does the saving, you feel a sense of righteousness in the world being created.  Animals are often defenseless and over-trusting, which leads to their mistreatment. However, where there is bad, there is good.  If you want to rescue an animal from your local animal shelter you can click here and help save two lives. The following 23 acts of human kindness are of animals being saved and faith in humanity being restored.
23. BLIND DOG RESCUED FROM TRASH PILE.
Fiona, a mini poodle mix struggled most of her life, due to her blindness.  She was found in a pile of trash in South L.A..  The darkness ended there.  Once she arrived at the Hope for Paws center, Fiona was bathed, shaved, and loved.  Despite her journey coupled with her blindness, she was very trusting and loving towards all she encountered.
22. MAN DIVES INTO WATER TO SAVE 400-LB BLACK BEAR.
In a residential neighborhood, a 400-lb black bear had been spotted.  Reacting instantly, animal control came out and shot the bear with a tranquilizer gun.  Unfortunately, they were not able to contain the bear as the tranquilizer set in- the bear ran off into the woods and into the Gulf of Mexico waters.  As the tranquilizer set in, the bear was too far into the water, and he began to sink.  Luckily, Adam Warwick, wildlife biologist, was witnessing the whole situation and he could not let the bear drown.  He tore off his shirt and dove in after the bear.  He broke the surface of the water with the bear in his arms, and he trudged back to the shore, ensuring the bear's safety.
21. SAILORS RESCUE DOG STRANDED ON ICE.
Sailors were working on their ships when they saw a creature on a floating piece of ice.  As the men moved closer to the animal, they realized that it was a dog.  Seeing the dog's condition, hair matted with ice crystals, they took it upon themselves to save the creature.  Their rescue was amazing and powerful.
20. FIREFIGHTERS SAVES KITTEN.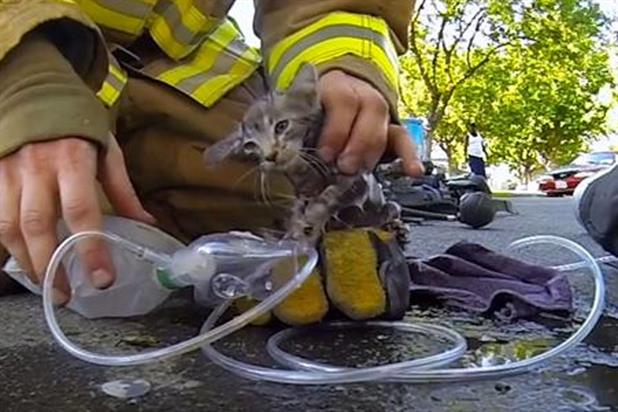 A fire tore through a family's home, leaving the walls barren and hearts hurting.  However, when a firefighter ran out of the house with a kitten, the family began to cry even more.  The firefighter placed the kitten on the ground, and brought a child oxygen mask to its face.  The kitten was frayed from the fire, but it began to breathe through the mask and everyone began to clap with tears of happiness in their eyes.
19. THEO THE DOG IS SAVED.
Hiding under a trailer, a scared dog was avoiding all human contact.  With his hair matted and blackened, he was unrecognizable as a dog.  Once he was finally caught, he was taken back to Hope for Paws facility, and he was revitalized.  After being bathed several times, they were able to safely shave off his mats.  The smile face they were greeted with caused heartbreak and tears of happiness.  It was unimaginable how anyone could abandon Theo, the precious and loving dog.
18. 1,800 EGG-LAYING HENS RESCUED.
Some may not see the necessity in saving chickens, but they are just as important and precious and puppies and kittens.  Many hens are kept in inhumane conditions, and Animal Place makes it their mission to save hens in such situations.  In this instance, a company was going out of business, and needed 1,800 hens re-homed.  Animal Place saved all 1,800 hens, and made sure that they were placed in loving and deserving homes.
17. 136 DOGS SAVED FROM PUPPY MILL.
In recent decades, the truth behind puppy mills has come to light.  These dogs are not kept in size appropriate cages.  They are inbred so often that the puppies are born with my defects and health issues.  Animal Rescue Corps is dedicated to saving lives.  They saved 136 dogs from a puppy mill, ensuring that those dogs would receive proper medical treatment and love.
16. ORPHANED ELEPHANT RESCUED.
In Kenya, an elephant was separated from his mother, and had no means of survival.  A member of the Samburu tribesmen walked for several hours to inform the local wildlife preservation about the desolate calf.  The rescuers arrived and took the elephant back to their building.  Not knowing how long the elephant had been separated from his mother, the rescuers had no idea the amount of care and attention this calf would need.  They are currently rehabilitating the calf.  He is learning to walk again, because he lost most of his muscle mass while he was wondering alone.  He is also being fed medically specific milk to build muscle mass and strength.
15. DIVER SAVES SEA TURTLE. Upon boating in the open sea, a diver and his friend notice a turtle struggling.  When they stopped they found his fin wrapped up in a buoy string.  The diver wasted no time before jumping into the ocean.  He untangled the turtle's fin, and was rewarded graciously.  The turtle swam around, getting used to the feel of his fin again.  Then, he turned back towards the diver and swam right up to his face.  The diver reached out and stroked the turtle's fin and face.
14. PIT BULL SAVED FROM TRASH CHUTE.
Abused, forgotten, and malnourished, a pit bull was found in a trash chute.  He was skin and bones, not an ounce of fat on his body.  Patrick was hesitant to become attentive to the people who saved him, scared that they would leave him behind like his previous owners.  However, after months of constant care, Patrick made a full recovery.  Mind, body, and soul, Patrick was a loving pit bull, full of life.
13. MAN SAVES HUMMINGBIRD.
Known for being too quick to catch, hummingbirds are some of the most beautiful creatures.  Unfortunately for one hummingbird, he became stuck to a piece of gum.  Someone carelessly threw their gum on the ground, and the hummingbird became attached to the gum after trying to explore.  Luckily, a man was walking by, and he saw the struggling bird.  He stooped down and helped un-stick the poor bird.  After freeing the hummingbird, the beauty fluttered away, gracing the world with its wonder once again.
12. MAN DIVES INTO FROZEN LAKE TO SAVE BIRD.
Norway is known for its harsh, unbearable winters.  Lakes freeze over and water temperatures dip well below zero.  While walking along the outskirts of a frozen lake, a man noticed an upside duck.  After looking closely at the bird, he realized that the duck's head was stuck under the ice, and its body was flipping in fear.  The man wasted no time.  He took off his shirt and dove into the frozen lake, and he freed the bird.  After they were brought several dry towels, the duck stayed in his arms as they both dried.
11. RETURNING A BEACHED MANATEE TO THE OCEAN.
When vacationing on the shores of Florida, you do not anticipate having a part in saving a sea creatures life.  Thankfully, the unexpected did not stop Florida beach goers from doing the right thing.  A manatee had beached itself, and it was clear that he did not have much longer.  Men and women began soaking towels in the ocean and laying them over the creature.  A wildlife organization was called, but while waiting for their arrival, the men and women who found the manatee filled buckets of water and continued to flood the creature with comfort.  Wildlife rescue showed up, and they were able to safely return the manatee to the ocean.
10. MAN CRAWLS THIN ICE TO SAVE DOG.
There is only one thing that a man can do when he sees an animal in trouble, and that is to save him.  When a man saw a dog flailing in below zero water, he did what came naturally.  He slowly crawled across the ice that separated him from the four legged love machine.  Once he reached the edge, he dove into the water and lifted the dog onto the ice.  His friend tossed him a rope, and he tied the rope around the dog.  As he climbed out of the water, his friend began tugging the dog closer to safety.  Once the man reached safety, he sat on the ground, untied the dog, and began to rub warm back into the dog's body and heart.
9. MAN DRIVES INTO CANAL TO SAVE DOG.
A man drove his jeep through a canal to save a dog's life.  People began to gather around the canal, scared for the man and dog's safety.  What if his car got stuck and the water swept him away?  What if the dog passed before the man could reach him? Do not worry, because the situation reached only positivity.  The man saved the dog, and the dog made a full recovery.
8. 50 DOGS SAVED FROM DOG-FIGHTING RING.
It is a sad truth that many still participate in dog-fighting activities.  These dogs do not ask to be apart of such a horrific activity, but they are unable to prevent their fate.  Thankfully, there are organizations that save animals in such cruel situations.  The Human Society of the United States recently saved over fifty dogs from a dog-fighting ring.  As the dogs were leashed out of their cages, their joy and peace was evident.  They knew that they were on their way to happiness and love.
7. INJURED COW SAVES FROM GARBAGE PIT.
Livestock is often abandoned in horribly depressing ways.  One injured calf was left in a local city dump with a rope died around her neck.  Once the calf was found, Animals Aid Unlimited Save, a local animal rescue organization, came to capture the calf and return to her their facility to become healthy.  The calf was scared and made her rescue difficult, but she was eventually saved.  She is making a full recovery at Animals Aid Unlimited Save's location.  Her wound has healed, and she is gaining weight.
6. RAJU IS SET FREE.
For fifty years, Raju was held captive as a piece of entertainment on the streets of India.  After her story was broadcast internationally, Wildlife SOS made it their purpose to free her.  After much trial, they were able to free her from the captives, and place her in their facility.  They are revitalizing her elephant habits so she can survive in the wild.  Once she is rehabilitated, she will be returned to the wild to live out the rest of her days.
5. MAN SAVES STRANDED SQUIRREL.
While cruising in the river, a man noticed something crawling frantically on a rock.  He got his board, and rafted closer to the rock.  As he got closer, he saw that it was a terrified squirrel.  Realizing that it was stranded on the rock, surrounded by a strong current, he encouraged the squirrel to jump on his board.  After gaining its trust, he swam the squirrel back to land.  The squirrel jumped onto land, gave his savior a fleeting look, then took off into the woods.
4. DOG WAITS FOR DECEASED OWNER TO RETURN.
Another Hope for Paws rescue, this time involving a poor dog whose owner passed away. Woody, the lonely dog, was left at the owner's property, and then he never left. Waiting for his owner to return, Woody survived off of scraps of food he was able to scrounge up from trash throughout the neighborhood. Finally, someone called in about Woody's situation, and he was saved.  Taken back to their facility, Hope for Paws groomed him and placed him in a loving home.
3. FAMILY SAVES SHARK PUPS.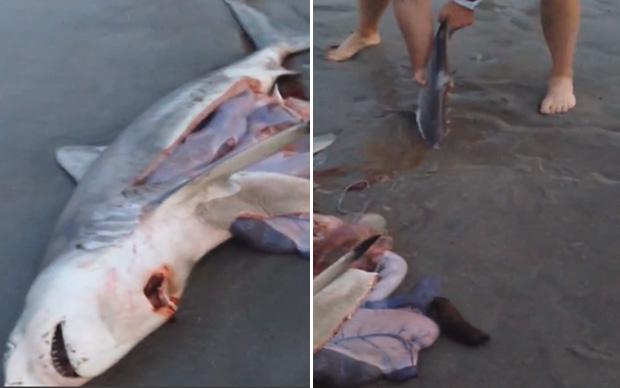 A family was vacationing on the coast of Georgia, and when they were taking a stroll along the beach they came across the carcass of a shark.  As the family surrounded the shark, they noticed her protruding stomach they kept wiggling.  On a whim, the father took his knife and sliced into the shark.  He found one sac that was jumping, and when he cut into the sac, a shark pup began flipping its body.  After he threw the pup into the ocean, he searched the deceased mother for more pups.  He found two more, and released them into the ocean.  Although the mother had passed away, hearts will melt over the man saving her babies.
2. BABY OSTRICHES COMFORT BABY ELEPHANT.
This poor calf was separated from his mother, destined to die.  He fell down a well in Kenya, and was unable to climb his way out.  Several wildlife rescuers found him and had him pulled from the well.  As he was being airlifted to their facility to have tests ran, several baby ostriches that they saved surrounded him and began nudging.  Making sure that the calf was okay, the feathered babies laid next to the calf the rest of the flight.
1. SAM THE CHIHUAHUA AND HIS MARMOSET.
An underweight marmoset, a species of primates, was originally saved by humans.  However, after the marmoset met Sam, the two became inseparable.  Sam took on the role as surrogate mother for the marmoset, and the marmoset quickly regained his strength and health.  Watching the two interact, you would never have guessed that they were of different species.
Which of these rescue stories warmed your heart the most? Leave your comment below.
Related articles