Disney cruises have the reputation of being one of the more luxurious cruising experiences, mixing the convenience and indulgence favored by cruisers with the top-level service and attention to detail for which Disney is known. I decided to join some friends who are frequent cruisers to check out the experience myself.
I had high expectations going in, and they were met and even exceeded on most fronts. With the help of my insider friends, I walked away knowing the ropes, which I'll share with you. Here are eight tips to get the most out of your first Disney cruise:
Put Some Thought into Your Room
Disney makes it easy for first-time cruisers with several customizable options configurable well in advance of your trip. You can select your stateroom location, your room, and your view, all from your laptop. Pick a room towards the middle of the boat for less rocking if you are prone to motion sickness. Although the boat is well insulated sound-wise, you may choose to select a room a few levels down from the main deck where most of the entertaining occurs.
Luxury Tip: Splurge a few extra ducks and purchase a room with verandah and ocean view to enjoy the grand oceanic landscape as you sail from port to port. You can also add onboard amenities for additional cost. We enjoyed the Luxury at Sea package for Two which included a bottle of sparkling wine, a box of chocolates, a red rose and two soft, pillowy branded Disney Cruise robes. These extra touches go a long way when you want to surprise your traveling companions.
Plan for Play
On your first day, you will want to plan ahead for maximum play and figure out where to eat, where to wait and what to do while your bags migrate their way to your room. Shoot for an early boarding time (the times are preset and you get an assigned group). Wear or pack your bathing suit in your carry-on bag because you will want to get a good spot by one of the many pools (main pool, adult pool, private adult pool, etc.) after you eat.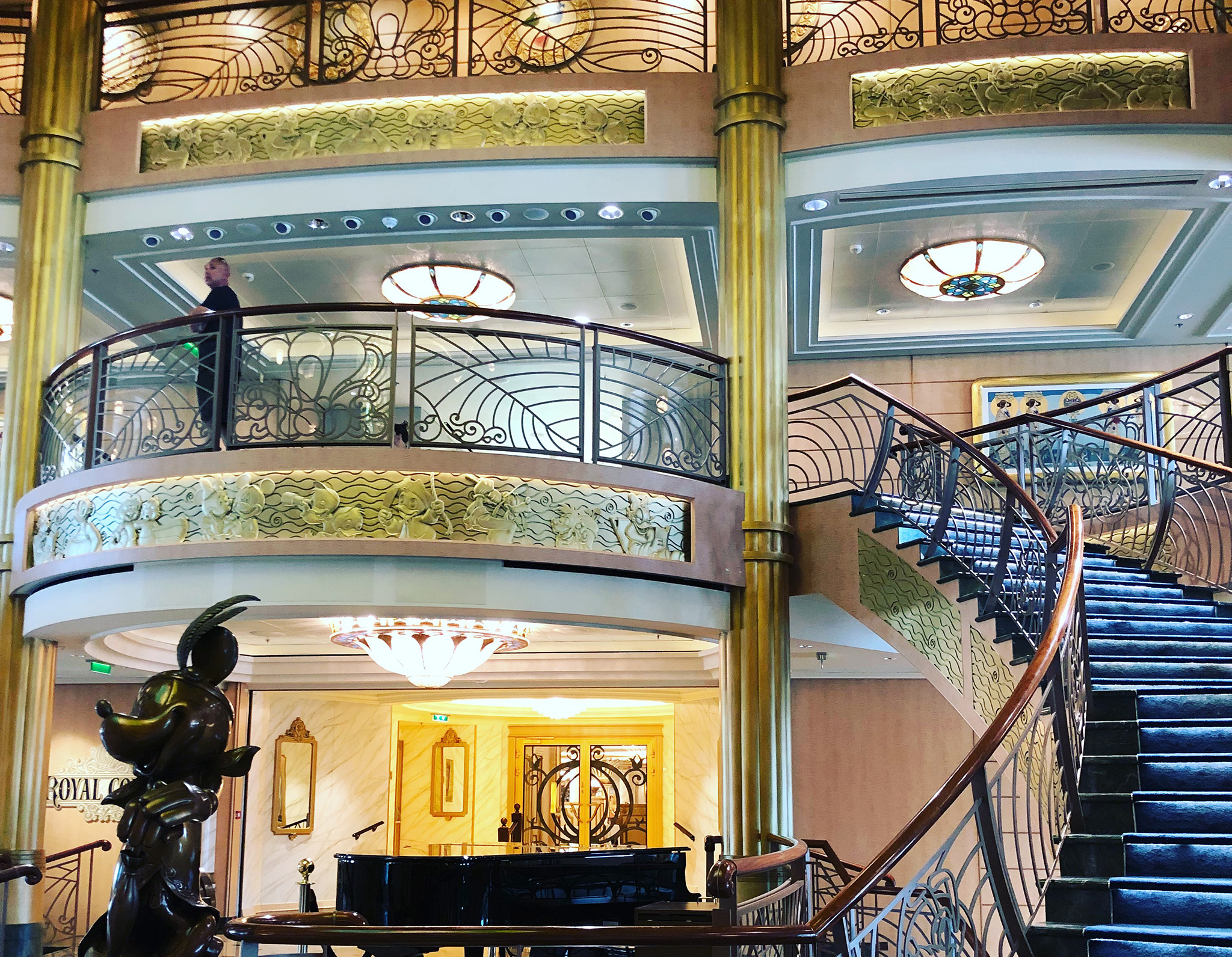 As you enter the boat, you will be greeted by name from the assembled crew in a grand atrium lobby reminiscent of the Gilded Age when luxury ocean liners crossed the Atlantic. Golden trim and railings line the atrium with other Disney-esque details; the Disney Fantasy has a bronze statue of Minnie Mouse circa 1920s, while the Disney Dream has a bronze statue of Donald Duck in an admiral uniform. The two boats are slightly different in style. The Dream sports an Art Deco design, while the Fantasy is Art Nouveau.
After boarding, make your way immediately to Cabana's, a buffet-style restaurant with a wide selection of dishes from which to choose such as breakfast fare (eggs, sausage, Mickey waffles, etc.) and lunch (burgers, seafood, pizza, chicken, steak, etc.). Savor, enjoy, then quickly make your way to the main pool where you can grab some seats and enjoy a cocktail or a champagne mimosa while you take a cool dip or just bask in the sun.
Bring Your Foodie Game
Food and drink are a big part of any cruise. During our three-night cruise to the Bahamas we enjoyed a different themed restaurant each of the three nights of our trip — The Royal Palace, The Animator's Palate, and The Enchanted Garden. Both the Dream and the Fantasy have the same restaurants; however, Animator's Palate has different interactive animated features on each ship. On the Dream, guests interact with Crush the turtle from Finding Nemo, whereas on the Fantasy, guests design their own characters that are animated in an interactive show. Each meal was delicious, well prepared and delivered with grace and aplomb. Our servers from the first night followed us for each dining experience, creating a seamless continuity of service.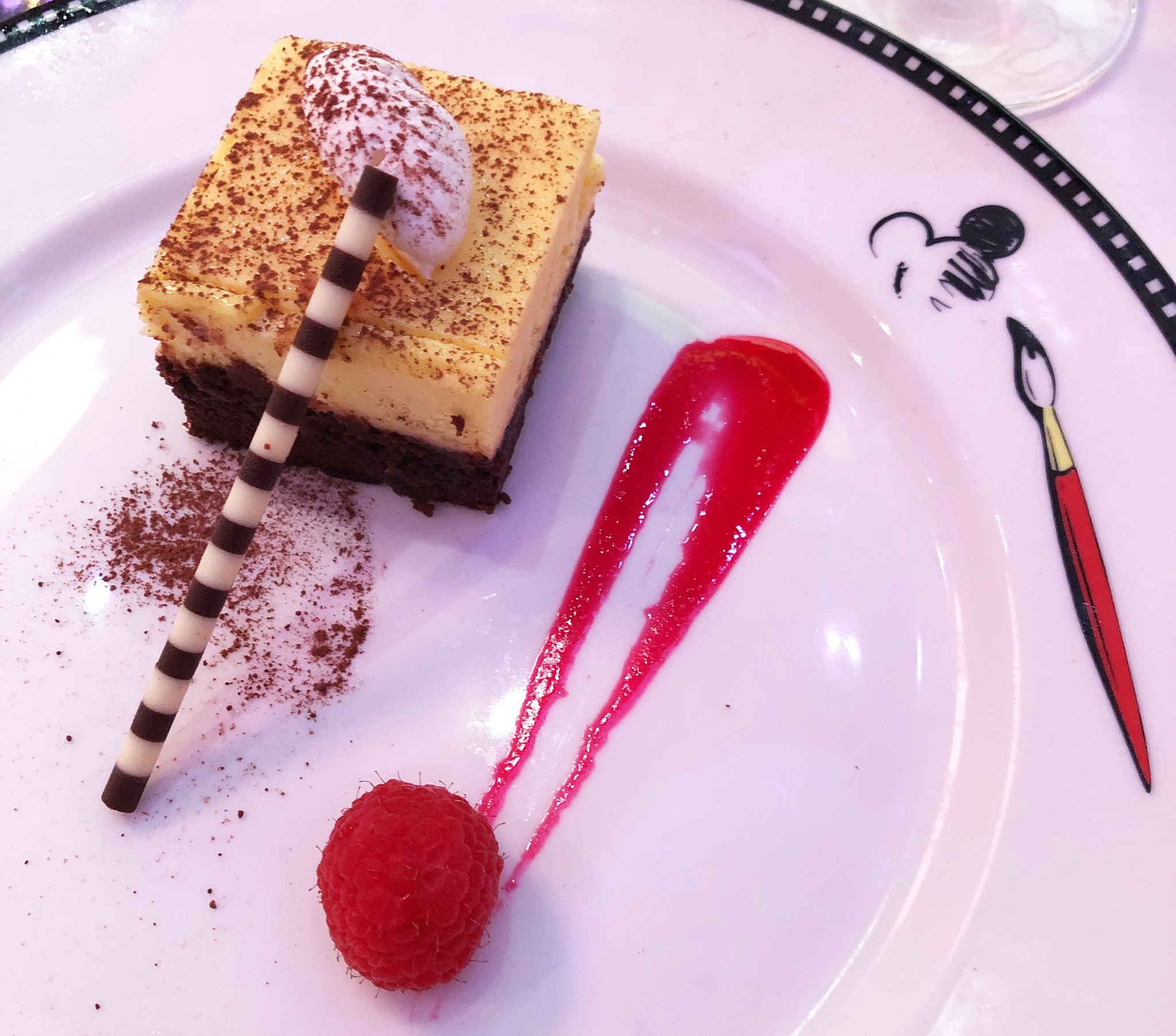 Luxury Tip: If you choose to elevate your game further, you can savor Northern Italian fare at Palo's, a reservation-required restaurant exclusive to adults. Or go the extra mile with a French-inspired menu at Remy's, an upscale establishment with a gourmet menu prepared by Chef Scott Hunnell (of Victoria and Albert's fame) and advising Chef Arnault Lallement, a 3-Michelin-starred chef from Reims, France. If you like your foodie experiences big, reserve The Gusteau Room at Remy's for a special multi-course menu selected by the chef.
Imbibe in Style
You are allowed to bring beer, wine or champagne on the boat. You can select basic to premium wine packages. My recommendation is to buy cocktails a la carte, and go for the premium wine package. You'll get a selection of three premium wines (red or white), one bottle for each night of your trip.
Luxury Tip: If you cannot finish a bottle one night, don't worry–your rotating service team will either serve it to you the next night, or you can request room service bring it to your room for private enjoyment. Beverage connoisseurs can also enjoy scheduled tastings of bourbon, whiskey, wine, beer, martinis, cognacs, amari, and chocolate, to name a few. If you go this route, book early.
Explore an Excursion or Soak Up the Ship
Both the Disney Dream and he Disney Fantasy sail 3-, 4- and 5-night cruises to the Bahamas, but the Disney Fantasy also does longer 7-day trips to the Western and Eastern Caribbean. If you decide on a Bahamas trip, you can do an excursion in Nassau and see all the old city has to offer before heading to Paradise Island and the fabled Atlantis Resort for some gaming fun while in port.
If you choose to forego the excursion, you can have the run of the boat. It's the ideal time to try the Aquaduck, a unique elevated water coaster that rounds the ship in turning tubes with transparent sections to take in the Caribbean views. It's usually a hefty line, so excursion day is a great time to ride and get your fill of fun.
Luxury Tip: Excursion day is also a great time to schedule a spa appointment at Senses Spa and Salon. You can indulge in aromatherapy, enjoy your choice of massage, or get an ocean wrap. For extra enjoyment, book a spa villa and enjoy your massage or service in an open-air verandah.
Indulge in the Island
With either ship, make sure you disembark at Castaway Cay, Disney's own private island in the Bahamas. Previously an island of intrigue with a history of smugglers and drug runners, it is now a sun-soaked island paradise with easy disembarkation for Disney guests. Leave the passport and bring your room key to grab a hammock in the shade by the blue waters of the Caribbean.
I recommend snorkeling in the cove off the main beach and checking out the sunken Nautilus sub from Disney's classic 20,000 Leagues Under the Sea among other cool sights. The main dining is at Cookie's and Cookie's Too, buffet-style restaurants with barbecue, burgers and Caribbean dishes.
Luxury Tip: There are plenty of trees and chairs on the island for guests to bask outside, however, if you choose to secure one of the cabanas, get it early as they book well in advance. If you prefer to actively soak up all the island has to offer, you can rent jet skis, scuba dive, kayak and pet stingrays. There are also excursions that take teens on a sampling of each of the activities offered.
Dress Your Best
The last night of the cruise is formal night, so pack your suit or black dress for an evening reminiscent of the gilded age of luxury ocean liners. It is the best night to take pictures so make sure you purchase the unlimited photo package which covers you the entire trip. Disney uses facial recognition so anytime they take a picture of you or your party, it gets included in your photos.
Luxury Tip: For a truly memorable picture, ask the officers to take a picture with you in their dress attire. They are usually happy to accommodate.
To Kid or Not to Kid
Disney's kids programs and facilities are so cool that you may not see your children very much. There are interactive areas where children can play video games, enter a Star Wars-themed fun area (on the Dream), or an interactive Marvel Heroes-themed fun area (special to the Fantasy; I geeked out with my son), do scavenger hunts, see movies (Disney first-run movies are available to watch in the ship's movie theater) and more. Our trip had a Pirate's Night with costumed characters, fireworks and a dance party which was fun for our whole family.