The Golden Globes weekend in Los Angeles once again kicked off with what has become known as one of the hottest tickets in Hollywood to start awards season – the annual Gold Meets Golden brunch, where Gold Medal Olympians meet Golden Globe Nominees in an elegant and extremely exclusive setting on the world-famous Sunset Strip at historical venue The House on Sunset.
Hosted by stunning actress and multiple Globe winner Nicole Kidman (nominated this year for Destroyer), Nadia Comaneci and numerous celebrity friends, this intimate gathering has become known for a wonderful atmosphere where TV & film celebrities not only mingle casually with their peers ahead of the awards craziness, but also to meet their own heroes, as the event is well-attended by major sports stars & athletes from the Olympic Games, with the spotlight this season on the upcoming Tokyo 2020.
Discovery Destinations were on hand providing some interactive fun, inviting everyone to climb, zip, bike and more in their Discovery Adventure Parks worldwide.  They also celebrated the new 2020 Olympic event of Sports Climbing with 'The Climb', a state-of-the-art, projection-mapped, mixed-reality photo op – an experience powered by Farbound, the leader in Gamified Real-Life Experiences – and White Collar star Matt Bomer seemed to love it!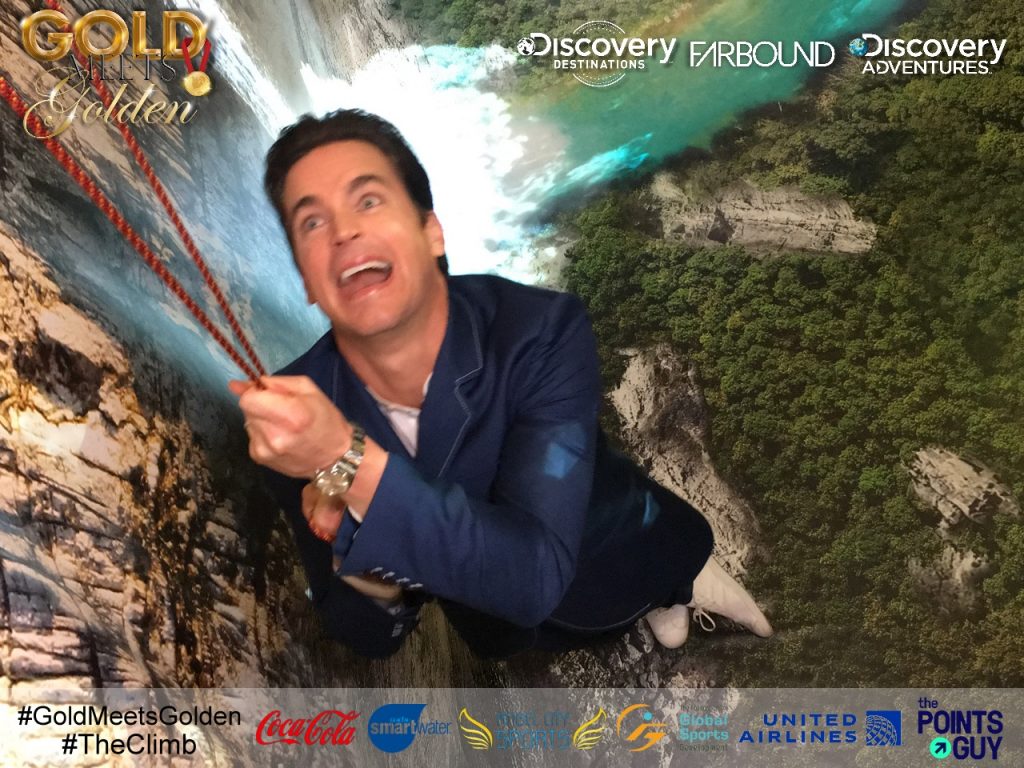 The room of A-list talent also get to check out some incredible new brands and products at the event, and this year was no exception.  Attendees were refreshed by Coca-Cola and Smart Water, fuelled by Bulletproof Coffee, toasted with bubbles from J Vineyards, while female-led startup Bev provided their unique Rosé to the esteemed guests which included Jessica Chastain, Matt Bomer, Chrissy Metz and Michelle Yeoh.  Travel website The Points Guy provided a $25,000 check to charity Angel City Sports, empowering those with disabilities with paralympic sports programming in Southern California, plus custom-themed Gold luggage tags and passport holders.  United Airlines unveiled their Private Suite experience to the well-traveled stars, a luxury end-to-end travel and hospitality feature that we definitely can't wait to try here at DLX!  LA staple Sprinkles cupcakes provided the sweetness as guests watched a surprise performance from Billy Porter of FX's Pose singing the hit 'Shallow' from standout nominee A Star Is Born accompanied of course by a Gold piano.
The brightest stars in Hollywood left a successful morning on to their next party with incredible gift bags that also included beauty & grooming products by Spencer Barnes LA, Empower, Oribe, Hue and Rituals, snacks by Appeltinies, custom empowerment bracelets by MyIntent, and enough supplements and goodies from Bulletproof to power them through a weekend of celebration!