While Akasha Richmond, the former chef of Michael Jackson, has only been to India twice in her life, she's studied thue cuisine for years. While she currently runs the restaurant bearing her name in Culver City, she also decided recently on embarking on a new business venture–opening an Indian restaurant to explore her fascination with the cuisine of the country. Sambar is a not-so-traditional Indian restaurant with a fun menu filled with whimsical creations, invigorating spices and fantastic names.
"I have been studying Indian cooking for a long time. I love everything about it, and have always wanted to open an Indian "inspired" restaurant. I love spice and I also love the healing properties of spices and herbs," says Richmond.
Richmond's menu reimagines traditional Indian cuisine and adds masala to everyday western dishes like salads, rice bowls and burgers. The "Vindaloo porchetta" (served with tumeric naan, pickled red onion malabar hot sauce and mango chutney) is a perfect example that Jonathan Gold described as "Tuscan Indian."
CUISINE
A typical Indian restaurant will only serve Northern or Southern dishes. Richmond has taken traditional flavors and fused them together in a sort of "new wave masala."
Diners can begin with the Sambar snack mix–rice crisps, sev, cashews, peanuts, raisins, sunflower seeds, curry leaves, speckled taro root and toasted dal. The mix is packed with flavors that the typical western palate isn't used to tasting. We ordered appetizers, the quinoa pancake (uttapam) which was topped with red onion & tomato chutney, hemp seed chutney and sesame gunpowder.
The British raj chicken is a 1/2 Mary's chicken served with yogurt marinade, pomegranate-mint chutney and pickled onion. It's one of the more popular dishes on the menu. The highlight of our meal was tasting the variety of curries that Sambar has to offer. The names are exciting…from keral seafood, truck stop goat, oven roasted cauliflower to punjabi mama greens–the curry selection is fantastic with flavors that will blow your mind.
For dessert, try the chocolate-coconut sundae: Richmond's cookie crumbles, chocolate sauce, cashews, peanuts, cacao nibs & preserved cherry pairs perfectly with dairy-free coconut ice cream. The vanilla soft serve and mango-lime sorbet are  a must have for every foodie.
DRINKS
The inventive cocktail menu is curated by 25-year-old Clare Ward, who is also in charge of the menu at sister restaurant, Akasha. Spice trade cocktails are titled with names like The Road to Rishikesh; a concoction of Ford's gin, aloe liqueur, lime, holy basil bitters and bubbles. The Darjeeling Express is darjeeling tea infused white whiskey mixed with lemon and spiced honey reduction. For punches, try the Last Train to Goa: bourbon, pomegranate, tart cherry, xta, lemon and orange bitters.
AMBIANCE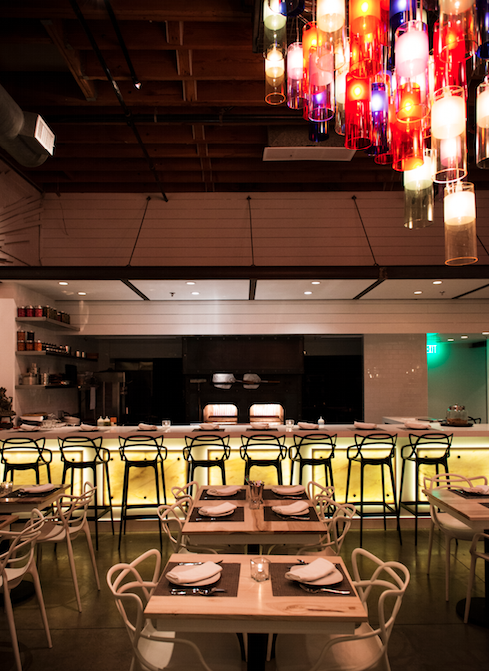 The main dining room is large in stature, with bright white walls and a colorful heart-shaped chandelier that sits beneath a sky light. An exposed vaulted ceiling brings an artistic element to the creative interior. During dinner, the space is dimly lit with accent lighting. A large geometric starburst explodes on one of the walls while an open kitchen adds to the lively environment.
Ruth Black of RTR Homes & Commercial was commissioned by Akasha to design the space and used her food as inspiration for creating this 'spicy' interior. The outside patio is a favorite for guests as they can watch people watch the streets of downtown Culver City.
Richmond describes the interior as 'contemporary, artistic, creative, comfortable, clean, functional, and inspired.'
Sambar, 9531 Culver Blvd, Culver City, California 90232
Ph: (310) 558-8800