Proprietors Mark Pulido and Donna Walker have a long history in Napa Valley, building relationships and putting down roots in the community. In the early 1980s, Donna and Mark began making regular trips to the Valley, meeting vintners at iconic cellars where they often tasted from the barrel. They were drawn into tasting room discussions about harvest and the rhythms of crafting wine. Pulido~Walker is a natural outgrowth of the couple's passion, as collectors, for the place and its promise. Their Mt. Veeder Estate vineyard is a testament to the family's long-term commitment to Napa Valley and view toward the future.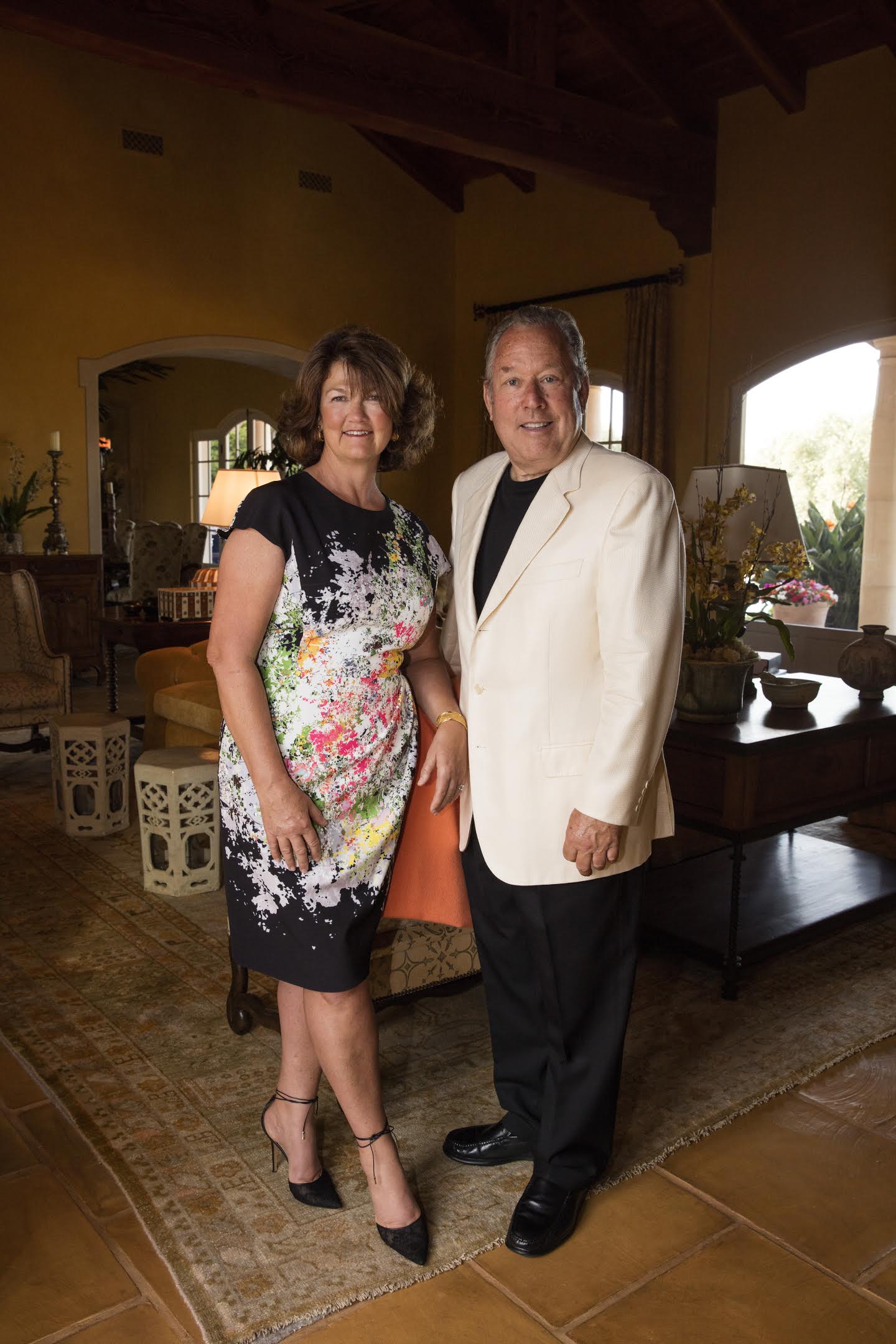 Mark Pulido and Donna Walker both grew up in pharmacy families. Their scientific backgrounds make them precise, inquisitive, and detailed; they know that perseverance and attentive observation yield results worth waiting for.
With the guidance of top viticulturist, Donna and Mark gained an in-depth understanding of what the land offers. Over five years of weather station data was collected and analyzed. In addition, 100 soil pits on the property were studied in depth. With this information, varietal clones were meticulously selected by Thomas Brown and expertly grafted to the rootstock. Nearly a decade after the purchase of this remarkable property on Mount Veeder, the best 15 of the 115 Estate acres were selected for planting this first-growth vineyard –75% to Cabernet Sauvignon and 25% to Chardonnay. After years of preparation, this marks one more milestone in their "patient pursuit of the possible" which has been achieved with the planting of the Pulido~Walker Estate Vineyard on Mount Veeder.
At Pulido~Walker, they refer to their patient journey to craft exceptional single vineyard designate Cabernet Sauvignon wines as the "PURSUIT OF THE POSSIBLE."
This pursuit is about dedication to perfecting every element in producing their extraordinary wines—from the selection of vineyard sites and winemaker to the control of production–all combined with the discipline to only select the very best at every step in the process of crafting their wines. These goals and philosophy are closely aligned with those of Mark and Donna's talented winemaker and friend Thomas Rivers Brown whose strictly non-interventionist approach allows the wine to authentically reflect its origins.
Destination Luxury asked Mark and Donna what it is for them that makes Napa Valley so special. They explained, "We've found Napa Valley to be an incredibly supportive and collaborative environment. We've met people from all aspects of wine production in the Valley who are so passionate about everything Napa has to offer. They have been so helpful in providing advice and resources, as we planted our estate vineyard and produced our single vineyard designate wines. There is a feeling if each of us succeeds, we all do. This generosity of time and resources extends to supporting the larger community as well. For example, the Napa Valley Vintners' Auction Napa Valley raises millions of dollars each year for children's education and community health nonprofits. So it's this genuine and generous environment that makes Napa a very special place for us."
As DLX spent the afternoon at the majestic Pulido~Walker estate, we were intrigued as to what Mark and Donna love most about wine and particularly about being vintners? They expressed, "There's a romance to the experience of enjoying, sharing, collecting, and learning about wine. Everyone involved in winemaking makes an emotional investment in the earth and the process. Every time someone sends us a picture or text us saying 'we are enjoying a bottle of Pulido~Walker' with their family and friends it reminds us why we began this journey.  To us it is about sharing our 'patient pursuit of the possible' with others."
As for the estate itself, which is more extravagant and beautiful than you could ever imagine, Daniel Ha, who is the Estate Ambassador, graciously invited us in and spoke with DLX about the magic behind not only the wine, but the Pulido~Walker property.
This magnificent estate rests over 14,000 square feet. The couple hired the incredible Susan Tucker as an interior designer who spent two years perfecting its ambience, meanwhile working with a landscape architect who essentially shaped the grounds. There are over 106 olive trees that produce five different varieties of olives. The couple actually produces a small amount of olive oil from the estate, mainly to gift to family and friends.  Down by the tennis courts is the splendid lavender garden, which they harvest each year. As part of continuing the Pulido~Walker brand and telling the couple's story, they've found that it's always nice to have a little memento that they can give to people. Donna works to produce delightful lavender sachets that often times when traveling and doing dinners, they'll present to others as gifts. "When we have guests that we invite to come visit the property we like to give them a little souvenir to have them take home", Daniel Said. "We also have our gardens of course which each year there's always a plentiful amount of fruits and vegetables. We use it to cook and prepare. Often times we have charity auction lunches where we'll hire a private chef and draw from the gardens what's seasonal and what's available."
So, how does one end up at the estate to witness this awe-inspiring vision firsthand? Daniel explained, "Pulido~Walker offers a private mailing list and we do host by invitation, members of our mailing list. However, from time to time we'll meet people or sometimes through a referral we might welcome an individual to come and visit for us."
From all of us at DLX, we're grateful to you for opening up your estate to us and for showing us the real magic behind Pulido~Walker.
Pulido~Walker's "pursuit of the possible" begins in the vineyards with the selection of remarkable singular sites where the natural alchemy of geography, soil, climate and clone combine to yield a 100% Cabernet Sauvignon greater than the sum of its parts. Combined with their unwavering discipline to bottle only the very best fruit results in a full-bodied, rich, savory, and complex wine with a long finish–rewardingly complete, their wines are equally suited to enjoying young or cellaring for decades.
As for this last season and what's coming up next. Mark and Donna said, "The 2016 vintage looks to continue our run of great vintages in Napa—now five in a row! Our winemaker—Thomas Rivers Brown—says that yields were all over the place but quality was consistently high. Thomas thinks we have the best ever set of lots from Panek. Even some of the traditional laggards look strong which should make for some enjoyable blending sessions. Melanson Vineyard may have had the lowest yield relative to historical average of all the vineyards we dealt with this year. Everything looks promising. Wine was an electric opaque purple color after a day in the tank. Tannins built really slowly in tank due to the fruit's complete ripeness, so we were able to go a little longer on skins and extract the best from the vintage."
Written by DLX Special Correspondent, Sari Cohen.