The Venetian® Las Vegas will host the city's culinary event of the year, Ultimo – A Weekend of Excellence, 
Dec. 5-7

.

Featuring lavish feasts of the finest food and extraordinary experiences from an A-team of luxury brands, Ultimo will celebrate the romance of Italy and the magic of its cuisine, as it unfolds around The Venetian and The Palazzo® Las Vegas.
This special winter weekend of luxury experiences will include the return of the Venetian¹s Grand Banquet, a landmark collaboration between several of the world¹s best culinary celebrities, including Chefs Daniel Boulud, Emeril Lagasse, and Buddy Cake Boss Valastro.
Introduced in 2013, the Grand Banquet spans the iconic Grand Colonnade of The Venetian on a spectacular single table that seats nearly 200 people.  This sumptuous setting ­ with its meal fit for royalty ­ was called the grandest meal ever served in Las Vegas by last year's host Chef Mario Batali.
The event is presented in conjunction with Robb Report magazine and Southern Wine and Spirits of Nevada, and will benefit the Cleveland Clinic Lou Ruvo Center for Brain Health.
Ultimo ­ A Weekend of Excellence will feature an entire experience for guests:
The Arrival
On Friday, guests who fly into McCarran International Airport (or any of the private options in Las Vegas) will be driven to The Venetian in a Bentley or Rolls-Royce, or one of the resort's limousines. Check-in will be provided at the exclusive VIP lounge, and each guest will be escorted to a luxurious suite, including a choice of premium suites that are normally reserved for high-roller casino guests.
The first social affair, the Welcome Reception at fine jewelry and watch boutique Bellusso, will feature caviar, champagne and a showing of sophisticated timepieces. The party will then move on to the Grand Colonnade for a dinner of a lifetime, The Grand Banquet.
The Grand Banquet
One would have to travel to Europe to find a meal with a similar romantic setting as the weekend's main event: The Grand Banquet.
In fact, the banquet will be served within the stunning and iconic Grand Colonnade, amid authentic frescoes hand painted by Italian artists, 25-foot columns of Botticino marble, and floors inspired by the Church of Santa Maria del Rosario. Spanning the Grand Colonnade, a spectacular single table will seat nearly 200 people, a breathtaking setting that follows a European trend to host grand community meals in the most impressive public spaces.
To ensure that the meal matches the superb setting, the weekend's hosts Chefs Boulud, Lagasse, and Valastro will reign over the food presentations, leaving time to mingle with guests throughout the dining experience.
To highlight each incredible course, winemakers from top wineries worldwide will be on hand to introduce their new- and old-world pours, including some new releases saved for this very night. Fabulous live entertainment and an auction for the Cleveland Clinic Lou Ruvo Center for Brain Health will bring this magical evening to a close.
Very few people have the opportunity to attend an event that so eloquently blends the finest Italian food with extraordinary vintages from renowned Italian wine producers.
Saturday Haute Experiences Saturday gets rolling with a fabulous French Brunch with Daniel Boulud at his new db Brasserie restaurant, which was recently named 'Best New Fine Dining' by Vegas Seven magazine.
Guests will load up on French-American classics and bubbly before heading out on one of four luxury experiences, that range from relaxing to thrilling.
The Venetian has curated four Haute Experience options for Saturday afternoon. Through our luxury partners, guests can participate in unique, once-in-a-lifetime opportunities tailored just for them:
JUST SAY AHHŠ
Guests who come to Vegas to relax and unwind will look no further than The Venetian's famed Canyon Ranch SpaClub®. Guests will sit back and enjoy the spa's world-famous facilities (including experiential rains, HydroSpa, and herbal-infused laconium), then melt into the treatments of their dreams. They will take the relaxation home, with a generous gift bag courtesy of Canyon Ranch.
FASHION INSIDER
The Venetian is planning a super-exclusive fashion extravaganza just for Ultimo's most fashion-minded guests, put together by one of our favorite brands. This intimate event will be a once-in-a-lifetime peek into the evolving role of Las Vegas in high fashion, including insider access to a current collection and how pieces are chosen for the experience.
The Las Vegas Strip, with its unique global clientele, continues to grow as a top shopping destination in part by offering many one-of-a-kind pieces not sold anywhere else‹this fascinating event is a must for anyone with a love of fashion.
NEED FOR SPEED
Ultimo's luxury-car partners are putting together a race car experience of a lifetime. Together with Exotics Racing, guests can learn to drive those cars the way they're made to be driven‹ as fast as possible, around a racetrack. The experience includes an opportunity to hit the Las Vegas Motor Speedway in one of these special cars, with a pro driver in the passenger seat. The 1.2-mile racetrack was designed by a stunt driver who worked with Matt Damon inThe Bourne Identity, and it features seven thrilling turns and a 1,800-foot straightaway.
BAKING WITH THE BOSS
This unforgettable culinary weekend wouldn¹t be complete without at least some guests hitting the kitchen. Buddy ³Cake Boss² Valastro, a fourth-generation baker who inherited the nickname from his father, knows his way around a sweet tooth. Guests will learn from the best during this private baking class, where you¹ll participate in baking to-die-for cakes worthy of bakeries of the highest level.
The Weekend Continues…
A memorable Dine-Around in the Palazzo Waterfall Atrium & Gardens will give guests a taste of The Venetian and The Palazzo¹s hot spots Carnevino (by Mario Batali), Buddy V's Ristorante (by Buddy Valastro), CUT Steakhouse (by Wolfgang Puck), Bouchon (by Thomas Keller), Delmonico Steakhouse (by Emeril Lagasse), and db Brasserie (by Daniel Boulud).
The after-party will be a private soiree in a special Richard Hennessey Lounge in the exclusive high-roller Paiza Club, with desserts by Valastro, fine liquors, and premier cigars.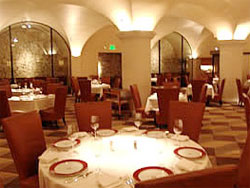 Sunday's Truffle Farewell Brunch will boast a meal to dream about‹using delicious in-season truffles, organic farm-fresh eggs, and premium beef‹with Lagasse hosting at his award-winning Delmonico Steakhouse.
The only way to experience Ultimo in its entirety is to stay overnight.  Deluxe packages combine prime access to weekend events with a suite at The Venetian or The Palazzo.
For more information on these events, or exclusive suite packages, please visit http://www.venetian.com/ultimo