Written by Susan Michals
Cruelty to animals never seems to go away – but there are ways that we can diminish and hopefully – abolish – some of the horrible treatments they endure. Farm Sanctuary has made it their goal since 1986 to 'protect farm animals from cruelty, inspire change in the way society views and treats farm animals, and promote compassionate vegan living.'
Now the esteemed organization celebrates those who have been helpful to their cause with their 30th Anniversary Gala, to be held at the Beverly Wilshire on Saturday, November 12th.  Hosted by comedian Kevin Nealon, along with co-chairs Tracey Stewart and Emily Deschanel, the evening will honor Kat Von D and Leona Lewis, among others. In addition, Jon Stewart and Moby have been added to the growing list of presenters on hand for this very special evening.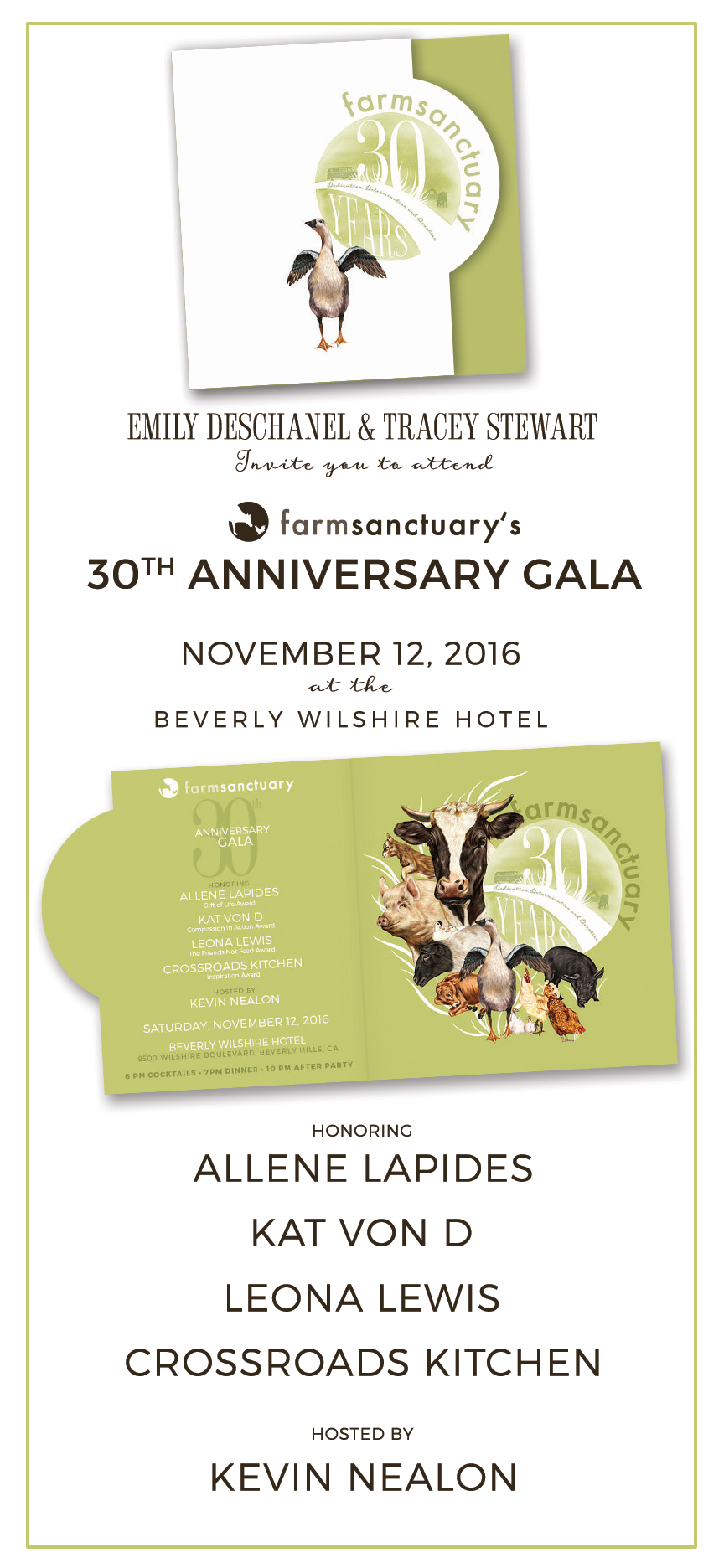 The evening will feature a 100% plant-based dinner with favorites made using Gardein products, live entertainment and a farmer's market style gift station to encourage guests to cut down on waste and take home the products they will use most.
Farm Sanctuary, with a 26 acre Los Angeles area shelter and sanctuaries in Orland, CA and Watkins Glen, NY, works to educate people nationwide about farm animal abuse and the adverse effects of factory farming on our health and environment.  Jon Stewart (formerly of "The Daily Show") and wife Tracey Stewart will also be opening a location at their New Jersey farm in the fall of 2017.
Advocates Kat Von D will receive The Compassion in Action Award,  Leona Lewis will receive The Friends Not Food Award and Allene Lapides will be honored with the Gift of Life Award. Los Angeles based restaurant, Crossroads will be presented with the Inspiration Award, among other surprises.
Farm Sanctuary President and Co-Founder Gene Baur, who was recently selected by Oprah Winfrey to be a part of her SuperSoul 100 and who TIME magazine calls "the conscience of the food movement," is a native Angeleno, growing up in the Hollywood Hills.  As a nod to his days traveling across the country selling veggie dogs at Grateful Dead concerts, Baur's original Volkwagen Westphalia van will be serving vegan hot dogs at the 30th Gala.
Tickets are on sale now at: http://www.farmsanctuary.org/2016gala/
If you cannot attend the event, you can also still donate to the cause here.