by Katherine Fleischman
Most of us have fallen in love with the city of romance, Paris, but have you ever done it with a baby? Well, I did, and I have the inside scoop on how to navigate Paris with the love of your life, your mini me! For lodging, I stayed at The ReMIX Hotel, a four star located on the Rive Droite in Paris, designed by London-based interior design studio Saar Zafrir Design. The design is fun and light, great for kids, and the hallways are filled with cute neon signs following music lyrics and a black and white checkerboard design.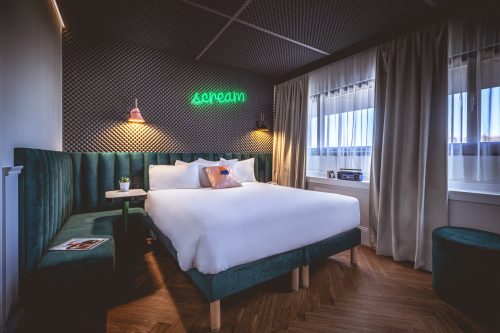 Commissioned by Schroder Real Estate to redesign property, Saar Zafrir Design transports guests back in time to a colorful and nostalgic interior, reminiscent of the 1980s. Each floor on the elevator has different celeb names including Prince, Madonna, Blondie, Freddie, Elton, Bowie and U2. The bar area is beautifully designed with expansive lighting hanging from the ceiling with pink carpeting and poufs galore. It's the perfect spot to grab a cocktail or breakfast. They even have a coworking space.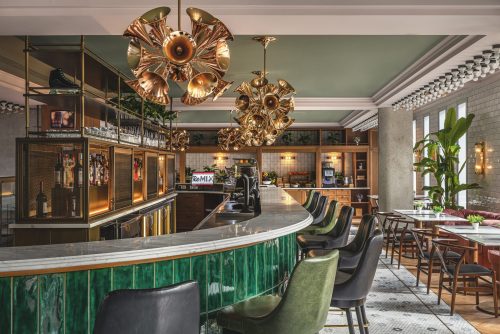 The best part? The entire hotel has a music theme, with 80's hit Forever Young by Alphaville manifesting as the soundtrack to the hotel's design, remixed with a modern-day version by Jay-Z & Mr. Hudson. The 259-room hotel feels like a wonderland, with a playful energy mixed with nostalgic vibes. It even has a secret throwback game room with pool and ping pong tables as well as an arcade downstairs. Make sure you ask them for a pack and play before you arrive at the hotel.
The hotel is right next to the metro so you can get to all of the hot spots as soon as you walk onto the corner. It also has an adjacent BBQ restaurant named Hippopotomus. The temperature in Paris was in the '50s, so I was sure to throw on some Sock Bottoms for my six-month old Leo, literally pants with socks attached. They saved me time by conveniently eliminating the hassle of having to pack and look for his socks. I didn't want to waste any time going back and forth to the hotel and knew I would be out for the day, so I brought along Serenity Kids, ethically sourced meats and herbs, made with regenerative farming techniques. My baby enjoyed free range chicken & thyme and the savory Grain Free Puffs were perfect to throw in my diaper bag – baby life-savers for an on-the-go mom! To keep Leo entertained, he had his BraveJusticeKidsCo. Silicone Educational Stacking Cups, 100% free from BPA, PVC, and phthalates. These toys help with finger dexterity and hand-eye coordination. He also loves his Baby Jack tag toys, encouraging learning and development of the five senses. Great for traveling, they are a fun fidget gift that can be attached to a high chair and clipped to stroller.
And don't forget the mamas! I made sure to keep warm with Coney Island Picnic, a rising streetwear brand based in Los Angeles. I chose a matching sweatsuit with unique and colorful designs, all by a creative collective of artists and designers worldwide. To keep your face looking fresh, I highly recommend Florasis, embracing wisdom in traditional beauty recipes, extracting floral and herb essence to create natural makeup products. Sustainable and ethically created, Gen See's new matte liquid eye shadow was super versatile, weightless, and can be worn in a million ways. Alleyoop did not take up any room – they make affordable and compact beauty essentials for a woman on the go. I loved the PenPal eyeliner, lip liner, brow pencil, and highlighter and Stack The Odds 3-in-1, blush, bronzer, and highlighter. Peripera All My Red set is a curation of bold, yet ultra-wearable shades that naturally stain your lips for flexible, lasting wear that lasted me all day until dinnertime, even for photos!
Paris has so many amazing things to see, but for visiting with a baby, I highly recommend a light-weight stroller (I had the Doona– great for moving around), and also chose the following stops: the Eiffel Tower for great photos of you and baby, The pyramids in front of the Louvre for some great sight-seeing and people watching, Notre Dame for a beautiful piece of history, Montmarte for an incredible view of Paris and the Moulin Rouge, and Champs Elysses for some shopping and bonding time with baby.
For night time routine in a new space, the Nanit, the world's most advanced computer-vision camera, was a must. With a flex stand, you can move it from room to room in the hotel or take it with you on-the-go. I used Jack N' Jill Finger Brush to soothe Leo as new teeth begin to emerge. Pro tip: store in the fridge for teething relief! I read him NiteBabyNite, a book, illustrated in full color, that will instill his love of books.
To bed, I wore handmade Identity Lingerie & Nightwear, handcrafted to reduce the negative environmental impact of mass production. On top of that, they use fabric remnants to create beautiful hair scrunchies, so nothing goes to waste.
Paris has a lot of activity and culture, with many options to choose from, so I hope you have found this guide helpful for future travel with the munchkins!
Photos courtesy of Katherine Fleischman.