If you're like many people, you at least want to say that you've gone camping once. There's something about roughing it in the outdoors that gives you automatic bragging rights.
If we are being honest, though, most of us aren't made for camping. Some of us love our nice warm beds and running water too much to truly enjoy the minimalism of camping. Others have lived in urban or suburban settings their whole life, too far from the wilderness to have any idea of what camping entails.
Very few people are physically —or mentally— prepared to dive headfirst into their first ever camping trip. So why not dip your toes first with glamping? Glamping, or glamour camping, is the ideal hybrid of camp and resort. You have all of the comforts and luxuries of a lodge as well as the proximity and exposure to nature that you would gain from camping. Oh, and you can still have bragging rights for glamping.
Thanks to glamping, your comfort is no longer at stake with tent camping. You don't have to pretend you're a happy hippie in the wilderness when really your hands are splintered from gathering wood, you're freezing, and despite bear-proofing your supplies, all your food is gone. Camping may not be for everyone. Glamping, on the other hand, comes with a myriad of options and price ranges. From the updated tent to the resort lodge, there's a glamping trip for everyone.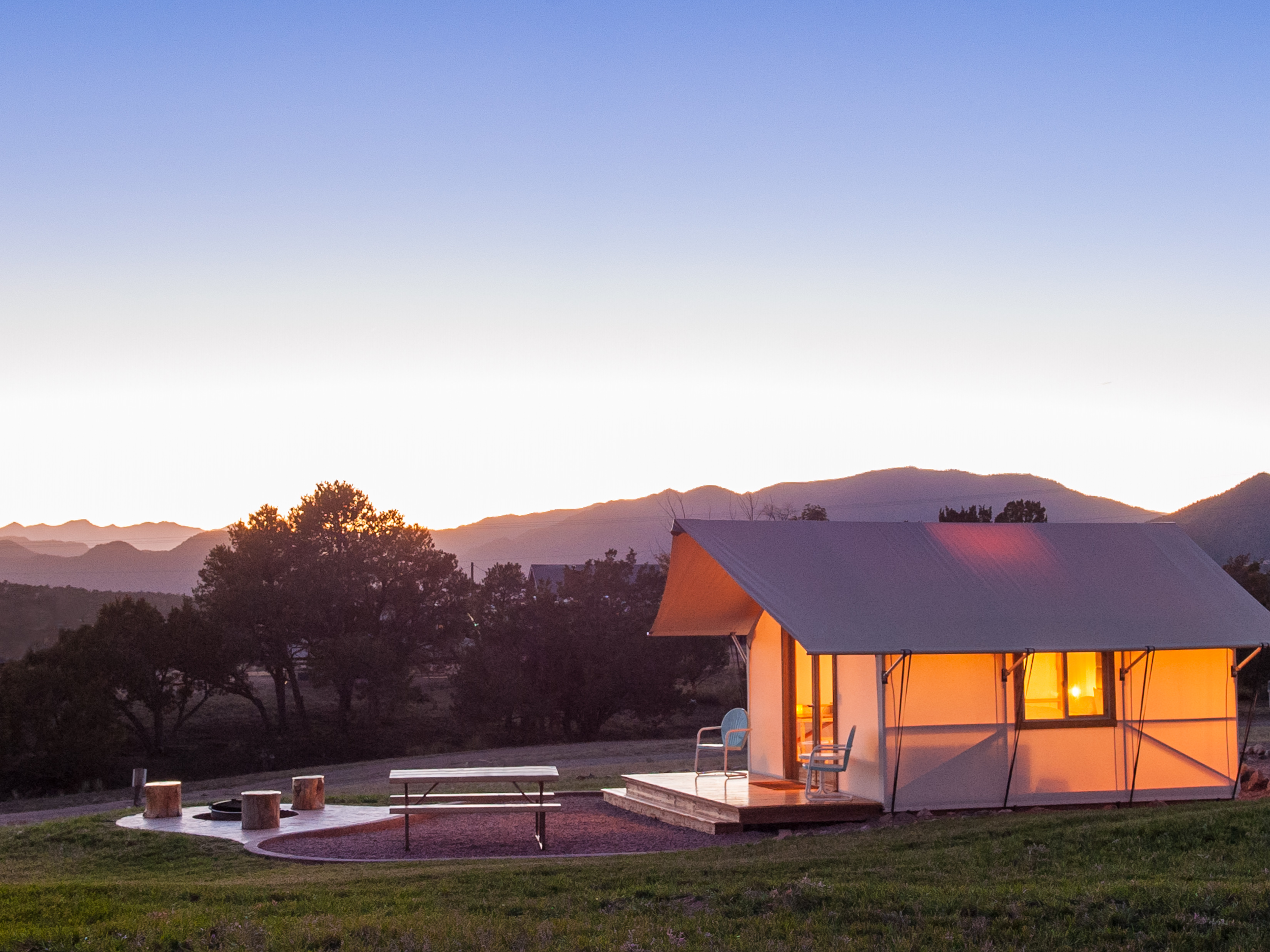 Do It Your Way
Glamping has a wide spectrum, so you can go as outdoorsy or glamorous as you'd like. You can upgrade traditional camping with gourmet food or by adding a mattress in your tent. Or, you can rent a lodge with electricity, bathrooms, and WiFi.
How you choose to glamp depends on how familiar you are with the outdoors. Camping requires quite a bit of knowledge. You'll need to know how to pitch a tent, start a fire, purify water, keep your food away from bears, and many more outdoor survival tips. If you're a wilderness virgin, going all in will be neither safe nor fun. Fortunately, glamping requires far less experience with outdoor survival due to its sturdier dwellings and amenities.
People have different glamping preferences. Some like to be close to nature, so they'll choose a tent and keep the bonfire. Others like to return from a hike to a have a nice cup of tea by an indoor fireplace before falling asleep under a real roof.
Unlimited Options
You have so many unique living arrangements available to you while glamping, many of which you would not get to have in real life. Do you want to live in a treehouse for the weekend? A yurt? A cabin? The options are endless. Talk about a fantasy trip.
Centuries, and even decades ago, luxury camping was reserved for the wealthy. However, with the increasing popularity of glamping in the last few years, there are more affordable options on the market. Thanks to this wide range of prices, travelers can find a habitat that suits their budget.
Great for Family and Friends
Luxury camping is also more kid friendly than ever before. There are glamping tents with heat and multiple beds, lodges with indoor bathrooms, and glampsites with premade fire pits. You won't have to worry about giving up all of your blankets to your kids or about tripping over logs when you go to take them to the bathroom in the middle of the night.
Your kids may not be able to rough it quite like you can, at least not until a certain age. If you're a tad cold, you can bet your kids are also cold — and they won't be afraid to let you know. But by removing any annoyances inherent in camping, glamping is a suitable family trip for toddlers and teenagers alike.
Glamping is even more fun with friends. You can have a cookout, create a fun lounge space, or play games. Thinks of it as an uber authentic barbeque, except that nature is your backyard.
More lowkey versions of tent glamping are ideal for friends because you have extra cars and hands to bring in all of the fun amenities. Jazzing up a campsite with only one or two other people takes planning and effort, but with a whole group, it can be more of a bonding event rather than a hassle.
Ease Your Way Into the Nature Scene
If you want to experience the outdoors without jumping right in, glamping was made for you. You can customize your level of exposure to test the waters and gently ease your way into the outdoor lifestyle. The purpose of glamping is to reap all the benefits of nature without experiencing its discomforts.
Glampsites are situated in nature. As soon as you walk out your tent or lodge, voila! You're in nature! Beautiful scenery and the adventures of the great outdoors are right at your fingertips.
A Chance to Disconnect
Depending on your level of luxury, glamping gives you a chance to disconnect much like traditional camping does. Many glampgrounds have limited cell service and no WiFi for an authentic off the grid camping experience. Some of the more luxe glampgrounds come with electricity and wifi, but you'll still be able to disconnect from the constant buzz of urban living.
Glamping destinations are set up in some pretty surreal locations. We would be surprised if your Twitter feed was more impressive than view. Feel free to use this as your chance to put away your phone for a weekend.
Glamping Puts You Closer to Other Outdoor Adventures
While you're already in the wilderness, use this chance to take advantage of nearby outdoor activities. Hiking trails can be found for different skill levels and are generally enjoyable even for visitors who have limited mountain experience You can also try horseback riding, kayaking, and mountain biking!
Pro glamping tip: plan your trip around which activities are available nearby. An adventure planned during the day makes going back to a comfortable glampsite that much more worthwhile.
Greater Appreciations of Nature
Finally, give glamping a try because learning to appreciate Mother Earth is something we can all get behind. You don't have to transform into a diehard environmentalist overnight. Every once in a while, though, it's good to trade in your urban bubble for a brush with nature.
Glamping has done a great service by making the outdoors far more accessible. Take advantage of the variety of luxury camping options available to you by choosing the one that's right for you and that gets you close to Mother Nature.