By Katherine Fleischman
As we welcome in the New Year this 2023, Miami has become one of the hottest cities in the country, and this winter, I have rounded up the hottest spots and dining experiences for 2023 as tourism continues to spike.
Diner en Blanc – West Palm Beach- This pop-up picnic happening in different cities around the world is not to be missed. This year, on Dec 30th, it popped up in West Palm Beach. The all-white clothing soiree was festive with aerialists, napkin waving, sparklers and mingling with friends. Welcomed the City of West Palm Beach Mayor Keith James, Diner en Blanc WPB hosted 1,300 people and there was even a pop-up a stage with live music for all to enjoy. The community gathering brought together people from all facets of life to relax, unite and enjoy a joie de vivre experience to Bling In The New Year" Coming from all over Palm Beach county with over 3 buses from Broward, Diner en Blanc WPB was produced by Modernique&Co Project Management firm, an event production department that specializes in luxury experiences for guests.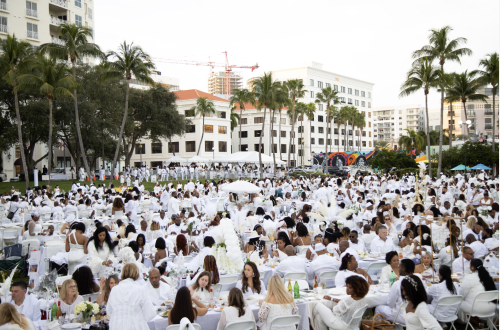 Located at the Aventura mall, this hidden gem is worth the splurge. Michael Mina's Estiatorio Ornos transports you back to the streets of Mykonos, a location dressed in white, with options for both indoor and outdoor seating. Some favorites included the spaghetti lobster, trio of raw fish and ceviche (coming from a true Peruvian). The lobster spaghetti had a healthy serving of lobster and the ceviche was a perfect balance of fish and lime. The seating outside looks like canopies floating on air and inside, you can find a giant bar full of every spirit you can imagine.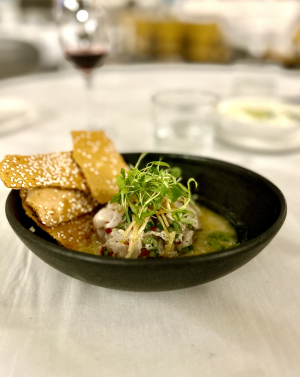 Joia is the perfect place to roll up on a boat, dance and enjoy light bites like carpaccio, beef steak and fish tacos. You can't go wrong with a table on the beach and you can listen to a live DJ under their large canopy. This hot spot, tucked away in a corner of South Beach, offers crafty cocktails and a variety of fun wines. Make sure you post for an Instagram-worthy photo on the beach, which also boasts the Miami skyline.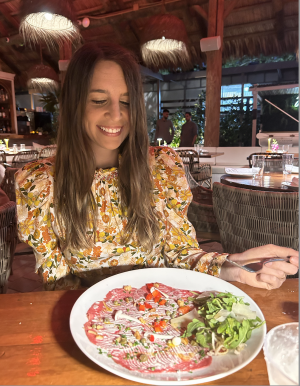 DOM's Brickell and DC Pie are the ultimate karaoke spot and hands-down the best pizza in town. Decorated as a makeshift deli meets speakeasy, you can have a true slice of Italy with a taste of meatballs, inventive salads, and tasty wings. Karaoke Thursday's are equipped with a giant screen for singing and a full bar, which you can enter in through the bathroom, and connects with the main restaurant. You can find karaoke-goers dancing and singing on tables littered across the location.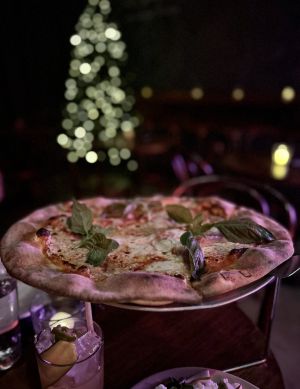 Pura Vida is the perfect spot for a healthy breakfast in Aventura. You can choose from a large selection of wraps, juices, croissants, and other popular breakfast items. The entire location is outfitted with flowers and white decor, and the Aventura Park is filled with restaurants. You can sit indoors or outdoors and enjoy yummy coffee and do some people watching. Sourced from high-quality and fresh local ingredients, Pura Vida has health-focused options and the menu includes a range of raw, organic acai bowls, superfood smoothies, and more. Pura Vida has 12 locations throughout South Florida including South Beach, West Ave, Edgewater, Miami Design District, West Palm Beach, Aventura, Bay Harbor, Las Olas, Brickell, Sunset Harbour, Miracle Mile, and South Miami.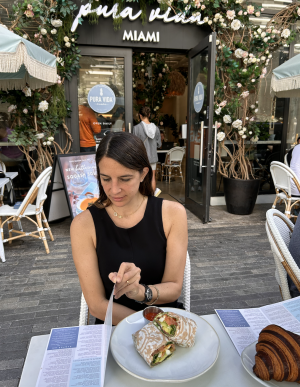 If you are visiting Wynwood Walls and enjoying the art, make sure you take a lunch break at Udon. Decorated in true Asian style, you can enjoy an array of sake, udon or ramen soup, sushi rolls and more. UDON Asian Food, Spain's leading chain of Asian restaurants focuses on authentic Asian flavors and high-quality ingredients, specializing in Japanese dishes. Think classic apps like gyoza, tatakis, and takoyaki and an array of mains including salads and rice dishes.
Ke-uh is located in Acqualina Resort and has an amazing selection of sushi rolls, steaks, and a fun bar-like atmosphere. The chefs from Nobu can never steer you wrong and you can choose from indoor or outdoor seating. Opened in 2020, the Japanese fusion spot encourages shareable plates with modern seating and uses quality ingredients for the tapas-like menu. Chef Noborikawa likes to balance flavors- this is the third restaurant in the chain.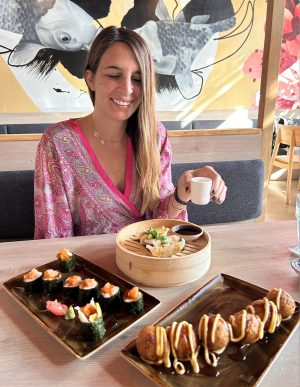 Il Mulino New York – Sunny Isles Beach is an experience you don't want to miss. The service is top notch and they cook the dishes in front of you. I chose the salted branzino, a trio of pastas including arrabiata and penne with vodka and they even threw in chef's selections like fried zucchini to start. With a bite of the hand made desserts like tiramisu and chocolate cake, you can really taste the flavors and reminisce in Italian-style flair. Also located at Acqualina Resort, the outdoor patio offers beautiful views of the ocean, or inside you can enjoy an elegant and well-appointed dining room. Upscale classics also include pollo alla scarpariello, half rack of lamb, and penne rigate, plus an extensive wine list.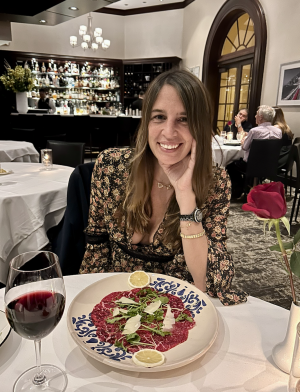 Photos Courtesy of Katherine Fleischman