When most people think of Norman Reedus these days, immediately images of Daryl Dixon of The Walking Dead. Yet actor Reedus is as multi-faceted as they come. He is a chameleon of sorts, having worked as an actor, cinematographer, filmmaker, model (think Prada and you've nailed it), and last but not least, an avid photographer.
Evidence of the last  vocation can be seen on display in Los Angeles at Voila! Gallery through December 31st, as the artist displays a variegated, haunting, and sometimes disparate collection of his photography that showcases years of photographic experiences, some occasionally autobiographical, through the eyes of Mr. Reedus.
These works are not for everyone — they can be haunting and discombobulating in their subject matter. But at the same time, they are beautiful. Not to mention, a bird's eye view into the mind of their creator.
DESTINATION LUXURY: As far as the crossover of work into your reality, how much would you say your time on set has influenced your work here?

NORMAN REEDUS: Some of the photos are from fifteen years ago, but some  photos exactly correlate to work (on "The Walking Dead"); not to the storyline, but some of the photos relate to my doing so many interviews about (makeup artist) Greg Nicotero's work when he makes the zombies and so forth. I would say in interviews the scary thing is half makeup, partially special effects, but mostly the actors behind the makeup. And then combine that with me riding my motorcycle all the time to set (in the South) and I'd see all this roadkill, and I'd stop and take pictures… it goes back to my answering all these zombie questions and what made them scary…it's all interwoven.
DESTINATION LUXURY: Some of the photos were shot in and around the set [of "The Walking Dead"]…how many in the exhibition were created there?
REEDUS: Maybe two or three, back from Season 1 or Season 2.
DESTINATION LUXURY: You seem have a proclivity for the surreal and the haunting and turning what some might consider disturbing subject matter into beautiful imagery.
REEDUS: A lot of people have told me that's kinda my schtick; taking horror images and making them pretty or romantic; but I didn't really think I was actually doing that until I was told. As a photographer and actor that's sort of my genre; but then I've done some really pretty  images that have nothing to do with horror or the film industry, just places I've been. Every single photograph I could tell you an hour long story about how it came to be. One of my favorite photos is of two prisoners in a maximum security prison and there's a little kitten at the base of their feet. That was in Moscow, and I was down in the basement and we were filming down there; a guard onsite would take out his stick and beat the walls and scare anyone and everyone who tried to see what we were doing. When the guards left, that kitten ran out near the prisoners, who kind of looked like Calvin Klein models. It's one of the prettiest photos I have, yet one of the grossest environments I've ever been in.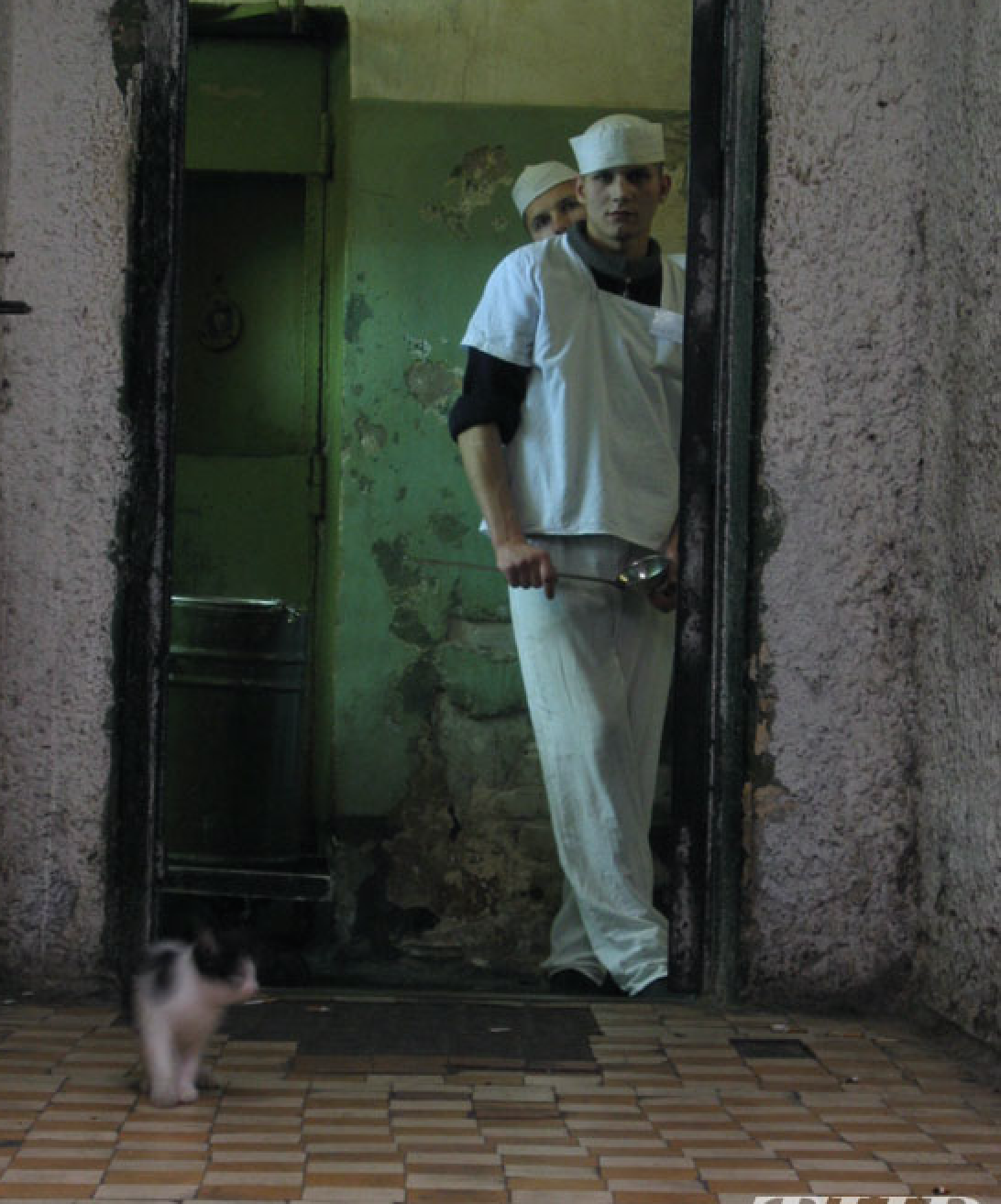 Soviet Cats. Image courtesy of Norman Reedus and Voila! Gallery.
DESTINATION LUXURY: Speaking of cats, you're a big cat man. Has your cat, Eye in the Dark, ended up in much of your photography?
REEDUS: I shoot that little bastard everyday! [Laughs] He actually gets a lot of fan art as well; and it's really stupid to say, but my cat has like, 12 Instagram accounts. He's travels with me all the time; not on set, but he does fly with me between the set and New York, and kinda everywhere.
DESTINATION LUXURY: Can you sum up, thematically the storyline of this exhibition in two or three sentences?
REEDUS: Oh Jesus… it's kind of a yearbook of my life over the past fifteen years; it's about things I was introduced to, and things I discovered, and things I helped create. Places I've traveled like Istanbul and Moscow and places I've worked. It's me, really.
The photography of Norman Reedus is on display through December 31st, 2015
Voila! Gallery, 518 N La Brea Ave, Los Angeles, CA 90036