By Katherine Fleischman
Mexico has always been the ultimate destination for the perfect vacation getaway, but how do you find a spot that works for every type of lifestyle? Below is an insider's guide to where to stay, dine, take in the culture, and enjoy all within the property. Sun, beach, drinks, food, culture, lifestyle — you don't have to go very far.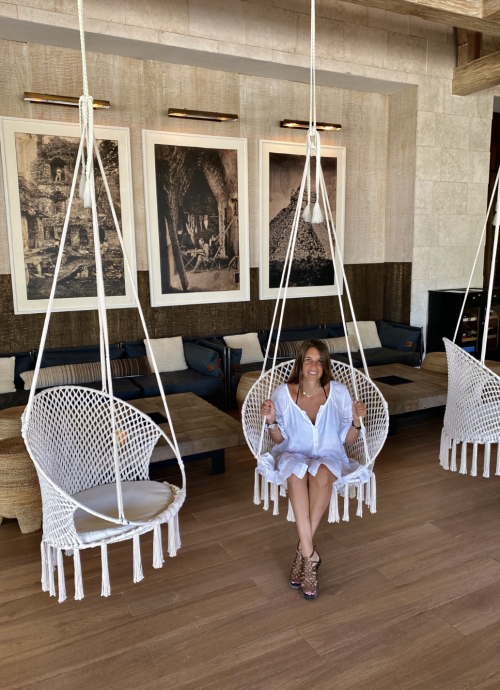 Cue: "Heaven is a Place on Earth" — Where you may ask? The adult playground at UNICO 20°87° Hotel Riviera Maya. With breathtaking views suspended between jungle and beach vibes, with both a fun and relaxing ambiance (I will get to that later), this spot is a truly luxurious space on the map.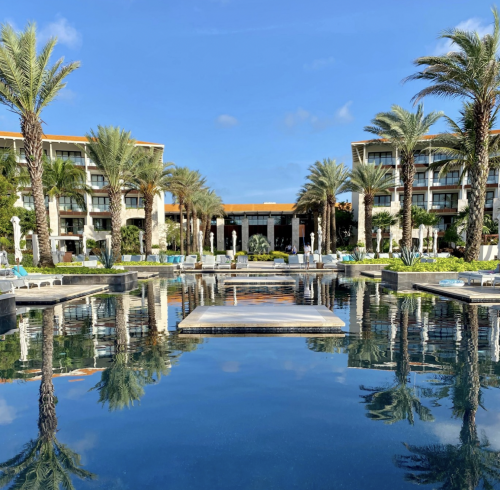 Surrounded by cultural immersion, UNICO 20°87° Hotel Riviera Maya was designed as a one-of-a-kind, all-inclusive, adults-only hotel, built for the sophisticated traveler. Meet modern Mexico face-to-face and indulge in the region's most exciting locales, embracing the culture, from the food and drink, to the spa treatments and selection of curated adventures — the new standard for the all-inclusive vacation.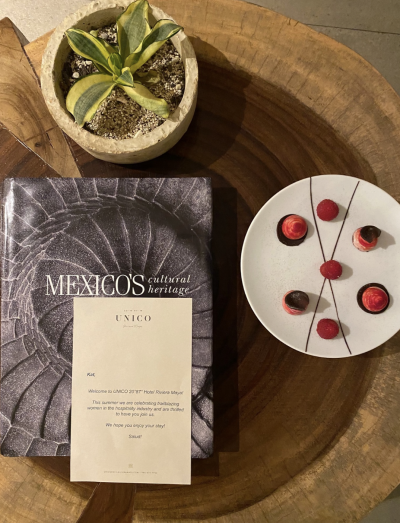 Let me highlight the romance in this vacation…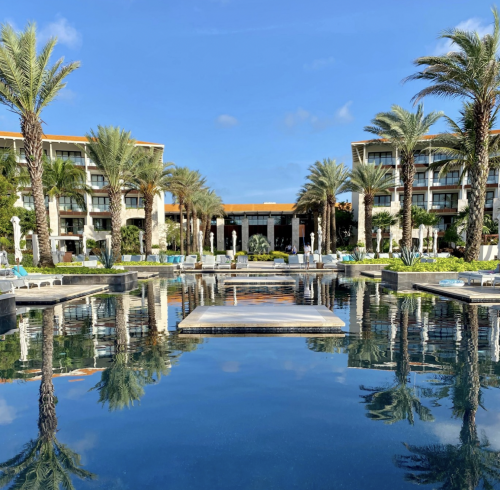 Every guest is provided with a Local Host, a personal concierge who will make all your dreams come true — from restaurant reservations to turn-down service preparations, spa reservations, laundry services, packing/unpacking, pillow-menu requests and more. Even your personalized mini bar inside the room includes free snacks and drinks. Did I mention there is a bathtub on the balcony?
Whether you have a sweet tooth or want something spicy, there are an array of restaurants and shops for everyone. Check out SOOL Chocolate Shop for authentic Mexican truffles, chocolates, and more. The location also offers UNICO Yoga, Mixology master classes, and wine tastings.
Restaurants: Make sure you try the fun hibachi fire show at Mura House with a selection of mouthwatering sushi and Mi Carisa for some Italian selections on the water with a romantic spouting fountain. You can also choose from a more chill, relaxing pool called Escondido, Unico Pool or the more fun party pool, featuring a swim-up bar for mingling, music and volleyball at 2087. Make sure you check out Bar Balam for fun events and Palmera Lounge for a live show that turns into a club at midnight!
Perk: for $800 per night, you get it all — so you and your partner don't have to worry about splitting bills or who is covering what — just get on a plane, relax and enjoy all the free drinks and food you would like. I personally went for Superbia Summer weekend featuring Chef Adria Marina, Mixologist Claudia Cabrera, Artisan Paloma Santacruz and enjoyed a mixology takeover and a live violin player at the bar, while networking with local artists and artisans. The women-powered line-up highlighted its fourth annual gastronomy series and multi-sensory experience featuring an all-female roster of chefs, mixologists, and local artisans, showcasing their talent from different regions of Mexico. Each week one chef, one mixologist, and one artisan implement their unique twist to transform the hotel's experiences and Superbia Summer invites guests to indulge in paradise and embark on a journey through the senses.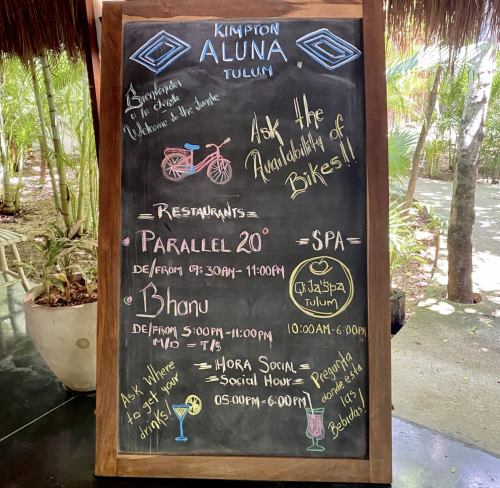 Kimpton Aluna Resort Tulum is another highly spiritual, yet romantic spot, close to the hustle and bustle happening in Tulum, where you can reset and recharge. Couples set an intention with a Mayan ritual when they check in, leaving the negative behind (you literally drop a piece of paper into a smoky bowl-good riddance bad behaviors!) They host yoga classes on Tuesdays and Thursdays as well as a social happy hour with free drinks from 5–6pm at the rooftop daily.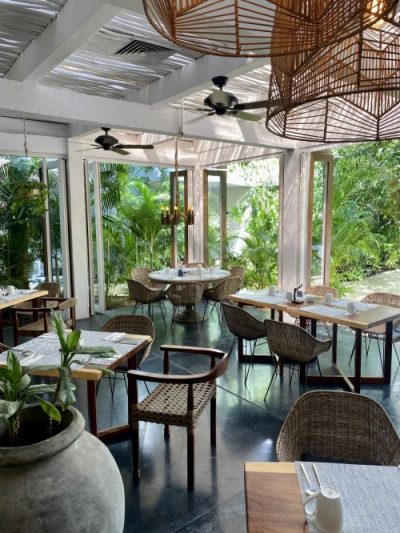 You don't even have to leave the premises as you can dine in-house at one of the two restaurants: Parallel 20 where you can enjoy breakfast or lunch with a view and Bhanu on the rooftop for a more romantic setting and a pool to boot. You can even rent bikes and hit the town!
Nestled on a secret outcrop overlooking the Caribbean Sea sits Hotel Mi Amor. The Art Deco design is eye-catching and awe-inspiring, known as a modern-day adults-only playground. Upon entering, you are immediately in the chill zone, with suspended canopies, swinging hammocks and floating chairs in the water, not to mention an infinity pool leading to a picturesque view of the ocean. The open space concept reveals nature's perfect balance, and the hideaway boasts private striped cabanas perched among lush gardens.
Mi Amor, literally meaning "My Love" is the ultimate destination for romantic couples. The menu is themed for pairs, where everything is offered in twos, with buy one get one free craft cocktails. Even the menu items are sexy, including oysters and other aphrodisiacs. Pink is the color of choice — for love, and everything from the cushions to the bedding follows the trend of the pastel.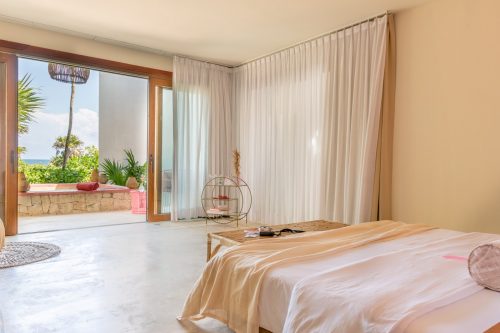 Couples are offered a pink Polaroid to snap pics of their favorite memories. We even had our own sexy little plunge pool outside our room for some privacy. Some of my favorite items on the lunch menu were the build-your-own lettuce-wrapped shrimp cocktail. The level of service was unmatched as all of our needs were tended to, whether it was dining al fresco or lounging by the pool.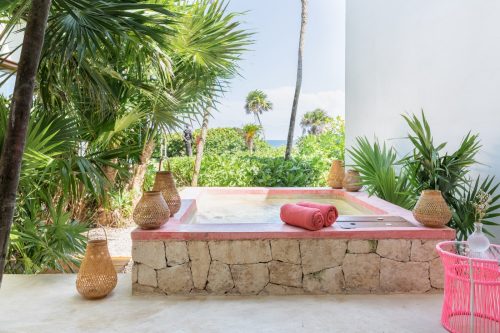 Now for the cherry on top: Visitors can eat dinner on the ocean, literally, since a wooden deck is built along the rocks, held under an exclusively romantic cabana for a 5-course dinner. The first course consisted of oysters with foie gras, while the second course was a white fish tartare marinated in lime juice, followed by a ravioli with cheese and truffle, and finally a risotto with mixed seafood. Something sweet to top it off: a fruit-covered silky smooth cheesecake.
All in all, you can't go wrong with any of these options. For a welcoming, home away from home, hidden oasis, these spots are sure to do the trick, guaranteeing the vacation of your dreams. So, what are you waiting for? Paradise in Mexico awaits.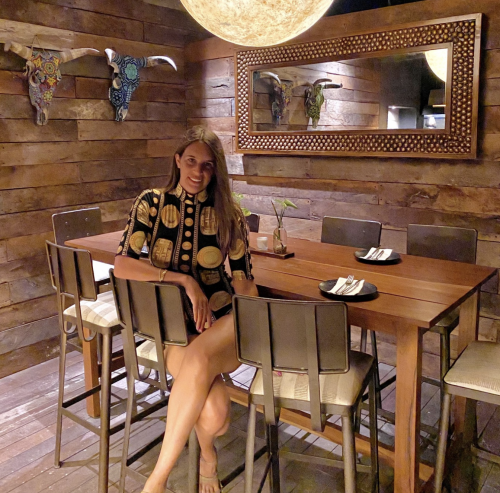 Photos Courtesy of Katherine Fleischman.