The Land of Smiles. There is truly something for everyone when it comes to Thailand. From breath-taking Phuket beaches to a bustling Bangkok nightlife, you are sure to fall in love with this must-visit country as soon as your feet hit the tarmac.
One thing you might never have considered before is embarking on a golf holiday in Thailand. With stunning scenery, world-class golf courses and reliable weather, Thailand should definitely be on your radar for your next golfing adventure.
We have teamed up with the guys over at Glencor Golf to bring you the 3 most luxurious golf destinations you can book right now.
Pattaya
Pattaya is located around 1 hour away from Bangkok airport, making it the ideal destination for those not wishing to travel too far or large groups of golfers. Pattaya itself boasts a vibrant nightlife, including the world famous walking street and offers up some of the best cuisine you can find around the globe.
If golf in Pattaya is not on your bucket list then it definitely should be!
When it comes to choosing which golf course to play, you are going to have a difficult time narrowing down your options as there are so many incredible courses on display. We'd recommend playing the Eastern Star Course just for the picturesque par 3 thirteenth hole. This signature hole lulls players into admiring the beautiful scenery and almost causes them to forget the game entirely!
When it comes to accommodation, there is none more luxurious in Pattaya than the Woodlands Hotel & Resort. Surrounded by tropical gardens and being only 550 meters away from the beach and the centre Pattaya, this hotel offers up a welcomed retreat after a day on the fairways. Woodlands boasts two outdoor pools and even has its very own French bakery on site!
Chiang Mai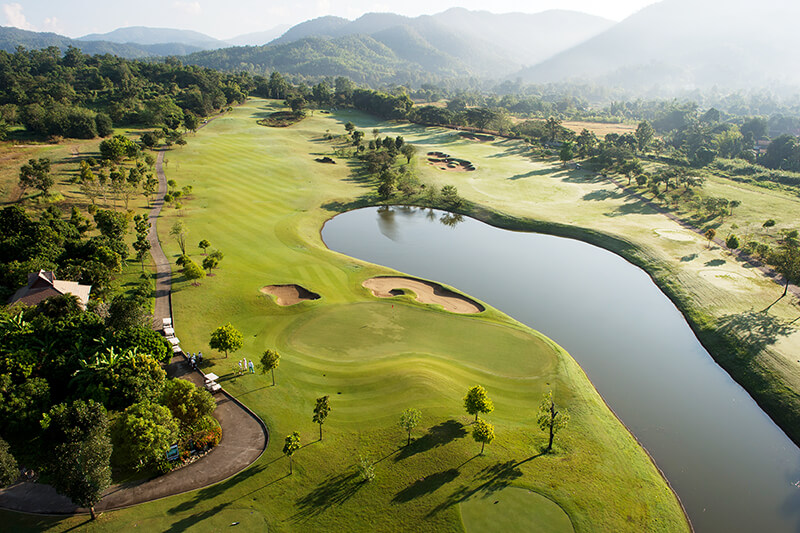 Chiang Mai offers up an authentic Thai experience that is not to be missed! Located in the Northern part of Thailand, Chiang Mai boasts some of the best Thai cuisine and unspoilt environment in the country. With most golf courses being around 40 minutes from the centre, a golf holiday in Chiang Mai is the pinnacle of golf in Asia.
Set in the foothills east of Chiang Mai, the stunning Chiang Mai highlands golf course offers up a magnificent 27-hole championship golf course. The combination of first-class facilities, immaculate playing conditions, a challenging yet enjoyable course and a stunning backdrop with each hole has earned the Chiang Mai Highlands golf course a legendary reputation amongst golfers. This is just one of the incredible courses that Chiang Mai has to offer.
When staying in Chiang Mai, we'd recommend staying in The Rachamankha. This Thai style boutique hotel is situated right in the centre of old town and truly delivers a 5-star experience to its guests. The unique ambience achieved by the hotel's designer makes The Rachamankha a peaceful and private place for guests to relax and unwind after strolling through the bustling streets of Chiang Mai.
Hua Hin
Located around 2 hours from Bangkok Airport, a golf holiday in Hua Hin is a once in a lifetime experience. Mostly unknown to the average golfer, Hua Hin is a hidden gem in Thailand's golfing reputation. Boasting a number of championship courses, including the must-play Black Mountain Golf Course, you are sure to play some of the best golf in your life in Hua Hin.
The Black Mountain Golf Course is regarded as one of the best golf courses in Asia and in fact, is the only course in Thailand to appear in Golf Digest's Top 100 courses outside the US. This 27 hole, awarding winning golf course is located just 12 kilometres west of Hua Hin and the surrounding scenery is simply a site to behold.
To make your Hua Hin Golf tour that much more luxurious, we'd recommend staying at the Wora Bura resort and spa. This beautifully designed hotel blends typical Thai architecture with that of colonial Europe to achieve a truly unique atmosphere. The stunning hotel grounds and the first class amenities will ensure your stay in Hua Hin is unforgettable.