Venetian Las Vegas' Ultimo – a Weekend of Excellence is one of the most decadent events in the world. The best in cuisine, Michelin star restaurants, all in a luxury settin. Last year, Destination Luxury covered the Ultimo Weekend, sitting at the world's longest dinner table. This year, the Third Annual Ultimo, featured an incredible list of celebrity chefs and a non-stop array of unique dishes.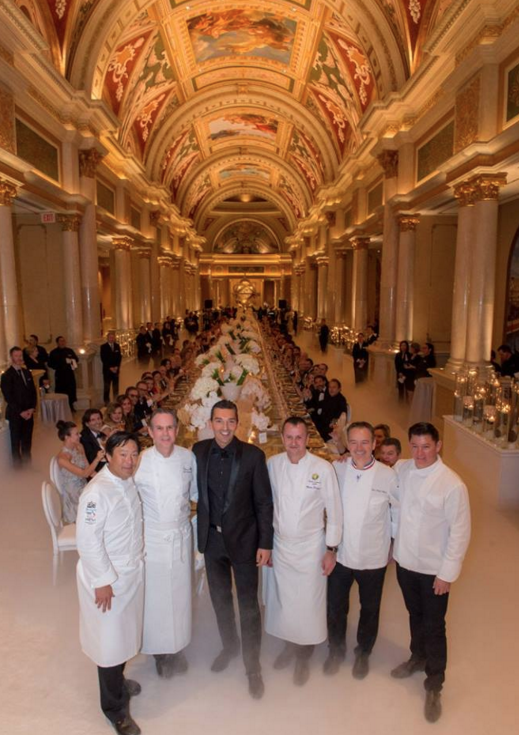 The December 18th, the  sold-out $1000/ticket event was spearheaded by Venetian's VP of Food & Beverage, Sebastien Silvestri. Thematically, this year's event revolved around Earth, Water, Air and Fire. Introduced in 2013, the Grand Banquet has become a signature event of Las Vegas and the Venetian. Mario Batali has even declared the Grand Banquet, "The grandest meal ever served in Las Vegas."
The meal was prepared by Chefs Thomas Keller of Bouchon (Las Vegas, Beverly Hills, Yountville), Philip Tessier (first-ever American Bocuse d' Or silver medalist), Shaun Hergatt (award-winning executive chef/partner of Juni in New York) and Ming Tsai (Massachusetts-based, award-winning chef of Blue Ginger and Blue Dragon).
Guests sipped on Krug Champagne and savored Urbani truffles, and got the ultimate 'Cloud 9' experience, starting with a caviar reception. Later in the evening, guests dined in the spirit of "Air" at Venetian's Grand Banquet. A single spectacular glass table spanned the Grand Colonnade with clear acrylic glass chairs and custom effects to simulate dining in the clouds. An ethereal enchantment was cast over guests during the evening. Southern Wine & Spirits provided some of the prestigious beverages and a portion of the proceeds of this main event benefited ment'or.
Here's what some of the attendees had to say about the Ultimo Grand Banquet:
.@MissUniverse 2014 @PaulinaVegaDiep loves the magnificent #Ultimo Grand Banquet table. Dinner starts in 5 minutes. pic.twitter.com/LMVcJxA3wC

— Venetian Las Vegas (@VenetianVegas) December 19, 2015
THIS IS A DESSERT OK. A DESSERT. Made within a top secret magical lab @silvestrilv @venetianvegas @chef_keller pic.twitter.com/L4rQEGSsbI

— Christina Grimmie (@TheRealGrimmie) December 19, 2015
Sound check for tonight's Grand Banquet. @ChistinaGrimmi of NBC's The Voice on the piano. #Ultimo pic.twitter.com/OtUuqAjG3Q

— Venetian Las Vegas (@VenetianVegas) December 18, 2015
supporting my friends @silvestriLV@DanielBoulud#Ultimo@VenetianVegas check @Vegas2LAMaghttps://t.co/cWuYqSfYW9pic.twitter.com/0kKAnqr6nO

For lunch the next day, a floating table was created and built over the water of the Grand Canal. Prosecco and dishes from Chef Richard Rosendale were served by singing Gondoliers. We felt like we were dining on the Mediterranean.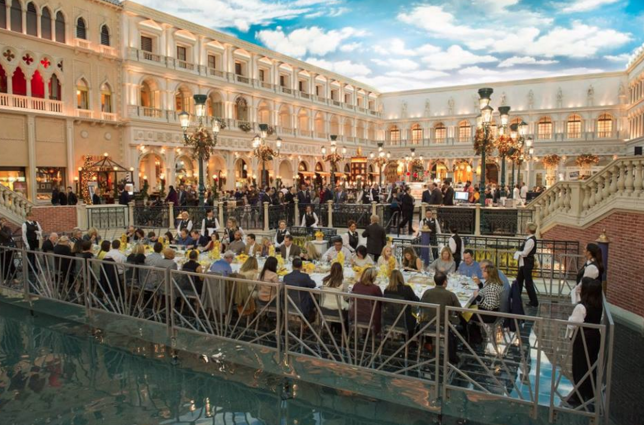 For dinner, guests enjoyed Celebrating Fire: A Mastery of Cooking Over the Flame. Patrons arrived at the romantic outdoor piazza at the Doge's Palace entrance of the Venetian. Krug Champagne was served to the 100 guests as they feasted their eyes on a grand table setup of steak, whole fish, and a traditional full-size pig roast over an open flame.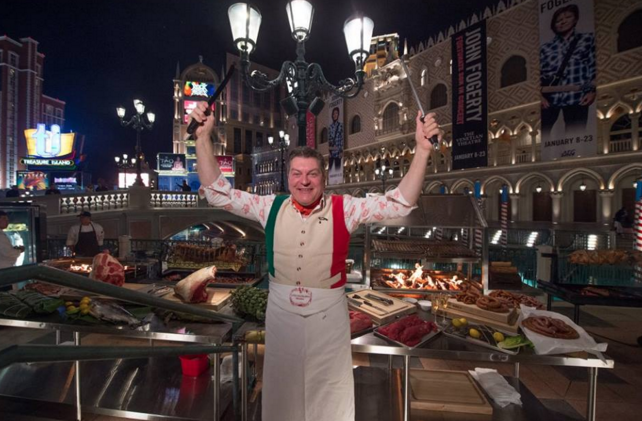 Venetian's Campanile served as the magnificent backdrop of the grand display.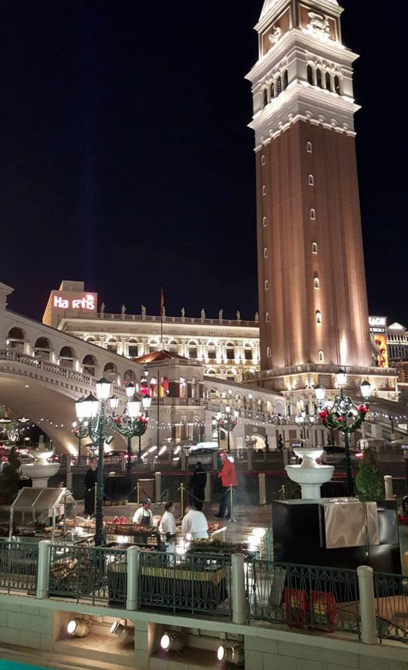 Once the horn was blown, the party was moved inside to the exclusive Paiza Club (also known as Venetian's high roller suite) for a dinner curated by Olivier Dubreuil, Executive Chef of the Venetian and The Palazzo, and Dario Cecchini the famed Chianti "Butcher of Panzano." The suite is decorated with Asian decor with a stunning view of the Vegas Strip and rare antiques.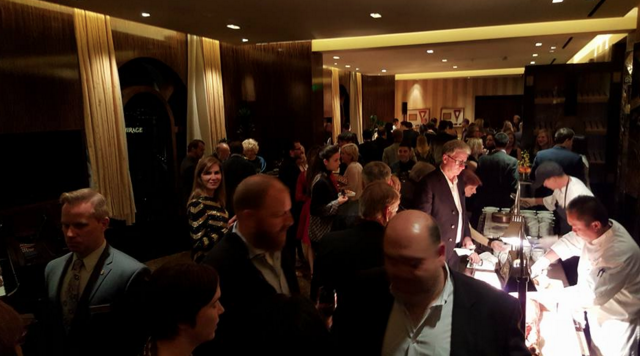 Wood-grilled giant porterhouse (egg yolk ravioli, shaved white truffles), USDA prime ribeye (aged cheddar, hash browns) and whole-roasted hog was on the menu. Live piano music played in the background as our stomachs were satisfied. Dishes were paired with 2014 Daou Reserve (red wine) and Daou Chardonnay (white wine).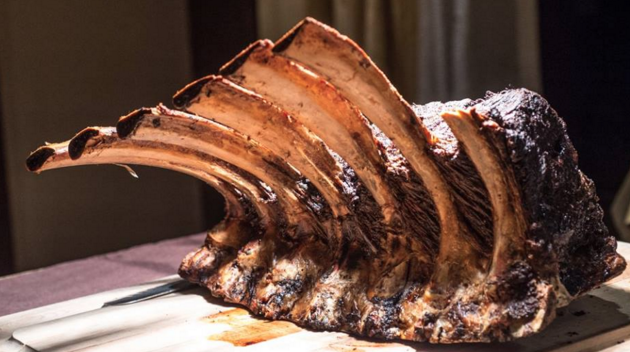 Such a decadent feast called for an even more impressive dessert spread including Oreo & macaroon sandwiches & flamed pineapple brochette with Tahitian Vanilla Molasses to satisfy our sweet tooths.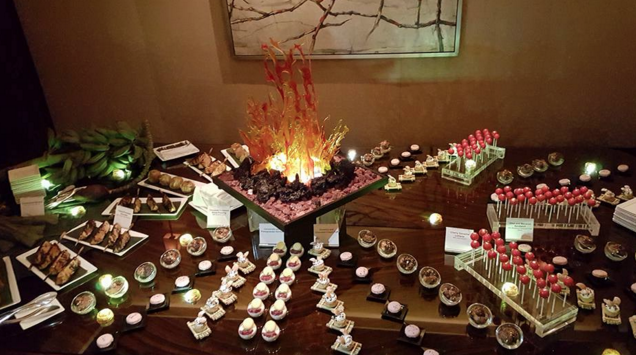 No Ultimo Weekend Experience would be complete without an after party hosted by Patron in the Penthouse Suite of the Venetian. This 5,171 square foot space has everything you could ever expect including a formal dining room, pool table, private bar, jetted tubs and even a treadmill.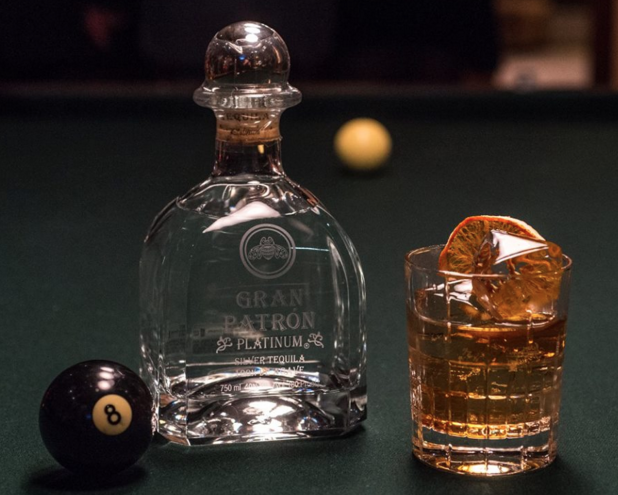 Artist Brad Wilkinson created a colorful painting of the Gran Patron bottle.
To top off the weekend, we were treated a a farewell truffle brunch at Emeril's. The Iberico Ham and Truffle Lobster Bisque were our favorite.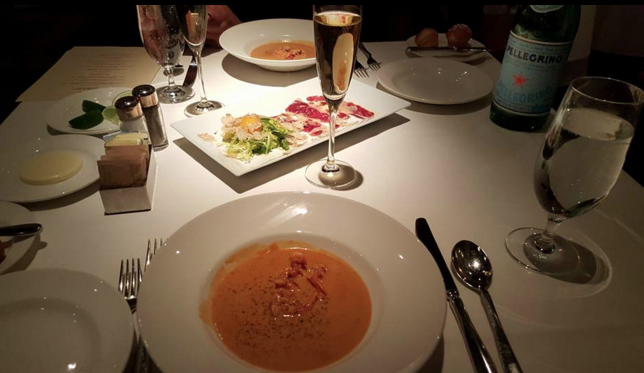 For more information about the Ultimo Weekend, click here. For last year's event, click here.