Charles L. Black III serves as the Executive Vice President, Marketing & Strategic Development for Hilton & Hyland. Previously, he was instrumental in creating and implementing strategies that helped expand the global presence of Montage Beverly Hills he was the Director of Sales & Marketing. Any luxury brands interested in partnering with Hilton & Hyland should contact him at [email protected].
Partners Rick Hilton and Jeff Hyland established the firm in 1993 with the intention of creating a small real estate boutique that would grow to meet the demands of the market, yet never outgrow a founding philosophy for meeting the uniquely individual concerns of each client. Together they have built strong ties to the global marketplace while holding fast to the advantages of a small one-office brokerage based in Beverly Hills. As founding affiliate of Christie's International Real Estate, the firm is the only Los Angeles area broker represented by a company thathas been bringing the world's most influential – and affluent – buyers and sellers together for 230 years.
There are hotel suites and then there are luxury hotel suites, characterized by bigger beds, a better minibar and maybe a work desk of a sort. And then there are these luxury hotel suites, which more resemble high-end show homes with LED-lit bathrooms clad in slabs of Egyptian marble and fabrics woven of gold thread with a carat weight. Depending on the city, $20,000-$70,000 can buy a lot: private beaches, balconies larger than a suburban backyard, bulletproof floor-to-ceiling windows, a personal round-the-clock staff, use of the hotel Rolls Royce, steam rooms, saunas, rain showers, Hermès toiletries, cinema rooms and a 360-degree view that postcard photographers would have a field day over. Wanna know what it's like to vacation with the richest of the rich? Step inside these hotel suites.
10. SPEND A NIGHT IN A LITERAL OTTOMAN PALACE AT THE SULTAN SUITE IN THE CIRAGAN PALACE KEMPINSKI IN ISTANBUL FOR $15,500 A NIGHT.
Çirağan Palace is a former Ottoman palace built out of wood and marble in the latter half of the 17th century, and now it stands as, rebuilt and finished in marble as a luxury hotel. The Sultan Suite is a direct homage to its opulent past, one of the largest suites in Europe. The gilded suite is outfitted with a handmade marble hammam, private steam room and rain shower, a full kitchen, a guest room with a clawfoot Devon bathtub, decadent chandeliers, period furniture, fine art and more. The Çirağan guestlist often features the likes of royals, successful Hollywood actors and fashion designers, and its amenities are highly considerate of their VIP check-ins: private butler service, boat and helicopter services, an expansive pool and unparalleled views over the Bosphorus strait are all part of an experience at the top billed hotel.
9. REFINED LUXURY AT THE PENINSULA SUITE AT THE PENINSULA HONG KONG FOR $16,500 A NIGHT.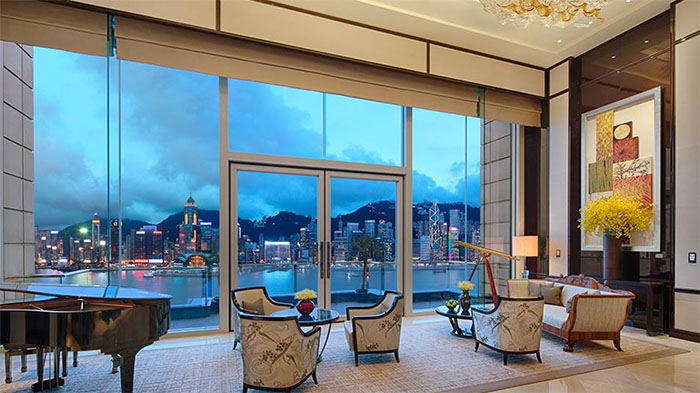 The elegant and refined Peninsula Suite at its namesake hotel is a tasteful assortment of fine and understated luxury, which allows only the breathtaking view over the Victoria Harbour to steal the focus. Here there is no ostentatious and gaudy gold trim, but rather delicately placed flowers, glass and wood accents, a modern yet sumptuous living space invisibly appointed with the newest technology to better suit the needs of a high flying professional. Housed in the 4,111-square-foot penthouse is a harbor-view gymnasium, a private cinema, conference room, LED touch screen wall panels that connect guests to all of the hotel services and amenities, in-room safe, a marble bathroom with a separate shower stall, bathtub and toilet cubicle, and more.
8. GET THE BEST VIEW IN THE CITY FOR $18,000 A NIGHT AT THE RITZ-CARLTON SUITE IN THE RITZ CARLTON MOSCOW.
High atop the city, with floor-to-ceiling windows casting unparalleled views over the Kremlin, Red Square, St. Basil's Cathedral and Christ the Savior Cathedral is the 2,550-square-foot Ritz-Carlton Suite, which is decked out in Russian Imperial style furniture and decorative pieces. The living room allows space for a grand piano and dining area, library, office area and boardroom; while the bedroom features an ensuite with marble baths and separate rain shower and private sauna. The Ritz-Carlton is never unreasonably located, and the RC in Moscow is a shining example of great location: adjacent to the Red Square and the famous Kremlin, and close to the Bolshoi Theater, guests can take a quick walk and get to all of Moscow's most beautiful architectural attractions. Of course, those who can shell out over $18,000 a night for one of Ritz's club suites can simply look out the window.
7. SLEEP LIKE A SULTAN IN THE SUBLIMELY SUMPTUOUS ROYAL SUITE AT THE BURJ AL ARABIN DUBAI FOR $20,000 A NIGHT.
The Royal Suite in Dubai's famous sail-shaped resort, the Burj Al Arab, doesn't quite look tethered to any real place or time. This sublime space, splashed with bright yellows, fuschias and gold, lit by the brilliant sunshine and the glowing azure ocean looks straight out of an exotic fairy tale. The gilded trimmings, lush curtains, and innumerable decorative silk pillows hint at regal and timeless opulence while the expensive details and amenities, like a personal elevator, cinema, 24-carat gold iPad, two iMacs, numerous 42-inch HDTVs and full-sized Hermès toiletries belie their dedication to hypermodern convenience. For just under $20,000 a night, guests receive professional wardrobe help with shoe shining, fruit baskets and spreads of Arabic sweets and dates, personalized bars upstairs and down, evening in-suite cocktails and hors d'oeuvres, a range of more than 200 complimentary international newspapers, a daily breakfast in the poolside café restaurant or in their suite, and more. For those lugging staff around, the suite also accommodates a separate staff entrance with private butler's kitchen.
6. THE ROYAL SUITE AT THE FOUR SEASONS HOTEL GEORGE V IN PARIS LETS VIP'S LUXURIATE IN 19TH-CENTURY LUXURY FOR $24,550 A NIGHT.
It really doesn't get more luxe than the Four Seasons in Paris. Even those words sound straight out of a modern fairy tale. Who hasn't entertained the idea of falling asleep in a 3-million-count bedspread under a sky illuminated by the lights of the Eiffel Tower? For a mere $24,550 a night, guests with a taste for opulence can stay in one of two Royal Suites at the Hotel George V in the Golden Triangle district. The accommodation includes private terraces overlooking the fountain of the Three Graces. Fine art from the 18th and 19th century adorn the walls, matched by antique appointments and dangling crystal chandeliers. Guests also enjoy the sumptuous marble foyer, marble fireplace, fully equipped kitchen, a dining area that seats up to eight guests, and a spacious marble bathroom with steam room, sauna and a walk-in dressing room with hairdressing facilities as well as a separate guest powder room. With all this going on, it's hard to imagine anyone actually leaving their room to go see the city, but two blocks away, the shops along the Champs-Élysées are calling!
5. THE BRIDGE SUITE AT THE ATLANTIS PARADISE ISLAND IN THE BAHAMAS IS FIT FOR A KING AT $25,000 A NIGHT.
The Atlantis, the Bahama's very own holiday resort island and fantasyland offers a great selection of accommodations for a wide range of family budgets, but the cherry on its shining towers is the Bridge Suite, located literally on the bridge connecting its two Royal Towers. This means that every view cast outside its large, looming windows flanked by an 800-square-foot balcony reaches straight out over the city and the water into the deep horizon – that is, if people can manage to focus their attention away from the sumptuous gold trimmings and remarkable amenities. The living room features a grand piano, bar and twin entertainment centers, which bleed into the dining room at which the heart of it is the 22-carat gold chandelier. Included in the $25,000 a night accommodation is a round-the-clock staff of seven butlers and helpers, His and her master bathrooms with oversized walk-in showers and whirlpool tubs and more. And judging by the Michael Jackson Bedroom, this 4740-square-foot suite seems certainly designed fit for a king.
4. THE PENTHOUSE SUITE AT THE GRAND HYATT CANNES HOTEL MARTINEZ GIVES MOVIE STARS AN EXCELLENT HIDING SPOT FROM THE PAP FOR ONLY $37,500 A NIGHT.
This massive Art Deco designed penthouse doesn't look like a sprawling setting of superlative opulence from the outset, not quite as gilded as the others, but the limitless amenities in the Grand Hyatt Cannes Hotel Martinez and the stunning view of the Bay of Cannes are what make this refined palatial palace the fourth most expensive suite in the world. Outside, the private 3,100-square-foot terrace with a jacuzzi offers unparalleled views, while inside guests are delighted by a sauna and hammam, a walk-in shower and marble bath, an in-room safe, individual heat and air conditioning control, business center, living room and dining rooms with all the furnishing, and all the regular luxury hotel amenities. Downstairs, visitors can dine at the Michelin starred La Palme d'Or restaurant, grab a cocktail at the piano bar and chill on the hotel's private beach.
3. STAY WHERE THE PLAYBOYS STAY – IN THE HUGH HEFNER SKY VILLA AT THE PALMS CASINO RESORT IN LAS VEGAS FOR $40,000 A NIGHT.
The Hugh Hefner Sky Villa in the Palms' Fantasy Tower is truly a fantasy, inspired by the god of Vegas-style vices himself – complete with a circular rotating bed, rooftop glass-enclosed pool imprinted with the iconic Bunny logo leading to a raised cantilevered spa bath. Money is sexy and there is no more illustrative example of this than the Sky Villa, high atop the Palms Casino Resort. The 9,000-square-foot luxury penthouse is built for pleasure and leisure, not business – no business desk or conference table, only a large dining room built for a feast with friends, a fitness and massage facility, a floating throne and two stories connected by floor-to-ceiling windows for a jaw-dropping view of the Strip.
2. BALL LIKE JAY-Z AT THE TY WARNER PENTHOUSE IN THE FOUR SEASONS HOTEL NEW YORK FOR ONLY $45,000 A NIGHT.
The king of the hill, top of the heap stay in a place like the Ty Warner Penthouse, which is located 800 feet above the street in the highest hotel room in all of Manhattan. This city that doesn't sleep somewhat counterintuitively but not surprisingly includes a $40,000 a night penthouse suite and people who, miraculously, can afford it. But let's go down the list: four glass balconies protrude out of this 4300-square-foot suite, oversized floor to ceiling balconies, textiles made of woven platinum and gold, an indoor/outdoor Zen garden, cathedral ceilings, a master bathroom outrageously formed from rare and custom slabs of rare Chinese onyx and rock crystal, a Bosendorfer grand piano, state-of-the-art invisible audio system, chandeliers befitting of a ballroom in heaven, and a staff of a butler, a Rolls Royce chauffeur, an art concierge, a personal trainer, and oh, so much more. Depending on the Empire State of mind, $40,000 actually might be a bargain for all of that.
1. THE ROYAL PENTHOUSE SUITE AT THE HOTEL PRESIDENT WILSON IN GENEVA OFFERS ADDED SECURITY FOR $65,000 A NIGHT.
Built specifically for the kind of people who can gamble with landmasses and have cause to worry about being assassinated, the $65,000 a night Royal Penthouse Suite in Geneva's Hotel President Wilson is big enough for a pretty trustworthy entourage and bulletproofed for a peaceful night's rest. If these very important hotel guests (heads of state, gazillionaire filmmakers, the Pope) have time to relax, they certainly can here – this majestic suite takes up a whole floor and is outfitted with 12 luxury rooms with their own private marble bathrooms, a terrace, a 103-inch flat-screen tv with Bang & Olufsen sound system, a Steinway grand piano, billiards table, private gym, and a jacuzzi (I know what you're thinking: just one!?). For everything else, there's a personal assistant, a butler and a chef, all available 24 hours a day, as well as a human-sized safe and, perhaps best of all, truly astonishing panoramas of the Alps and Lake Geneva.