First impressions leave lasting memories. Drive through the gates of the stunning Acqualina Resort and Spa on the Beach in Sunny Isles Beach, Florida, and you will see what I mean.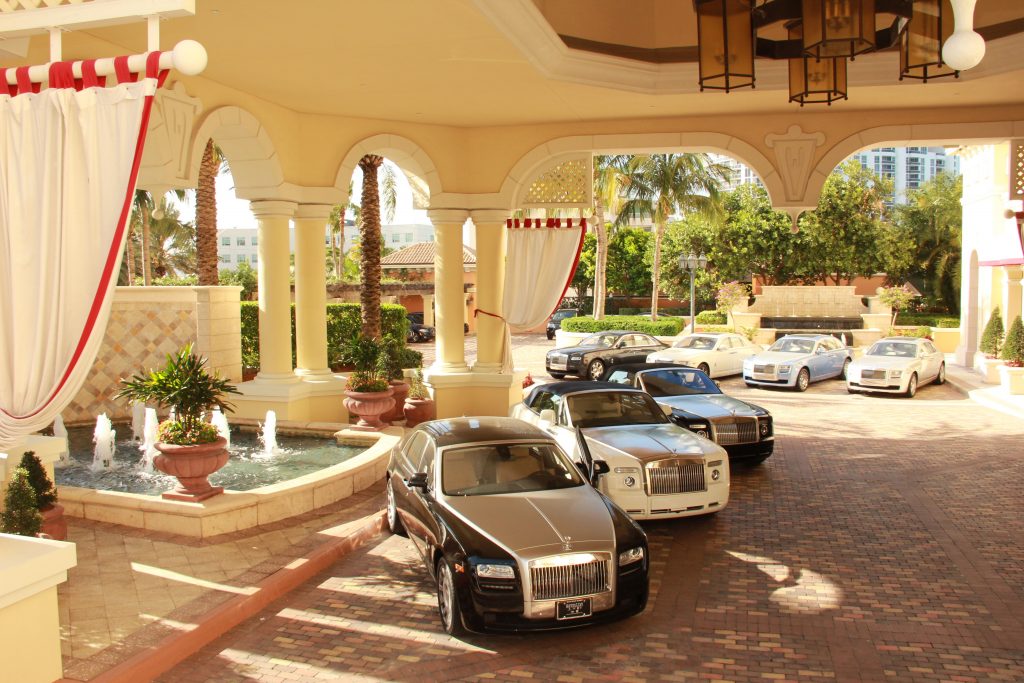 (Photo courtesy of the Acqualina Resort and Spa)
Impeccably cared for resident-owned, Rolls-Royce sedans frame the hotel's European-style piazza entrance.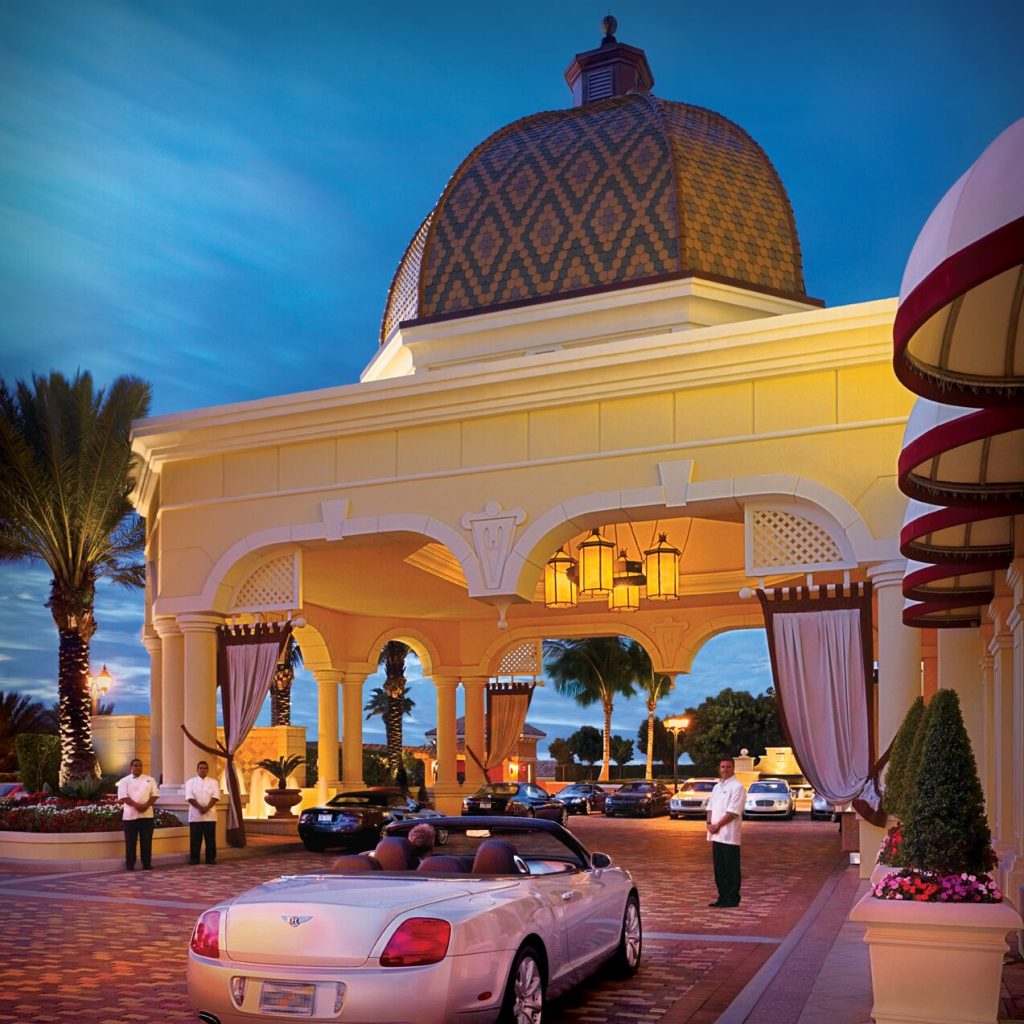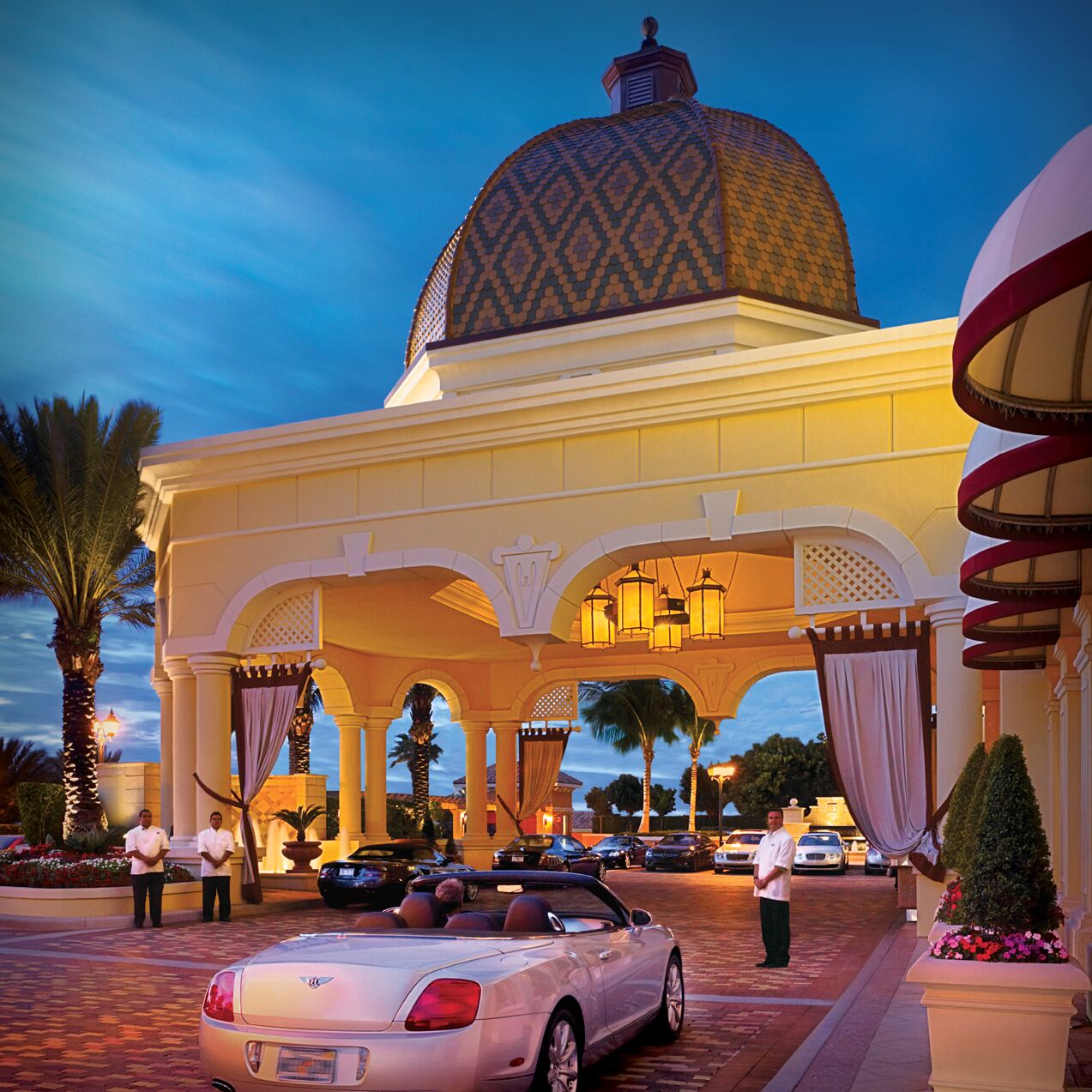 (Photo courtesy of the Acqualina Resort and Spa)
Art and Design
Walk into the Mediterranean inspired lobby with incredible details from the marble floors to Venetian stucco to the red, gold and aubergine color palette of the brocade fabrics to the chandeliers that draw your gaze up to the dramatic ceiling.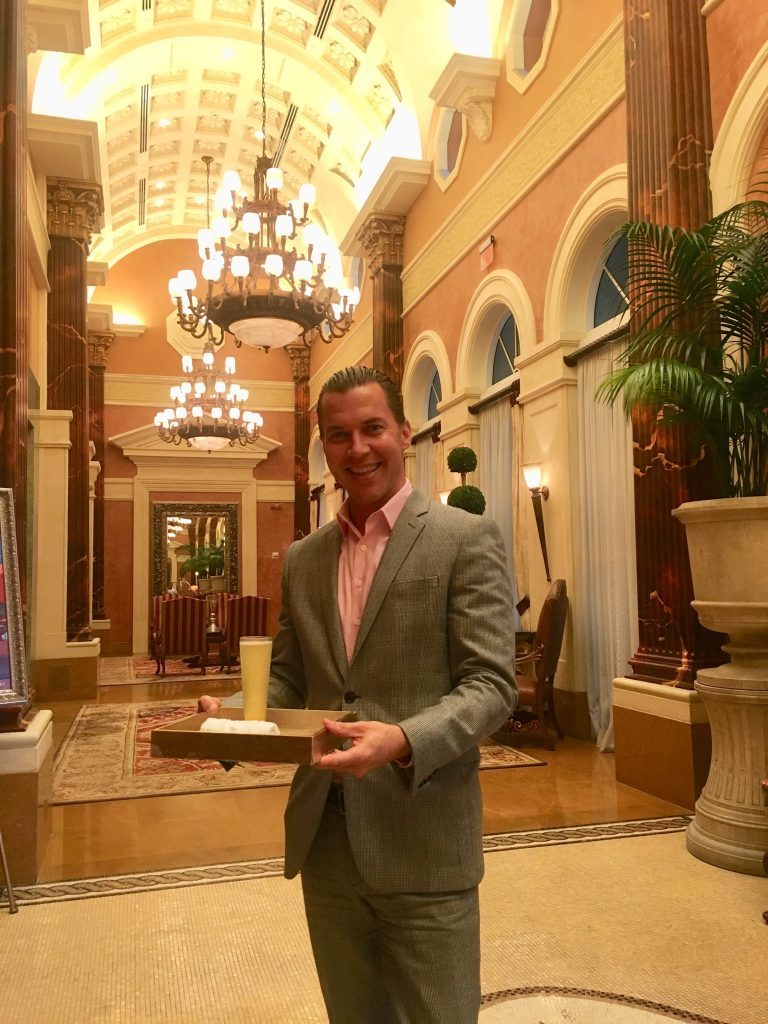 (General Manager, Christof Pignet, Aqualina Resort and Spa)
As you wander further into the resort, the look and feel shifts to that of a modern, art filled space. Beautifully appointed with furnishings and curated paintings from such legendary artists as Andy Warhol.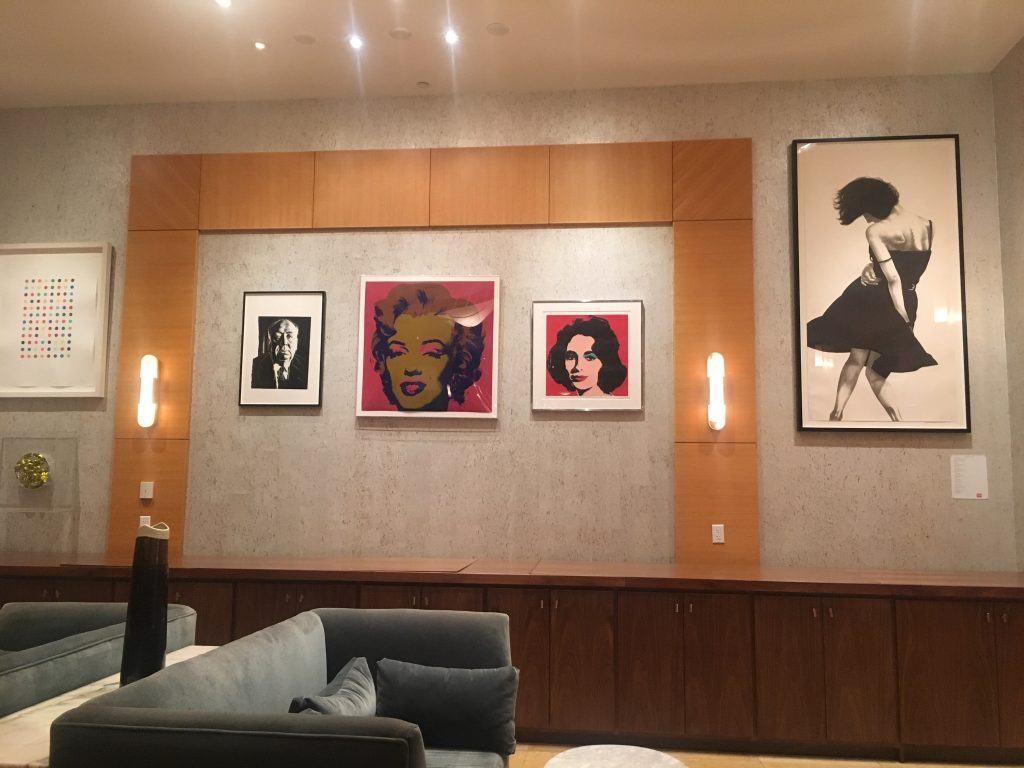 The design aesthetic of this glamorous resort takes into account every opportunity to create a place to gather whether cozy seating or group lounging. Furniture is elegant, dramatic, colorful, calming and comfortable.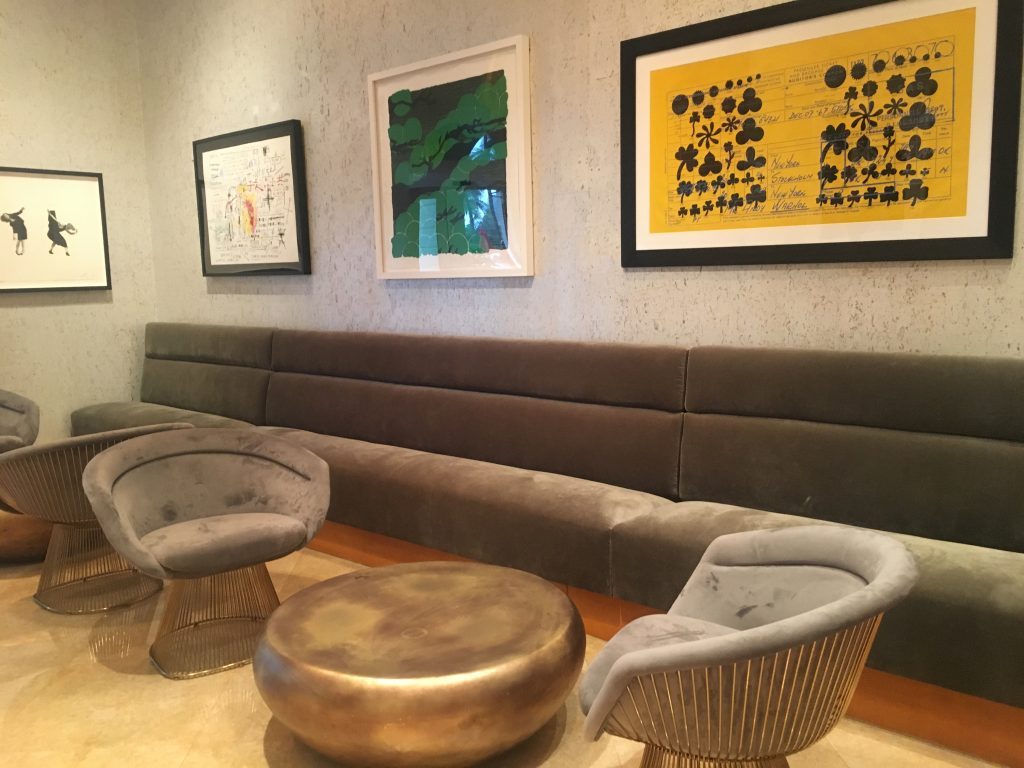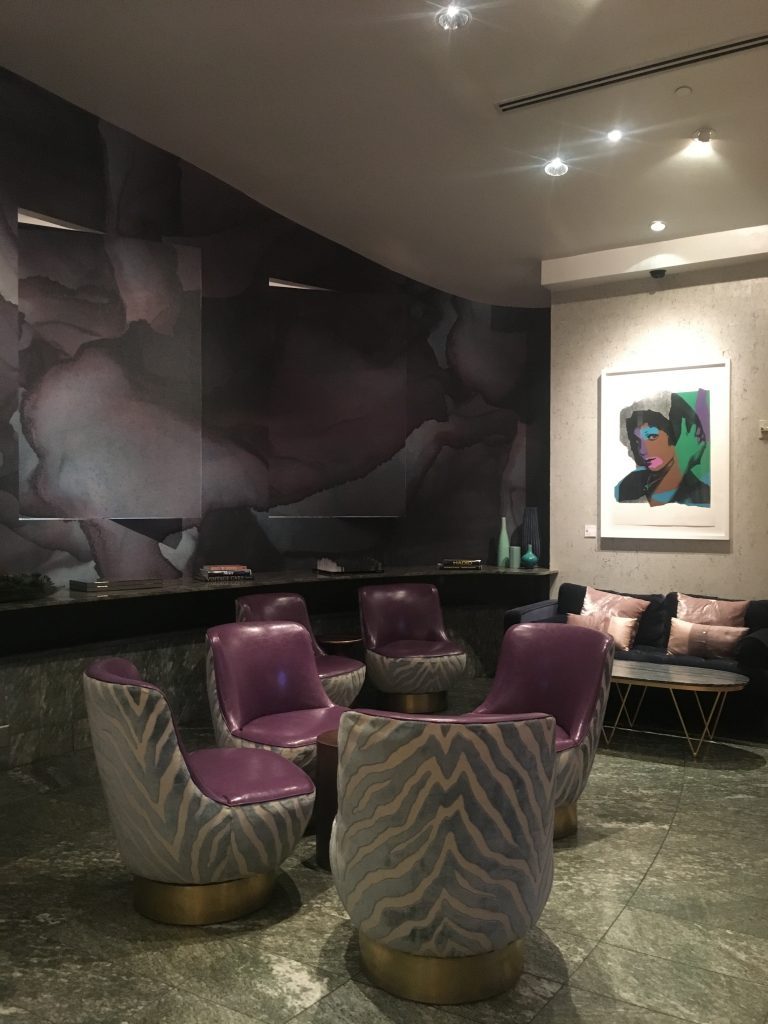 The Beach
Florida's most desired destination is the Acqualina's shining star: direct access to 400 feet of beachfront with a seamless path from the resort to the ocean. No boardwalk to divide the property and its exclusivity. The intricately landscaped outdoor space complete with four swimming pools, restaurant and beach butler service is a haven for guests and residents of Acqualina.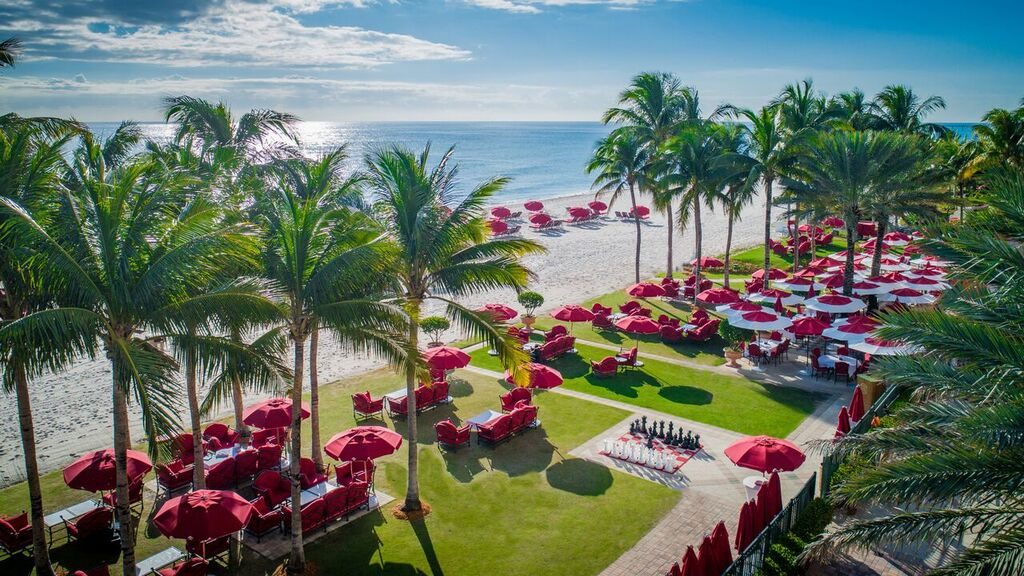 (Photo courtesy of the Acqualina Resort and Spa)
While the interior of the resort is memorable, it is the magnificent views as you walk out towards the ocean that truly take your breath away. Vibrant red umbrellas and plush seating, a trademark of Acqualina, creates a postcard picture along with the turquoise blue water and white sand of the beach. Private cabanas, pools for families, exercise, the spa and adults only are a part of this masterpiece of beauty.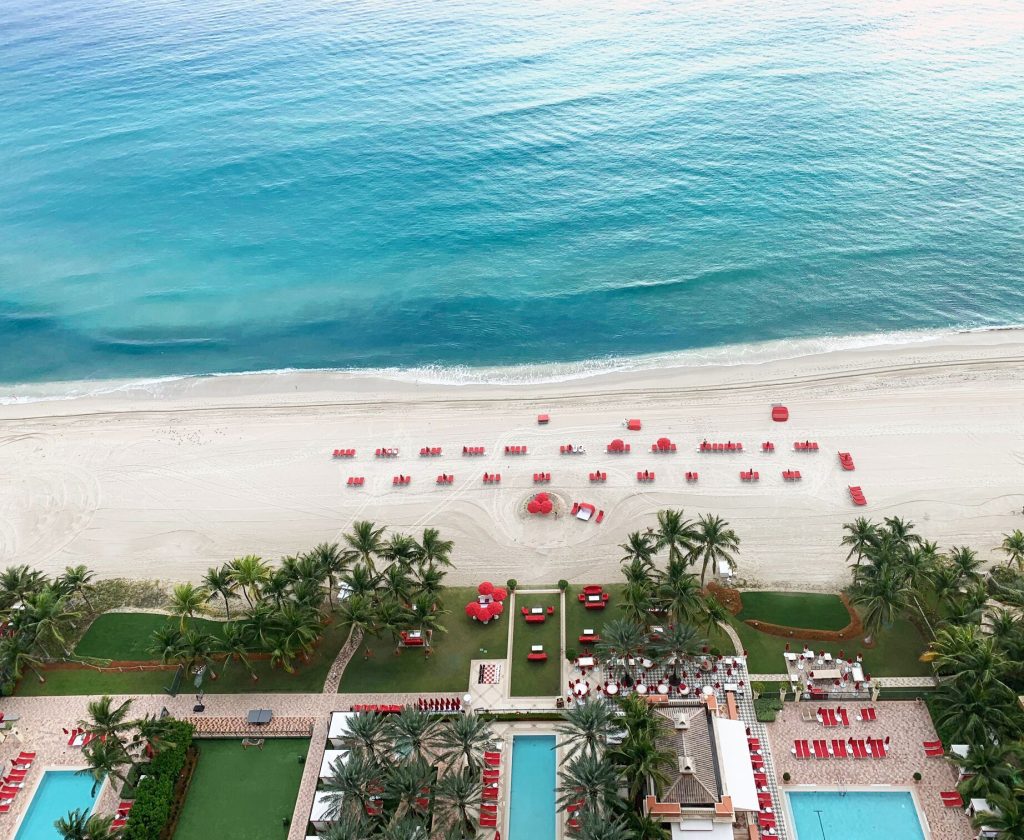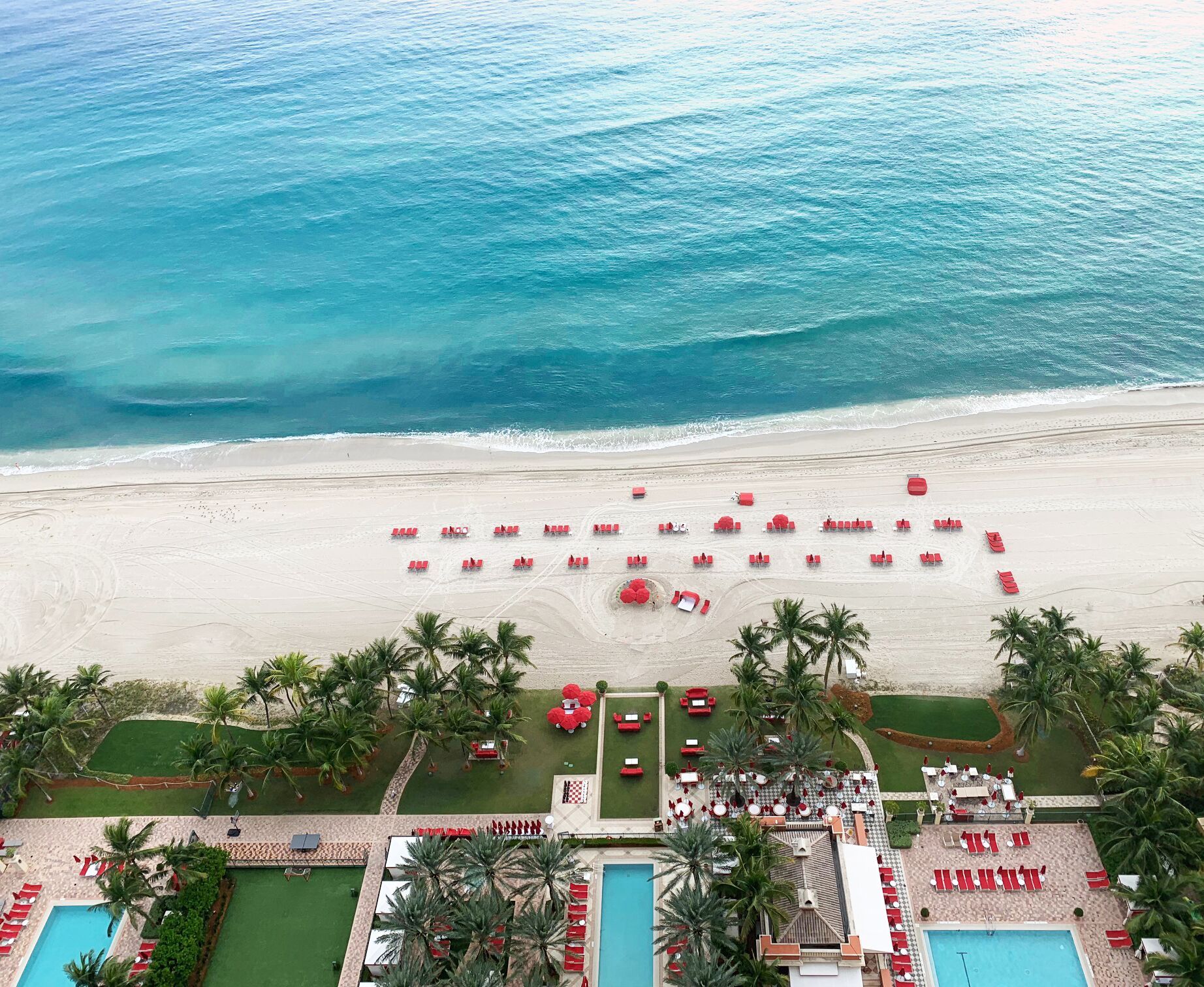 (Photo courtesy of Aqualina Resort and Spa)
Soaking up the sunshine is one way to relax. So, is immersing yourself in a good book. Thanks to Acqualina Resort's Beside Reading program, guests are offered three complimentary bestselling books to read on their stay and are encouraged to take the books home to share with others. Done in collaboration with well known publishing houses, three print and a digital download are left at the guest's bedside to enjoy.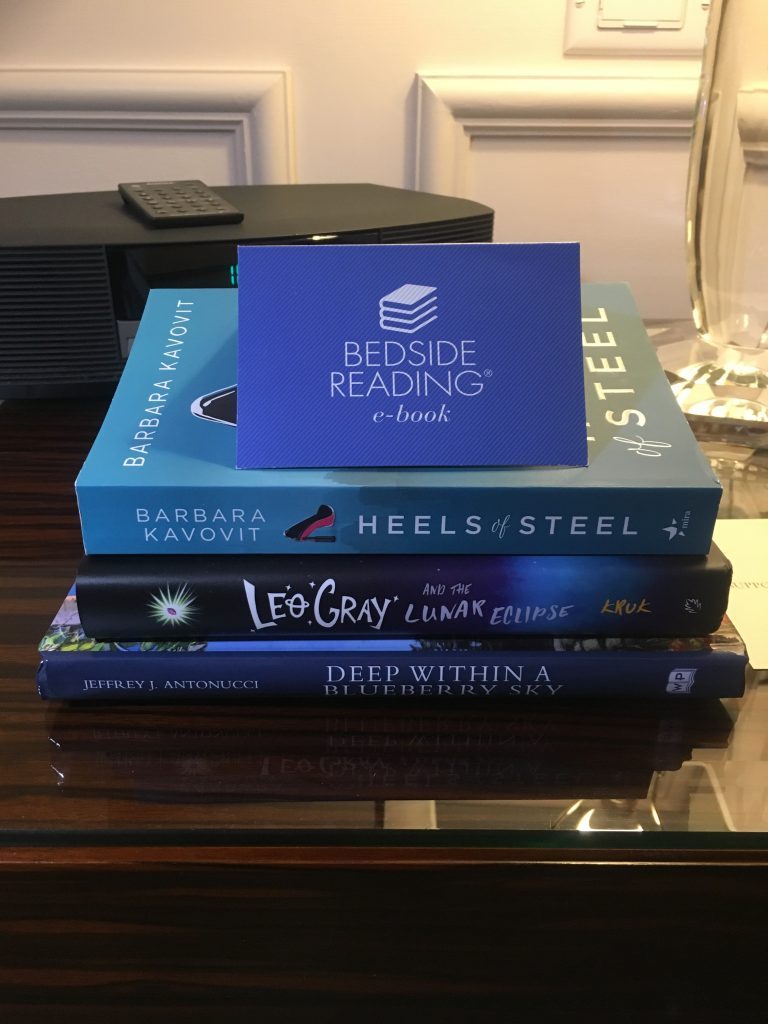 As a voracious reader, sitting on the balcony over looking the Atlantic Ocean with my book and coffee is truly a vacation.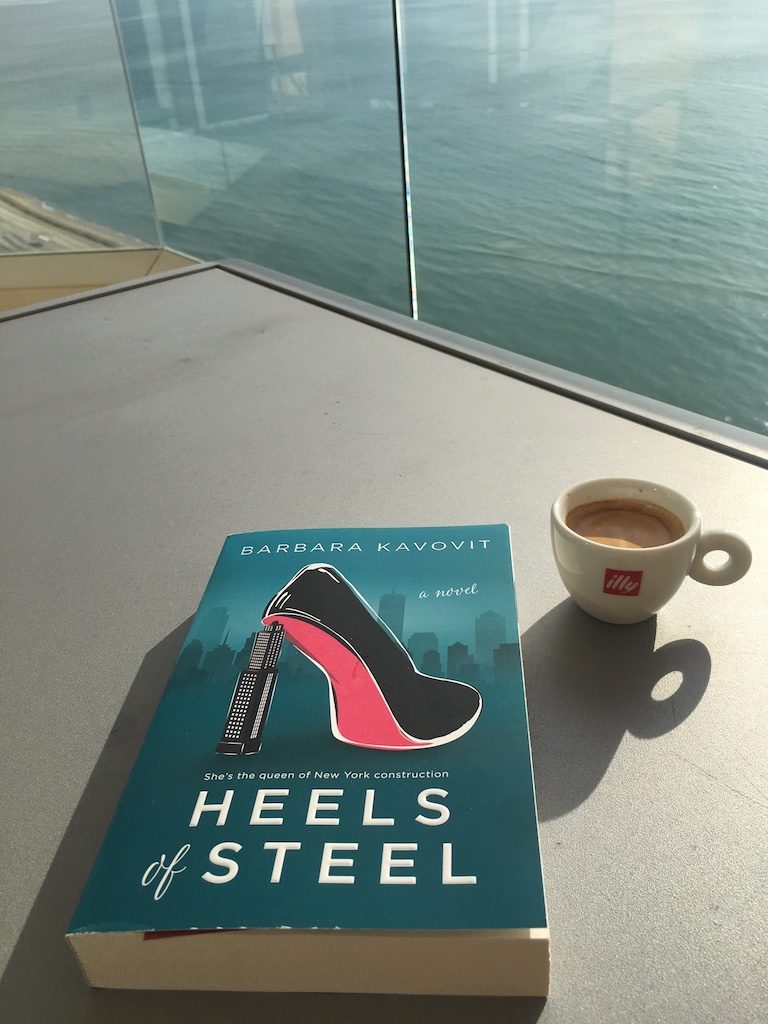 Accommodations
Acqualina offers 54 guest rooms and 44 suites designed by Miami's premier interior designer, Isabel Tragash. The style of the rooms make it very easy to settle in for a long stay. Whether you choose accommodations that overlook the Intercoastal Waterway or the Atlantic Ocean, your relaxation has already begun. One very notable feature in the hotel's design that aligns with their intent to assure privacy is realized as you exit the elevator. There are no long hallways, only four residences per floor. It truly feels like you are going directly to your home each time you arrive at your floor.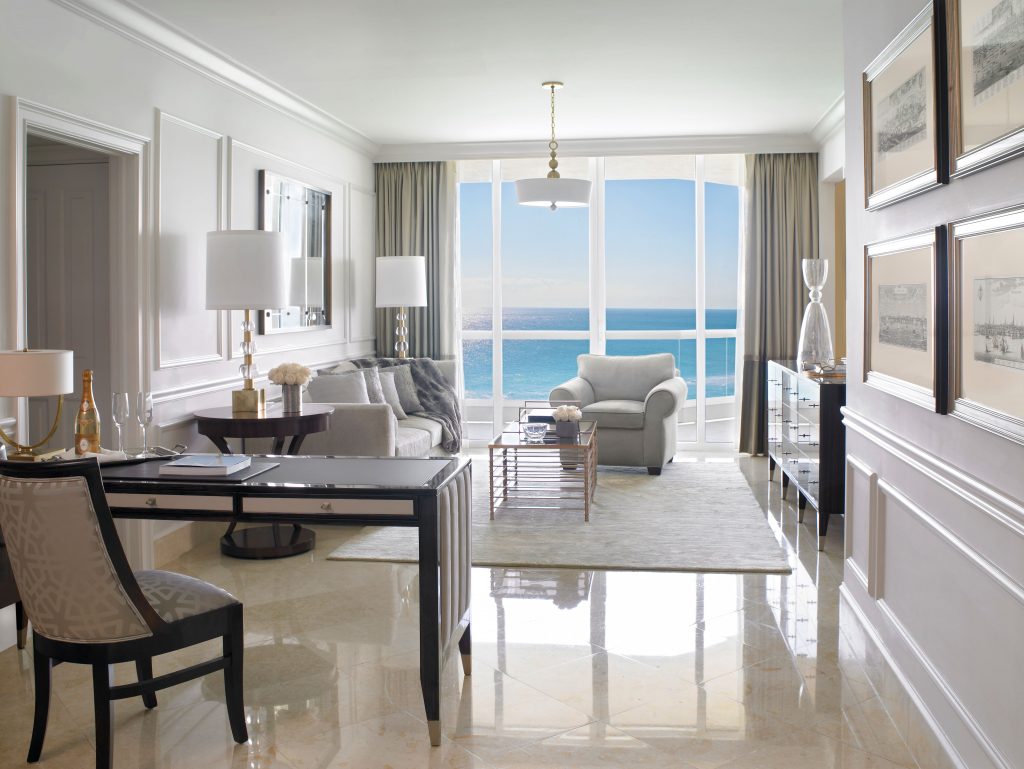 (Photo courtesy of the Acqualina Resort and Spa)
The picturesque views from your suite are indescribable. The layout and design of each space allows for guests to see the water from the kitchen, living room and bedroom with a wall of windows. Within the suite, no detail is left untouched. Gorgeous zebra wood, fabrics of plush satin, floor to ceiling curtains, "fur" throws and bedding that makes leaving the warm comfort so very difficult. With a color palette of gray tones, there is an instant calming as you settle in. For those interested in cooking, a chef's kitchen complete with top of the line kitchen appliances from Sub-Zero Wolf makes for ideal meal prep or snack creation.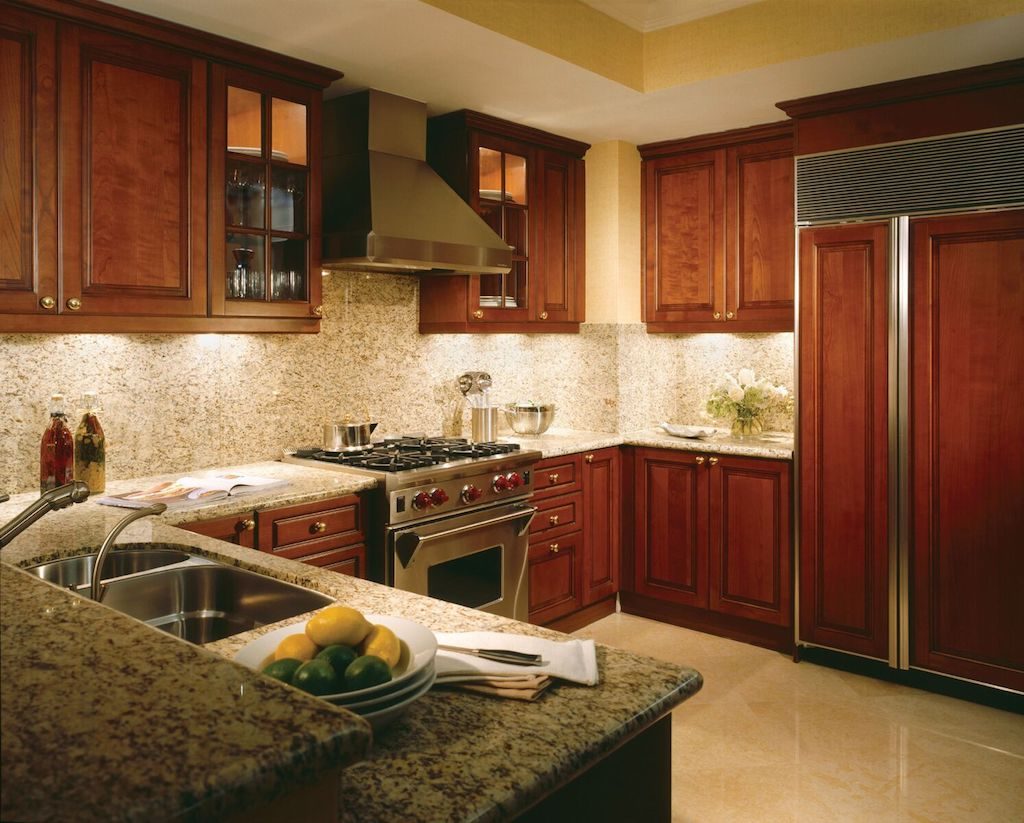 The lavish bathroom is beautifully appointed with every amenity you might want or need.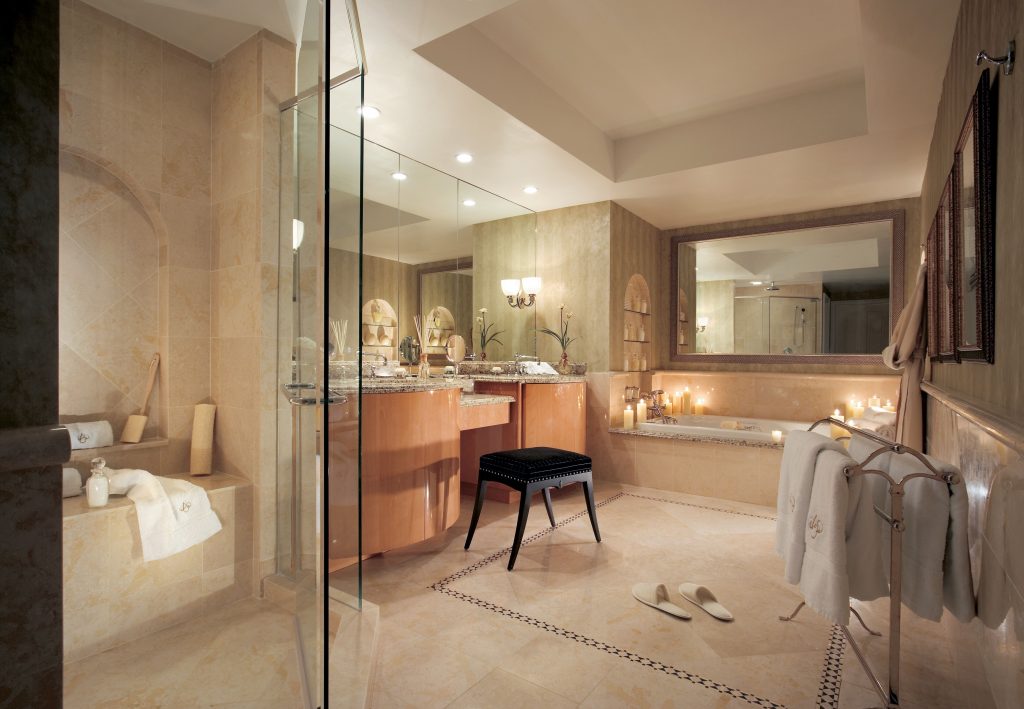 (Photo courtesy of the Acqualina Resort and Spa)
The Spa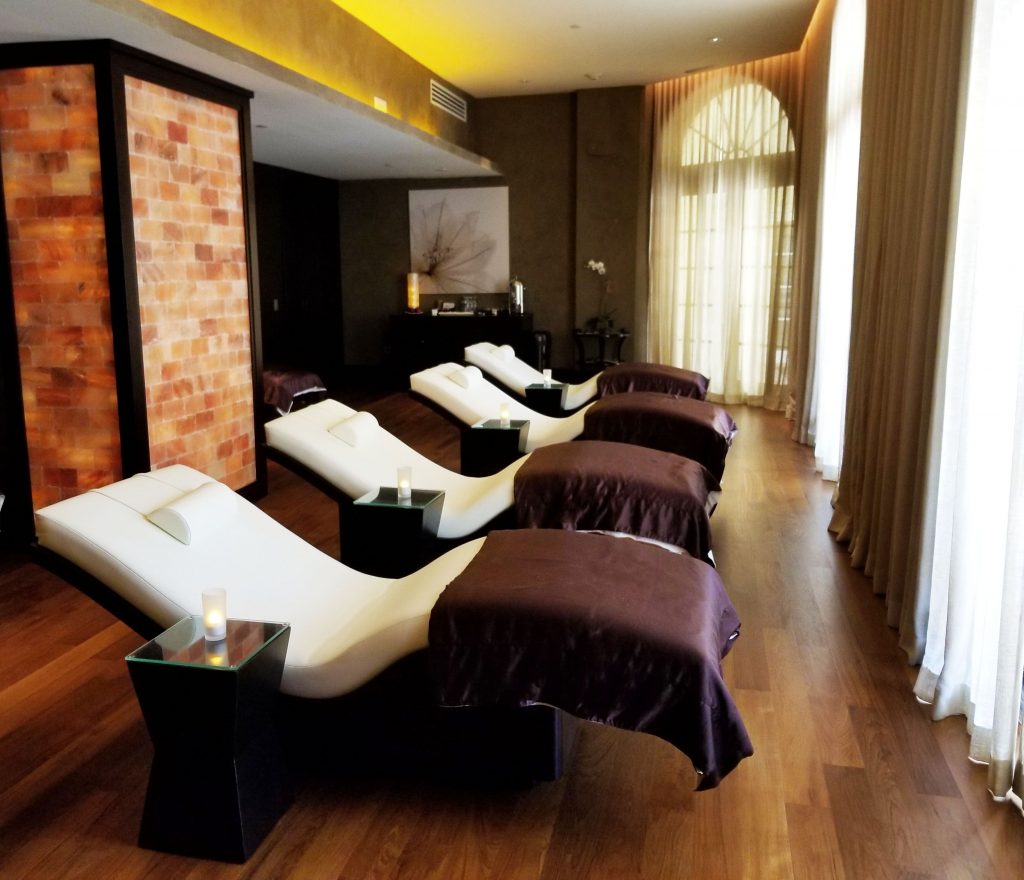 (Photo courtesy of the Acqualina Resort and Spa)
The ultimate rest and relaxation at award winning Acqualina Spa by ESPA. This 20,000 square foot, two-story spa offers treatments that will rejuvenate you from the inside out. Luxurious amenities include the Himalayan Salt Walls, Crystal Steam Rooms, an outdoor spa pool with Roman Waterfall, refreshing ice fountains and experiential showers that include cool arctic or warm Caribbean mists.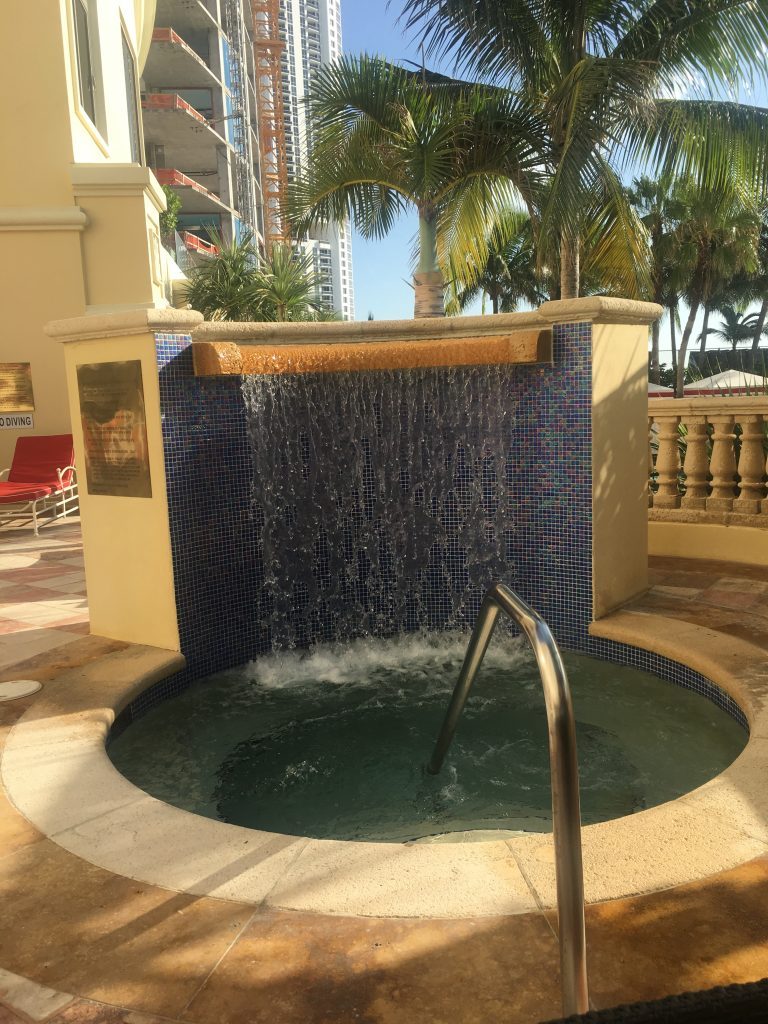 One can't miss experience is the French-based music application and treatment, Sound Care Massage. Once you have chosen your favorite style of music from their collection, your relaxation starts with a stress-relieving foot massage and continues with a revitalizing aromatherapy massage. The goal is to let the healing benefits of the music ease your tension by slowing down breathing patterns and cardiac and brain activities. Immersing yourself in the music and letting the stress seep out of your body as your therapist massages out the tension in your muscles is a heavenly feeling.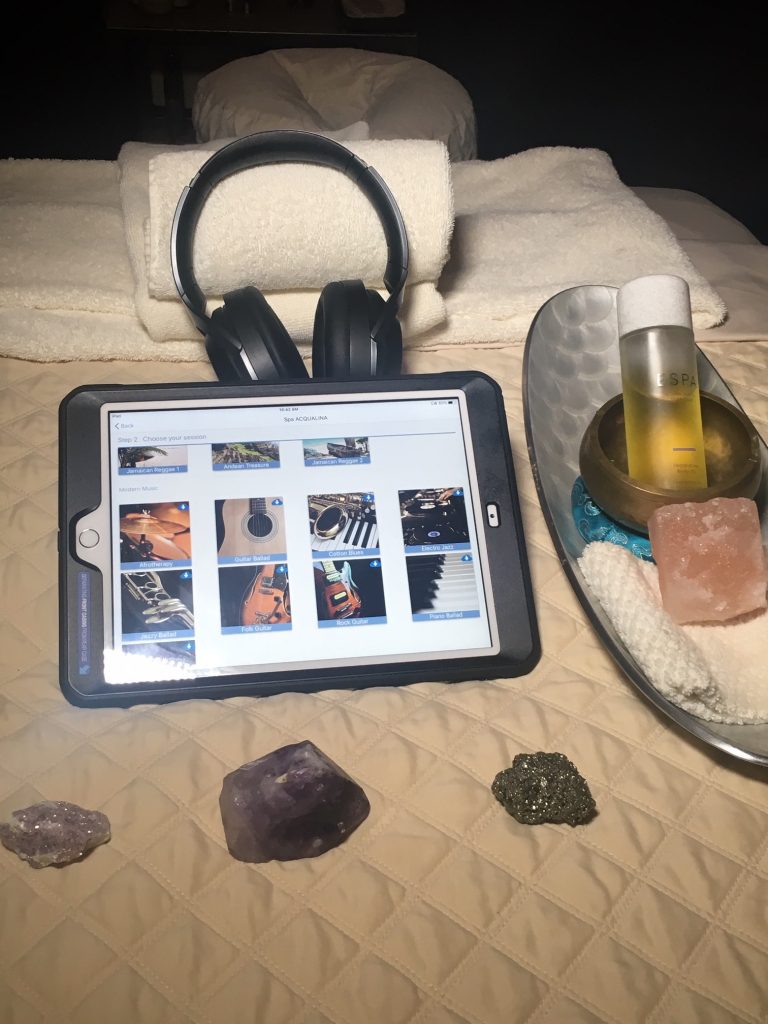 Dining
The cuisine at Acqualina Resort and Spa follows the same philosophy as the resort itself. High quality, innovative menus and incredible service are found at each of the restaurants.
Costa Grill
Lunch on the beach in the most beautiful of surroundings.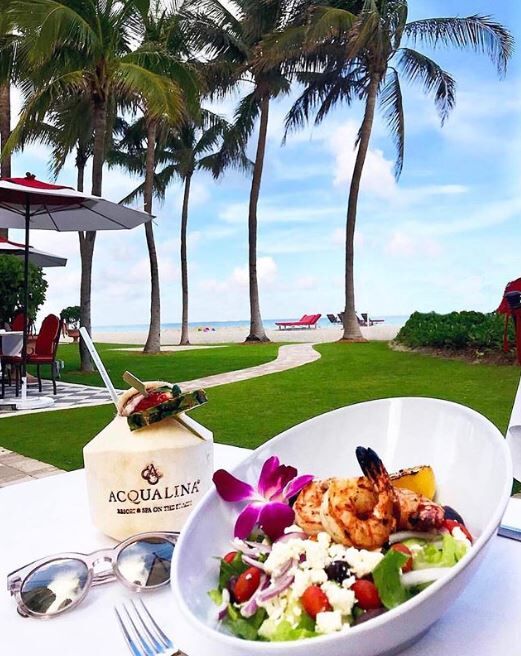 (Photo courtesy of the Acqualina Resort and Spa)
AQ Chop House
A modern steakhouse with contemporary Italian flavors.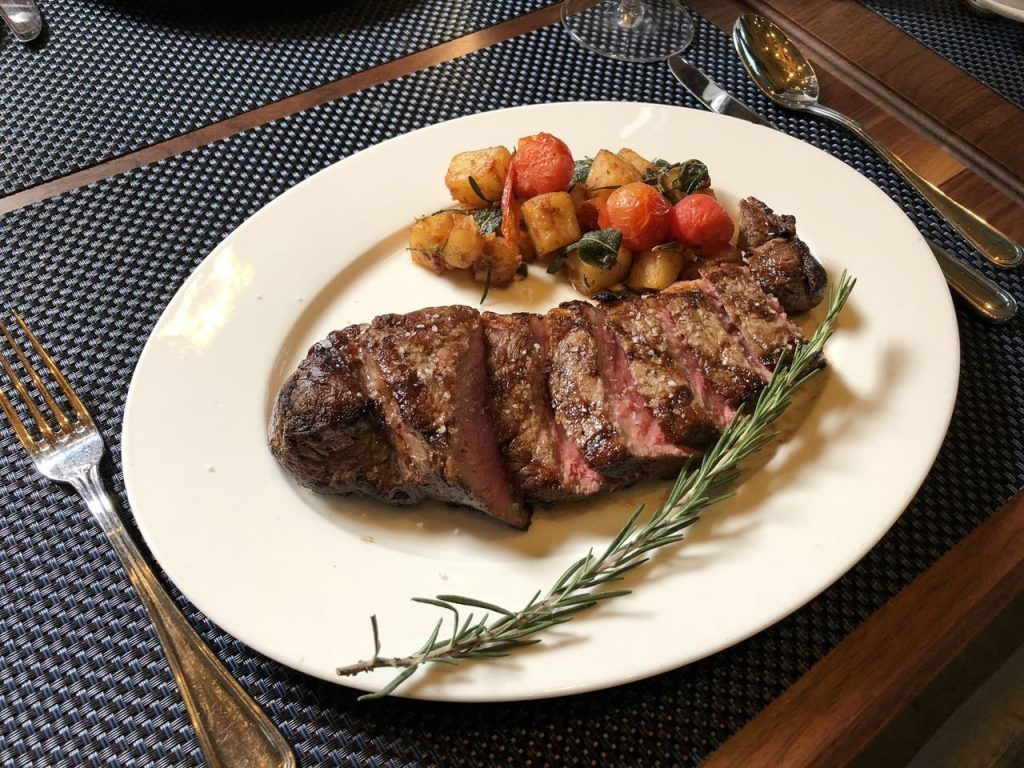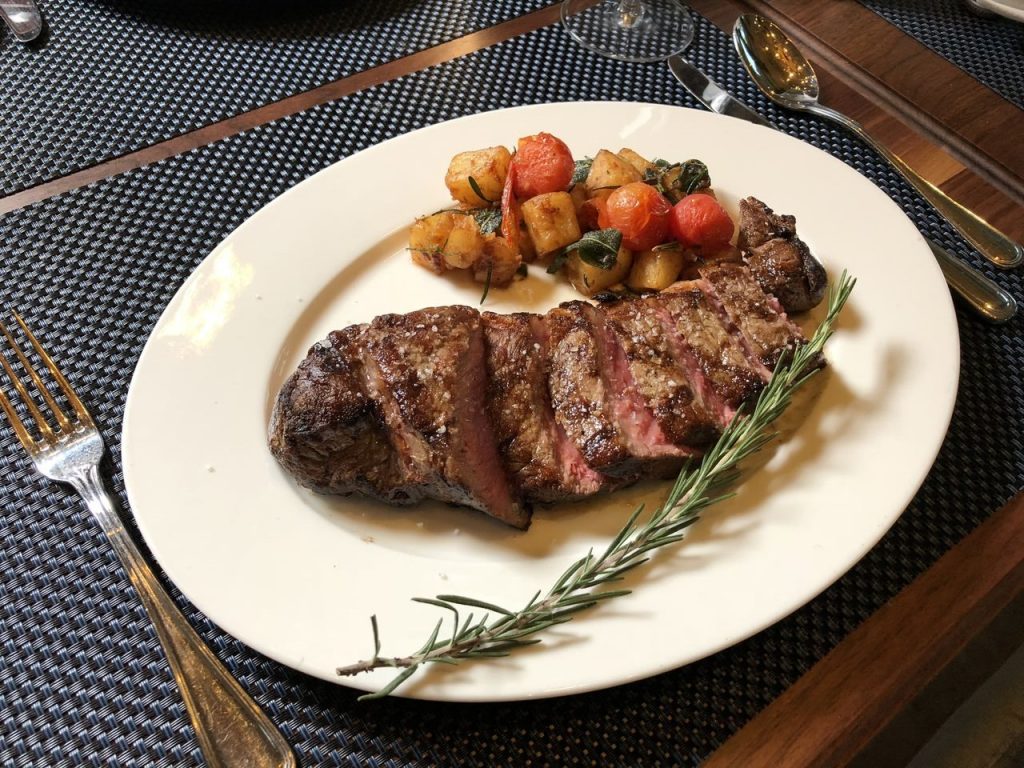 (Photo courtesy of the Acqualina Resort and Spa)
Il Mulino New York
Highly acclaimed New York Italian restaurant brings its legendary dining and service to Acqualina.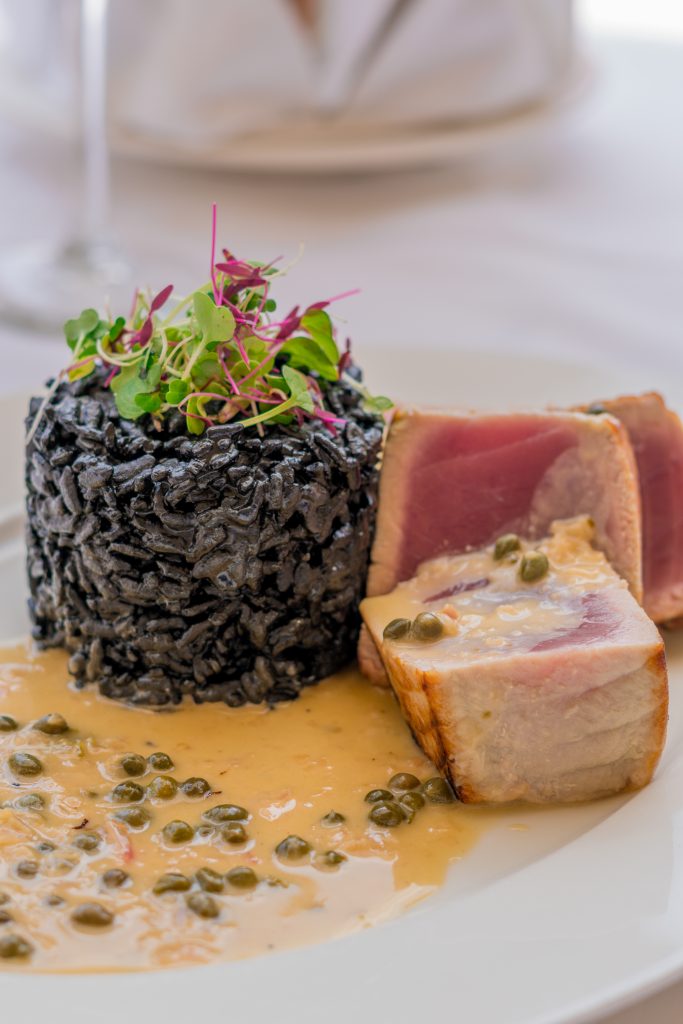 (Photo courtesy of the Acqualina Resort and Spa)
AC Chophouse and Il Mulino
Breakfast and brunch served indoors or on the patio with the view.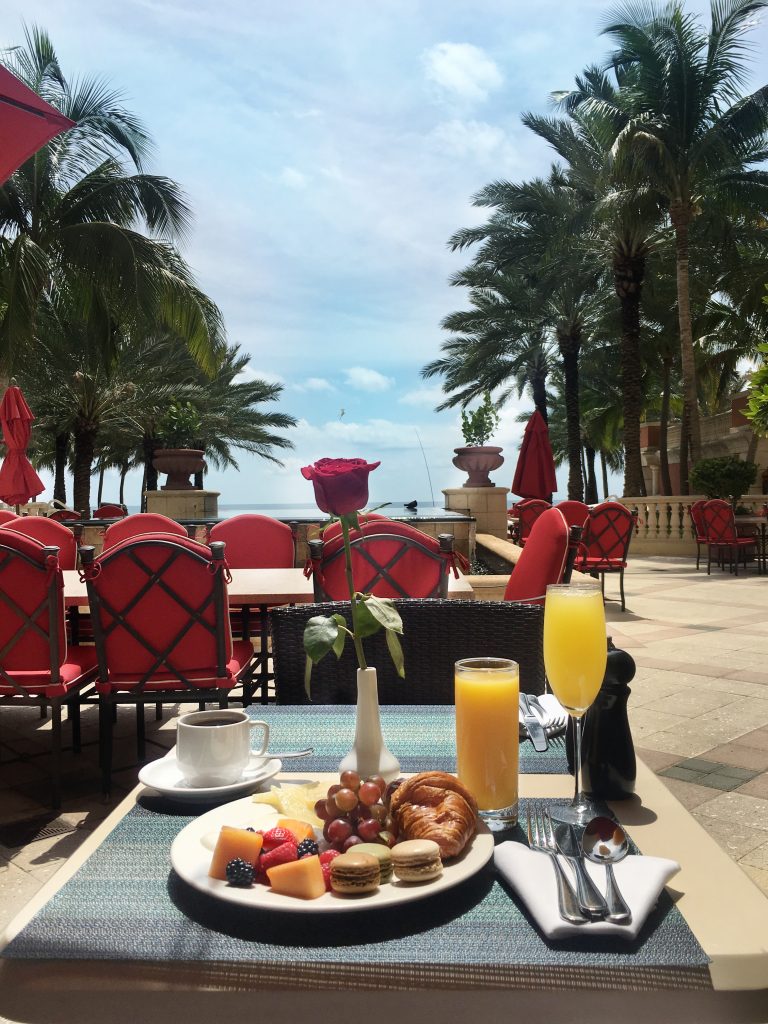 Kosher-to-Go
A grab and go marketplace for salads, sandwiches and snacks.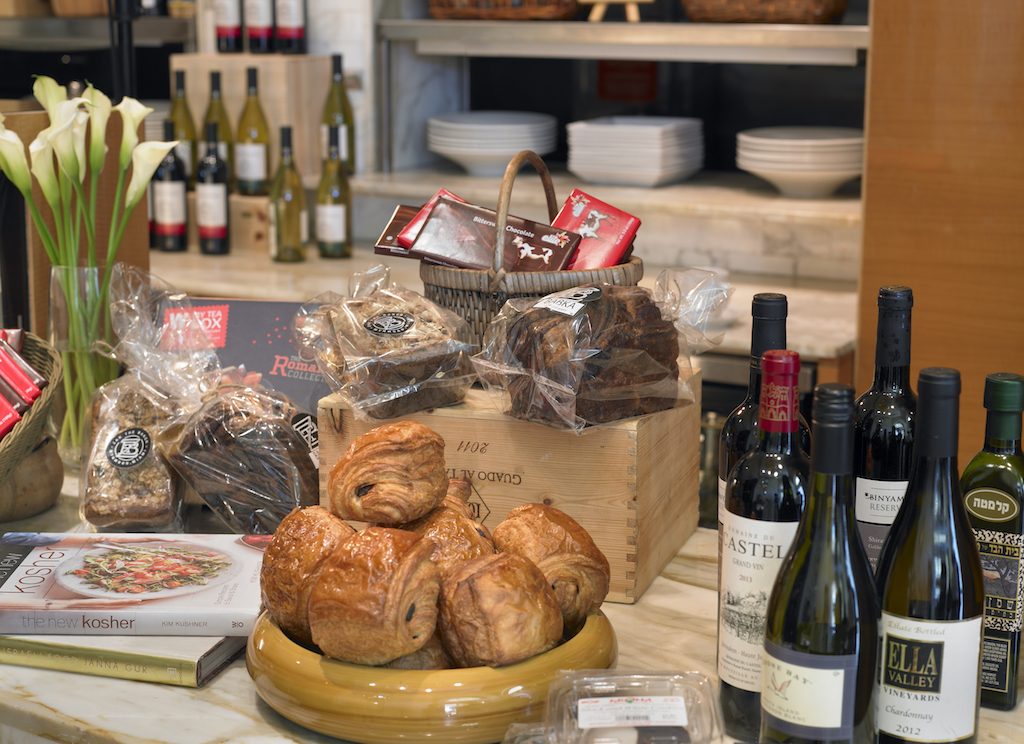 (Photo courtesy of the Acqualina Resort and Spa)
Family Fun
One of the special things I noticed during my visit was the number of families staying at the resort. While the Acqualina definitely has an ambience of elegance, they are very much focused on the importance of family time.
Traveling with children requires a different level of attention to detail. There are many activities available to families at Acqualina including their AcquaMarine program.  This marine biology inspired program is designed to teach children about the sea life through technology and with hands on activities. Learning about whales, coral and underwater life all takes place in their children's center at the resort. Fun adventures in sports, art projects, pool play and team building are all found at AcquaMarine.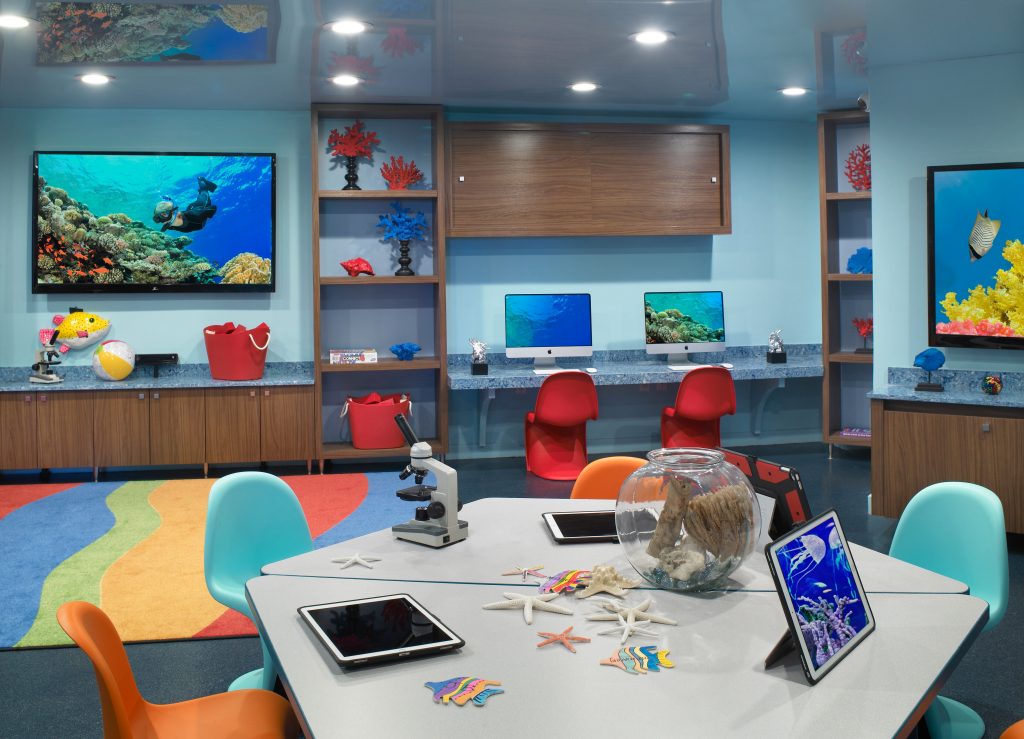 (Photo courtesy of the Acqualina Resort and Spa)
Acqua Adventures
While there may be days you have no intention of leaving the blissful comfort of your beach chair, Acqua Experiences has a curated collection of lifestyle offerings at the resort and around Miami for you just in case a little adventure or education sounds appealing.
Fashion Tours
Art Tours
Painting Workshop
Wildlife Experience
Scuba Diving Lessons
Yacht Cruise
Kayaking Tour
Acqualina History
For South African brothers, Jules and Eddie Trump, no relation to Donald, building a business is all about service. While most brands will say that is their focus, for the Trump's, it's far more than words. From the moment you enter Acqualina, you will know this to be true. There are very distinct reasons why Acqualina Resort and Spa have garnered the number of prestigious accolades it has in the hospitality space. Service is number one!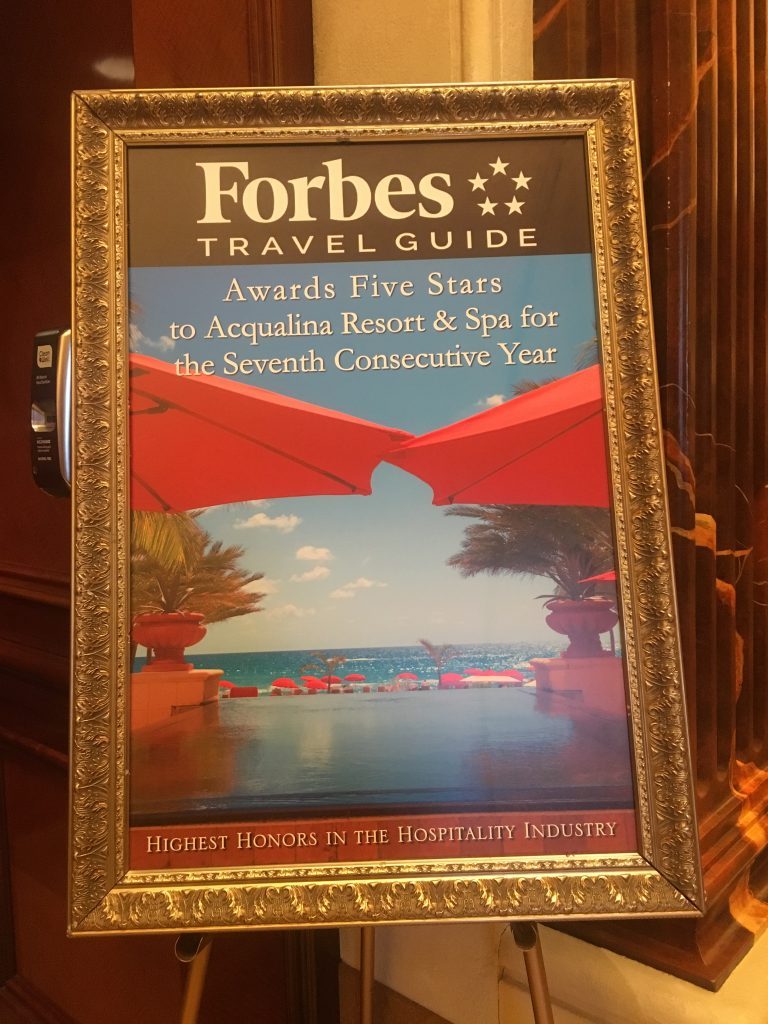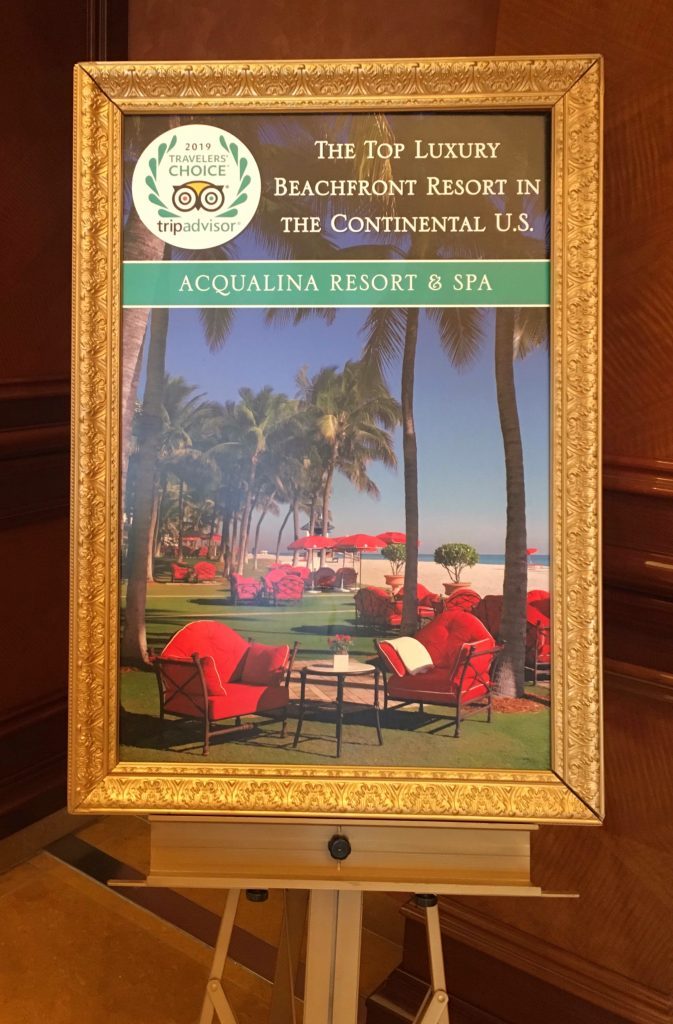 As Jules and Eddie grew their business in New York back in the 70's, the desire for a warm climate drew them to the Miami area. Their first project was a luxury property on Williams Island in Aventura. In 2006, the 51 story Acqualina Resort and Spa with 98 ultra luxury boutique hotel rooms and 188 lavish residences was finished in Sunny Isles Beach.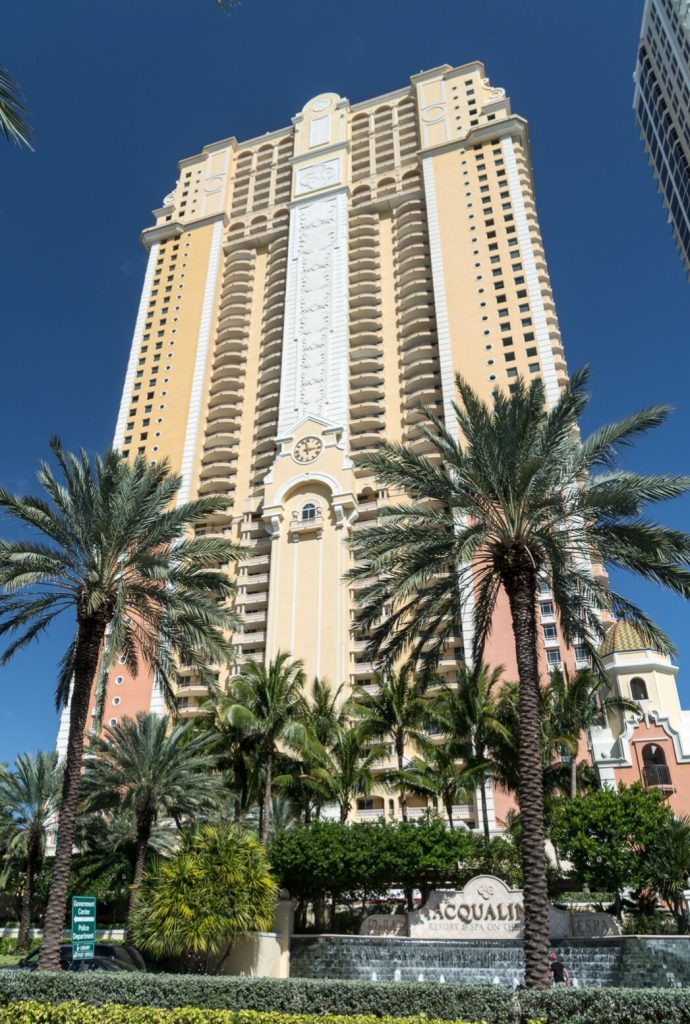 (Photo courtesy of the Acqualina Resort and Spa)
The Trump Group continued their expansion in the ultra luxury high rise space in Sunny Isles Beach by building the Mansions at Acqualina next door to the resort in 2015. To give you a sense of the level of detail offered, Palazzo del Cielo is on the 47th floor and comes complete with a Lamborghini Aventador and Rolls-Royce Cullinan. Furnishings for the 9,000 square foot mansion in the sky are by Fendi Casa and Bentley Home to name just two glamorous brands. Amenities at the Mansions include a pool, spa, movie theater, virtual golf center and red Rolls-Royce Ghost Series II house car.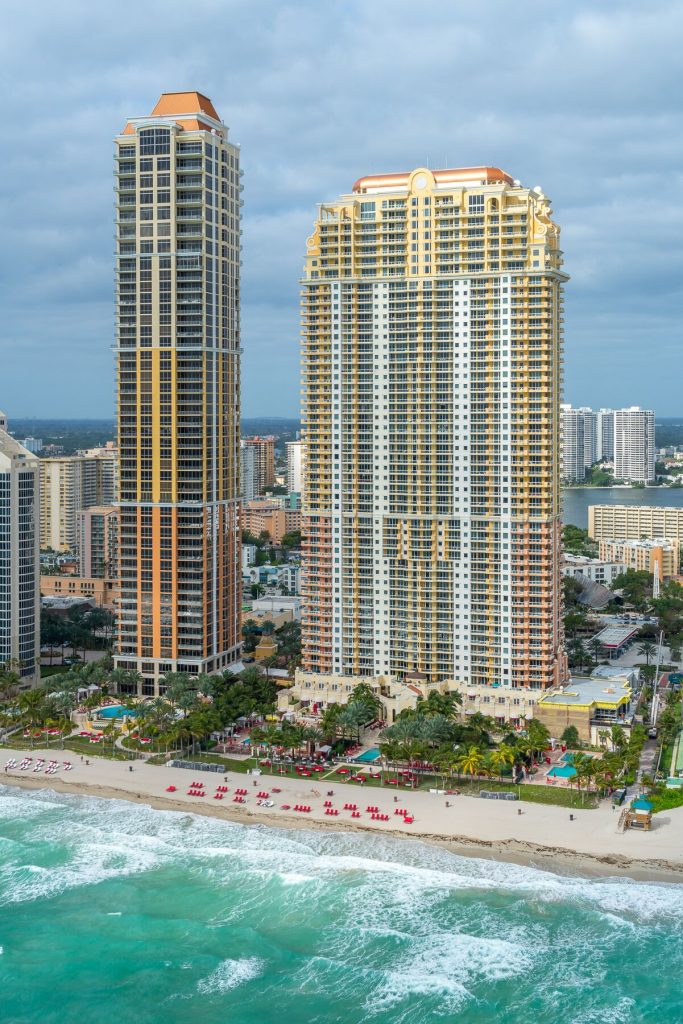 (Photo courtesy of the Acqualina Resort and Spa)
Currently under construction with completion set for 2021 are The Estates at Acqualina. Two towers with 247 homes that range from $3.9 million to $40 million for the most discerning of buyers.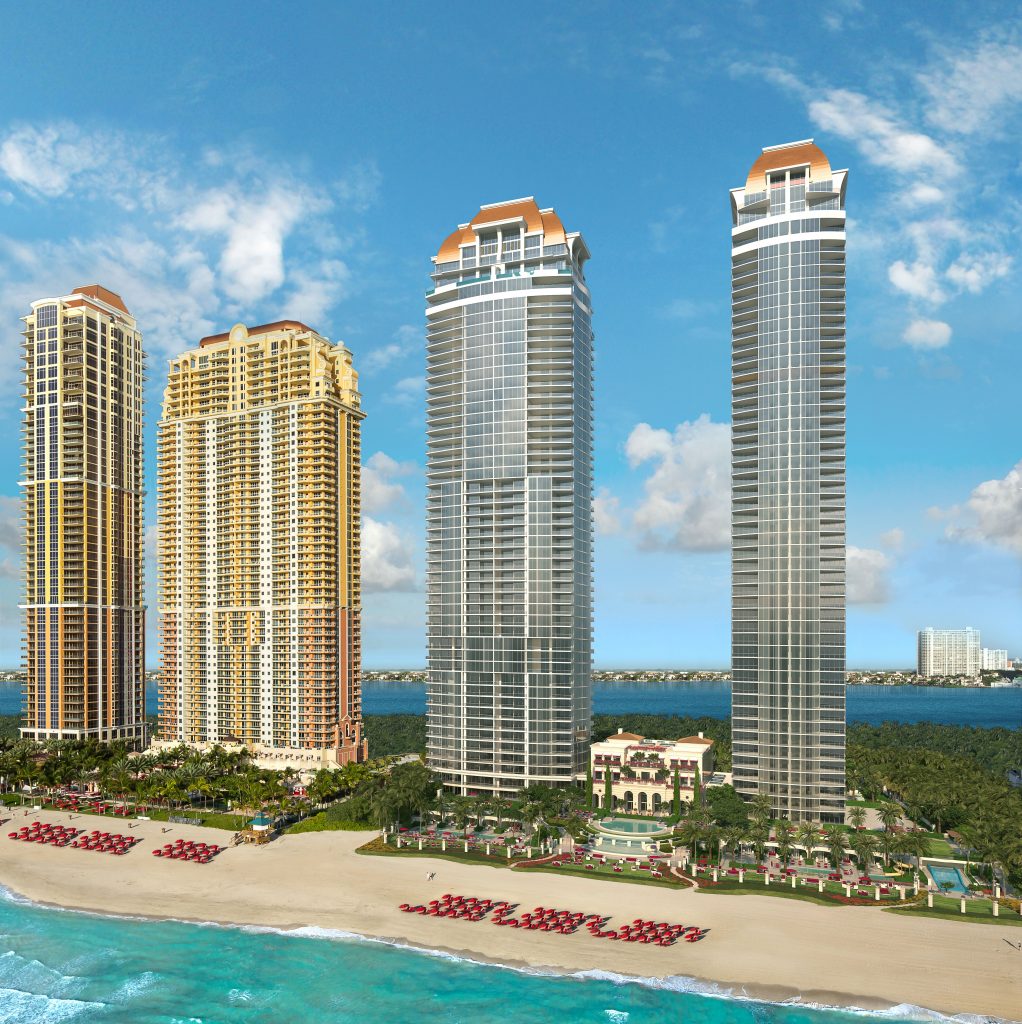 (Photo courtesy of the Acqualina Resort and Spa)
Premier designer, Karl Lagerfeld, created the look for the lobbies for the residential buildings.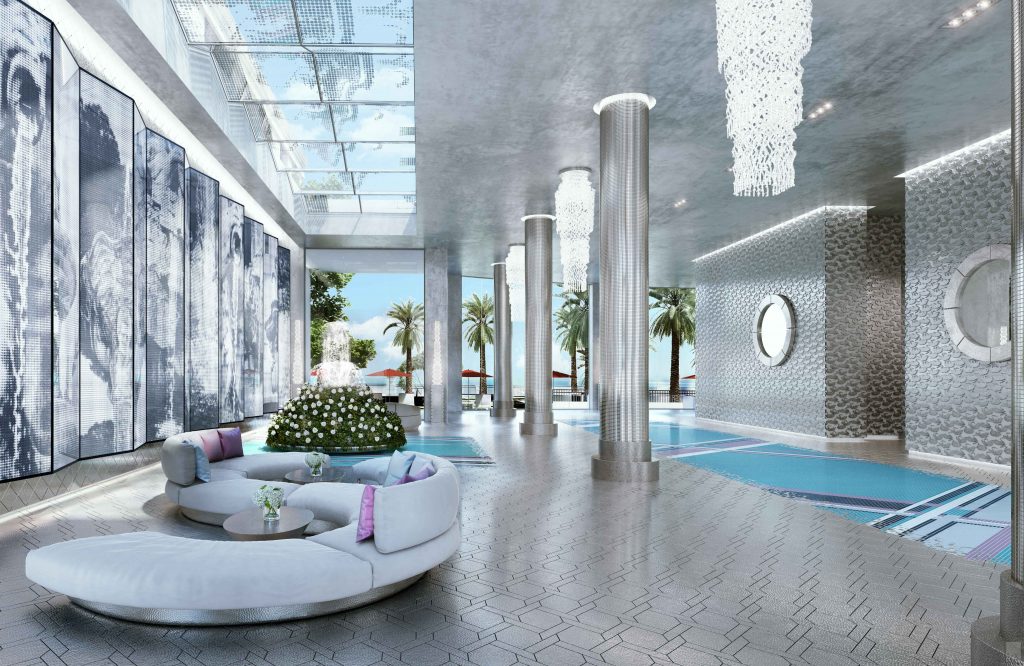 (Photo courtesy of the Acqualina Resort and Spa)
Homes will come fully furnished with decor chosen by the homeowner and recommended by the most elite of interior design firms. Situated between the towers of this gated community will be the 50,000 square foot Villa Acqualina where a spa, movie theater, bowling lanes, ice skating rink, gym and children's area will be developed in addition to the three pools, dog park and courtyard with art installations.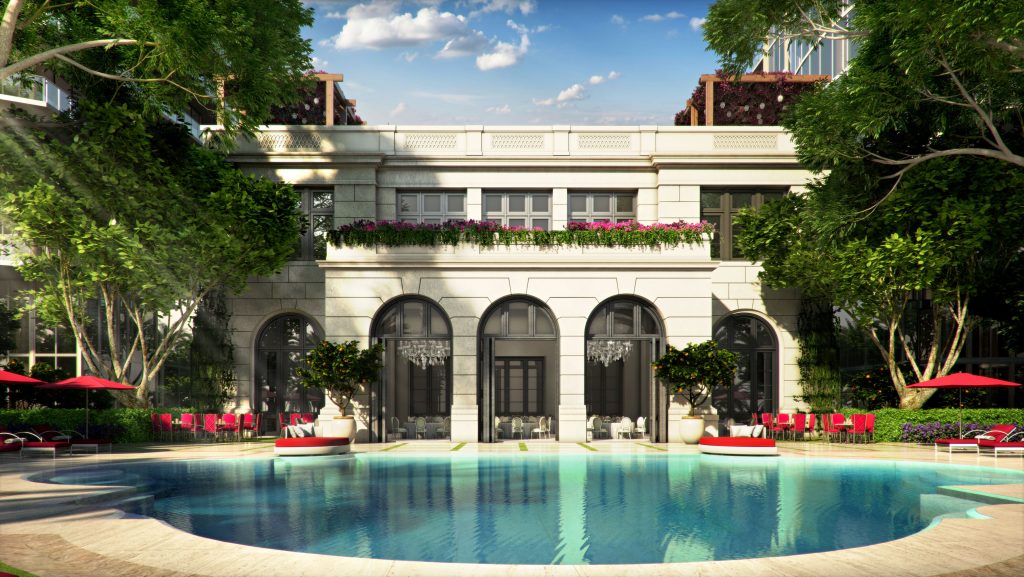 (Photo courtesy of the Acqualina Resort and Spa)
One of the many things you will notice as you learn more about the Trump brothers and the team at Acqualina is how well they recognize the needs of their guests and residents. Whether you are considering a vacation to Acqualina or making it your home, the suite of amenities, privacy, building and home (suite) design, as well as incredible service are a testimony to a brand that strives for the highest level of excellence.
The Acqualina Resort and Spa is a luxury traveler's dream. The Trump Group's philosophy to align art, architecture and lifestyle together is beautifully represented. Every detail is something you will remember and the reason you come back. It's all in that first lasting impression, after all.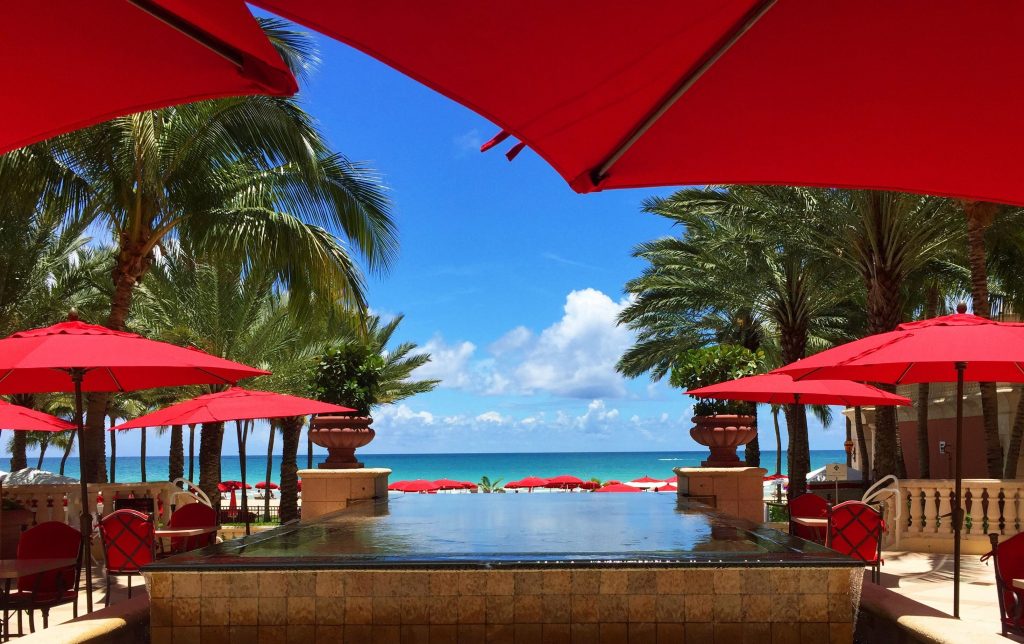 All images courtesy of DLX Contributor, Julie Gordon of Inspiring Kitchen, unless otherwise noted. Follow Inspiring Kitchen to earn about trends in luxury culinary travel, kitchen design and housewares as well as favorite finds in the food and cooking world.