Montego Bay is known for its serene white sandy beaches and bright sunshine. With it's laid back flavor and bustling beach culture, it is the 2nd largest city in Jamaica. We recently experienced one of the island's most luxurious all-inclusive resorts the IBEROSTAR Grand Hotel Rose Hall.
Winner of Traveler's choice award 2015, The IBEROSTAR Grand Hotel Rose Hall captures Authentic Colonial Luxury though its elegant décor, deluxe accommodations and its welcoming style of Jamaica hospitality.
THE PROPERTY
Just 20 minutes from the Sangster International Airport, the IBEROSTAR Grand Hotel Rose Hall is made up of 295 luxury suites including 189 ocean-view and 2 presidential suites.
The stately adult only resort features functional elegance and distinguished modernity through its gold and silver window tapestries, paintings by artists such as Dali and deluxe accommodations in each room. Every suite is equipped with a King size bed, European linens, a sheet and pillow menu, and a marble bathroom with a hydro-massage bathtub, placed in a spacious layout and complete with luxury toiletry items.
From the moment you arrive at the IBEROSTAR Grand Hotel Rose Hall, you can expect personal attention to your every need. The resort staff went out of their way to make sure I felt extremely comfortable.
I was introduced to my personal Butler who escorted me to my room, personalized my minibar, and even helped me to unpack my bags. Later in the early evening he called to check in on me to make sure I did not miss our scheduled cocktail hour. He was even present the next morning to see that I slept exceptionally well and that I was informed of my daily activity options so I could enjoy life the way it should be.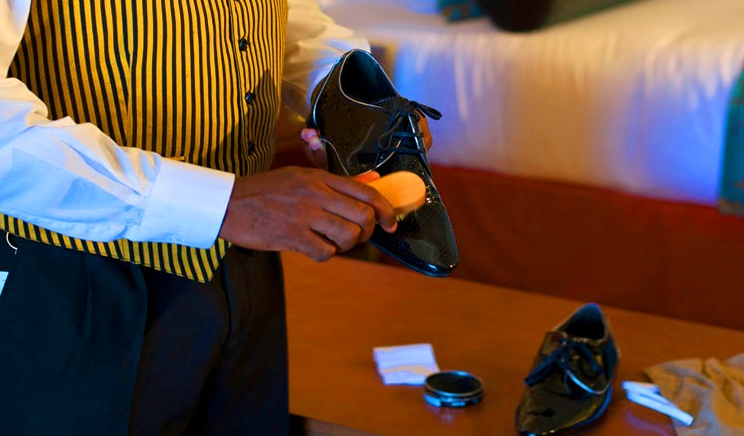 Your personal butler is an exclusive service the Iberostar Grand Collection offers to all of their guests. In addition to packing and unpacking, your butler can draw you a rose petal bath, schedule dinner reservations or an early tee time for you. Mine also brought me chocolate covered strawberries and champagne with fruit to celebrate my arrival.
The staff at the IBEROSTAR Grand Hotel Rose Hall is exceptionally helpful and genuinely kind. I befriended Onika Barnes the first night I arrived at the resort as she taught me about the Jamaican and Cuban Tobacco she was offering to guests.
One afternoon while relaxing on the beach beds I requested a personalized coffee, rum and coconut cream cocktail. The waitress was so thrilled to help me invent a new drink concept that we named it the "Cosmic Coco".
Employees enjoy working at the resort just as much as the guests enjoy staying there because the environment is clean, safe and relaxed.
The highlight of my stay was by far the two hour "Jamaican Ritual" Spa Treatment. When I arrived at the spa I was directed to choose the scent of incense I'd like best for my treatment; I chose invigorating and was brought to my own suite, the Water Lilly room.
The Jamaica Ritual treatment was unlike anything I have experienced before- it was delicately moisturizing and revitalizing. Ancestral therapies and marine salts exfoliation are used throughout the experience.
The treatment started with a full body Blue Mountain Coffee and brown sugar scrub. I was then wrapped in a plastic-like blanket material to marinate for 20 minutes while I was given a head massage with essential oils. By this point I already had begun to fall into a deep meditative state but was instructed to shower for the second part of the regimen.
The second part of the treatment was a Tropical Hot Stone Massage. The stones came from South Africa and were soaked in hot oil before being placed and rubbed into the body. I have had deep tissue massages before but this was the perfect combination of pressure and ease.
The spa in its entirety is large enough to spend a whole day at, including Turkish and Roman baths, Jacuzzis, and a variety of thalassotherapy pools. At minimum, I recommend the Jamaica Ritual to everyone who is seeking complete relaxation.
ACTIVITIES
Every morning around breakfast time you are provided with a list of activities happening at the resort. Some activities like 8am stretching and 10 am Yoga happen on a repeating basis. I took one morning yoga class with Vanessa. She was upbeat and encouraging, leaving me energized and relaxed for the day.
There are also Zumba classes by the pool, tennis, and multiple water sports to choose from. If you are certified to sail you can take out one of the catamarans to the reef which is about a mile out to sea. The resort provides Kayaks, wind surfing and snorkeling gear to use at your leisure.
If you are less of a beach person and prefer golf, there are two exclusive courses nearby off of the IBEROSTAR property that are world renown: The White Witch and Cinnamon Hill. Cinnamon Hill is home to the wealthiest of Jamaicans.
The White Witch course is on the same property of the Rose Hall Great House, which is infamous for its luxurious wedding packages and conversely its haunted tales of its owner Annie Palmer.
We visited the great house at for one of their spooky "Night tours". The tour began with a guide cautiously sharing history about the house and Ms. Palmer.
Annie Palmer was of British decent but grew up in Haiti raised by a Voodoo Priestess after her parents were taken by yellow fever. At the age of 19 she moved to Jamaica to marry John Palmer, property owner of Rose Hall. It is there she is rumored to have killed her three husbands and multiple slave lovers before she herself was killed at the age of 28.
Johnny Cash even wrote a song about the mysterious lady entitled, "The Ballad of Annie Palmer". The Destination Experience told us they are expecting the same team who created thriller series "Final Destination" to produce a blockbuster horror story about Annie Palmer and her haunted property early next year.
Other fun excursions near to the resort include the River Bumpkin river rafting tour and Glistening Waters, where you can swim with bioluminescence in a bay where the river meets the sea.
DINING
IBEROSTAR prides itself on an eclectic menu and will use Michelin Star Chefs to design their menus.
The IBEROSTAR Grand Hotel Rose Hall features four specialty restaurants aside from its two international buffets and its Waterfront Grill, pictured above.
At El Galleon Steakhouse, I ordered surf and turf which was extremely satisfying. Dessert that evening was "Bacon from Heaven," a flan with a special sugar coating that makes it look like bacon.
Of the four specialty restaurants, I enjoyed the interior of La Toscana and Es Palau the most. The subtle attention to detail and the warm bright lighting in these restaurants made for a welcoming atmosphere and pleasant conversation.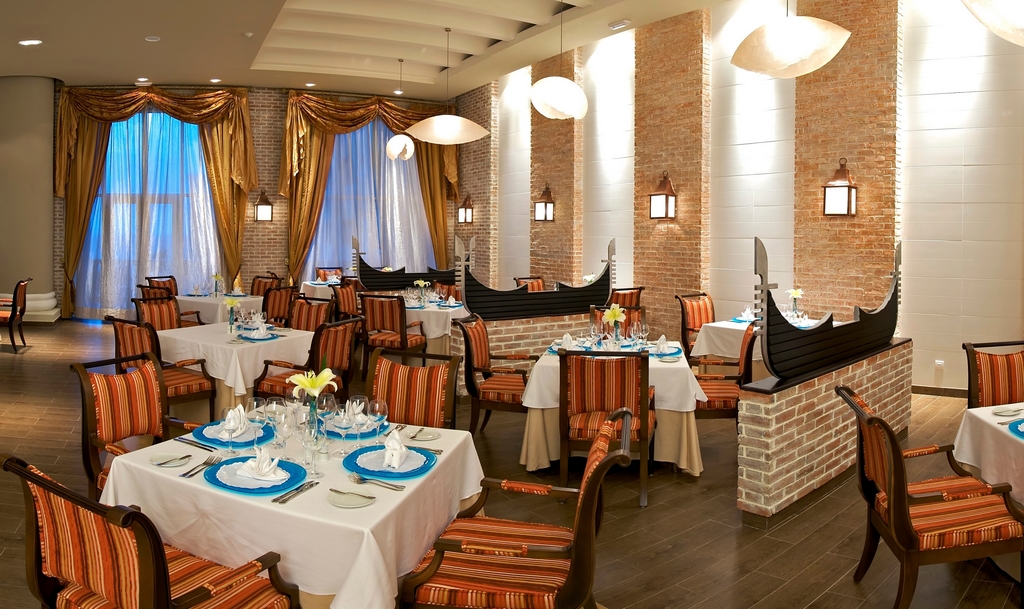 La Toscana provided venetian inspired decor and exquisitely delicious Italian food. My favorite was the beef Carpaccio with balsamic, cheddar cheese and arugula greens.
Es Palau is named after the island country in Oceania off the coast of the Philippines. It is designed in the traditional French style. The interior features large cream pillars and contracting black crystal chandeliers. The menu is also classically french and offers items such as fried brie cheese with cherry compote and beef bourguignon.
Jamaica is known for its delicious coffee, especially its Blue Mountain coffee which has been written about by Ian Flemming in multiple James Bond Books. Ian Flemming grew up in Jamaica so he was personally familiar with the beans full roasted flavor. The Iberostar offers fresh coffee, Latte and Cappuccino drinks at any time of day. 
WEDDINGS
Although I was by myself on this trip, it is clear to see why many people choose the IBEROSTAR Grand Hotel Rose Hall for their ideal beach or garden wedding. Not only do the wedding party and their guests have many opportunities for pampering, they also have multiple locations for ceremonies as well as receptions to choose from.
Iberostar offers special packages for brides and for Bridal parties, scheduling at maximum only seven weddings a week, allowing every bride to have her own special day.
————–
At the end of my time at the IBEROSTAR Grand Hotel Rose Hall I was fully relaxed and rejuvenated. Reflecting over my enjoyable stay and dazing off into the sunset from my beach front suit, it was evident that my experience mimicked that of the incredible surrounding landscape of serene beauty. The IBEROSTAR Grand Hotel Rose Hall went beyond my expectations of what an all inclusive could provide.