As the creative director for MacKenzie-Childs, Rebecca is responsible for leading the design and artistic mission of this vibrant, cutting-edge home furnishings company. Managing a team of talented designers, she has been responsible for the most extensive and successful product launches in the company's history. Passionate about her work and an inexhaustible fountain of energy, she leads her creative team with boundless enthusiasm and an engaging and buoyant personality. Her extensive world travels, experience, and lifelong fascination with the designer's process give her a unique perspective focused on the redefinition of "Home."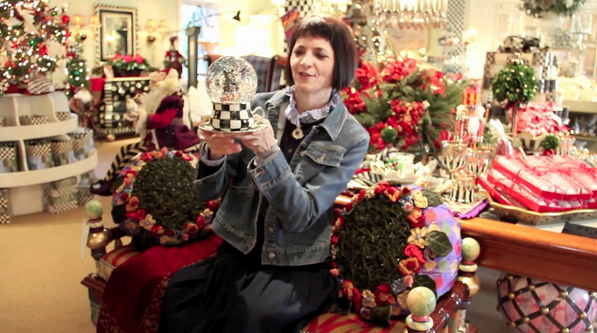 Since accepting her first position at MacKenzie-Childs in 1991, Rebecca has worn many hats. Working closely with the founders, she soon began traveling the world, learning firsthand the importance of developing a unified vision. "It was a rare experience, seeing things from their perspective. It was fun, a little bit crazy, a bit irreverent, and a lot like performance art in that everything we did extended from our point of view. I really established my way of seeing things over the course of my first 10 years there. I learned while growing as a designer to appreciate what can come from good collaborations, and from supporting the strengths of others," says
An exuberant, playful sense of the central importance of family and home is Rebecca's core concept and guiding principle as creative director for MacKenzie-Childs. Translating that concept into quirky, fun, vibrant, elegant designs for everyday is the very center of her mission.
Where were you born? Where did you spend your childhood?
I grew up in Roland Park in Baltimore, Maryland – it's a beautiful, historic neighborhood that was designed in the early 1900s by Frederick Olmsted, full of huge trees and shady, rambling walking paths. I could walk on wooded foot paths to my grandmother's house without ever walking on the roads. For a headstrong, independent girl on roller skates, it was an idyllic place to grow up.
Tell us about your family:
My father was a big band leader when he was in law school, but being a musician is a tough way to put food on the table. So when he started to practice law, his music which really was his first love, of necessity became more of a hobby. My mother was a Georgia peach who moved north to Baltimore when she married my father. Our home was always full of musicians and colorful characters and my father, my two sisters and I put on plays and made movies for fun. It was like living in a Noel Coward play.
Did you face any major adversity as a child or teen?
Why of course! Didn't we all?
Education: Where did you go to high school/college/grad school?
The amazing Calvert School for elementary, Garrison Forest School for girls (a boarding-day school in the beautiful Maryland countryside), and Ithaca College where I focused on art history (peppered with a few classes at Cornell and Parsons School of Design).
Work and career till now. What lead you to here?
My first role with the company had me working closely with the founders; we traveled together a lot, I was involved with their design process and it afforded me a very up-close look at many of the difficulties facing a highly creative design company. As the years went on and I became more experienced, I was able to assert myself as a designer and the rest is history.
Mission and vision of your work:
Our mission is fairly straightforward; to create unique and happy things which help make your home more fun. We work across a very broad range of materials and everything we design needs to be distinctively our own. MacKenzie-Childs designs are fairly easy to spot…just look for the thing in the room that makes you smile and it probably has our name attached to it.
Leadership style
There's always a lot going on in our studio and the most important thing for me is to keep everything moving and be attentive to the needs of every design project. But listening to what's happening around you, respecting the creative processes of others (because every artist has their own way of doing things), and being open to new ideas are also high on my list.
I am always looking for a fresh point of view and this is what has me hitting the ground running every morning. I consider myself fortunate to work with an extraordinary group of designers and I believe good collaborations and allowing people to work to their best strengths are the foundation of a high functioning studio.
Favorite thing about being creative director for MacKenzie-Childs?
I'm not just concerned with product and producing product; I get to be involved with all visual aspects of a company that is known to be highly visual in every respect. There is an expectation of MacKenzie-Childs that we do things that are visually stunning, that break with the ordinary, and this provides me with great opportunities to exercise my imagination. I also get to travel a lot and work with amazing people in many different parts of the world. What could be better!
CAREER
When did you know you wanted to be a creative director?
I never really knew. Like everything in life, it was an open door in my path and I chose to go through it. I could have played the ukulele, but instead, a series of events lead me to this.
Key traits to be a successful creative director?
Trust your gut. Your first instinct is usually the right one.
Biggest challenges to being a creative director?
Getting reality to live up to the expectations of the imagination.
What drives you? Has it changed over time?
I have the same little voices in my head I've always had. Over time I think I've just become better at listening to them.
What is your personal highlight/proudest moment?
Listening to my 15 year old son playing Rachmaninov. I get teary just thinking about it.
LUXURY
Where are some of your favorite places in the world?
New York, Jaipur, London, Paris, San Miguel, and most of all, home.
What is your favorite car?
I really don't know much about cars, but I do love this one car they call The Ambassador Classic– I've only seen them in India and I'm told this is the only place in the world where they can be found. I love the way they look but I've never ridden in one, so I have no idea how they drive, if they are fuel efficient, or anything! I'm strictly speaking of the way they look; they are just gorgeous. In a perfect world they would make one just for me that ran on sea water. And white.
It has to be white. It was modelled after the British Morris Oxford and was the first car to be manufactured in India.
What was your first car?
My first car was a used royal blue Toyota Corona tin can which had a white vinyl roof and was totally hideous. My father gave it to me for my 16th birthday. It was frightening looking but it was all mine, and I totally loved it. It ran like a top and really worked fine until I blew the engine driving home from college. No one told me I was supposed to put oil in the crankcase (I still don't know what a crankcase is).
Describe cars in 1 word and explain why.
I don't think I can answer this question. Can you ask me about teacups? I know a lot about teacups.
What does luxury mean to you?
To me luxury is a frame of mind; it's how you see things. It's like a great big soft cozy sweater. The word luxury only makes sense when juxtaposing things with other things; why is it we can't seem to define luxury without making a list? Luxury is really such a personal thing and it's hard to put words around it. It's the way fine things make you feel. But it's also the warmth of the sun,or a perfect cup of tea.
What are 3 ways to live luxuriously without spending so much money?
Kindness is the new black. It's so chic, and it's absolutely free. Eat well and know your food sources. And pamper your skin!
What are 5 travel tips for our readers?
Don't wear make-up while you are traveling (weird, I know). Wear comfortable clothes (I always travel in black- don't ask me why). Travel as lightly as possible. Always keep your passport in the exact same place. If you're on a long flight, sleep as much as possible and drink a lot of water.
PERSONALITY INSIGHTS
What would you do if you weren't doing what you do now?
I could do a circus act with my Irish wolfhound.
What do you like to do for fun? What are your hobbies, sports, outlets?
Bake, cook, feed beautifully prepared food to my family and friends, hug my dog. Repeat.
What inspires you? Who inspires you? Most influential people in your life?
Inspiration comes from absolutely everywhere – great books, beautifully prepared meals with friends, stimulating conversations, walks with my family, trips away from home, staying home. As for people I find inspiring, there are so many, and in such a broad range of fields. My list is very long but would have to include my grandmother, my husband and son… oh, and have I mentioned my dog yet?
Looking back on your career, does the path make sense to you? Do the dots connect?
I'm not ready to look back yet, I'm still looking forward.
What is your most memorable experience?
The Explosion of the Cart; it's a centuries-old event that happens in Florence, Italy on Easter Sunday.
What are your social media handles?
Facebook: https://www.facebook.com/MacKenzieChilds
Twitter: https://twitter.com/courtlycheck
Instagram: https://instagram.com/mackenziechilds/
Website:   http://www.mackenzie-childs.com/