The solitaire diamond engagement ring evokes timeless elegance, but designer jewelry houses have cooked up more trends this year that elevate these rings to a new level. A combination of novel prone settings, air of sensuality, and contrasting colors, among others, set the benchmark for the most beautiful engagement rings today.
In our case, we just need one defining factor measured by our drooling curiosity: the sparkling, spellbinding, absorbing price of these ten diamond engagement rings that we couldn't get our eyes off.
It's the thought that counts, we know, but we wonder what sort of thoughts were going on in the minds of these women when their fiancés opened the box to reveal one of these lovely rings inside. How about $2.5 million? That's 10-carat diamond ring that Michael Douglas gave to Catherine Zeta Jones.
But it's not all price, really. Surprisingly, the "cheapest" ring in our list belongs to Kate Middleton, the Duchess of Cambridge. It's only about $137,200. Prince Williams is not scrimping on her for sure; rather, the ring belongs to his mother, Princess Diana, who wore the same piece after agreeing to marry the England's heir to the throne decades ago.
Well, money can't buy you to royalty, but it can buy you to the top of our list, which was what Richard Burton must have been thinking when he gave his ring to Elizabeth Taylor. How much is it worth? Let's just say it's worth as much as about fifty 2013 Bentleys.
10. Garrard 18-carat Blue Sapphire White Diamon Engagement Ring
Value: $137,000
To: Catherine Elizabeth "Kate" Middleton, Duchess of Cambridge
From: Prince William, Duke of Cambridge 
It's the same engagement ring worn by Prince William's late mother, Diana, Princess of Wales, when she got engaged to Prince Charles of Wales in 1981. The sapphire is fringed by 14 tiny diamonds and cost around $45,000 at that time. It's not unique or extravagant by royal standard, but, today, it's priceless and among the most famous engagement rings ever.
9. Argyle Jewelers Pink Pear-Cut Engagement Ring
Value: $2.5 million
To: Anna Kournikova 
From: Enrique Iglesias (fiancé)
A pretty yet sophisticated 11-carat natural pink pear-cut diamond at the center, with two Trillian stones on the side.
8. Fred Leighton Vintage Diamond Engagement Ring
Value: $2.5 million
To: Catherine Zeta Jones
From: Michael Douglas (husband)
A gorgeous vintage, marquise-shaped, 10-carat diamond set horizontally. The ring has a vintage 1920s vibe, with 28 smaller stones sparkling around he large diamond.
7. Lesotho III Diamond Engagement Ring
Value: $2.6 million
To: Jacqueline Onassis
From: Aristotle Onassis (second husband)
A Lesotho III 40.42-carat diamond ring and was one of only 16 cuts from a 601-carat rough diamond discovered in South Africa. Worn by Jackie O. only twice and remained locked in a bank vault of New York.
6. Graff Emerald-cut Diamond Engagememt Ring
Value: $3.0 million
To: Melania Knauss
From: Donal Trump (husband)
A 15-carat emerald-cut diamond ring on a platinum basket setting, bought from the expensive House of Graff in London. It was flanked by baguettes, or leaf-like designs.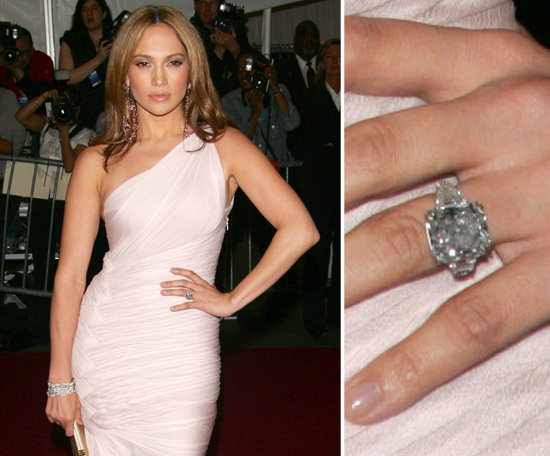 5. Neil Lane Blue Diamond Engagement Ring
Value: $4.0 million
To: Jennifer Lopez
From: Marc Anthony (ex-husband)
The ring has a dazzling 8.5-carat diamond as its centerpiece, stunningly mounted on delicate metal by Neil Lane, touted as the jeweler to the stars. It is considered the rarest and most prized diamond jewel among Lopez's heap of blings.
4. Cartier Emerald-Cut Diamond Engagement Ring
Value: $4.06 million
To: Grace Kelly
From: Prince Rainier III of Monaco (husband)
The official engagement ring was the legendary Cartier 10.47 carat emerald-cut center, flanked by two stylish diamond baguettes.  
3. Gold Diamond-Encrusted Engagement Ring
Value: $4.7 million
To: Paris Hilton
From: Paris Latsis (ex-fiancé)
A massive 24-carat white gold ring with a centerpiece rectangular diamond, flanked by two triangle cut baguettes. It was so huge the hotel heiress said it hurt her finger. She later auctioned it for Katrina hurricane victims after their split.
2. Lorraine Schwartz Platinum Diamond Engagement Ring
Value: $5 million
To: Beyonce
From: Jay Z (husband)
An 18-carat flawless octagon-cut diamond ring set in a platinum split base and was designed by jeweler Lorraine Schwartz. The $5-million rock has been certified as an exceptional, internally clear, premium stone.
1. Asscher-cut Krupp Diamon Engagement Ring
Value: $8.8 million
To: Elizabeth Taylor 
From: Richard Burton (twice her husband, in 1964 and 1975)
It is a huge 33.19-carat Asscher-cut Krupp diamond with a fairly large culet facet. It is certified as a type 11a diamond, the most chemically pure type of diamond with exceptional optical transparency. Christie's auctioned the engagement ring in December 2011, and was won by an unnamed Asian collector.
Original article found at FinancesOnline.