Looking to get away but not go anywhere? Consider the Ritz Carlton Spa (link) in Los Angeles. It is the perfect respite for the urban luxury lover.
Upon arrival, guests are greeted with a glass of Prosecco followed by being escorted to the luxurious locker room and changing into a plush Ritz Carlton robe.
Then it's off to the Sanctuary, a place for guests to relax and chill before their treatments. One can lay on a comfy bed, surrounded by pillows. The room is dimly lit to entice you into relaxation mode, with a slight hint of outside only seen on the flat screen televisions, showcasing exotic, calming beaches. Think clean, white and calming…that is the essence of the Sanctuary.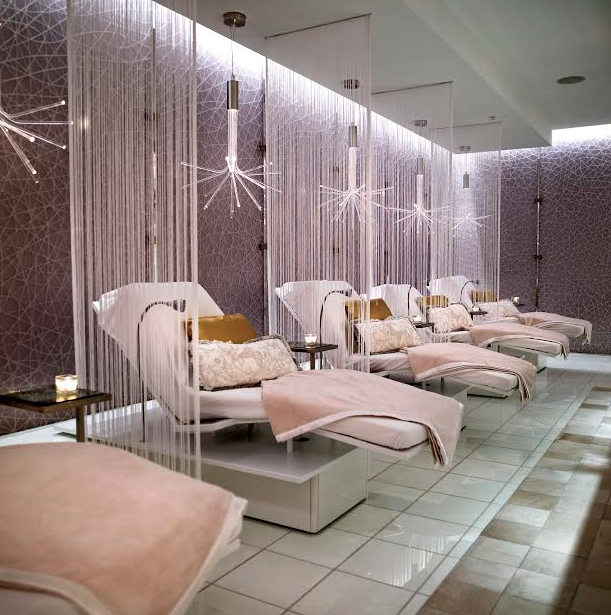 It's so relaxing that a couple of guests have even fallen asleep. I'm definitely in a happy place.
My treatment du jour was the cinnamon cider facial using Eminence, an organic line from Hungary. This 50 minute treatment that is only available until December 31st, 2015. First, a coconut milk cleanser is applied, while light steam coats your face.
Next, Alpha Hydroxy fruit acids and cinnamon spiked Hungarian mud are applied to exfoliate dead skin. I could feel the elements sucking away my impurities with a tingling sensation. After the mask was applied, a 15 minute massage occurs while the mask works its magic.
Next, I was given a refreshing homemade apple cider toner that balances the skin. It's a concoction of organic apple cider vinegar, distilled water, sweet orange essential oil and infused with a cinnamon stick. This is undoubtedly a unique and relaxing treatment that you should try while it's still available.  .
The Ritz Carlton Spa also has other decadent treatments with scents of vanilla, cinnamon, cider and chocolate, ingredients that have been sourced from the hotel's rooftop garden– farm to spa!
I had to take a selfie to show you my rejuvenated skin.
The Ritz Carlton Spa http://ritzcarlton.com/losangeles
900 West Olympic Blvd.
Los Angeles CA 90015
PH: (213) 743-8800