The original article was posted on huffingtonpost.com by Jamie Feldman
How The Victoria's Secret Fashion Show Wings Are Actually Made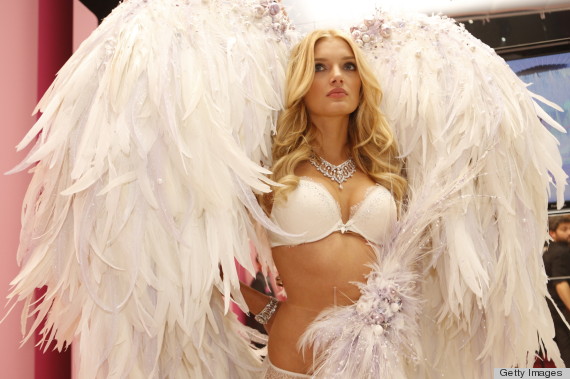 Wings by Killer from the 2013 Victoria's Secret Fashion Show
The Victoria's Secret Fashion Show, which serves as a mega-produced kick-off to the holiday season, has only become more of a must-watch event year after year. The show boasts top-notch musical acts, theatrical elements and beauties dancing around in gorgeous lingerie. Arguably the most iconic part of the whole spectacle, however, are the wings. Each year, new Angels are born and current Angels are introduced to yet another massive pair for the runway. The wings not only serve as a rite of passage for the models chosen to wear them, but as a piece of artwork that embodies the sexy aesthetic that is Victoria's Secret.
The story and process behind these wings are way heavier a lift (literally and figuratively) than you might think. On a warm October day, I trek eleven flights up and enter an unassuming gray door to find a team of publicists, Victoria's Secret executives and wing-designer Marian Hose aka Killer gathered for just one of many rounds of fittings.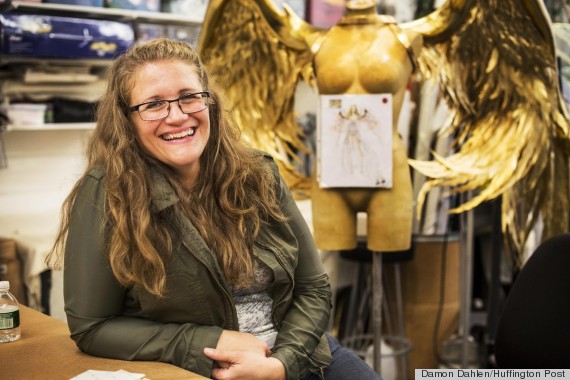 Aside from the golden, feathered wings the fit model Barbara is wearing when I arrive, about five more are displayed in various corners of the small space, posing some difficulty for anyone trying to move around. Wings are made in everything from leather and lace to five pounds of Swarovski crystals and up close the intricacies of the elaborate designs are clearer than ever. It's no wonder, then, that the lucky ladies who walk in the show wait their entire careers for the moment they get to don a pair of their own.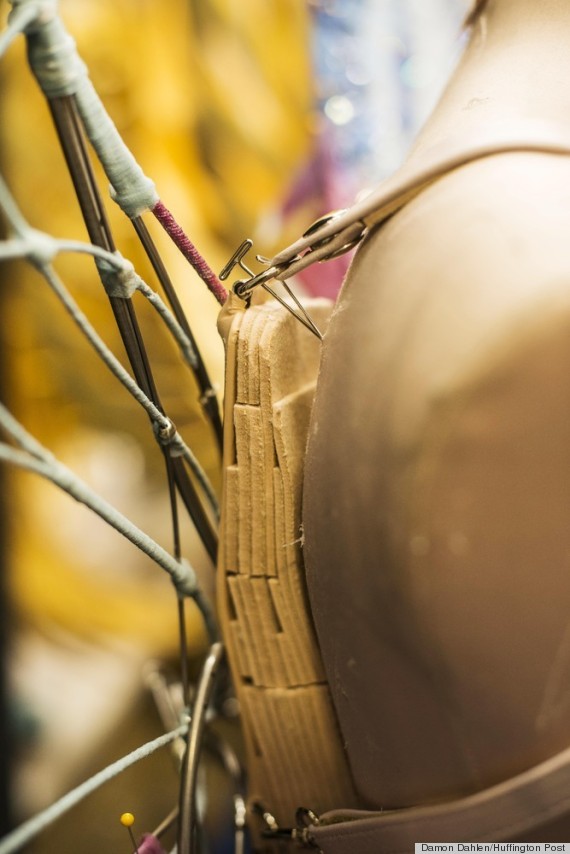 It all starts when an artist, hired by Victoria's Secret, sketches out the concept for a wing. It's then delivered to Killer and her design team who bring the wings to life. "The best part is seeing just how Killer interprets the sketch," Sophia Neophitou, collection creative director for the show, tells me during my studio visit. After a drawing is finalized, it is projected onto a screen, where a model stands in to figure out scale. The team then gets to work. "It takes about a week just to make the frame [but] for a more intricate wing it takes much longer. For something beaded, for example, we have an entire team just working on that part of it," Killer says.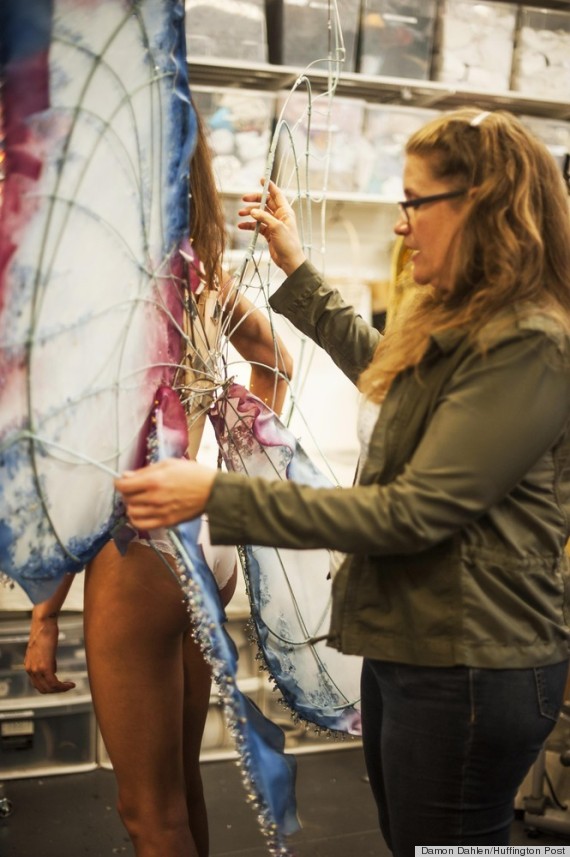 While an entire team of beaders may seem outrageous to some, for Killer it's just another day at the office. Her extensive experience in costume design has prepared her for her uncommon title of "Wing Maker." After all, her resumé boasts time spent as a millinery consultant for Radio City Music Hall. She's also worked with the Metropolitan Opera and CBS. She was connected with the lingerie company back in 2009, when one of the sketch artists recommended they work together.
Once Barbara slips a pair of the wings on, it's time to adjust and customize the wings for each girl. "[Barbara] is a huge help because she puts on the wings and knows what we need to change — she knows which girl poses which way, which is amazing," Killer says. And while the amount and structure of the wings can change up until moments before the show, by October, Killer pretty much knows which wing each girl will wear.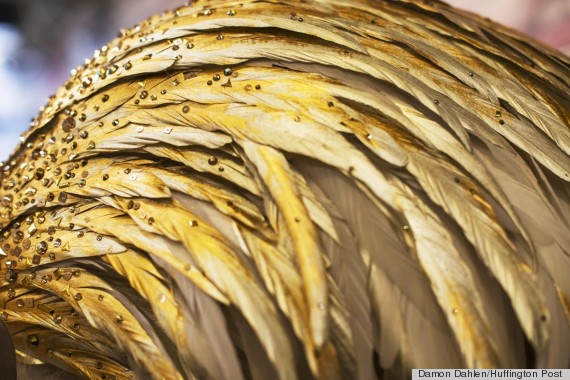 No matter how much you plan for the moment the model puts on her wings for the first time, there is absolutely nothing like experiencing it firsthand. That's where I meet Candice Swanepoel, nearly a month later, putting on those same wings I saw being fit for her specific body weeks prior. The room that has been buzzing with chatter, camera flashes and shuffling of feet is completely silenced once — with a team of helpers — Swanepoel has the wings on for the first time. It is a highly-charged moment, broken only by Candice's first glorious steps down a makeshift runway. The straps are a bit tight for her, and are swiftly taken off for an adjustment.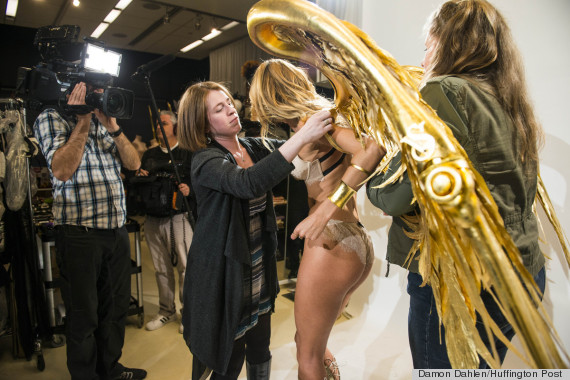 "I love having the wings, but I need the freedom to enjoy them as well," Swanepoel tells me. "One year (before we worked with Killer), I tried on this massive pair — two harps. They were absolutely beautiful. On the morning of the show I got really nervous and asked to try them on the runway, and let's just say it didn't go so well. We decided to forfeit them and go for something smaller."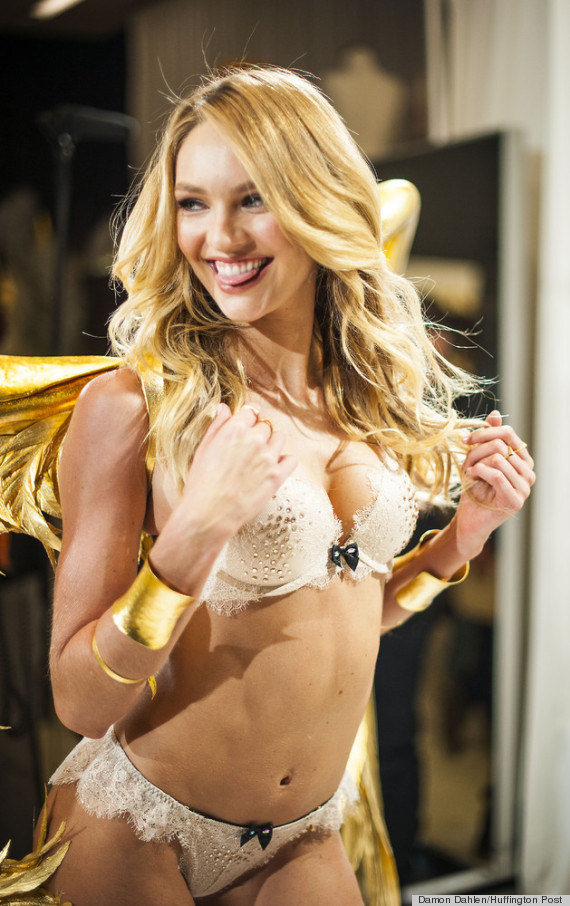 It's clear that the weight and wearability of the wings are just as important as having that perfect runway strut. It takes the right pair and the right girl to hold up the massive structure, which can weigh as much as a small child. The biggest pair Killer has ever made weighed in at 21 pounds: a pair of white, feathered wings made for Lindsay Ellingson. "Lindsey is a real trooper," Killer says, adding, "it doesn't matter how much a girl wants her wings, if they're too heavy we can't use them."
From paper to production, it's clear it takes hard work, a lot of adjustments, some serious time and a whole lot of love in order to make these wings truly killer.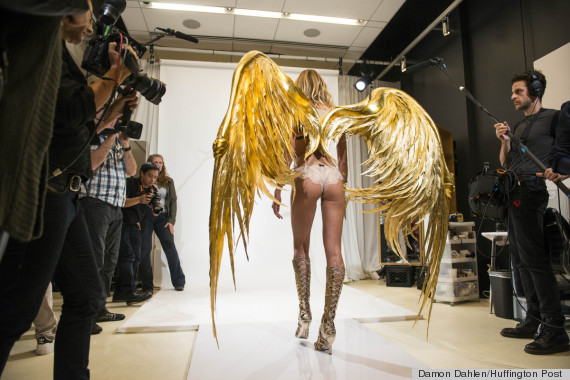 What do you think about the angel's wings? Let us know below in the comments.