LOTTE Resorts and Hotels recently purchased The Palace Hotel from Northwood Investors for $805 million, and Destination Luxury was invited to attend the official Lotte Palace Hotel unveiling ceremony.
The event began with violinist playing "La Vie En Rose" for the incoming crowd.
Flowing champagne welcomed guests as they arrived through the towering black and gold crowned gates framing the hotel's entrance on Madison Avenue.
Just to the right of the speaker's podium lay a decadent fondant cake version of the hotel's original townhouses modeled after the Palazzo Della Cancelleria in Rome.
Fashion designers such as Gemma Kahng took a break from Fashion Week to swing by the event, along with representatives from The Whitney Museum.
Brooke Shields welcomed the new owners by sharing fond memories as a guest of the hotel when she was just beginning her career.
Managing Director John Tolbert led the ceremony by thanking everyone for attending including multiple dedicated staff members of the hotel, many whom have been in service there for over 30 years.
Fred Dixon, NYC & Company President and CEO, spoke about the projected incremental rise of tourism in the city over the next five years alone and welcomed the Korean conglomerate to New York.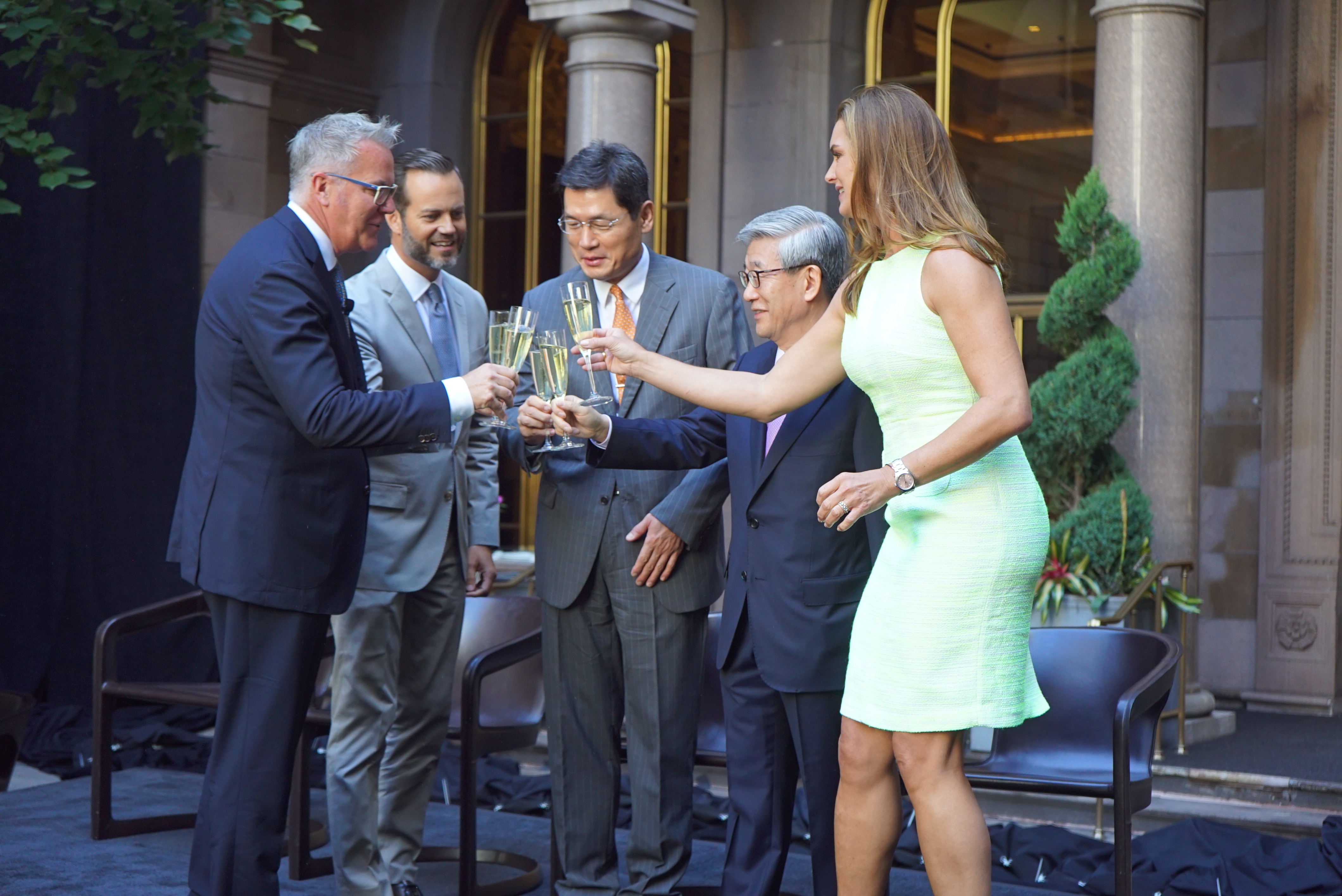 A champagne toast led by Ms. Shields, Mr. Song Yong Dok, Mr. Tolbert, Mr. Dixon and Korean Consul General Gheewan Kim prompted the black curtain behind them to fall to the floor unveiling shiny new golden letters that read "Lotte New York Palace."
Destination Luxury had the chance to speak with some of the key players involved in the acquisition of The Palace about The Lotte Brand and Luxury in NYC:
Christopher Heywood, NYC & Company Senior Vice President Global Communications, on the growth of new Hotels and development in NYC:

"Luxury is alive and well. With hotels opening in the past six months like The Baccarat in March, The Edition brand by Ian Schrager in May, 1 Hotel Central Park in August, and Marmara Park Avenue opening soon, there is more luxury alternatives than ever."
Hyukbum Kwon, Lotte Hotels & Resorts CFOL, on planning to make additional changes to the existing property:
"Renovations to this property were completed recently in 2013, so not at the moment. We plan to review the facilities and amenities again next year and if it is feasible we may begin to make changes. We do plan to implement our employee-training program and service manuals developed in our Korean headquarters that focus on high standards of customer service."
Fred Dixon, NYC & Company President and CEO on his definition of luxury:
"Luxury for me is about comfort. Everyone has a different opinion about what comfort is, but luxury doesn't have to be expensive. I think that is what often is lost. Luxury can be having culture at your fingertips and wonderful green spaces not far away; it can be the most incredible service at a luxury or mid price hotel. Really, luxury is what makes you comfortable; it can be the simplest of things.
Song Yong Dok, Lotte Hotels & Resorts President and CEO, talks about what luxury means to him:
"Luxury doesn't mean having an amazing, spectacular property its self, but its more the software, the touch you give to the client. Guest satisfaction and customer service are most important. Often time's in the past guests were very pleased with small touches such as little chocolates on their pillows, small but nice elements which add to the overall experience."
Photos by Terese Pagh
The Lotte New York Palace
455 Madison Ave, New York, NY 10022
(212) 888-7000