For those who appreciate unique and exquisite pieces of fine jewelry, be it diamonds, rubies, radiant pink pearls or dark and mysterious gems of the sea, nothing beats the excitement of a live auction. The world's top auction houses offer connoisseurs and collectors the opportunity to see, savor and bid on stunning items that may only be available for purchase just once in a lifetime.  
Adding to the drama (and the prices) at a major auction is the history behind each of the noteworthy items up for bid—such as who designed it, who bought it, who gave it, who received it, and who wore it.  Let's take a look at three of the most expensive pearl pieces ever brought to auction—and why they have become legendary.
The Baroda Pearls 

– 

Last sold for 7.1 million in 2007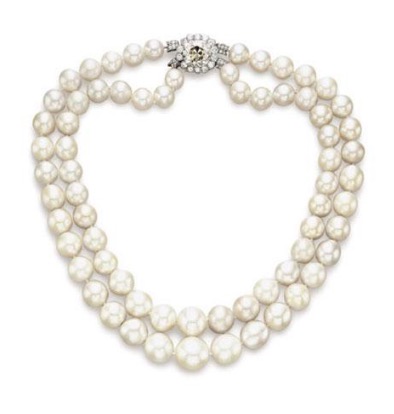 Image Source: hauteliving.com
Extraordinary is the best word to describe this two-strand necklace that brings together 68 perfectly matched and graduated pearls of exceptional beauty and exceptionally large size. For centuries, pearls have been treasured above all other gems in India as a sign of wealth and power.
Originally, these pearls were part of a seven-strand pearl necklace owned by the Maharaja of Baroda in the mid-1800s. Almost a century later, in 1943, the Maharaja's son gave the pearl strands to his second wife, Sita Devi—often referred to at the time as "The Indian Wallis Simpson".
By the time they went on auction in 2007, the necklace consisted of two strands of the biggest and best pearls from the original seven-strand necklace, now brought together by a diamond-studded clasp. 
The Seven-Strand Natural Pearl and Diamond Necklace 

– 

Last sold for $9.1 million in 2013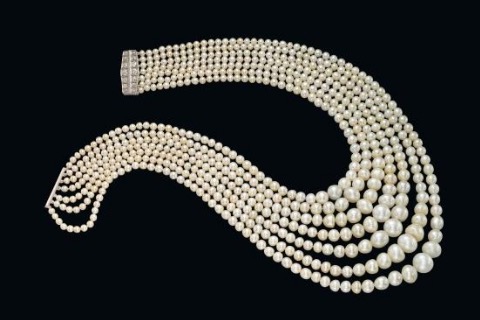 Image Source: christies.com
While other famous jewels are known and remembered by their name, to see this pearl necklace is to remember it forever. The seven strands hold 614 stunningly perfect natural pearls in graduated sizes from 5 mm to 17 mm, brought together by a bar clasp set with diamonds. The history of this pearl and diamond necklace is shrouded in mystery.  At the time of auction in 2013, the only clue to its origin or history was that it was the property of a royal family. 

1.      La Peregrina Pearl Necklace – Last sold for $11 million in 2011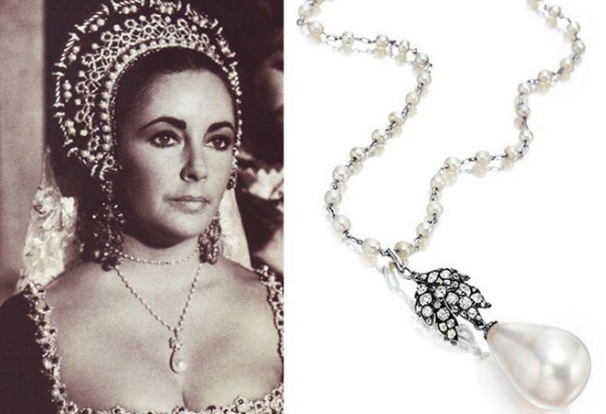 Image Source: pinterest.com
The La Peregrina Pearl is in a class of its own. Large and virtually symmetrical, it is truly a pearl with a pedigree. Over the last 500 years, its owners have included Queen Mary of England, Napoleon's brother (who was King of Spain at the time), and much later on, actress Elizabeth Taylor, who received it as a Valentine's Day gift from her husband, Richard Burton, in 1969. 
To wear this amazing pearl, Ms. Taylor arranged to have it set into a statement necklace where La Peregrina would be the focal point amid strands of pearls, offset with diamonds, rubies and more pearls. The public had an opportunity to view this magnificent piece up close for several months when Ms. Taylor lent it to the Smithsonian Museum for a special exhibit on pearls.  After her death, the La Peregrina pearl necklace was one of her many famous items of jewelry that were sold at auction.

With outstanding examples like these three, it's easy to see how pearls are not only beautiful and memorable, they're also revered and treasured the world over.  They're the source of legend that quickly becomes part of history.
Images:
https://www.christies.com/img/LotImages/2013/GNV/2013_GNV_01400_0252_000(a_spectacular_seven-strand_natural_pearl_and_diamond_necklace).jpg
http://hauteliving.com/wp-content/uploads/baroda-pearls_high-res_stra.jpg
https://i.pinimg.com/originals/cb/f5/20/cbf5204fc91cfb7cd6575828162bd6c1.jpg