If there is one type of hotel that you must visit during your time on this planet, it is an ice hotel.  Walls, ceilings, tables, chairs, and bed frames are just a few of the architectural wonders made from ice.  These hotels can be found all around the world, and they are all beautiful and majestic.  If you are desiring an unforgettable experience, you will not be disappointed by visiting one of the best fifteen ice hotels in this world.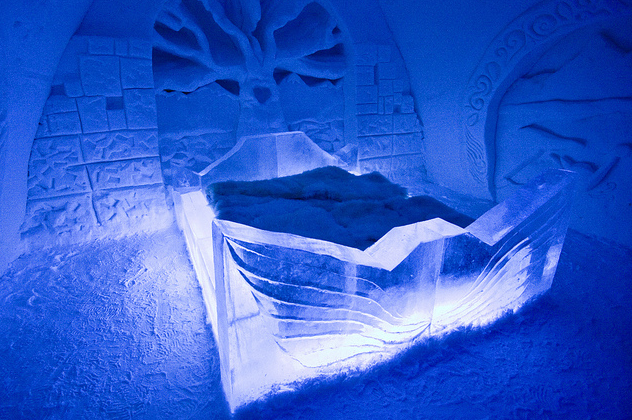 Every season, the Snowcastle is rebuilt with a different architectural design and theme.  This has been occurring for over twenty years.  A destination for an unforgettable vacation, this castle also performs marriage ceremonies.  With 21 rooms, the castle is a beauty to explore and learn of Finland's culture through the ice artwork and sculptures.  
Riding the cable car up the mountain, you are provided with a breathtaking view of Slovenia.  After hopping off of the cable car, you take a snowshoe hike to reach your destination.  Upon arriving at Eskimska Vas, you are greeted by mystical architecture, as well as their house drink.  Once you have settled yourself into your igloo, you can partake in their many activities (downhill snowbiking, snowtubing, sledding, etc.).
Traveling to this village on a snowmobile sets the entire experience.  One opportunity follows another, and you are on a wild ride.  From dogsledding to harnessing and steering your own reindeer, ice karting (driving a go kart on ice), and experiencing a traditional Lappish ceremony.  While the Snow Village offers log-cabins to rest in, the igloos offer the complete winter experience.
From the walls to the furniture to the decorations, this hotel is made wholly out of ice and snow.  Locally supplied, the good and drinks are found in the surrounding nature.  A main attraction to this hotel is the ability to pet the reindeer.  Hearing stories about Santa Claus' delivery helpers, children become incredibly excited to see and meet the legends.  Along with the reindeer meeting, you can go on an arctic king crab fishing tour, a Northern Lights tour by way to dogsledding, and a cross-country skiing tour.
Upon arriving at this village, you are greeted with a signature cocktail and a smiling face.  While the appeal for an older crowd is prevalent (ice bars, DJ's, dance floors, etc.), Snow Village provides an unique experience for the younger crowd.  The main attraction to this village is the ice slide.  Whether you are a young human or at a matured age, you will enjoy this wonder.
10. HOTEL OF ICE, BALEA LAC, ROMANIA.
Constructed upon the top of a frozen lake, Hotel of Ice is known as an ultimate experience and winter escape.  Not only is this hotel appealing for its classic decorations and exquisite dining, but it is family friendly.  Hotel of Ice offers snowball fights, snowman building competitions, and ice bowling. 
Would you like a glass igloo or a snow igloo?  Unlike other hotels and villages, Hotel Kakslauttanen offers its guest a choice.  The snow igloo keeps the guests visit peaceful and intimate, while the glass igloos allow the guests a stunning view of the Northern Lights and its surrounding nature.  Upon arriving you are presented with the opportunity to request a personal sculpture to decorate your igloo.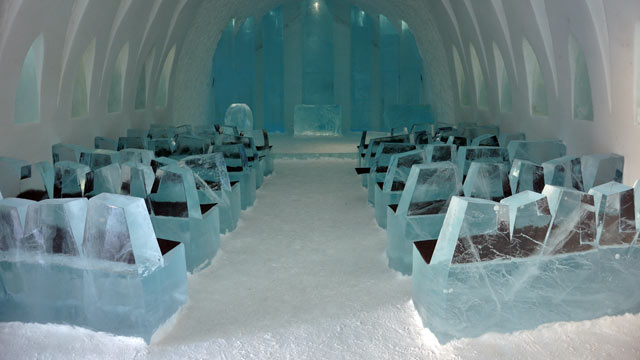 Lying within reach of the Arctic Circle, the Lainio Snow Village provides an authentic winter experience.  Like many ice hotels, Lainio is built every year to ensure the best visit for its guests.  Having a strong connection with its community is evident, because much of the artwork that decorates the hotel is donated by art students from local schools.  Further, the artwork is often composed from ice.
The only ice resort in Japan, Tomamu provides ice lodging that is built every year.  The structure is wholly made out of ice, and the temperature fluctuates between -3 to -5 degrees Celsius.  Not only does the hotel cover the ice tables and ice chairs in sheepskin, but they provide its guests with sheepskin clothing.  This apparel is a gift to be taken home when the visit is complete.
Part of the Bjorligard Hotel, the Ice Lodge is the largest ice hotel in Norway.  The hotel is placed in an altitude that allows it to run longer than any other.  Ornamented in Norway artwork and treasures, the Ice Lodge offers a genuine Norway culture experience.
Beginning as a ski resort, Gstaad expanded to its business become an ice lodging experience.  Being in the Swiss Alps, you are given a generous view of nature and all of its wonders.  Within each igloo, the beds are made out of ice, but the are covered with foam, carpet, and animal skin.  As well, you are provided sleeping bags.  
4. ICEHOTEL, LAPLAND, SWEDEN.
Known as the largest ice hotel in the world, this masterpiece was constructed over twenty years ago.  With 60 rooms, over 50,000 individuals visit this hotel.  The village that surrounds this hotel, is a small community that is inhabited by more dogs than humans.  Because of this overrun of dogs, Icehotel offers a supreme dogsledding opportunity.  Nighttime dogsledding is a favorite, because you are able to see the Northern Lights.
3. IGLOO VILLAGE, ENGELBERG, SWITZERLAND.
A creation from Iglu-Dorf, a company that has built several other ice villages, the Igloo Village lives up to its name.  In igloos that can hold up to six guests, the furniture is cloaked in animal fur.  Each igloo greets the guests with the county's famous pot of Gruyere cheese and bread.  Taking one step outside of your igloo, you are graced with an incredible view of the Swiss Alps.  
One of the main attraction to this ice hotel is the fact that it is built and rebuilt every year.  The 32 rooms are carved from ice and clothed in reindeer hide.  Being the world's northernmost ice hotel, you are able to enjoy the experience of dogsledding.  Appealing to the guests over the age of twenty-one, the hotel has created a signature drink, a bright blue vodka concoction.  
This ice hotel is the only one that can be found in North America.  On average, Hotel de Glace draws in over 140,000 visitors a year.  The structure of this hotel is completely carved out of ice, and each of the 36 rooms is decorated in different themes.  The bed frames and chairs are made out of ice, but they are covered with fur.  
Which ice hotel do you wish to experience?  Leave your comment below.
Related articles