The best way to share your travel experiences is to edit a video or make a slideshow. It can be complicated to figure out where to start, so here are some cool tips for you. The two essentials you will need are a good camera and video editing software.
Travel Video Types
First of all, you need to decide what kind of video to make. The best way to figure this out is to decide on your audience. Once you understand your viewers, you will know what your travel vlog's theme, style, and main idea should be. For example, the purpose of your videos might be to inspire people to visit a certain country or city. Or you might focus on professional travel videos and capture memorable moments like weddings, birthdays, or just ordinary trips.
When traveling alone as a tourist, you don't want to think about spending a whole day shooting other people. So you can just pick up a theme for your travel vlog. It might be the beauty of nature, a story about hidden gems off the beaten track, or simply a sightseeing trip in a video format. It's a great idea to also use drones or GoPro cameras to give your footage some dynamism and include shots from unusual angles.
If you work as a professional photographer, this is an opportunity to give your imagination free rein. Depending on your clients' requirements, you can follow their ideas or perhaps suggest your own themes. Here are some types of videos you might choose from:
Travel video

Wedding video

Happy Birthday video

Sightseeing tour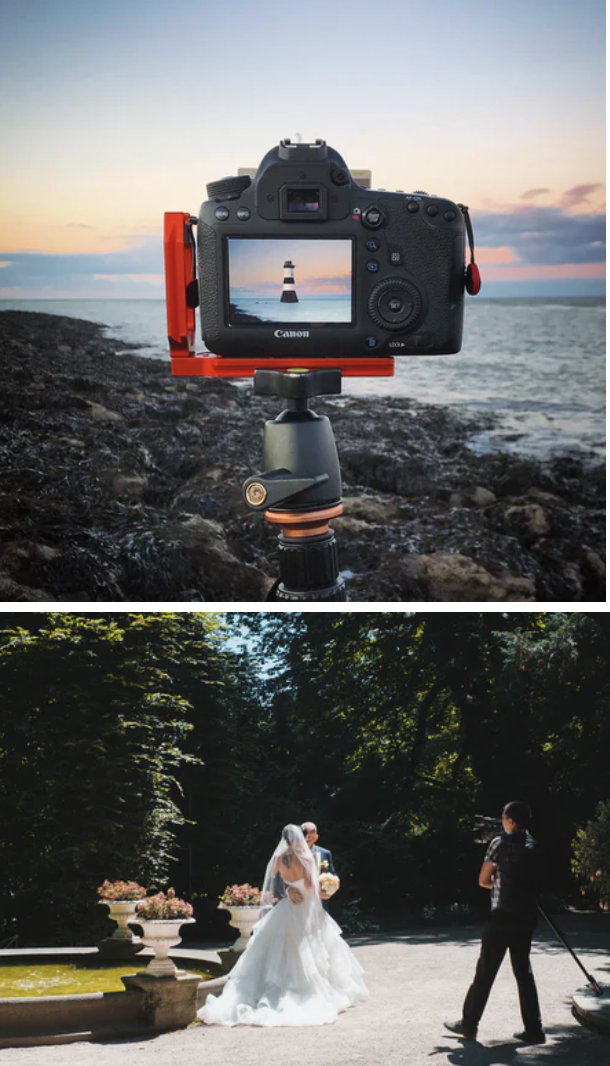 Shooting Tips
To vary your content, it's essential to incorporate different kinds of photography and videography equipment. Try non-standard shooting techniques like slow-motion, time-lapse, zoom in and out, spinning shots, and more. The big advantage of video is that you can get everything from motion. You can capture it on the streets in the movement of people and cars, or you can use technical equipment. Use a strobe to shoot at night or combine it with action camera footage.
Add a creative touch by shooting from a drone. Now you don't need a helicopter to take amazing shots and make a video that will amaze. Try DJI Mavic Mini, which is perfect to start as it weighs only 249 grams, making it very portable. Flight time is 30 minutes, and the transmission range is 2km.
For underwater shots, you need a subsea camera. Try Nikon Coolpix – it's a simple waterproof camera that can accompany you as you swim, dive, kayak, climb, and more. Thanks to the freeze- and dustproof capabilities, you can use it during more than underwater takes. The Nikon Coolpix 4K camera lets you take perfect shots, and the 5X zoom means you can capture even distant details.
If you're planning to comment while shooting, use a Lavalier mic. It will help you avoid background noise and ensure clearer sound.
Video Editing Tips
The more material you have, the greater the possibility you'll get a great shot. You may have bloopers, camera shake, duplicates, and other unsuccessful attempts. But you can easily improve them in the video editor. Use image stabilization, change brightness and contrast, cut, and crop your footage. During the montage, you have the opportunity to include only the best shots in your video. Here are some online video editors that will help you improve your footage and edit videos in no time. The tools are easy to use, and you can use them on any computer – you can even try mobile editing:
With the help of video editing software, you can always cut unwanted footage, merge video segments, crop and rotate your clips, change the video speed, compress audio, and even experiment with the Chroma Key effect. Don't forget to use atmospheric filters and effects to liven up your footage and vary the color scheme. For YouTube, it's best to include subtitles, so viewers from around the world can enjoy your video.
Music also plays an important role in your travel video. If you have a lot of A-roll segments where it's just you or someone else speaking on camera, it's better to have quiet music in the background. For the B-roll part with nature, architecture, tourist attractions, and people, you can make the music louder.
Summing up
Editing travel videos is a tough job that requires a lot of time and creative effort. But it's a unique opportunity to bring your travel experiences to life and share your thoughts and feedback with the whole world. Experiment with video editing software and try different shooting methods and editing features to find your own unique style.