Before you think about the fun-filled time you'll be having during your dream vacation, you should know that you first have to battle it out with your suitcases as you pack the items you need to bring on your trip. You need to be extremely organized in order to fit all your clothes and accessories right and tight in your bags, to avoid your items getting lost, and to save yourself from spending on extra fees for your check-on luggage.
If you don't know how to pack efficiently, your clothes will be in a bundled mess and get wrinkly. Packing your suitcases should be a fun activity and should only feel like playing a game of Lego or origami.  As long as you know the correct way of folding your clothes, you need not fret, and traveling in style will become easier.
The following are five tips to help you save some space in your luggage:
Fold clothes the right way
There are many ways to pack your clothes so they will fit snugly into your suitcase. Of course, the clothes you'll pack should depend on your destination. If you are going to a place with a warmer climate, you may need to bring light clothes. In colder climates, you may need to bring along heavier and thicker pieces of clothing.
Here are different ways you can pack your clothes:
One technique to stack clothes properly in a suitcase is by rolling them. You can roll shirts, dresses, and trousers. Roll them from the bottom to the top to create tubes. You can then pack these clothes upright or vertically to save a lot of space.
Another way to organize your clothes is by filing them. This technique is similar to stacking files in a filing drawer. You fold them using the front to back method and stack them vertically. Arranging clothes vertically lets you see immediately what you need without having to dig through horizontally stacked clothing. You will find that this method allows you to pack additional clothes because you have saved a lot of space.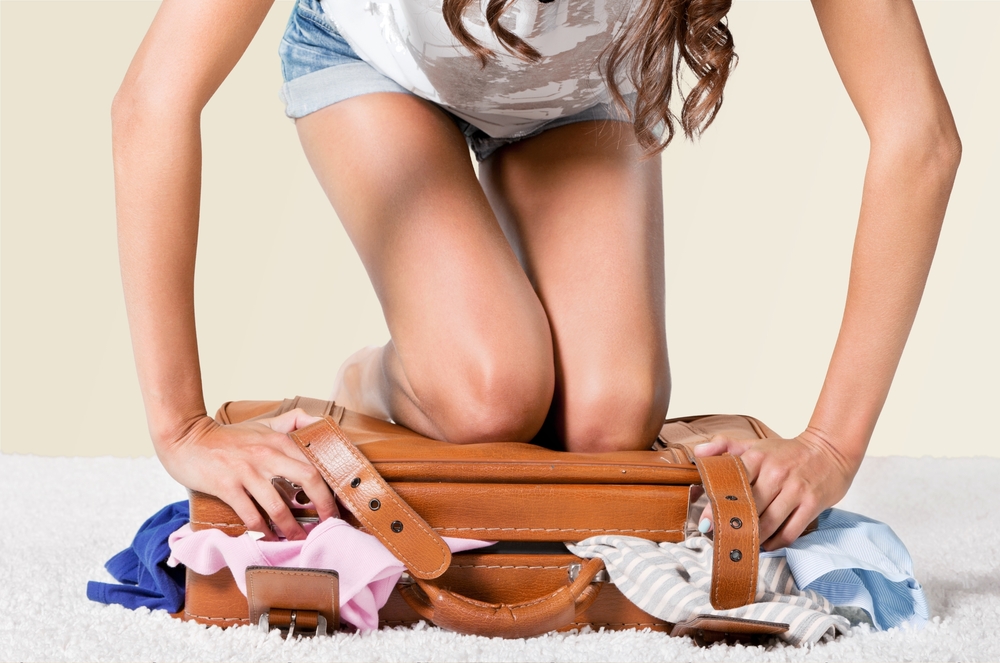 If you're packing bulky pieces of clothing, one way to save on luggage space is to simply wear them on the plane. However, this may not be the ultimate solution if you have to pack several winter clothes for your winter vacation. You'll still need to pack heavy and bulky items in your suitcase. One way to maximize the space is to use compression packs. These packs are Ziploc-like bags that suck the air out and flatten any piece of clothing. These packs are a great space saver, which would allow you to pack several winter clothes in a limited space.
Use packing cubes
Packing cubes make your clothing compact and easy to identify. For example, you can use one pack for all your socks and undies, and use another one for your toiletries. You can have separate packs for trousers, dresses, and shirts. Using this method allows you to be more organized, and keeps your clothes and other items from getting mixed up and being all over the place in your bag.
Use your shoes to pack items
Shoes are bulky items, but you can use them to pack certain items so they don't waste space. For example, you can use shoes to store socks, ties, and small items like jewelry and watches. Shoes also provide protection for these delicate items, keeping them from getting crushed.  If you are bringing some wine in your travel, you can even use shoes to store them, but you have to use two shoes on top of the other in order to protect the bottle.
Maximize the use of shawls and scarves
If you are going to an area with a cool climate, it may mean that you will have to pack a lot of sweaters and cardigans. You can use the alternative, lighter, and easier-to-pack shawls and scarves instead to keep you warm. You don't have to bring a lot of bulky sweaters because shawls and scarves can do the job of warming you, plus they're fashionably versatile, so they complement almost any winter attire you can think of.
Know your essentials
You should know the must-have items to pack when going on a trip. For example, packing a snorkeling gear may be essential to maximize your fun at the beach. However, you have to keep yourself in check and stop yourself from packing items that are unnecessary. Depending on where you are going, beauty products and jewelry may not be important. If you look back at your past trips, have you actually used them? Think twice and pack smart.
Final Thoughts
Packing the right way allows you to travel comfortably. Having organized luggage will give you a hassle-free, worry-less trip because you will know exactly where to find the items you need. Also, packing is no rocket science. It should be a fun activity that paves the way for the most unforgettable vacation you'll ever have!